Welcome to the Rotary Club of Parkstone
Featured pages:

Rotary Club Business PartnersRead more
Welcome from the President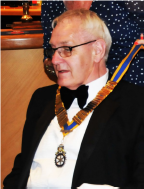 Welcome to the website of the Rotary Club of Parkstone was formed in 1970.. We are a genuine dual gender Club. Of our 24 members, 5 Rotarians happen to be ladies, and there the distinction ends. We are a team and each of us has a part to play in the life of the Club.
You will find this website full of information about the history, aims and ideals of Rotary International in general and about the work of our Parkstone club in particular.
We meet most Thursday evenings (see the club diary) and the company is friendly. Why not come and visit us? If you would like to find out more about the Rotary Club of Parkstone, our secretary Barbara Shapland Corkum would be pleased to hear from you on: 07971 331825, or email: parkstonerotaryclub@gmail.com. Come and meet us you would be made most welcome


Meeting Details
Interested in joining Rotary
Meeting Information...
We meet on Thursdays at 1800 (2nd Thursday in the month, NO club meetings at RNLI during the month of August. Please contact Secretary by E Mail on parkstonerotaryclub@gmail.com. ALL POST TO: Flat 705 Orchard Plaza, High Street Poole Dorset. BH15 1EG (NOT RNLI College) ) RNLI College
West Quay Road
Poole
Dorset BH15 1HZ tel: 01202 308500