Welcome
to Havant Rotary Club from President Jackie Branson. Information on this web site will assist you in appreciating the Worldwide extent of Rotary and the Havant Club in particular. Havant Rotary Club is based in Hampshire, England and covers the towns of Havant, Emsworth, Rowlands Castle and Hayling Island. We meet every Monday evening at The Bear Hotel in Havant. Full details of our meetings and a Club diary can be found by following the above links.
Rotary is a worldwide network of men and women who translate their passions into relevant social causes, to change lives in communities. Made up of over 1.2 million Rotary members - known as Rotarians - in 34,000 Rotary clubs in 200 countries and geographical areas around the world, Rotary International forms a global network of business, professional and community leaders who volunteer their time and talents to serve communities locally and around the world - and form strong, lasting friendships in the process. Rotary has no religious or political affiliations which often allows us to work in areas that other organisations are not allowed. Locally we strive in our community to help those people that are in need, utilising not just money that we raise from our fundraising but our combined skills and time, at all stages we aim in a small way to make a difference.
We are always looking to recruit people who share our philosophy of service above self. If you are interested in joining or just want more information, please send an email via the contact form accessible from the Join Rotary link at the top right of the page.
Our most recent membership event was a 'Get to Know us' evening of wine and canapés on Monday 10th October. Find out about this and other events, both past and planned, on our Havant Rotary Events pages.

You can see some of our latest activities on our facebook page - just click the facebook icon.

Meeting Details
Interested in joining Rotary
Meeting Information...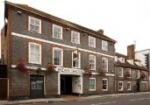 We meet on Mondays at 1800 for 1830 (No meetings on Bank Holidays. 5th Mondays, contact Secretary Ian Swinton on 01243 251 776 ) The Bear Hotel, 15/17 East Street, Havant PO9 1AA tel: 02392 486 501