Welcome to the Rotary Club of Boscombe & Southbourne
Featured pages:
President Mike CoombesRead more
---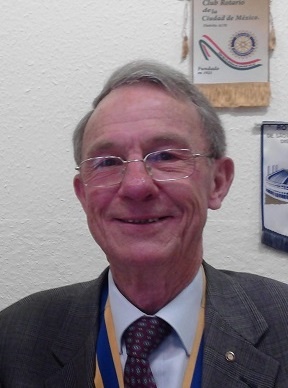 I am Mike Coombes, President of this great Club and may I personally welcome you to our website.
We hope that you will browse the site and enjoy learning more about Rotary and in particular what we do as a Club. We volunteer our services to various needy causes locally and internationaly.
We are very fortunate to meet in our own Club room for our weekly lunchtime meetings and also some Committee meetings, which means we are able to display our own personal touch to the world of Rotary. Rotary is a volunteering organisation.
We have a well stocked bar with drinks kept at a very reasonable prices and a fully equipped kitchen in which our meals are prepared by a local caterer, again for a very reasonable cost.
Mike Coombes
.
The following companies are our Business Partners and help us with
Sponsorship & Assistancewhen we need it.
---
A memorable concert at the La Salle Theatre Wednesday 17th May raising money for local charities. Our thanks go to all the artistes who took part.
Pictured Bill Jones concert organiser, Elizabeth Ferrie soprano and Simon Woodley pianist.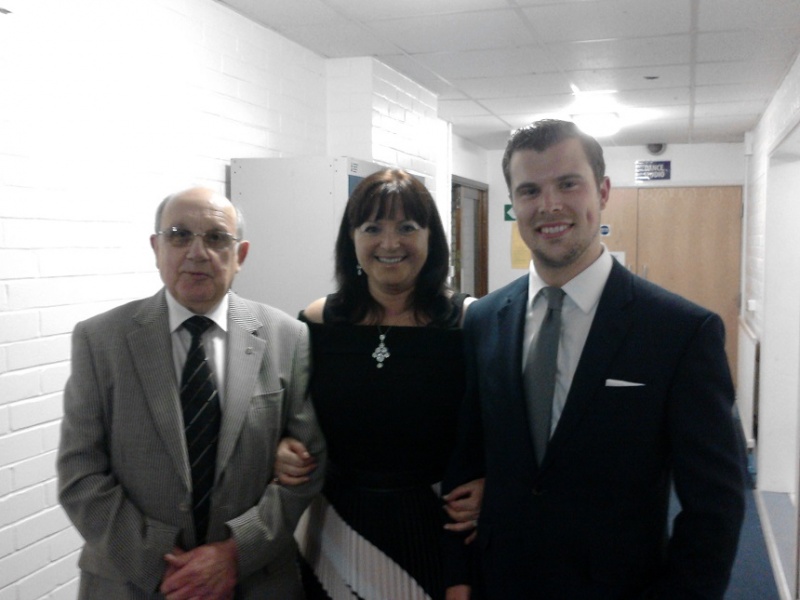 President Mike and members will accompany disadvantaged children and
their carers to a day at "Adventure Wonderland" Wednesday 14 June 2017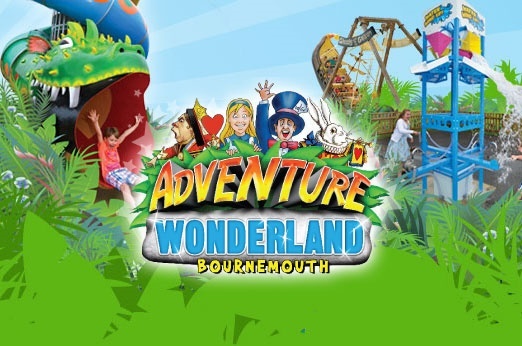 A busy day at the Sovereign Shopping Centre taking blood pressures for members of the public. The nurses did offer their concerns and advise to some folk but not Councillor Jane Kelly and Councillor Chris Wakefield (Pictured)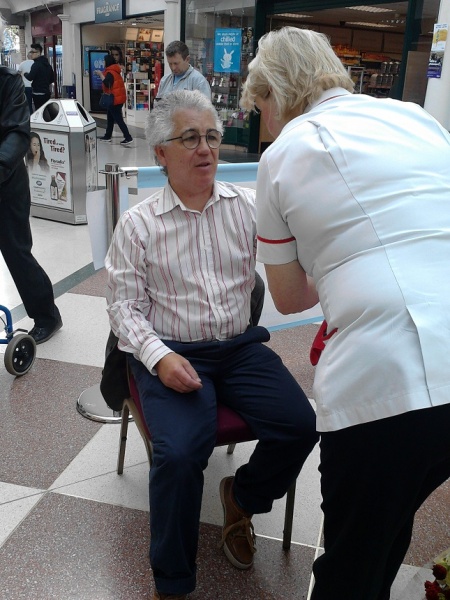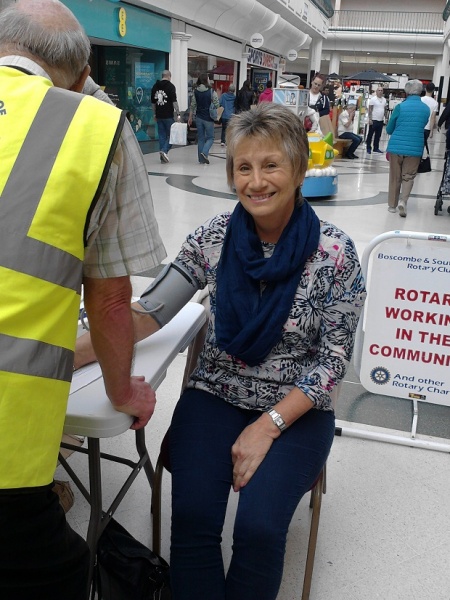 Mark Shotter of Coffee & Dice with President Mike Coombes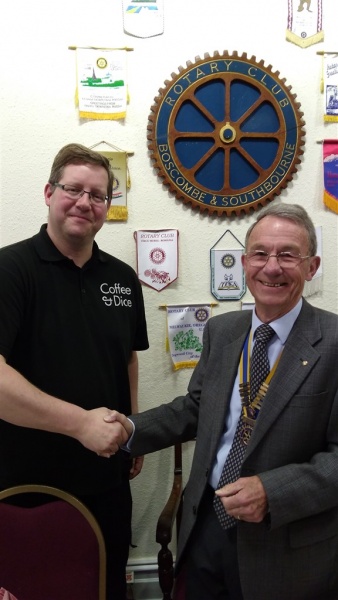 Mark is staring a Cafe in Boscombe where people will be able to come along and as well as getting something to eat and drink, will be able to play Board Games. If they don't know how to play them, the staff at Coffee and Dice will help people to find their way around the games. A really orginal idea for a game and should fit in well in our area.
---
High Tea for the Lonely held at Northwick House and orgainsied by Rtn Russell Outen 09-04-2017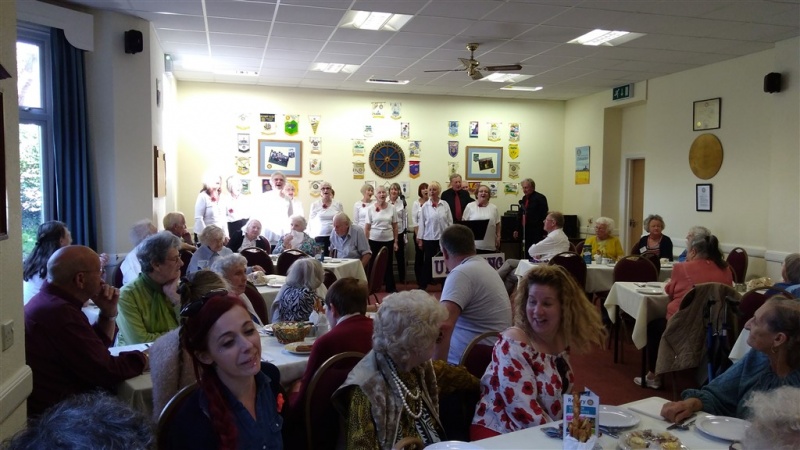 The Members and their Partners supplied the food and some Members & Partners came along on the day and helped as Waiters etc. A really successful day and thanks to Russell for organisning it.Click here for more photos
---
Sue Coombes & Bill Rushworth fitting the new cloths to our Clown 31-03-2017

After Bill Rushworths engineering skills were used to repair our popular Clown, Sue Coombes made a new Clown's outfit for it. A new Father Christmas outfit is also on the way. Click here for more pictures
---
Sarah Wise of DEED gave us a talk about the work they do with Schools 30-03-2017
---
Graham Archard giving us an excellent presentation on the forthcoming Kite Festival 16-03-2017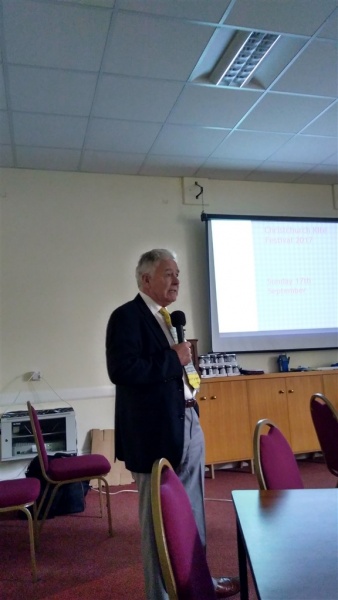 ---
President Mike with Clare Burgess of Relate 02-03-2017
---
Philip Johanson with Mr Jack Stanisstreet of Deric-Scott Funeral Directors
who are our latest Business Partner 25-02-2017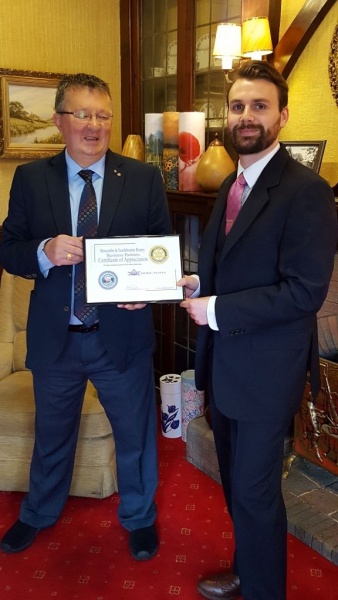 'Deric Scott, family Funeral Directors on Christchurch Road Boscombe is the latest company to become a Business Partner with Boscombe and Southbourne Rotary Club. Business Partners support the work of the Rotary Club through sponsorship of fundraising events. All money raised at these events is used to support many local projects in the community.
Mr Jack Stanisstreet, senior Funeral Director at Deric Scott said 'For a number of years we have been delighted to sponsor the Boscombe and Southbourne Rotary Club Tree of Lights project at the Royal Bournemouth Hospital. Each year the project raises several thousand pounds both for the hospital and various much needed local community projects. We are delighted to have been made an official Business Partner and look forward to many happy years working together to raise awareness and funds for much needed local causes.
---
President Mike with Deacon Suzie Vianna - The Food Bank and ' Sleep Safe' 16-02-2017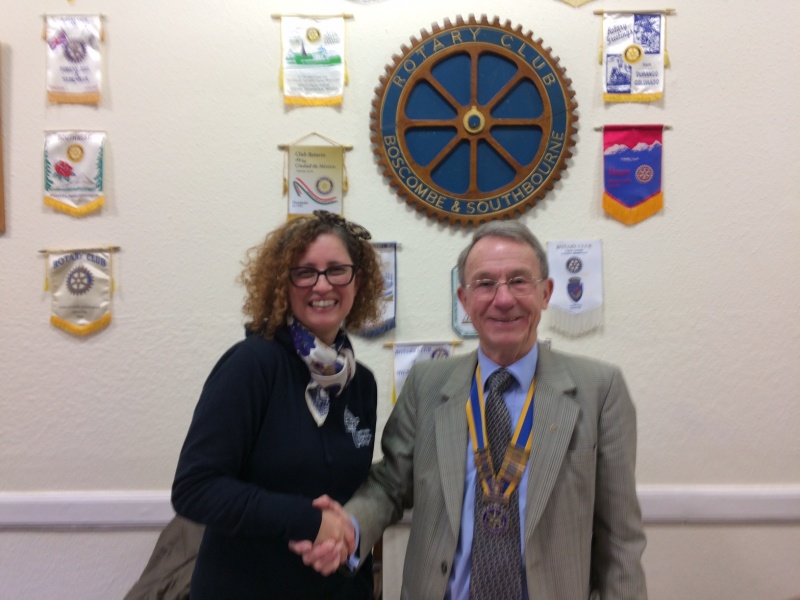 Suzie gave us an excellent talk on The Food Bank & Sleep Safe Charity that she is very involved in.
Rotarian Philip Johanson recently made a visit to the Rotary Club of Barbados South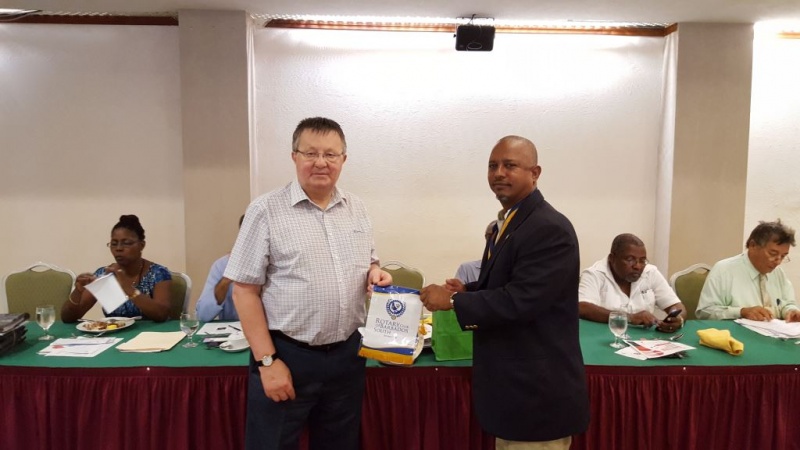 Philip Johanson from Boscombe & Southbourne Rotary recently visited the Rotary Club of Barbados South which meets at the Accra Beach Hotel. He is seen hear being presented with a pendant by Trevor Sealy the Club President.
---
It was a pleasure for me to welcome back Janice Smith as a guest speaker.
A former member whose career took her away from Rotary. President Mike 02-02 2017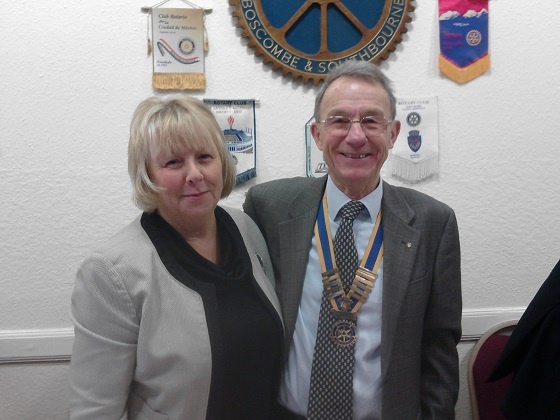 ---
Our own member, Russell Outen gaves us a very interesting and informative talk on Crime Stoppers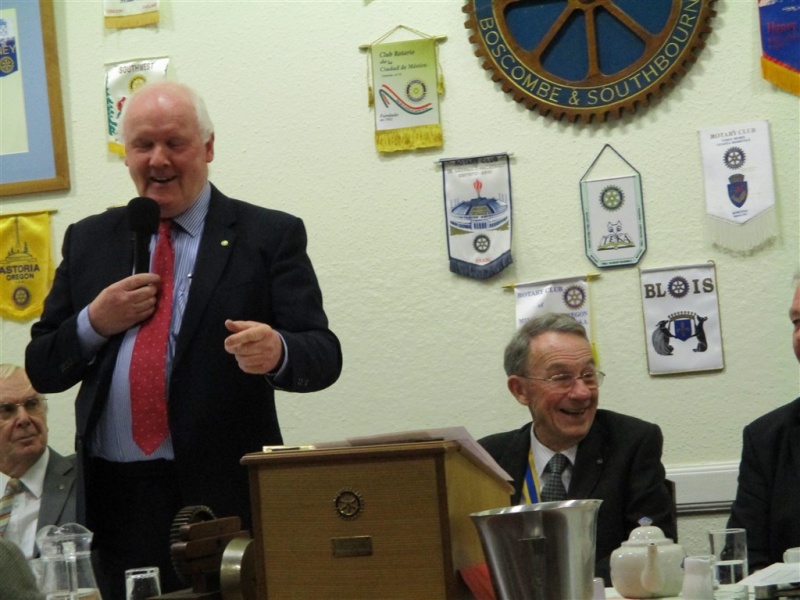 ---
Caroline Milman gave us a talk on Satellite Groups 12-01-2016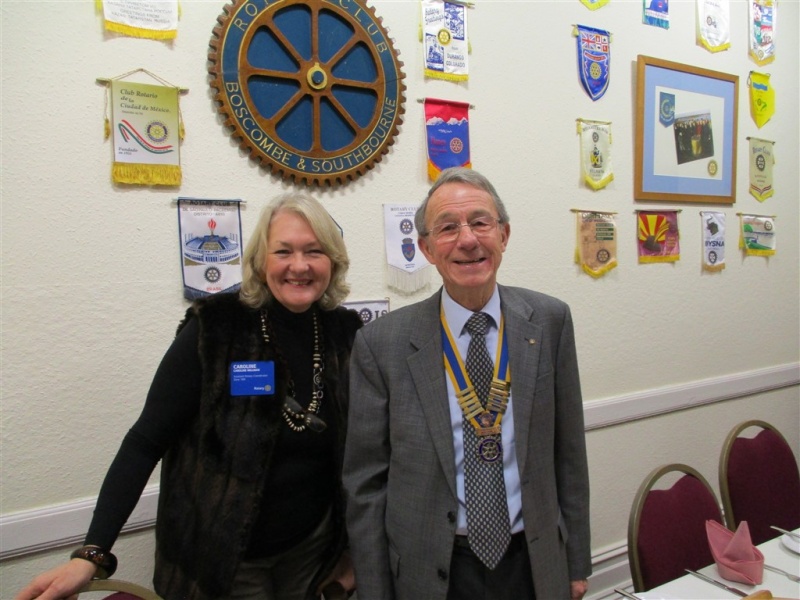 ---
Philip Duncan showing his legs at the super Austrian Eveing that he arranged 03-12-16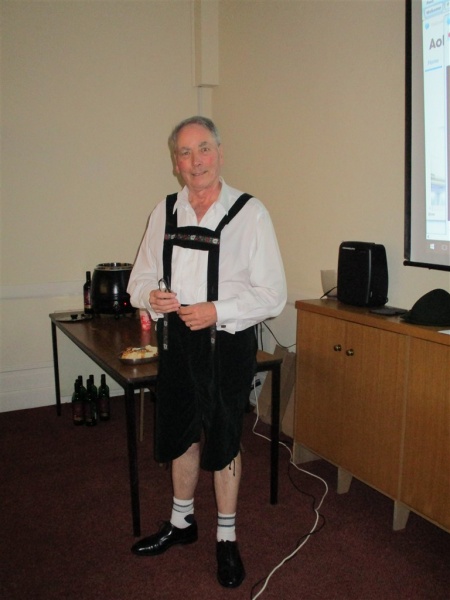 Philip arrange an excellent eveing about his trips to Austria over many years. He gave ua a talk and a slide show about Austria. Mrs Gilby served us up a lovely Goulash. We also had nicely warmed Gluhwein as a drink.

---
ShoeBoxes 2016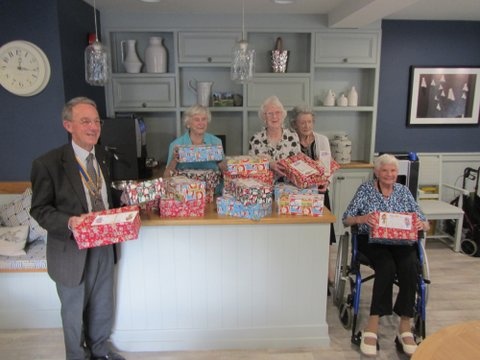 Please Click here to see more about Shoeboxes 2016
---
Our 70th Charter Night held at Dudsbury Golf Course
Pat Shah made this wonderful cake for the celebrations of our 70th Charter Night on the 24th November 2016 held at Bentley's Restaurant at Dudsbury.
Click here for more information on our Charter Night
---
President Mike Coombes with Bill Coombes who gave a talk on his involvement with Tim Peake 17-11-2016
Bill - G4ERV gave a very interesting talk on his involvement with the Tim Peake International Space Station Amateur Radio Links with 10 Schools in the UK. Bill was at the final link that Tim had with the Kings School in Ottery St Mary in Devon.
---
President Mike Coombes with David McMahon who gave an excellent job talk 10-11-2016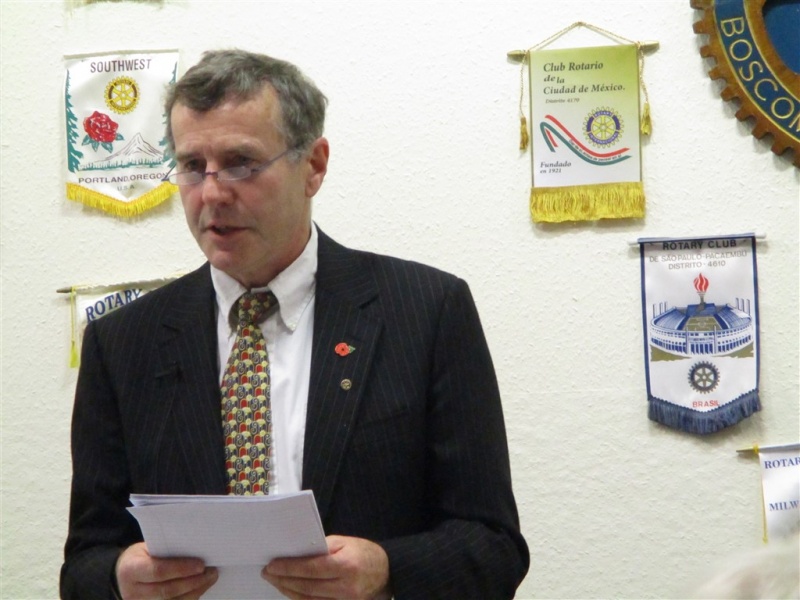 David gave his excellent job talk to the club and talked about his family and his life in the Property business.
---
President Mike Coombes with Jeff Mostyn, Chairman at Bournemouth Football Club 27-10-2016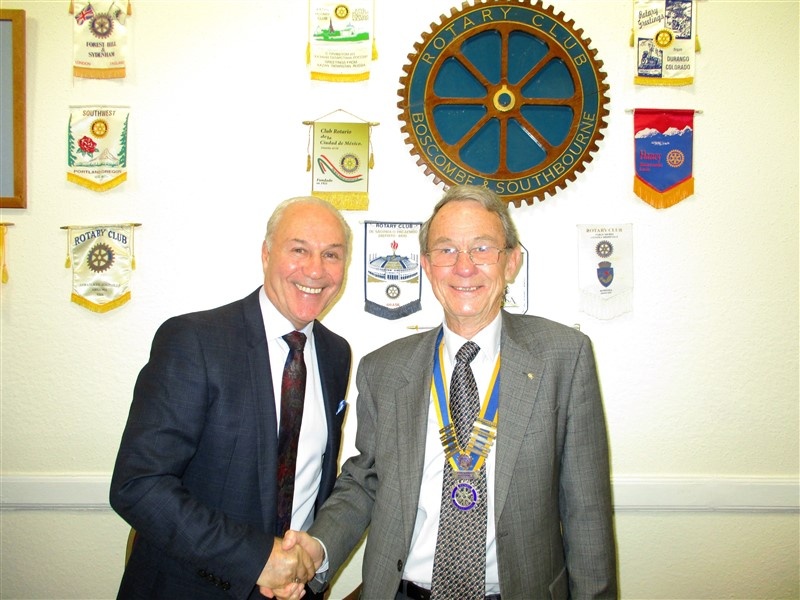 We were very fortunate to have Jeff Mostyn, the Chairman of Bournemouth Football Club (The Cherries) speak to us today. Jeff gave a superb talk about his 10 years with the club and how they got to where they are today. The talk really went down well with club members.
---
President Mike Coombes withJulian Clarke J.P. 15-09-2016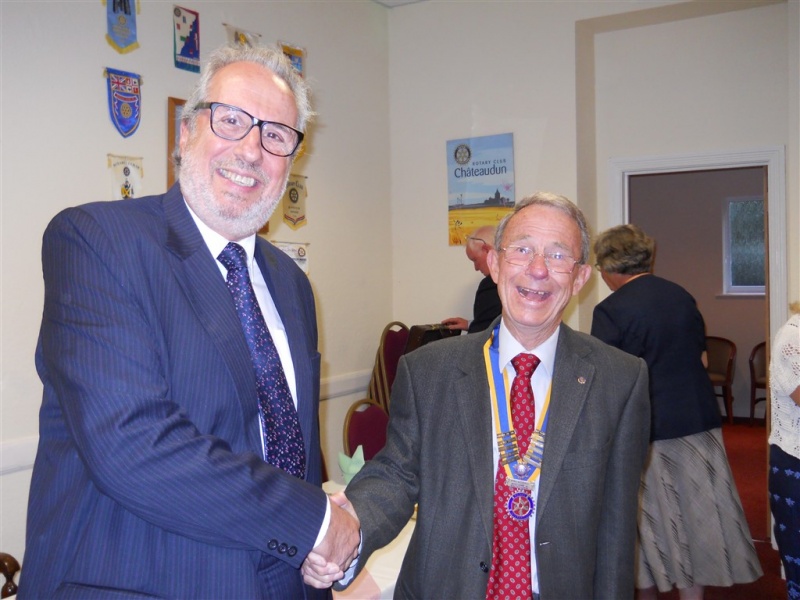 On Thursday evening, we had an excellent talk by Julian about his roll as a Community Magistrate. He explained what is involved in his job and how he got a possition as a Magistrate. It was a really good talk and enjoyed by everyone.
---
Today, Roger Cassidy talked to our Club about Aquaboxes 01-09-2016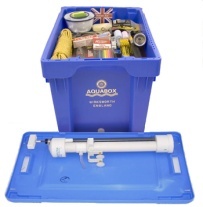 This is an excellent Rotary Supported company run by the Aquabox Charity in Matlock, Derbyshire. It was started by a Rotary Club and is now distributing Aquaboxes to disaster areas all over the world. The box will filter water that has Bacteria in it and will produce water that is safe to drink. The filter system in it is capable of filtering 18,000 litres of water before it needs replacing.
---
President Mike Coombes inducts David McMahon into Boscombe & Southbourne Rotary 25-08-2016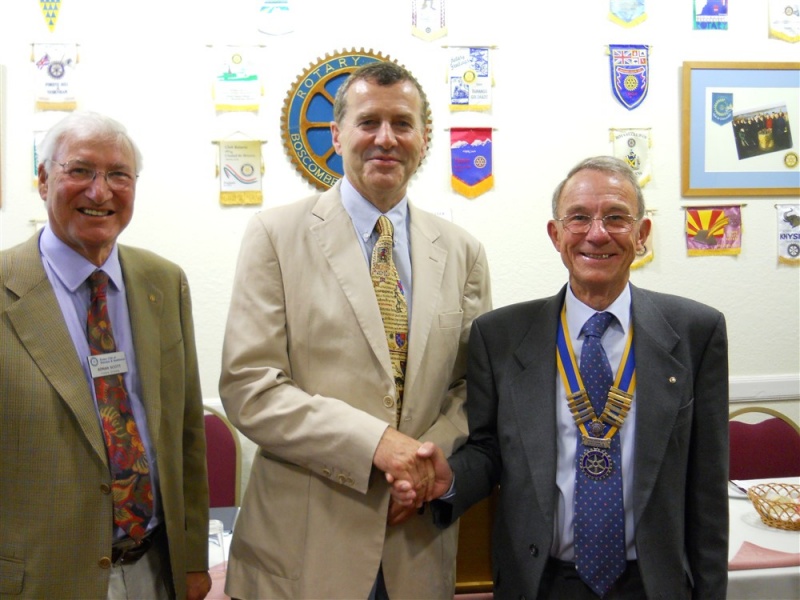 We are very fortunate to gain David as a new member of the Boscome & Southbourne Rotary Club.
---
President Elect Brent with Helen Holden & Sarah Udall on the 11th August 2016 and
who spoke to us about Colten Care and dispelling the 'Myth of being in a Nursing Home'.
President Mike with Sandra Lewis of the Kenya Project Phoebe's Family
On the 28th of July 2016, Sandra spoke to us about the Phoebe's Family in Kenya. An excellent project and this is the link to their website: http://www.phoebesfamily.com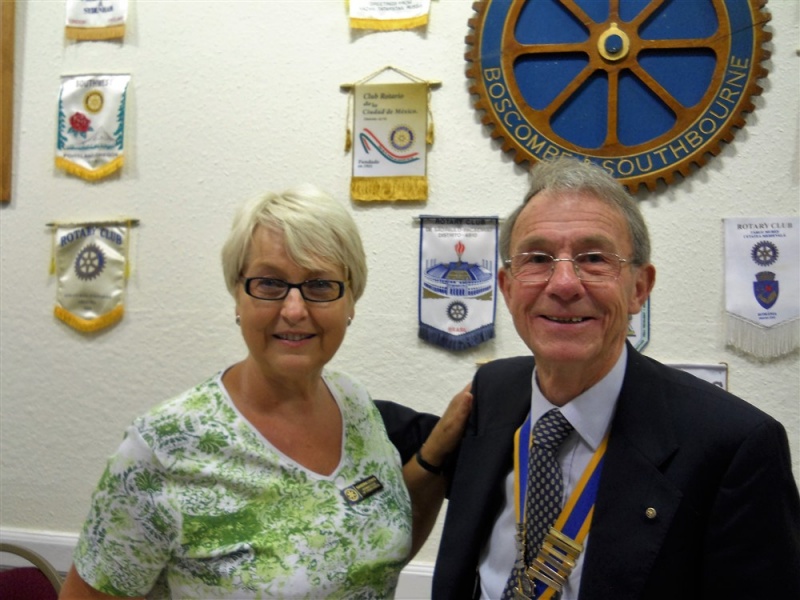 President Mike presented a cheque to Dr Michelle guest speaker (Mercy Ships) at our evening meeting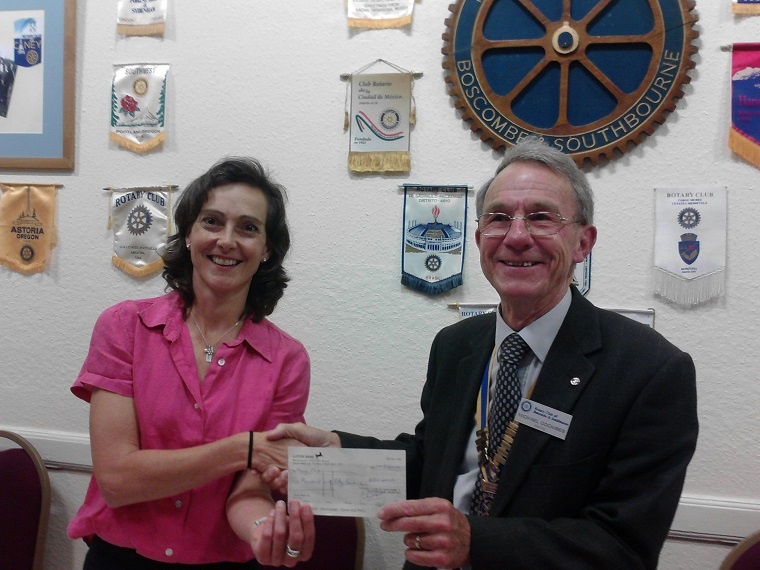 (l-r) Host PP Colin Read, Dr Michelle with President Mike and wife Linday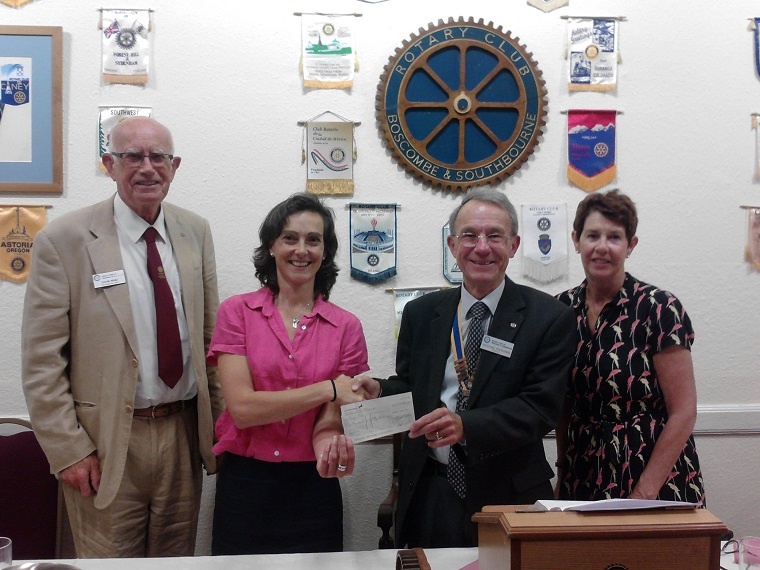 President Mike welcomes Inner Wheel President Sue Collins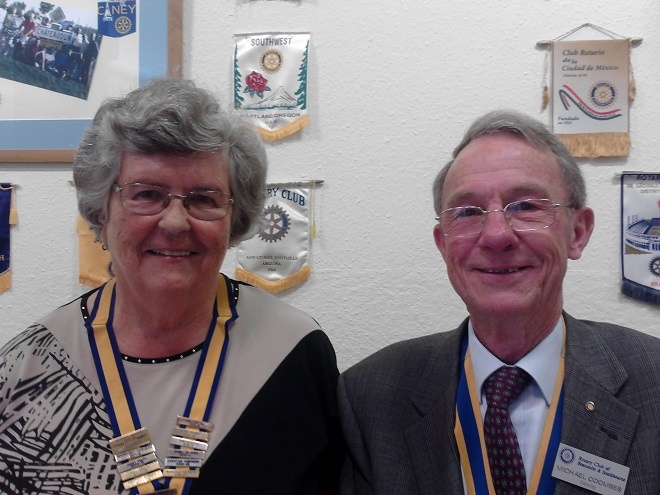 Meeting Details
Interested in joining Rotary
In the next 30 days...
Meeting Information...
We meet on Thursdays at 1300 Northwick House, 18 Owls Road, Boscombe, Bournemouth, BH5 1AF