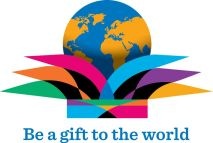 ROTARY CLUB OF LUTON NORTH
The Rotary Club of Luton North has 27 members and celebrated its 40th Anniversary in 2010. A year by year can be seen by

clicking here.
ENQUIRE / VOLUNTEER
We're looking for men and women of all ages and backgrounds to join us either as volunteers, members or both. You can use your time, talents, professional skills and energy to improve the lives of people in our local communities and around the world.
You can enjoy business networking, personal development, meeting new friends, having a great deal of fun and experiencing the fulfillment that comes from achieving something worthwhile.
Contact Club Secretary, John Buttle, 01582 576757 or click here to send an email
To read Inner Wheel Newsletters Click here.
Geoff Lambert President Rotary Club of Luton North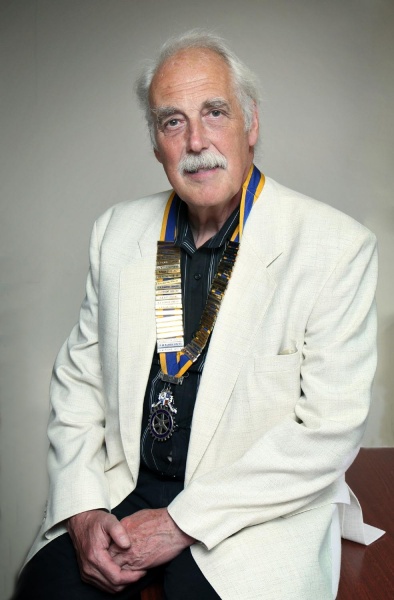 Luton North - Doing Good in the World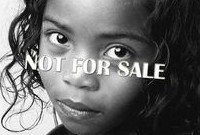 It's been a busy Foundation year for Luton North with a District Grant, two Global Grants and a Rotary Foundation Donor Advised Fund (DAF) established for the Rotarian Action Group Against Child Slavery (RACSRAG); a first DAF by a Club in RIBI we believe. Total funds donated by the Club US$35,000, with help from our Rotary 'friends' and the Rotary Club of Dunstable with the Grant for IHCC. We will be raising money and awareness shortly for 'End Polio Now' using the iron lung in Luton's Mall Shopping Centre. Read more
---
Paul Harris Awards
Four Paul Harris Awards at Handover Meeting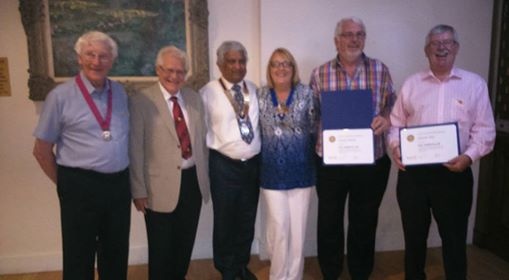 Among the very pleasant duties outgoing President Alastair Hay carried out was to present Paul Harris Awards to three hard- working members of the Club. Haydn Sinfield received a fellowship award for his outstanding fundraising and organising a series of entertaining events with the funds going to a variety of very deserving causes. Past District Governor Paul Denton and Leslie Robertson were both given Ruby Paul Harris awards to add to their existing awards. In Leslie's case it was a second Ruby to add to the one given to him by the Great Missenden Rotary Club. Their awards were to service to charity organisations at home and abroad, and the astuite use of available Rotary Foundation Grants.
Incoming President Bob Shah then presented Alastair Hay with a Paul Harris Fellowship for service to the Club over many years.
Luton North Win District Quiz
Peter Wakefield, Nigel Gibson-BIrch, Alastair |Hay, Geoffrey Farr with District Govenor Chalmers Cursley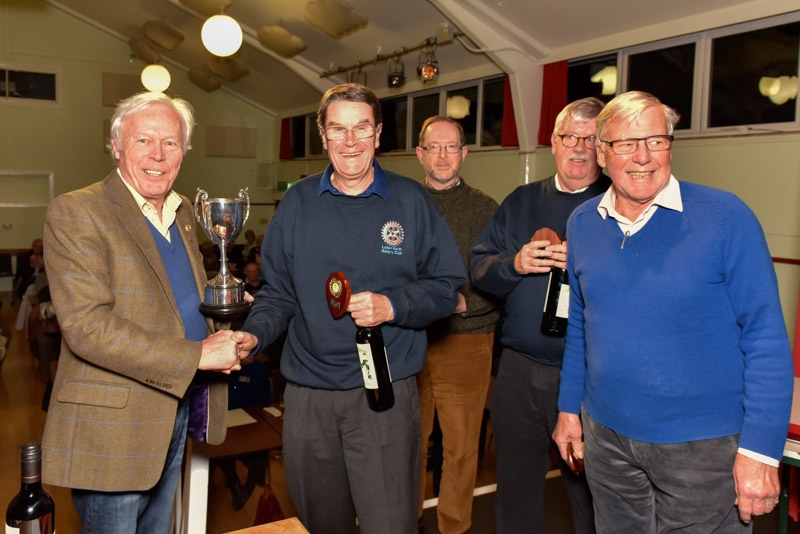 Meeting Details
Interested in joining Rotary
In the next 30 days...
Meeting Information...
We meet on Tuesdays at 12:30 for 12:45 (5th Tuesday in month with partners 19:00 for 19:30. No meeting on Tuesday after a Bank Holiday.) The Pavilion,
Bowling Green Lane,
Old Bedford Road,
Luton,
Beds LU2 7HR tel: 01582 737262