We are a small club of men and women living or working in Bicester and the surrounding villages of the north-eastern corner of Oxfordshire. Bicester is one of the fastest growing towns in the country, so if you are new to the area we extend a special welcome. By browsing our pages, we hope you will discover that Rotary is a practical, effective and enjoyable way of addressing the critical issues of today. Click on the pics to find out more.....
We're for Communities!
New members are always welcome and visitors are invited to join us at meetings by contacting the Club Secretary.
Making Friends locally and world-wide
Locally
Our local community is really important to us! Joining with other organisations and working together, supporting each other in many ways; engaging with local businesses and having a strong, positive voice in shaping the future of our area.



Supporting local charities and raising awareness
Children Singing for Children is always a joyous occasion when Primary school choirs raise funds for others and enjoy 'doing good in the world' Read more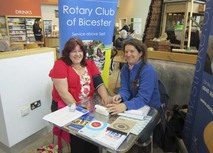 Serving the Community
Know Your Blood Pressure days in association with the Stroke Association help raise awareness of how to avoid a stroke. Read more
Joining with others on a global scale
As a world-wide orgainisation, Rotary offers unique opportunities to join with other clubs, both in our immediate area and further afield to make a real, measurable and sustainable difference to communities on an international scale. Read all about it here!
Responding to disasters
The Rotary 'box schemes' such as ShelterBox ensure that funds raised reach those most in need in the fastest possible time, through working with Rotarians and aid partners at the scene
To find out more about Rotary see the videos and links below

Meeting Details
Interested in joining Rotary
Social Media...
Bicester Rotary
Promote your Page too
Meeting Information...

We meet on Tuesdays at 1845/1900 (We meet on the 2nd and 4th Tuesdays of each month. Meetings are also held on a 5th Tuesday but not necessarily at this venue. Please check with the Secretary. ) The Littlebury Hotel, Kings End, Bicester, OX26 6DR tel: 01869 252595