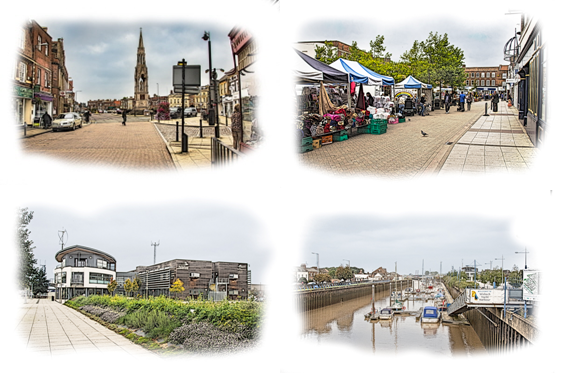 Wisbech is a market town, inland port and civil parish with a population of 31,573 in the Fens of Cambridgeshire, England. The tidal River Nene runs through the centre of the town and is spanned by two bridges. The name is believed to mean on the back of the (River) Ouse, Ouse being a common Celtic word relating to 'water' and the name of a river that once flowed through the town.
Before the Local Government Act 1972 came into force in 1974 Wisbech was a municipal borough; it is now a civil parish in the Fenland District.
What is Rotary?
Rotary International is a global network of service volunteers. It is the world's largest service organisation for business and professional people, with some 1,210,905 members operating in 168 countries world-wide.
There are some 58,000 Rotarians in Great Britain and Ireland in 1,845 clubs, helping those in need and working towards world understanding and peace.
The main objective of Rotary is service in the community and throughout the world. Rotarians build goodwill and peace, provide humanitarian service, and encourage high ethical standards in all vocations. The Rotary motto is "Service Above Self
Its a fulfilling role, and Rotarians can get involved as much or as little as their time will allow.
But there is much more. Clubs meet on a regular basis, which allows members to build firm friendships. Every Rotarian has a right to attend any Club meeting anywhere in the world, so there is always somewhere to go, and people to meet, wherever business or leisure travel may take you.
Various Clubs have different emphases, which can reflect differences in size. A small market town may have a Club of perhaps 20 members, whereas in large centres the number can be closer to 100. Some concentrate on local community or vocational projects. Others link up with a sister club in another country to undertake an international project. Each Club decides how it wants to use the resources it has available.
Donations can be made by text - type "ROTA22 £1" TO 70070
Do more -shop online using
https://www.giveasyoulive.com/join/rotary-club-of-wisbech-trust-fund/EC122664
Retailers will donate a percentage to us.
Meeting Details
Interested in joining Rotary
In the next 30 days...
Social Media...
Follow @WisbechRotary
Wisbech Rotary
Create your badge
Meeting Information...
We meet on Tuesdays at 1830 Mendis, 20 Old Market, Wisbech PE13 1NB tel: 01945 461051