Welcome to the Rotary Club of Oundle
Featured pages: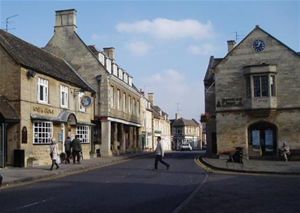 The Rotary Club of Oundle was established in 1974. We have 16 members and are active in supporting local, national and international charities. In the current Rotary year (2016-17) we have supported the following with donations:
· Creutzfeldt-Jakob Disease (CJD) research
· Salvation Army, Peterborough
· CHAT, Oundle (local youth counseling charity)
· International Children's Trust (ICT)
· Rainbow Trust (National charity caring for families with a child suffering from a terminal or life-threatening illness)
· Mercy Rescue Trust (supporting children in Kitale, Kenya)
· West Porch Café (based at St, Peter's Church, Oundle, a drop-in after-school centre for secondary school children, with free snacks and soft drinks)
· Leicestershire & Rutland Wildlife Trust Osprey Project (based at Rutland Water)
· Bethany Children's Trust (charity to help children in central Africa)
· Oundle Music Trust
· Heartstart (see separate page on this site)
Last year we supported several of the above organisations and also:
· Volunteer Action (local charity supporting the elderly, unwell, disadvantaged and those with disabilities in our area)
· Scouts and Guides in Oundle
· Sue Ryder (national charity caring for the terminally ill, with a local home at Thorpe Hall, Peterborough)
· Oundle Community First Responders
· Rotary Foundation (our own Rotary International charity)
· Polio Eradication (an international Rotary project).
For 20 years we have promoted an annual Christmas concert in St Peters Church usually on the evening of the first Friday in December, considered by many regular attendees to be the start of christmas for them.
For several years we have organised and funded a Seniors' Party for the more senior members of our community. They come together at Laxton Junior School and we supply them with home-made sandwiches and cakes with tea/coffee, and a little entertainment. Over 100 residents enjoy this annual event.
A major annual event which takes place in the village of Southwick, close to Oundle, is The World Conker Championships where we are visible carrying out car parking duties for the many thousands who attend.
Every Christmas visitors to Oundle's picturesque market place can see the magnificent Tree that the club provides and decorates. The tree stands in front of the Rotary Millenium Clock which is mounted on the old town hall building.
In March 2017 we held a Charity Race Night at Warmington Village Hall and, thanks to the generosity of those attending (and some who were unable to attend) we raised over £2200 net for our charitable causes. In May 2017 we held an Antiques Evening at the Red Lion, Warmington, and raised approximately £1500 for our charities Sue Ryder (Thorpe Hall, Peterborough) and CJD research.
Meeting Details
Interested in joining Rotary
Social Media...
https://www.facebook.com/?ref=logo
Meeting Information...
We meet on Mondays at 18.00 (Meetings Ist and 3rd Mondays except on Bank Holidays (5th Monday no meeting). ) The Ship Inn
West Street
Oundle
(w.e.f. 03.07.17) PE8 4EF tel: 01832 273918