About us
Northampton is a large market town in the East Midlands, approx. 67 miles Northwest of London on the River Nene, and is the county town of Northamptonshire.
The Rot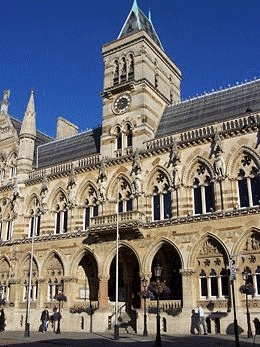 ary Club of Northampton was founded in 1921 and now meets at the Sunley Management Centre at the University of Northampton for lunch on Mondays. We raise funds for, and plan and implement service projects, both locally and internationally.
We also have lunchtime speakers, usually related to our objective of providing service to others, but sometimes of general interest.
Some members meet on Tuesday evenings at Richmond Village, where they have a similar programme of service projects and occasional speakers. The two groups meet regularly for fellowship and joint fund-raising events.
We welcome anyone who may be interested in joining us to see what we are all about at lunch on Mondays, or on Tuesday evenings with our Satellite Group.
This website is also full of stories about what we do, and if you have the time why not take a look at the Programme options above to see what we have done in the past, and what we have planned for the the future?
***************************************************************************
To read our latest Newsletter click HERE
You will find Earlier Newsletters by clicking on "What we do", above, and then "Newsletter Library"
***************************************************************************

WELCOME! - COME & JOIN US
Rotary - Make a World of Difference
Join Rotary and make a world of difference to your own community, to the lives of those less fortunate around the world, to your fellow club members - like-minded men and women of all ages - and, just as important, to yourself! The projects Rotarians get involved in are incredibly fulfilling, worthwhile and rewarding - and there's plenty of fun involved.
If you think that becoming a Rotarian may be something that would interest you, and wo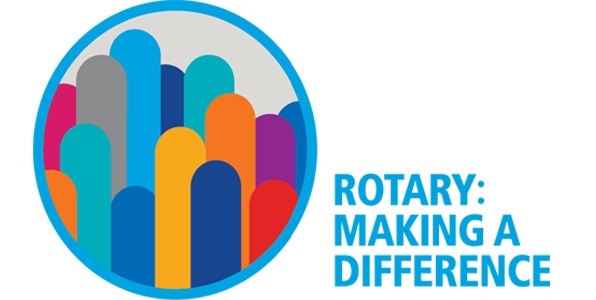 uld like to learn more, please click on the logo on the right, which is this year's Rotary Theme, or if you would like to talk to someone about joining Rotary in Northampton click on this link

FARAWAY CHILDREN'S CHARITY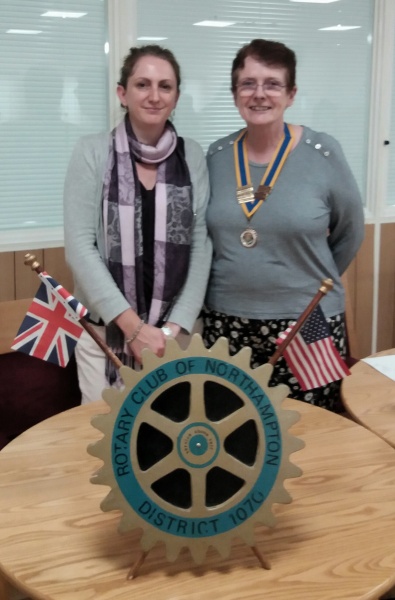 Jane Deamer, pictured here with Club President Jackie Brame, came to our lunch meeting to thank us for our support for the Faraway Children's Charity. She subsequently wrote the letter below as a record of what we have done so far.

"It's hard to believe it's over a year since I was last here introducing Faraway Children's charity to you all, and what a year it has been. I asked if I could return so I could personally thank you all and share with you the enormous collective contribution that the rotary club of Northampton members have made to FCC's work for local disadvantaged children. Your generosity and creativity has been truly amazing and very greatly appreciated. Hopefully I will be able to summarise the many actions that have been provided by the Club so you are able to understand the extent and benefit of your varied contributions.
In May 2016, I first attended a Rotary meeting at Richmond Villages, and then went on to present at a lunch event in August, The rotary club of Northampton have supported FCC in so many ways. Before the August lunch event had even finished I had been approached with offers to coordinate collections of toiletries and hygiene bags which we gratefully received and distributed, and that same evening I had notifications of paypal donations received from individual members and received emails offering goods.
We have received so much support, but if I may, I would like to mention and give huge thanks to three particular individuals who've made the journey possible. Firstly, the diamond that is, Claire Fry, who had the foresight to initially introduce FCC to the rotary club of Northampton and has ceaselessly supported FCC and I over the last two years. Secondly, Alan Jukes who has been an absolute star in supporting FCC and club members, he has helped with communications, sorting Christmas presents, moving FCC out of our Mawsley site in March, collecting and delivering goods and fundraising. Thirdly, Riaz Bhatti who in August immediately offered FCC free central Northampton garage space to help store FCC items. By October last year we had use of the garage and stored all the donations collected by club members.
I know the club co-ordinated the distribution of flyers across your networks requesting donations of goods and the response was fantastic. The club also promoted FCC before Christmas in the Grosvenor Centre and collected £100 cash and donations of Christmas presents. From all these donations, in June we distributed hundreds of used toys, games, arts and craft items and some clothing items to local children – including for use in school breakfast clubs, community youth clubs, refuges and for the benefit of individual families and children in poverty. The new items were used or saved for Christmas presents. We sold a few higher value items – particularly donated electrical gaming and digital equipment. Our next task, now the schools are open again is to distribute 100's of used books collected by club members and stored in the garage before we move onto distributing the rest of the donated clothing. A very big thank you to you all for your support and to all club member's families and friends for their support and generosity too.
On March 28th I attended a Rotary Club meeting at Richmond Villages to provide an update and during the evening received a £1,500 cheque after the very successful Towcester Race course fundraising evening on February 25th. The race night was attended by our Trustee, Ann Bodsworth, who really enjoyed the evening and was taken aback by the commitment and generosity of the Club and the donation of the Racecourse towards the event. These funds were partly used towards purchasing Easter Eggs in April, we distributed over 800 eggs, and the rest will be funding presents for Christmas, so local children who would otherwise miss out on festive celebrations, have the opportunity to receive a gift and share a smile."
************************************************************************************
WHOLE ISLANDS DEVASTED
After suffering the wrath of Hurricane Irma, the Caribbean was pummelled by Hurricane Maria. The arrival of these Category 5 hurricanes makes this one of the most ferocious hurricane seasons ever recorded.

Shelterbox is currently coordinating the provision of aid across six countries, including Antigua and Barbuda, Dominica, the Dominican Republic and the British Virgin Islands.

It

has a variety of aid in the Caribbean, so it can tailor its response to best support different communities. On some islands, there will be the natural resources available to quickly rebuild homes with the help of a ShelterKit. Elsewhere, the Shelterbox tents will be the best option – creating a warm, safe home while the long clean-up process takes place.

But it's not just the Caribbean that has been affected by extreme weather. Torrential flooding places like Bangladesh has left communities in ur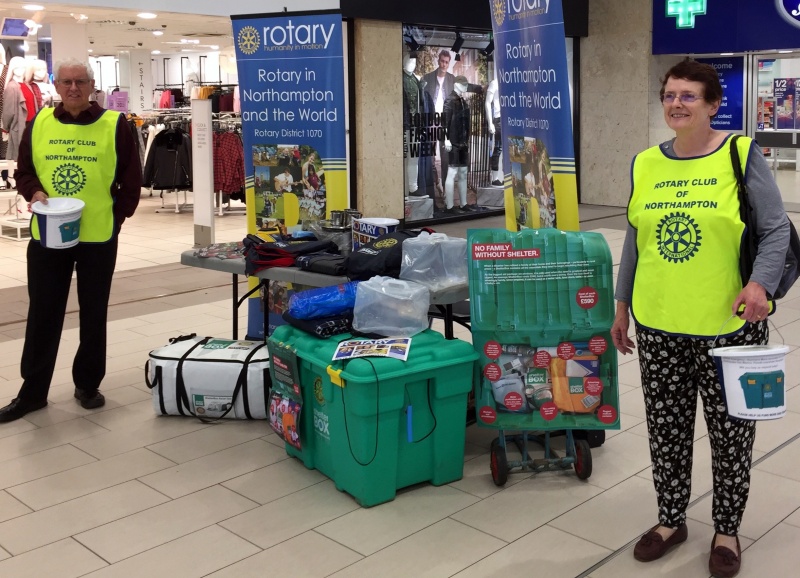 gent need of aid. Shelterbox teams are on the ground in both countries now, but the need is overwhelming.

The Rotary Clubs of Northampton and Northampton Becket were collecting at the weekend in the Grosvesnor Centre to raise money to support Shelterbox's effort to provide assistance in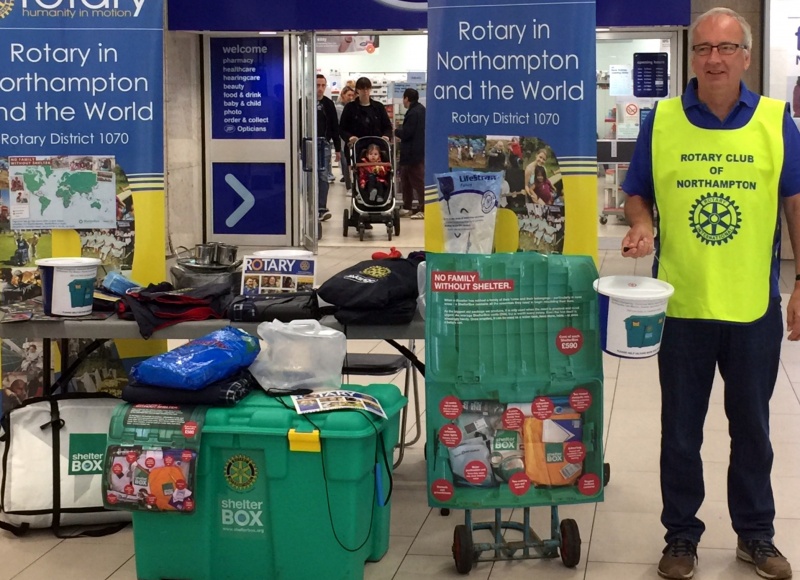 all these disaster areas.
To demonstrate the simple brilliance of the Shelterbox idea, a typical box was shown with its contents on display. This one was specifically aimed at a tropical area, while others are equipped with everything required for a family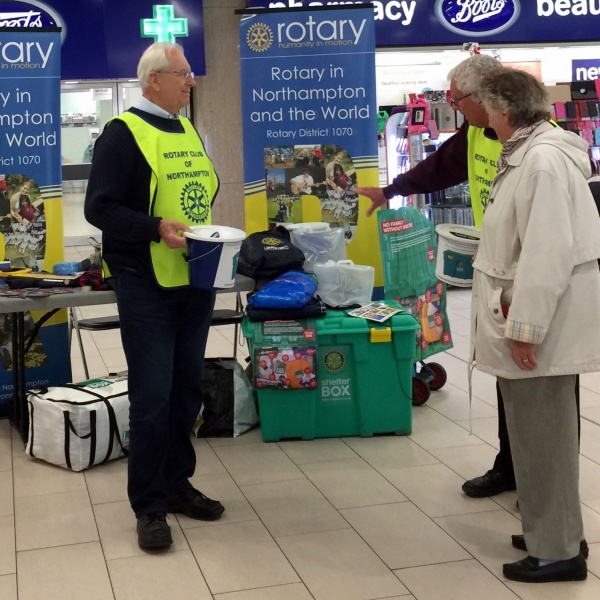 of up to ten, to survive in much harsher climates, with high tog sleeping bags etc.. All Shelterboxes include a large tent, which is quick to erect to provide immediate shelter.
The photo, right, shows Rotarian Trevor Thomas describing the purpose and contents of the Shelterbox to an interested contributor to the funds.

Here is more from the Shelterbox charity itself: -

"We deliver the essentials people need to begin rebuilding their lives in the aftermath of a disaster.
Each disaster is different, and so is every community. We don't believe that one size fits all, so we make considered assessments to provide the exact support that gives people the hope and the power to transform their own lives.
The aid we supply comes in the form of ShelterBoxes and ShelterKits. Our sturdy green ShelterBoxes contain family-sized tents specially designed to withstand the elements and provide people with temporary shelter until they are able to start the process of rebuilding a home. Our ShelterKits contain all of the essential tools people need to start repairing and rebuilding homes straight away.
That's not all. We know that a home is much more than bricks and mortar or tarpaulin and tent pegs. Our kits and boxes contain the items that help transform shelter into a home, like cooking sets, solar lights and activity sets for children.
We test and evaluate all of the aid we provide by talking to, and learning from, the families who use it. This fuels us to be innovative and to continue evolving."
For even more information and a link so that you can make a donation directly to the charity click here
*******************************************************************
To see more of what we do and have done, just browse this website and see what you can find
************************************************************************************
Raise Funds for Rotary Charities While You Shop
Just click here to access over 250 retailers selling anything from CD's to Holidays. Anything you buy through our web-shop will help towards our fund-raising targets - and you won't be charged a penny extra!
************************************************************************************

Support Rotary Charities
If you think that we work we do locally and overseas to support people in need and to improve their environment is worthwhile, and would like to contribute, just click on the "JustGiving" button. Every penny donated to the Club's Benevolent Fund goes towards helping

others, in accordance with the Rotary motto, which is "Service above Self".
Happening soon...
Meetings and events happening soon
Friday 24th November 10.30
Collecting at Wyevale Garden Centre
---
Our annual silent "tin-shake" for the "Mayor's Fund for the Housebound at Christmas"
Saturday 25th November 10.30
Collecting at Wyevale Garden Centre
---
Our annual silent "tin-shake" for the "Mayor's Fund for the Housebound at Christmas"
Monday 27th November 12.30
Speaker: Gary Shaeffer: 1948 London Olympics
---
Gary will be describing the 2nd London Olympiad in his usual inimitable way
Monday 27th November 18.00
Council Meeting
---
Tuesday 28th November 18.15
Satellite Group - Bowling Social
---
Bowls and Dinner - all Club members welcome
details
Monday 4th December 12.30
Lunch - Committees
---
Monthly meeting of the Club's committees
Tuesday 5th December 18.15
Satellite Group
---
Business
Monday 11th December 12.30
Lunch at Northampton Bowls Club, Harborough Road
---
Food Bank Collection
Tuesday 12th December 18.15
Satellite Group - Projects
---
Projects
Thursday 14th December 10.15
Rotary Walk
---
A short, circular walk - organiser John Evitt
Thursday 14th December 10.30
Collecting at Aldi, Weston Favell
---
Our annual silent "tin-shake" for the "Mayor's Fund for the Housebound at Christmas"
Friday 15th December 10.30
Collecting at Aldi, Weston Favell
---
Our annual silent "tin-shake" for the "Mayor's Fund for the Housebound at Christmas"
Saturday 16th December 10.30
Gluhwein & Mince Pies
---
We will be selling Gluhwein & Mince Pies in the Market Place for The Mayor's Fund for the Housebound at Christmas
Sunday 17th December 12.30
Club Christmas Lunch
---
Christmas Lunch at Green's Restaurant
Monday 18th December 12.30
No Meeting
---
No Meeting
Tuesday 19th December 18.15
Satellite Group - No Meeting
---
No Meeting
Friday 22nd December 10.30
Collecting at Morrisons, Victoria Promenade
---
Our annual silent "tin-shake" for the "Mayor's Fund for the Housebound at Christmas"
Saturday 23rd December 10.30
Gluhwein & Mince Pies
---
We will be selling Gluhwein & Mince Pies in the Market Place for The Mayor's Fund for the Housebound at Christmas
Saturday 23rd December 10.30
Collecting at Morrisons, Victoria Promenade
---
Our annual silent "tin-shake" for the "Mayor's Fund for the Housebound at Christmas"
future events completed calendar district events local events
---
---
---
Rotary News
Be part of a global network of volunteers, trying to make the world a better place. Please also see the 'links & news' page for information from the local district and live feeds from Rotary International and Rotary International in GB&I.
Rotary Young Citizen Awards
---
Watch coverage of the 2017 'Rotary Young Citizen Awards', highlighting outstanding young people.
Details on RotaryGBI.org
How Rotary is Funding Polio Immunization in 2017
---
Find out more about Rotary fighting disease
Details on Rotary.org
---
Meetings & Venue
Where and when:
We meet on Mondays at 12.30
Sunley Conference Centre,
The University of Northampton,
Park Campus,
Boughton Green Road,
Northampton NN2 7AL
Or
The Satellite Group meet at Richmond Village, Bridge Meadow Way, Grange Park. NN4 5EB on Tuesdays at 6:15pm
01604 892020 (Mon) or 01604 432602 (Tues)