Forthcoming meetingsF
Please note the next meeting will be an Evening meeting to be held on
Thursday 30th March 2017
please arrive by 6.15pm for the meeting starting at 6.30pm PROMPT,
Please note this weeks meeting is at The Gilvenbank Hotel,
This week our speaker should be Sheriff Fletcher whose talk is entitled. " Human Rights -- Do We Need Them?".
.
WE ARE NOW ON FACEBOOK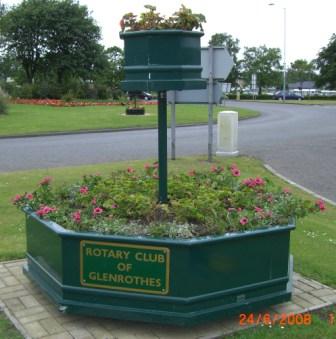 Rotary Planter at Morrison's Roundabout, one of two the other at the Lidyl roundabout. Part of the joint venture with Fife Council's Hanging basket watering programme.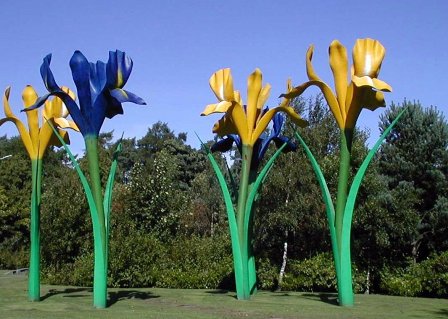 Giant Irises beside Fettykill Fox Roundabout on main road between Leslie and Glenrothes Town Centre.
Glenrothes Town Centre Looking towards the Bus Terminus
The statue was commissed by GDC and
was the creation of Benno Schotz. Benno Schotz (born 28
August 1891 Arensburg - died 11 October 1984 Glasgow), an Estonian-born
Scottish artist. In 1912, he emigrated to Glasgow, where he gained an
engineering diploma from the Royal Technical College. Ex Terra Vis is latin for "From
The Earth Comes Life" and this refers to the fact that Glenrothes New Town
was created to provide homes for coal miners at the nearby doomed Rothes
Colliery.
Meeting Details
Interested in joining Rotary
In the next 30 days...
Social Media...
The Rotary Club Of Glenrothes
Promote your Page too
Meeting Information...
We meet on Thursdays at 12.45 for 12.55 (Last Thursday of month, sometimes an evening meeting. Check with Secretary.) The Gilvenbank Hotel,
Huntsman's Road,
Glenrothes,
KY7 6RA tel: 01592 742077