Welcome to the Rotary Club of Saddleworth
Featured pages:
Activities supporting the local community of SaddleworthRead more
Activities supporting the International CommunityRead more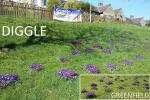 Crocuses planted by Children from Diggle and Greenfield SchoolsRead more
Want to know more about Saddleworth Rotary Club? Do you need our help ?

If you want any further details about us helping you or you helping us, etc.
Meeting Details
Interested in joining Rotary
In the next 30 days...
Meeting Information...
We meet on Wednesdays at 18:30 (On the FIRST Wednesday the club committees will meet from 18:30 - 19:30 and then report back to the club meeting from 19:30. On the LAST Wednesday we normally meet at 19:00 for 19:30, partners invited. But please check the Calendar.) White Hart Inn, 51 Stockport Road,
Lydgate, Saddleworth.
OL4 4JJ tel: 01457 872566