This years Duck Race takes place on
Sunday 28th May 2017
International Committee
Read all about the Bacon Butty Brunch by clicking on
Mary's Meals Bacon Butty Brunch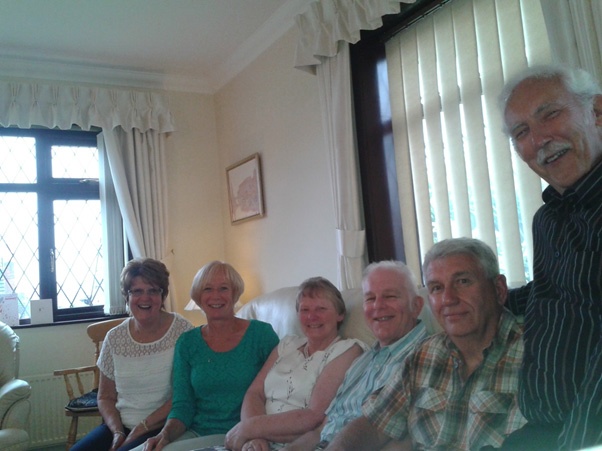 Above is the International Committee plus husbands enjoying a rest after the event!
---
Young Chefs at Woodhey 2016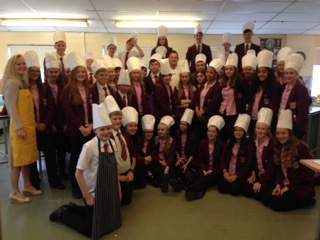 Record breaking at Woodhey High School
Over seventy pupils took part in the annual "National Rotary Young Chef Cookery Competition". This year the competition attracted record breaking numbers. There were nine heats with a grand final "cook off" for the winners of each heat. Chris Haddock, the Chef from the Red Hall Hotel kindly agreed to help with the judging.
Mrs Claire Gallie the Head of Food Technology said the interest is growing year on year, pupils are showing a greater interest in food and cooking, the quality and variety is outstanding for year nine pupils. The entrants had to choose a two course healthy meal for two people, provide their own recipes & ingredients, cook and present the food on their " dressed" table all in one and half hours.
A winner was chosen with a runner up & one person in reserve who will be mentored by Chef Chris in preparation for the next stage which is the District Competition to be held in October. The winners will go on to London for the national final. The winning prize is a gourmet trip to Italy, with lots of wonderful dining and sightseeing.
---
Ugandan Charity

Knitted hats for Ugandan babies
What a splendid sight! Our Rotary Ladies Knitwitters group, plus very kind friends and relations, have, during the past three months, knitted 35 beanie hats, 45 fish and chip jumpers, 3 teddies and 1 blanket plus a crocheted blanket. They were given to Carole of TUSK (Transport for Ugandan Sick Children) at a Rotary meeting in June. She was overwhelmed and will take them back to Uganda. Fish and chip jumpers? Nights can be cold in Uganda and It is said that mothers were so poor, their babies would be wrapped in newspaper, like a bag of chips, to keep warm. Still, it's a catchy name for these little jumpers which are much appreciated.
---
Hilary Himsworth's Race the Train - Bury to Rawtenstall


Hilary made it, not only did she complete the race but came fourth in her class, a fabulous achievement, congratulations from all her friends in Rotary. Hilary also raised over £300, which has gone to her favourite charity Mary's Meals. We look foward to her next challenge.
Mary's Meals is an international movement that sets up school feeding projects in communities where poverty and hunger prevent children from gaining an education. The charity now feeds 1,101,000 children every school day and it costs just £12.20 / €14.50 / $19.50 to feed a child for a year.
To read more about Mary's Meals click here.
---
Meeting Details
Interested in joining Rotary
In the next 30 days...

The annual Ramsbottom Rotary Club Annual Duck Race takes place on Sunday - 28th May 2017.

read more »
Meeting Information...
We meet on Tuesdays at 6.00pm for 6.15pm (Stan Tyrer takes the apologies for members & is also the person who will book you in if you would like to join us. You would be made most welcome.) The Red Hall Hotel, Manchester Road, Walmersley, BURY.

BL9 5NA tel: 01706 822476