About us
New President Con Kelly
takes the lead in Oldham Metro for the Rotary year 2017-18
Still with his Vice President's Chain (far left) New President Con Kelly takes up the post for 2017-2018 with Past Presidents Frank Bolger and Colin Higgins. to his right.



Con's message at the outset of the year
It is an honour to become President of Oldham Metro Rotary Club and I look forward to the year ahead with excitement and enthusiasm.
Oldham Metro Rotary Club is involved in a lot of activities in Oldham. We should not keep this a secret. We want to encourage new members to join us and become involved in Community Work. We also want to need to make Rotary more accessible to busy working people.
To achieve this we need to make better use of Social Media to let more people know about our charity work and to allow busy members to join meetings by Video calls.
It is also important to ensure that we in Rotary continue to enjoy our Rotary as well as building on our community, youth and international work.
Here's to a great year. Con Kelly
Some more about our club
Founded in 1981 Oldham Metro Rotary Club and its members have been actively engaging with the local and wider community since then – living out Rotary's Motto of Service above Self.
Welcome to our Club. These next pages give you some background to the wealth of activities in which we engage, the way we raise monies and the way we help communities both at home and abroad. Our Rotary challenge this year is summed up in one phrase: MAKE A DIFFERENCE and this is what I and the members will try to do.
I am proud to say that in the last few years the Club has directly supported a wide range of projects and charities - working with or making donations totalling over £70,000 - with individual amounts ranging from £27 - £8000. Additionally over a longer period we have supported many community projects and activities with time, advice or participation. These organisations, projects and charities include: Pride in Oldham, The Christie at Oldham, Dr Kershaws, Mayoral Appeals, Street Scene, Rotary Foundation, End Polio Now Crocus Appeal; Lend with Care; Shelter Box Trust, Millgate Arts Centre Delph, Rotary Group Study Exchange, Disaster Aid, Leprosy Project, Integrated Rural Health Centre & Eye Hospital, India and Maternity Care Centre, Pavgoda, Biggest Rotary Wheel in the World, Cancer Research UK, Impact Food Bank, Oldham Parish Church, Memory boxes in Care Homes; Oldham Bereavement Support Services; Saddleworth Cancer Research; Saddleworth Players; Oldham Coliseum; Family Crisis Group; Impact Food Bank. Metro is closely involved in supporting pupils and young people across the borough and beyond viz Primary Schools Choral Speaking Festival, and Spelling Bee; Oldham & District Cross Country Championships, ACE Centre, Papyrus, Mahdlo, Rotary International Summer Camp, Life Education, Waterhead Academy, North Chadderton and Saddleworth Schools; Rotary Junior Chef project; Excitement of Science; Medequip 4Kids; Rotary Young Leaders Award, Impact and Street Scene, Oldham; Gardening projects including St. Thomas, Leesfield Gardening Gang; Springhead N&I School; Blackshaw Lane School, Father Christmas at various events; Oldham Latics Community project; Young Performers Showcase of Dance, Music and Drama at Saddleworth Show; Annual Carol Concert at St James; Young Carers ; Camp Ecuador; Chernobyl Children's Lifeline; Oldham Athletic Community Trust.
In 2016 we teamed up with the West Oldham Schools Collaborative to promote a Spelling Bee in its primary schools - the 2017 finals of which were held in the Council Chamber on 27th June 2017.
Below we have added more about the Club and feature a number of these projects including The Oldham Primary Schools Choral Speaking Festival, the Saddleworth Show which is our main fundraiser – to be held this year on Sunday 2nd July - and Coram Life Education Centres NW (CLE) whose annual visit to many schools in the Oldham area are in the Summer and Autumn Terms.
Con Kelly President, Rotary Club of Oldham Metro
Rotary Club of Oldham Metro
Oldham Primary Schools Annual
Choral Speaking Festival

This, our Flagship event, now in its 34thyear, has enabled over 60,000 local children aged 4-11 to participate in a public performance on a stage mostly at the Oldham Coliseum Theatre. It covers three days before Easter each year. – this year 21st - 23rd March 2017 and a Festival Presentation Morning for the Trophy Winners and those with Adjudicator's Special Commendations on 27th April
FUND RAISING

Our prime fund-raising event in recent years has been the Saddleworth Summer Show, organised in conjunction with Saddleworth Rotary Club but we have had many others including Big Band night; 60's Night; Carol Concert; Jazz Night; Indian Evening and an East Meets West evening, Playhouse 2 and Delph Theatre.
MEMBERS

Oldham Metro is a club of around 35 male and female members drawn from a wide range of professions and occupations, though some are now retired. If you are interested in knowing more about us or possible membership we can be contacted through our website. www.oldhammetrorotary.org.uk
MEETINGS AND ACTIVITIES

Recent visits and social occasions have included visits to North Chadderton Academy; Playhouse 2 Shaw; Oldham Temple; Street Scene, Oldham; Cheetham's School of Music; Gorton Monastery; Houses of Parliament, Westminster; Yorkshire Mining Museum; Millgate Theatre, Delph; Oldham Coliseum; St Anne's Church; Impact Food Bank; Christie's at Oldham;Micro brewery; Huddersfield Canal Society at Marsden.President's Evenings, Charter Nights; Speaker Evenings; quizzes, a mini cruise; Rotary District and National Conferences, Wine and Whisky tastings complement the weekly meetings.
Our meetings are held on Tuesday evenings at Royton and Crompton Golf Club and apart from our Club business we have visiting speakers who have recently included The Samaritans; Mahdlo Youth Zone; Kidscan; Ken Bennett and the Mystery Man on the Moor; Papyrus; Brian Grimsditch Snr Archaeologist UOS; Flt.Sgt. Simon Pogson 1856 squadron Royton ATC; John Dalziel, Oldham Hulme Grammar Uganda project; Christopher Hamilton Oldham Rugby League Football Club; Swami Japananda – Indian projects; Dogs for the Disabled; Oldham Bereavement Support Service; Sean Ruane Classical Singer - Sings at Wembley for big Football games; Sarah Suthers Med Equip 4 kids; Sir Peter Fahy – Policing in Greater Manchester; Glenn Dale Oldham Parks and Leisure; Daisy Murphy, Junior Mayor; Past Mayors Kay Knox, Jim Mc Ardle;Martin Torr New Image - Sponsored Bike Ride in Bangladesh ; Richard Knowles - Bridging Denmark;Dr Paul Whittaker Music for the Deaf; Hearing Dogs for the Deaf; REMIT Rotarians Eliminating Malaria in Tanzania; Disaster Aid; Charlie Parker former Chief Executive OMBC (now CEO at Westminster council). Dogs for the disabledWebsite: www.oldhammetrorotary.org.uk
SUPPORT FOR

The North West Life Education Trust is a community based charity supported by Rotary Clubs in Oldham and throughout the area. It operates mobile classrooms that give the messages of healthy living and drug prevention to primary school children. Each classroom has a specially trained educator. The children learn how their bodies work, how special and unique they are and they develop the skills and confidence to make positive choices about a healthy lifestyle.
25 years on from the introduction of Life Education in the NW, one of the Life Education Mobile Classrooms was replaced in summer 2016 with a brand new State of the Art version sponsored by the Stoller Charitable Trust – a magnificent local benefactor. Though it will also operate in the nearby boroughsof Rochdale, Bury, Bolton, Stockport and Tameside it will be giving priority to Oldham Schools.
New programmes
· Bcyberwise – Internet Safety for primary children
· Time for change-Puberty and personal relationships
· Happy Health Start-Parent Workshops
· SCARF-a huge online bank of curriculum based resources to support PSHE
www.coramlifeeducation.org.uk Registered Charity 1089764
Rotary Club of Oldham Metro
Oldham Primary Schools Annual Choral Speaking Festival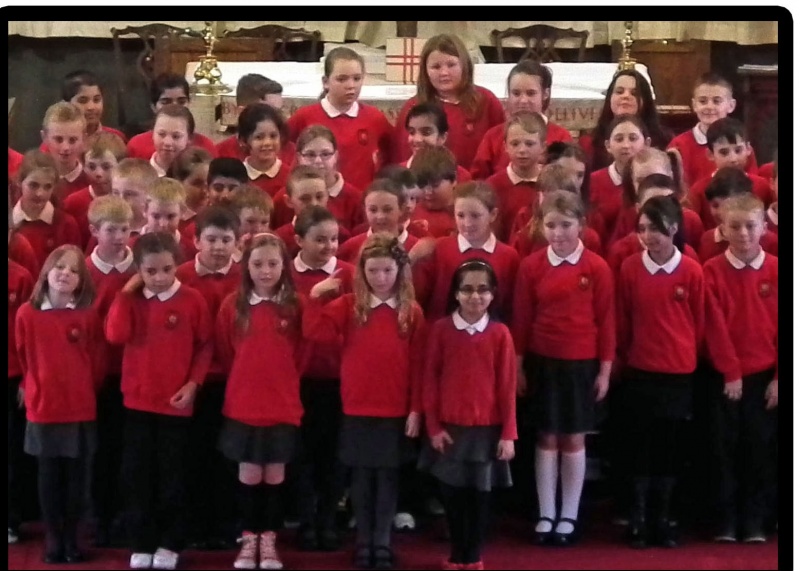 This our Flagship event – now in its 34TH year – has enabled over 56,000 children aged 4-11 years to participate in a public performance on a platform or stage mostly at the Oldham Coliseum Theatre.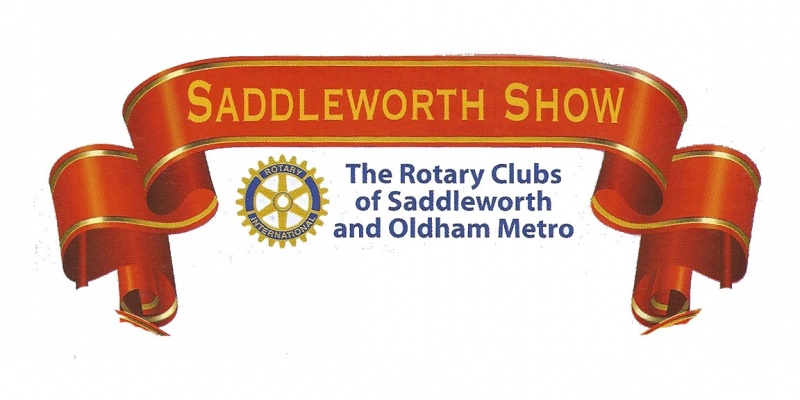 A photo gallery

President for 2014-15 John Walkden
is welcomed by Past President Jim
Matthews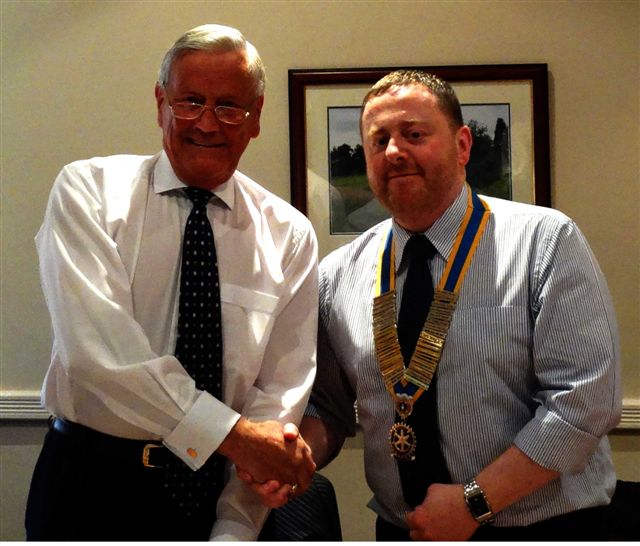 2015/16 President Colin Higgins is presented with his Vice Chairman's Chain b President John Walkden
with Assistant District Governor Ken Tonge PHF in the foreground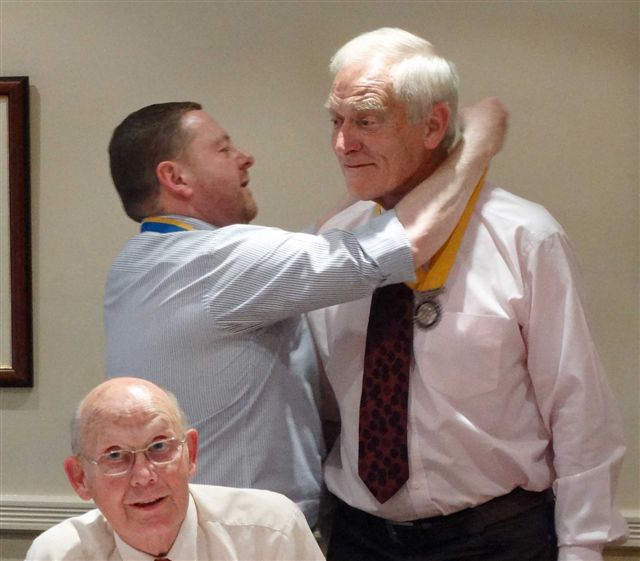 Other Pictures from events at the Club - see also list of pages on right
2014 A moment of history - the Club welcomes its first Lady Member Joanne Mountford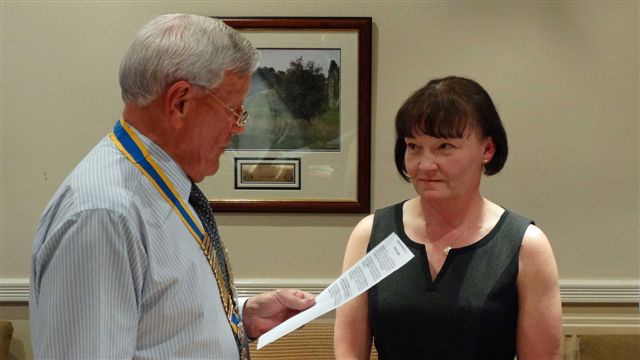 Group Picture:
President Jim Matthews (centre) is pictured, with Past Oldham Metro President Brian Fort and Immediate Past President of Saddleworth Rotary Club John Ainley, making a presentation of �2000 to the Christie Million Pound Appeal � one of many presentations from the very successful Saddleworth Show of July 13th & 14th 2013
Some pictures from the Club's recent activities
President David Booth (2012-2013) presents a cheque to the Christie at Oldham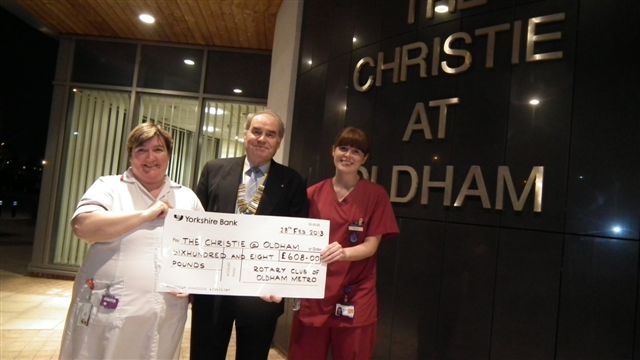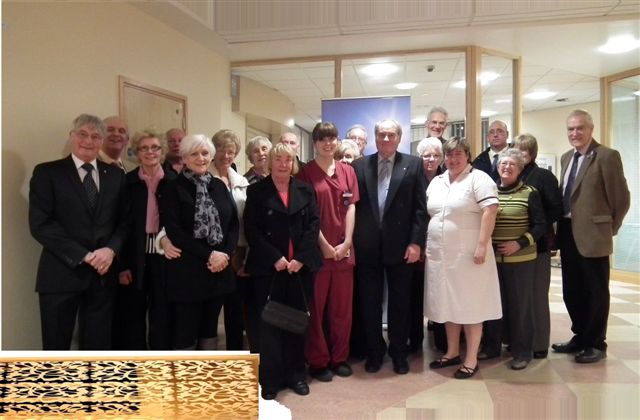 Club Visit to The Christie at Oldham
David Booth Takes over as President for 2012-13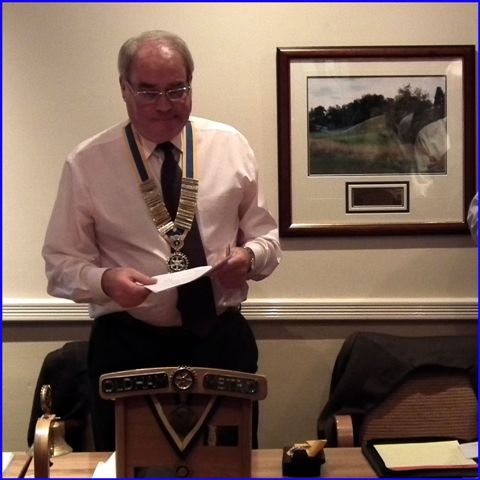 Immediate Past President Gordon Russell hands over the Chain of Office to 2011- 12 PRESIDENT Brian Fort. Brian was also President 25 years ago.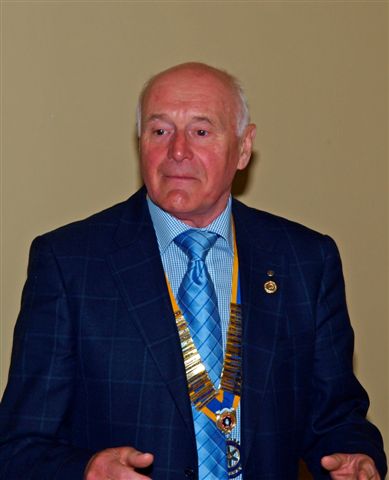 PRESIDENT Brian Fort President 2011-12 welcomes you to the
Oldham Metro Rotary Club Club1447 District 1280
Being President of the Rotary Club of Oldham Metro is a great privilege and one I am looking forward to; Metro is a great Club and we have proved, over the years, that we can both serve the community and, at the same time, have fun and fellowship. This year I hope we can continue to get involved with the many activities taking part in the Oldham Borough especially with the Youth of Oldham and from the proceeds from the Saddleworth Show we have donated �2500.00 to Madhlo the new youth centre being built in Oldham. Next summer we will join with the Saddleworth Rotary Club in (hopefully) staging the Saddleworth Show 2012. We are once again sponsoring the Pride of Oldham Awards with special emphasis on the Voluntary, Groups and Community Service sections. These Awards are 10 years old this year and recognise all the unsung heroes of the Borough.
Next year we hope to once again stage the School Choral Speaking Competition which this year involved 1800 children and has proved so successful.
The Rotary Motto is Service above Self and I am sure all the members of the club will work to achieve this as they have done over the past 30 years.
David Booth is my Vice President for 2011-12 and together we will strive to serve the club and the community.
Some pictures from our recent activities: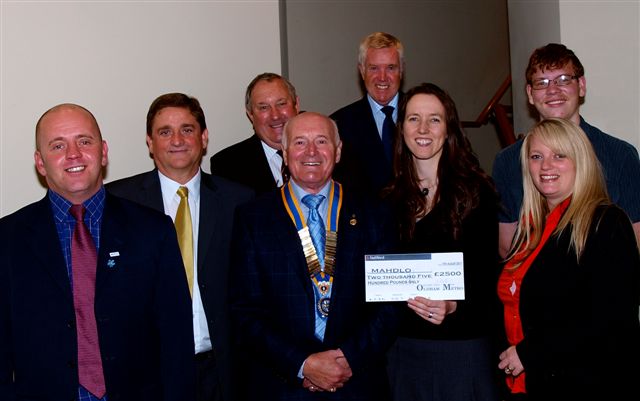 A big cheque for Mahdlo!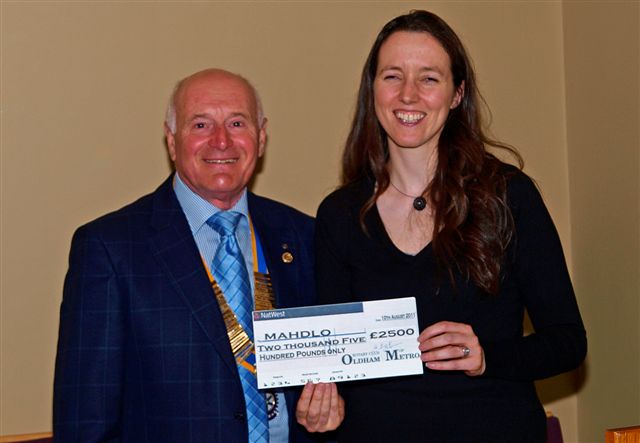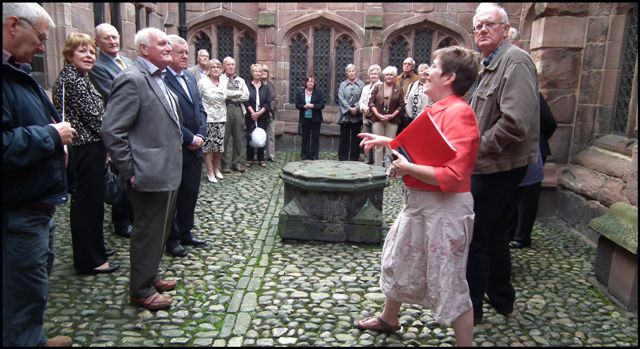 Club Visit to Cheetham's School in Manchester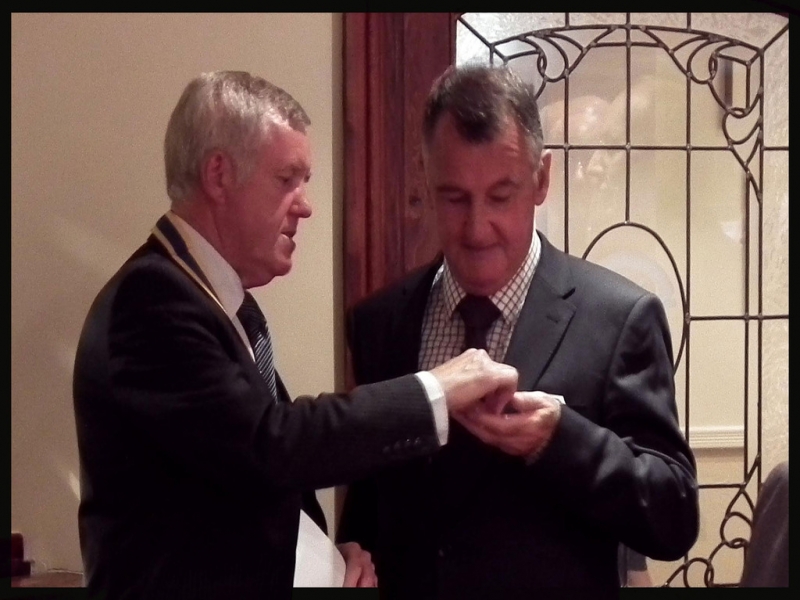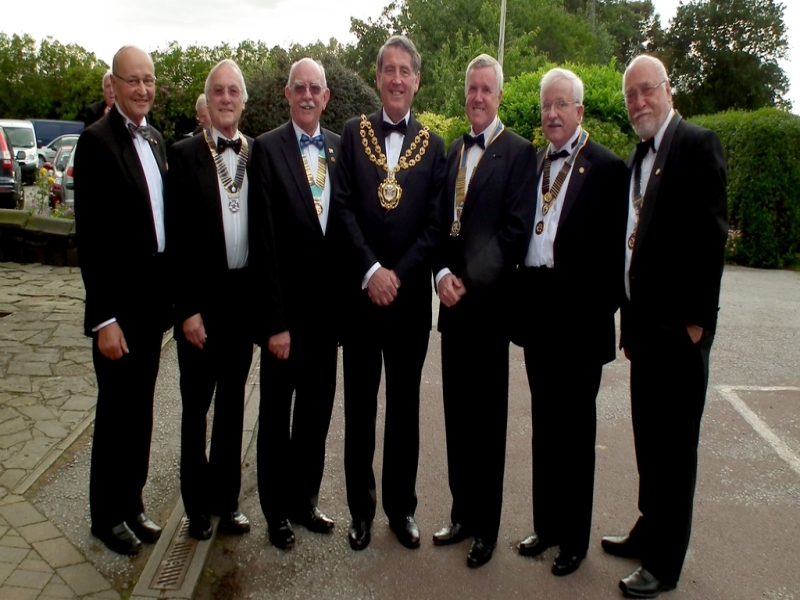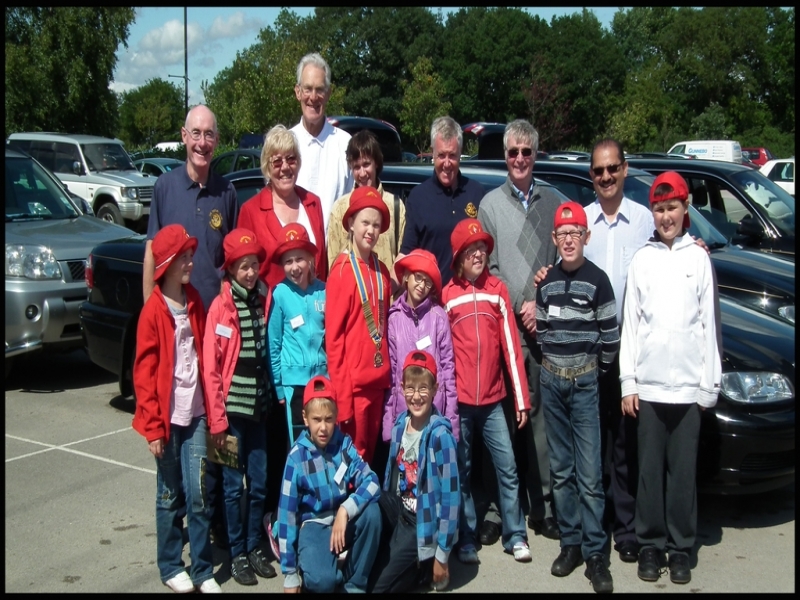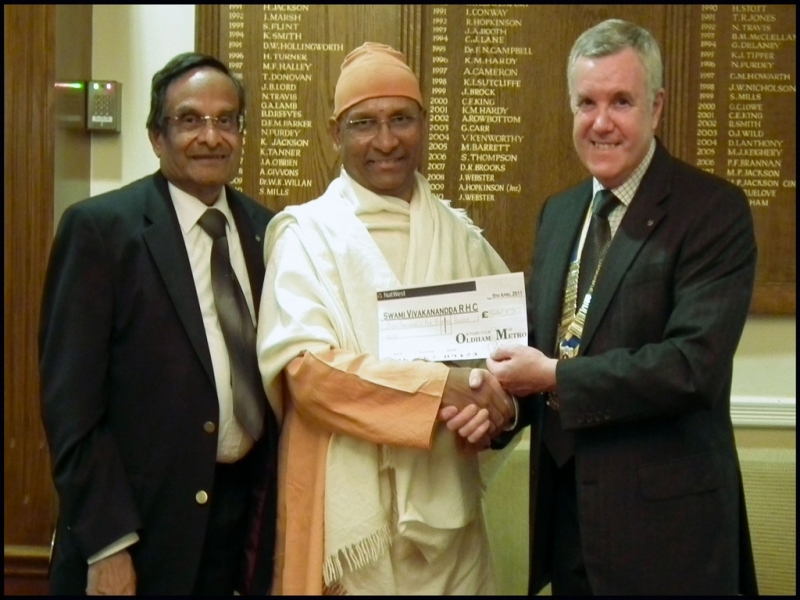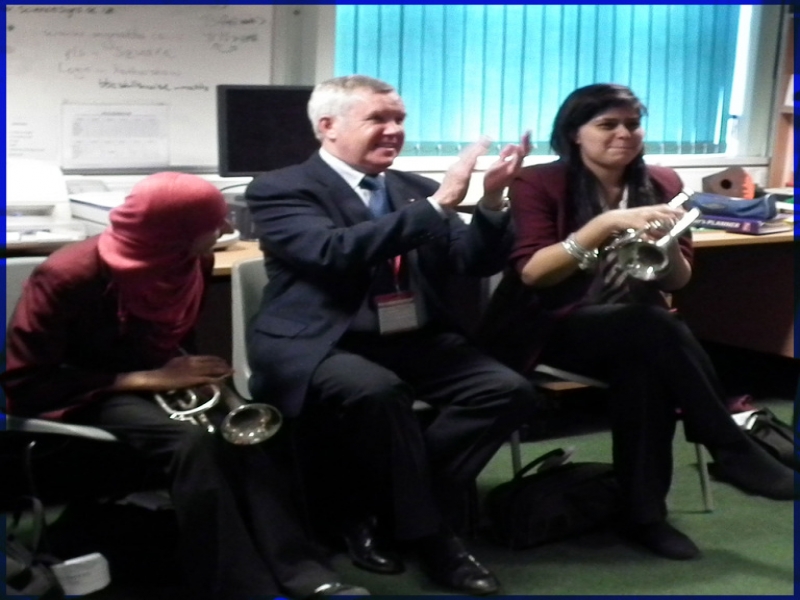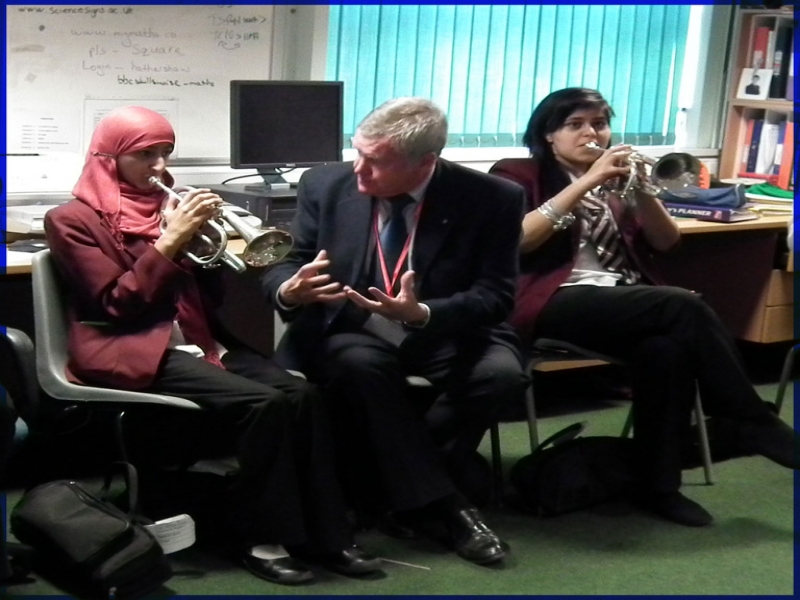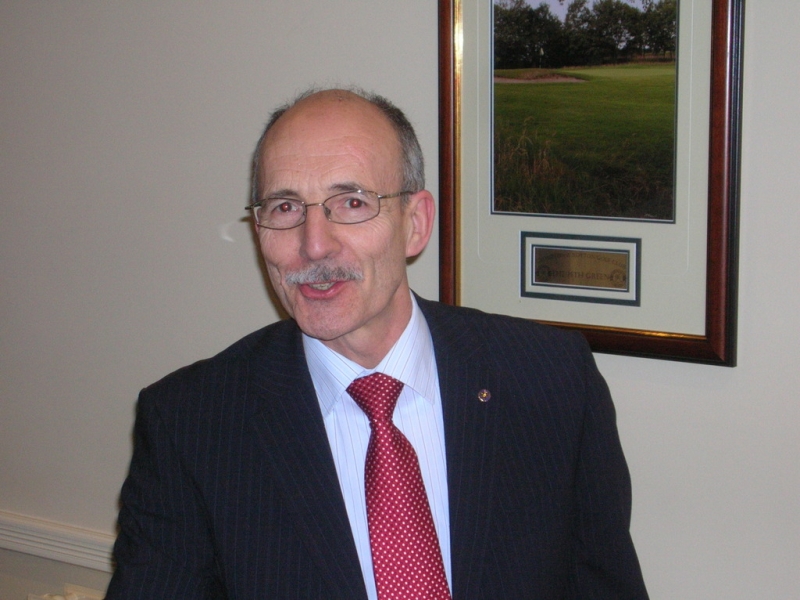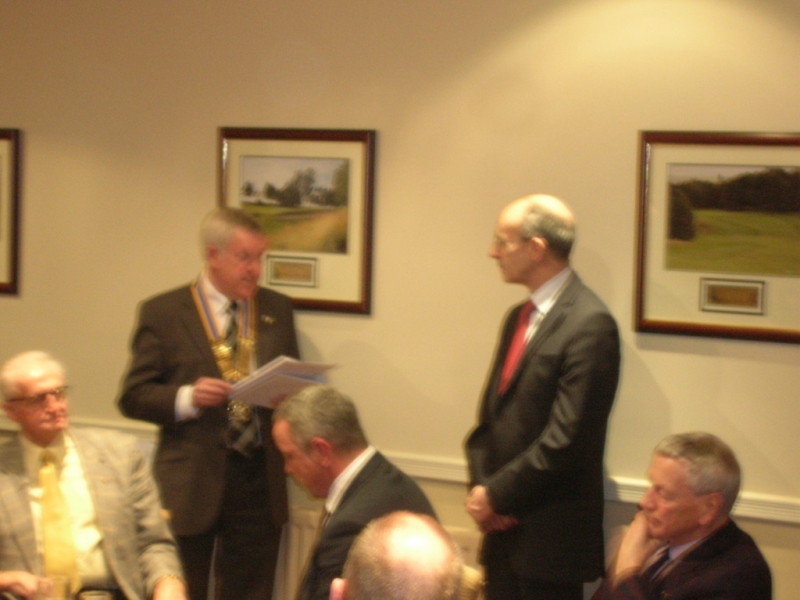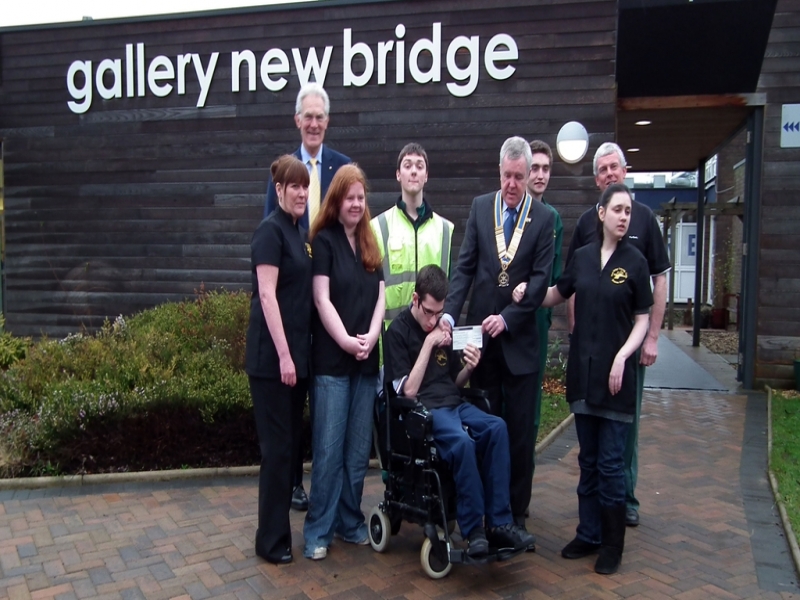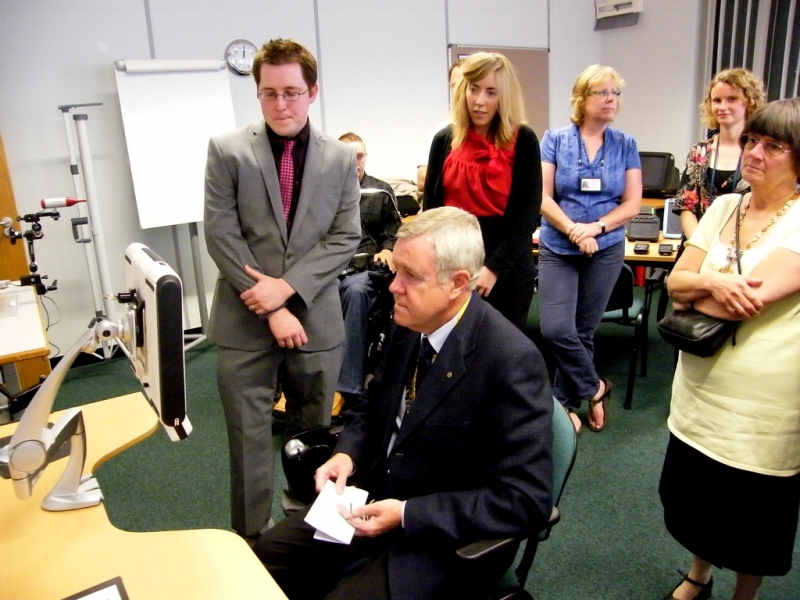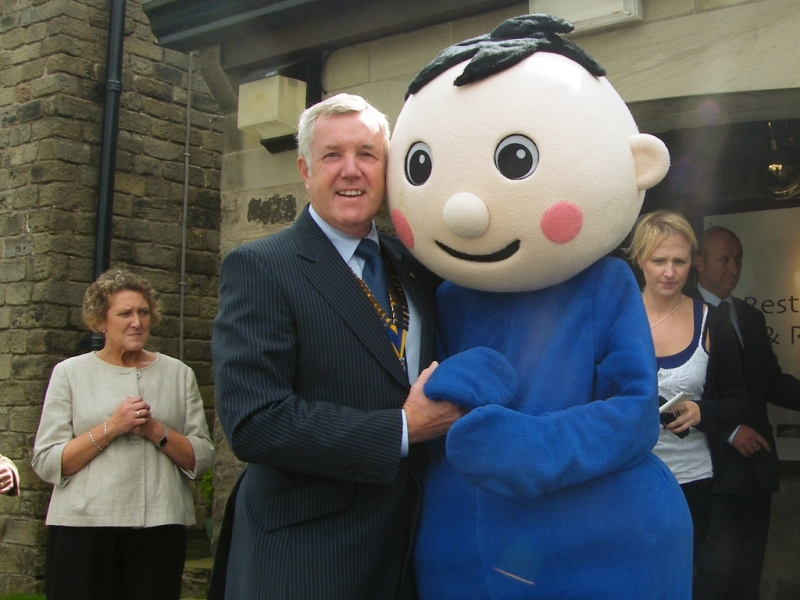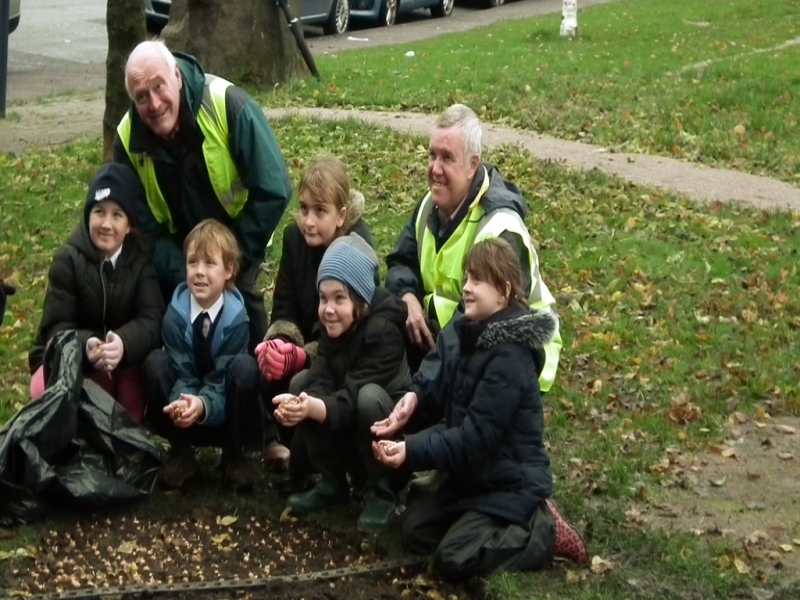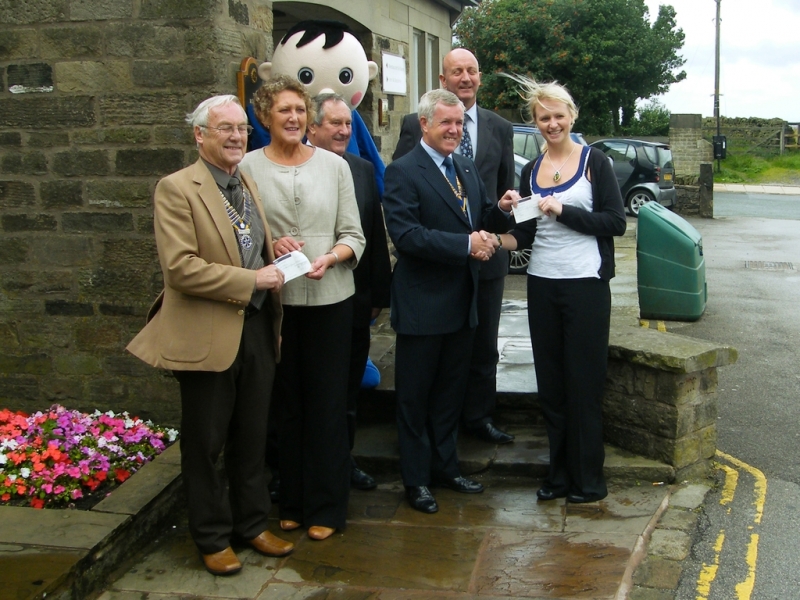 Welcome to the website of the Rotary Club of Oldham Metro
---
Rotary News
Be part of a global network of volunteers, trying to make the world a better place. Please also see the 'links & news' page for information from the local district and live feeds from Rotary International and Rotary International in GB&I.
Family Rotary club use skills to kick-start local charities
---
Rotary members unite to tackle world hunger
---
---
Meetings & Venue
Where and when:
We meet on Tuesdays at 1830
(
No meeting after bank holiday
)
Crompton & Royton Golf Club, High Barn, Royton Oldham OL2 6RW
0161 624 0986