Cliff Dochterman - When did Rotary really start?:- http://vimeo.com/25486711
www.facebook.co
m/rotaryclubofnantwich
To listen to Redshift Rotary Roundup Shows presented weekly by Tony Hoy & Rod Stokes Click on :-https://www.mixcloud.com/RedShiftRadio/playlists/rotary-roundup/
Join Rotary and make a world of difference to your own community, to the lives of those less fortunate around the world, to your fellow club members - like-minded men and women of all ages - and, just as important, to yourself! The projects Rotarians get involved in are incredibly fulfilling, worthwhile and rewarding - and there's plenty of fun.
--------------------------------------------
Record 100% Attendance for Rotary Club
Primary School Art & Handwriting Competition!
Edward Timpson, MP presents £850 worth of prizes on May 13
For the first time ever, all 14 of the Nantwich Primary Schools participated in the Rotary Club of Nantwich Primary School Art and Handwriting Competition. For the fourth year running, Edward Timpson MP presented the prizes, worth £850, in the Nantwich Museum on May 13 at 11.00 a.m
The Judges for the competition - local artist and architect Martin Greenwood and Brine Leas School art teacher, Claire Somerville, had the difficult job of choosing the individual winners. Due to last year's amazing response, the handwriting competition was run again and judged by Frances Passmore
The theme for the competition was simply "The Great British Countryside".
Building on the success of previous years, the format was as follows:
Art and handwriting entries will be judged in two groups: Key Stage 1 and Key Stage 2

Four prizes of £50 each in the form of gift vouchers plus 'gold' medals were awarded to the children entering the item of artwork and the item of handwriting judged to be the best in each Key Stage group

Sixteen prizes of £25 in the form of gift vouchers plus 'silver' medals were awarded to the children judged to be runners up for artwork and handwriting in each Key Stage group
To reflect the importance of Nantwich Rotary Club's commitment to the development of art and good handwriting in our local schools, a further £250 prize and trophy was also awarded to the school judged to have the highest overall standard of entries. The money will be used to further enhance the school's facilities.
We would like to thank our generous sponsors - the William Hodgkin Trust, Morrisons (Nantwich) and Nantwich Hearing Centre.
Many of the works of art will be displayed in the Nantwich Museum from May 10th to 27th.
For full report please refer to School Art and Handwriting Competition 2017 under 'What We Do' tab
Induction of Tim Marsden,Phil Pinnington and Lorna Hickey

With President Christine on 10th January 2017

Rotary Roundup Redshift Presenters in a pre Christmas Broadcast
Click Here for St Luke's Thank You :- CertificateSt_Lukes_Thank_You_001_NEW.pdf
Members and guests on a visit to the House of Commons 2nd December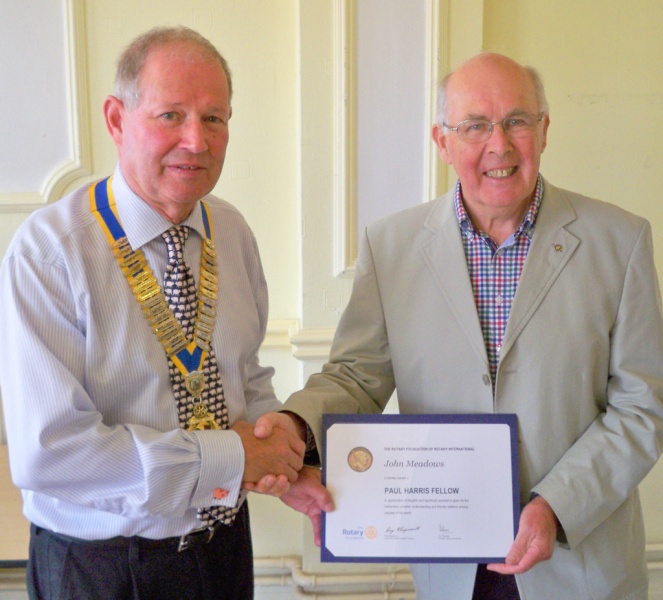 President Rod's final duty was to present a Paul Harris Fellowship to John Meadows in recognition of many years of sterling service to the Club and who with his wife Sue took part in a visit to India in 2007 as part of a Polio Immunisation team.
-------------------------------------
Past President Sandra handing over to New Inner Wheel President Chrissie Weaver July 2016.
-----------------------------------------------------------
Rotary Club of Nantwich Gives Primary School Zoo Trip Treat
Nantwich Primary Academy Year 1 pupils on first ever school visit to Chester Zoo
In return for the Rotary Club of Nantwich's sponsorship of their 'Living with Tigers' programme, Chester Zoo donated entry tickets for a local school of the Club's choice. An additional donation from the Club to the school, paid for travel costs so that 25 Year One pupils, teachers and carers from Nantwich Primary Academy could enjoy a wonderful day at the Zoo at no cost to the families or school. The sunshine was an added bonus!
"In the last 20 years the population in the Terai, Nepal, has increased by 81% to over seven million people. This has led to habitat loss and fragmentation, but despite this the area is viewed as one of the worlds' best remaining tiger habitats. Across the Terai lowlands, effective conservation action has resulted in an increase in tiger populations; while this is great news, more tigers need more space and as a result are venturing into villages and killing livestock and, too often, people! Local villagers then retaliate through resentment and fear by hunting the tigers. This is cancelling out the hard work of those who have successfully protected tigers from poachers, so our on-going work is critical." said Chester Zoo.
Said Year One Teacher, Julia McGhie: "Nantwich Primary Academy is very grateful to the Rotary Club of Nantwich for the funding that allowed our Year One children to visit Chester Zoo. It was a fantastic opportunity, which was both educational and fun for the children, many of whom had never been to a zoo before. We saw just about every animal and the highlight had to be the beautiful tigers in the new Islands exhibit which came right up close as if to pose for our photographs!
"The children have been excited ever since and have written all about their favourite animals, from the tropical butterflies to the spider monkeys, lions and tigers. This experience will be something they will remember for a long time to come."
"Our continued support of our local community as well as environmental causes around the world is one of the main reasons we exist. We were thrilled to be able to support both tigers in Nepal and our local primary school children - a great day was had by all." said Rotarian, John Crowe.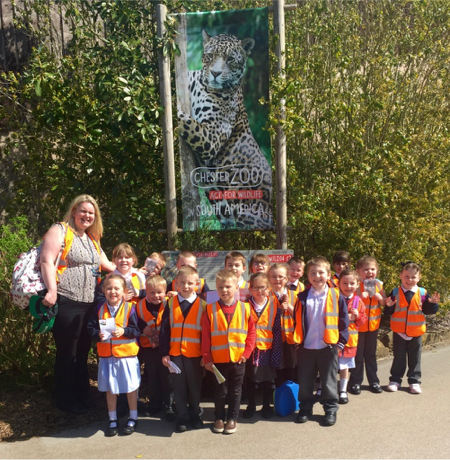 ----------------------------------------
Handbag of Harmonies Helps Rotary Club of Nantwich Raise £1000

Pink feather boas and assorted handbags take to the stage at the Nantwich Civic Hall to raise funds for Nepal earthquake victims
On Friday, February 12, 2016 an elegant spectacle took to the stage at the Nantwich Civic Hall. 40 members of the Handbag of Harmonies ladies choir, adorned with bright pink feather boas and multi-coloured, glittering handbags, sang their hearts out to help raise funds for the thirty thousand people affected by the Nepal earthquake last year. Their repertoire covered a multitude of musical genres and the audience of nearly 150 was entertained with songs from The Sound of Music to Coldplay and Adele.
Over £900 was raised for this specific project, which is being run by The Rotary Club of Nantwich in conjunction with the Rotary Club of Himalayan Ghurkas. All of the money raised will go directly towards rebuilding the drinking water source in Aruchaur, Nepal damaged by the devastating earthquake, which tragically took some 9,000 lives and left many thousands of people in dire straits; many without essential drinking water.
Said President Rod Stokes: "We are proud of our close association with the Rotary Club of the Himalayan Ghurkhas and are delighted that the evening was such a success. With the money raised on this one evening, we are already one third of the way toward the total needed to rebuild their earthquake-damaged water source. The ladies from the choir thoroughly enjoyed their visit to Nantwich and have said they would love to return as we were such a receptive and appreciative audience!"
------------------------------------------------------
Barry Evans exchanging banners at the Rotary Club of the Himalayan Gurkha
during his recent visit to Kathmandu
Barry Evans presents the Banner to President Rod together with a ceremonial scarf

-------------------------------------------------
T
Santa doing his rounds on the streets of Nantwich Christmas 2016
The Rotary Float toured the streets of Nantwich, Aldi and Simply Food Supermarkets during December and the collections raised nearly £6111, which will be distributed to the following local charities:-
Alzheimers Society £1000
St Lukes Cheshire Hospice £2000
Nantwich Museum £500
Nantwich Museum Dementia Group £500
Inner Wheel Charities £150
Senior Citizens Events £1611
26thSouth West Cheshire Scouts £150
Brine Leas School £100
Guide Dogs for the Blind (M&S Charity) £100
About Us
The Rotary Club of Nantwich was chartered on 1934 and currently (Jan2017) has 41 members plus 4 honorary members.
It is one of three clubs in the old Borough of Crewe and Nantwich. The others are RC Crewe (1932), and RC Crewe and Nantwich Weaver (1985) .
The club is one of 78 in Rotary International District 1180, a district that covers the whole of North Wales, Merseyside and parts of Cheshire, Shropshire and Lancashire and embraces a variety of communities ranging from the pastoral peacefulness and tranquillity of rural areas to the hustle and bustle and vibrancy of the City of Liverpool. Indeed there are a total of four cities within the District, the others being Chester, Bangor, and the newly-designated St Asaph - each of which has at least one Rotary club presence. In addition there is also The Royal Town of Caernarfon.
The 'Nantwich' club is a 'lunch time' Club meeting on a Tuesday and with the 'Crewe and Nantwich Weaver Club' ,which meets on a Wednesday evening, covers the southern extremity of the district,
Visiting Rotarians are most welcome as are ladies and gentlemen wishing to know more about the Rotary organisation or become members.
What We Do
* Meet for lunch every week and enjoy the Fellowship
* Arrange fund raising events .
* Collect about £10,000 each year for charities & good causes
* Encourage International understanding, by twinning & sponsoring exchanges
* Support Local Schools by running annual 'mock interviews'
* Invite speakers to attend our meetings to help spread understanding of their interests & projects
* Organise trips out to theatres, concerts, restaurants, foreign countries
* Recognise vocational service and support of the community
---
---
Contact:-Secretary David Fishburne
email:- david@fishburne.co.uk