Rotarys celebration of the
worldwide "Eradication of Polio" project
Purple Crucus's in bloom
Bolton Spring 2017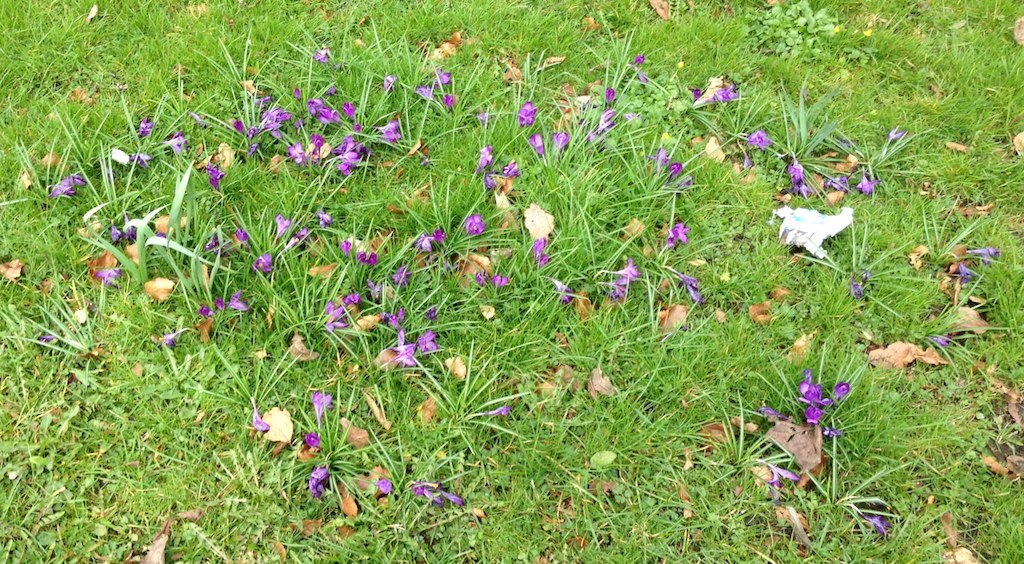 This year (2017) is the centenary of the Rotary Foundation. The Foundation is Rotarys' Charity, that has amongst other things, has spent $1.2billion dollars on a programme of worldwide polio eradication in 1985. Polio is almost gone from the world. The Rotary symbol for the campaign is a crocus.
The Rotary Clubs of Bolton sought opportunities to celebrate the centenary and raise awareness of the ongoing "We are this close" campaign, but also to improve the local community environment, by planting crocuses on small plots of available public land, to be in flower for the centenary, and for each subsequent year thereafter, for the benefit of all.
The pictures show the outcome of our October crocus bulb planting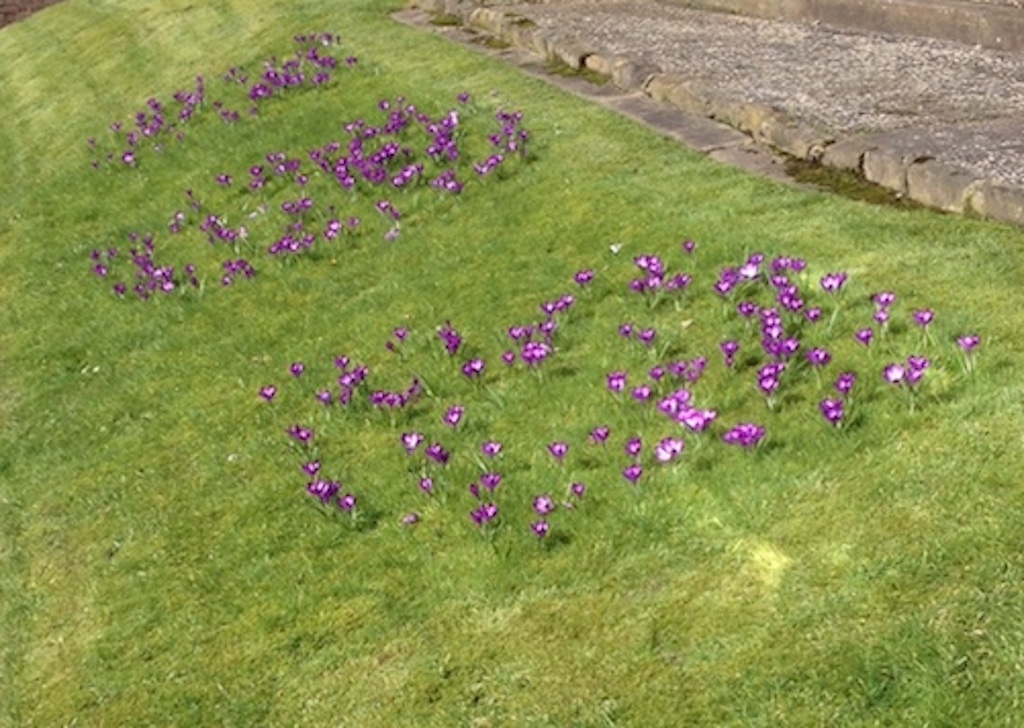 There was no cost to the public purse.
ROTARY AND POLIO FACT SHEET
Poliomyelitis (polio) is a paralyzing and potentially fatal disease that still threatens children in some parts of the world. The poliovirus invades the nervous system and can cause total paralysis in a matter of hours. It can strike at any age but mainly affects children under five. Polio is incurable, but completely vaccine-preventable.
PolioPlus
In 1985, Rotary launched its Polio Plus program, the first initiative to tackle global polio eradication through the mass vaccination of children. Rotary has contributed more than $1.5 billion and countless volunteer hours to immunize more than 2.5 billion children in 122 countries. In addition, Rotary's advocacy efforts have played a role in decisions by donor governments to contribute more than $9 billion to the effort.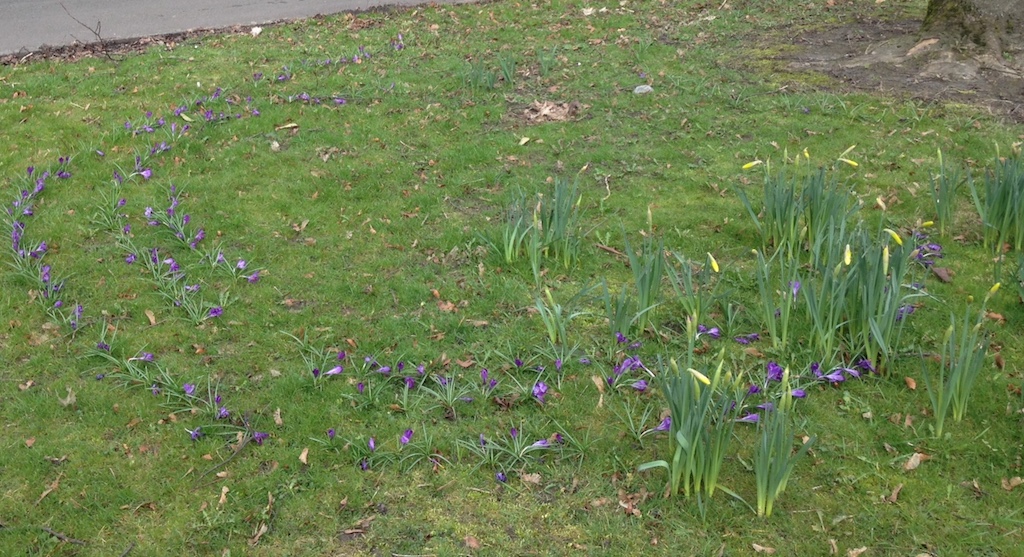 Polio Today
Today, there are only two countries that have never stopped transmission of the wild poliovirus: Afghanistan and Pakistan. Just 4 polio cases were confirmed worldwide this year to March 22nd 2017, (polioeradication.org) which is a reduction of more than 99.9 percent since the 1980s, when the world saw about 1,000 cases per day.
Rotary in Action
More than one million Rotary members and volunteers have donated their time and personal resources to end polio. Every year, hundreds of Rotary members work side-by-side with health workers to vaccinate children in polio-affected countries. Rotarians work with UNICEF and other partners to prepare and distribute mass communication tools to reach people in areas isolated by conflict, geography, or poverty. Rotary members also recruit fellow volunteers, assist with transporting the vaccine, and provide other logistical support.
Rotary's 'We Are This Close' Campaign Seeks to Eradicate Polio from the Globe entirely.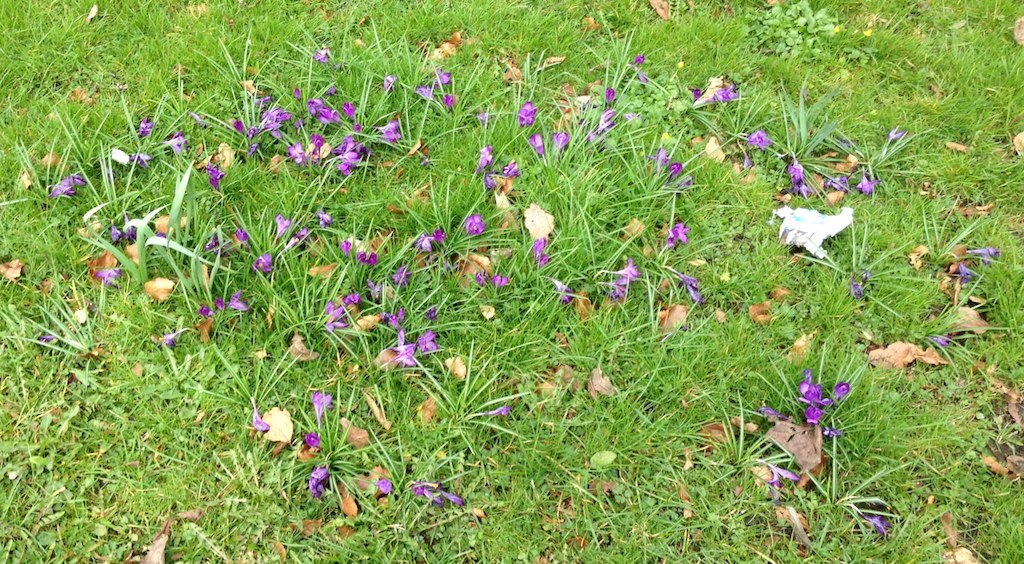 Easter singing at Millview and Beechville
care homes April 10th & 12th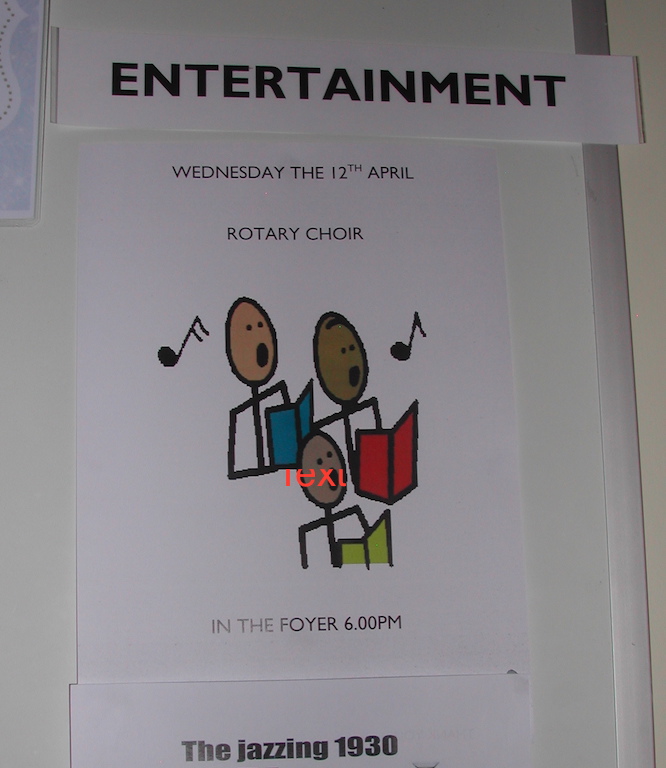 Club Members in action singing (strangling?) some tunes on the 12th at Beechville. Good to see Honarary Member Wilf Griffiths at the edge of the picture. Master of Ceremonies for the evenings was Mervyn Porter and poetry readings from our own "Poet in residennce" Michael Taylor (1st and 2nd from left). A couple of lovely evenings.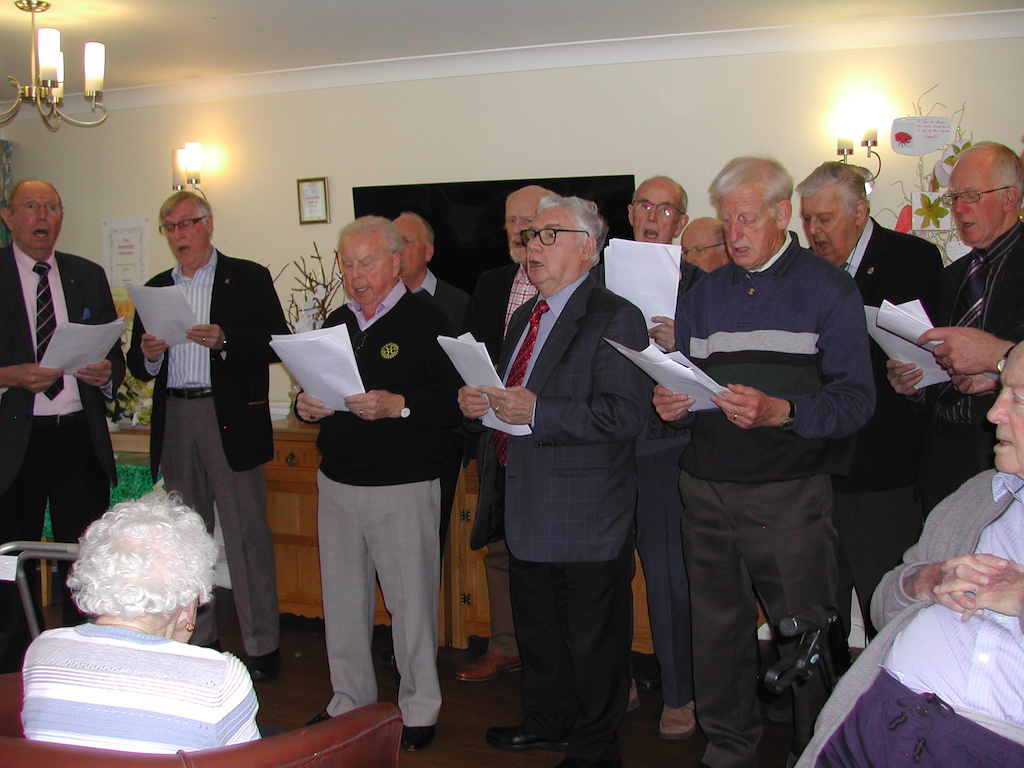 Meeting Details
Interested in joining Rotary
In the next 30 days...
Meeting Information...
We meet on Wednesdays at 19:300 (1st Wednesday of the month 19:30 for Dinner. We do not have a meal on the remaining Wednesday's) Bolton Golf Club, Chorley New Road, Lostock, Bolton BL6 4AJ tel: 01204 843 067