celebrating Rotary's "End Polio Now" campaign which over 32 years has raised $2 billion for polio eradication and helped to reduce the incidence of polio worldwide from 350,000 cases per annum to only 7 in 2017 up to May.


Can we complete the job in 2017? Support "END POLIO NOW"
Welcome to the Rotary Club of Uppingham
The Rotary Club of Uppingham Charitable Trust accounts and Trustees Reports can be found under the "What we do" tag at the top of this page under "Charitable Trust"
What is the Rotary Club of Uppingham?

We are one of 1840 clubs in the UK and Ireland with a total of over 55000 members and part of Rotary International which boasts over 1.2 million members worldwide.We are a young club which was chartered as recently as 2006
We meet socially each week for dinner when we also discuss club business and often have a visiting speaker; we aim for an informal, friendly and relaxed atmosphere.
We aim to put something back into the community both at home and overseas and to this end engage in regular fund-raising activities.
We embrace equality and diversity and welcome enquiries about membership.
Meeting Information...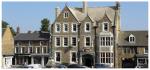 We meet on Mondays at 19.30 (No meeting if Monday is a Bank Holiday) The Falcon Hotel,
The Market Place,
Uppingham,
LE15 9PY tel: 01572 823 535
Meeting Details
Interested in joining Rotary
In the next 30 days...
Social Media...
Rotary Club of Uppingham
Promote your Page too