Featured pages
Welcome to the website of the Rotary Club of Royal Wootton Bassett Town. Please scroll/swipe down through this page to find out more about us, in addition to the pages linked in the menu, top-left
RWBTRC Privacy Statement
---
The Club's full Privacy Statement may be accessed by clicking on the link below the image of the Summary
details
Annual Charity Golf Day - 15 July
---
Our annual Charity Golf Day to raise funds for the Brighter Futures Radiotherapy Unit Appeal. You can copy and print the entry form from this page
details
Annual RWB Senior Citizen's Tea Party on 5 May
---
RWBTRC entertained around 100 Senior Citizens to an afternoon tea in the Memorial Hall - with additional sponsorship from the Town Council and Age Concern UK.
details
---
About us
All photographs on this website are protected by Copyright of WBTRC or the individual photographer
---
Thought for June
The hard part of doing a difficult job is getting started."
John Seay
---
Club Donates £10,000 to Radiotherapy Appeal.
After more than 12 months fundraising, RWBTRC was able to present a £10,000 cheque to Howard Small, our Assistant Governor, which will go towards the 'Area' target of £50,000 by the end of June. Using Rotary's District and International Grants processes, this target - when achieved - will be increased to £175,000 by the time it reaches the Charity's accounts. RWBTRC is proud to have made such a significant contribution to this effort - but this would not have been possible without the enormous generosity and support from our friends, neighbours and the townsfolk of Royal Wootton Bassett. To all of you we send our heartfelt thanks.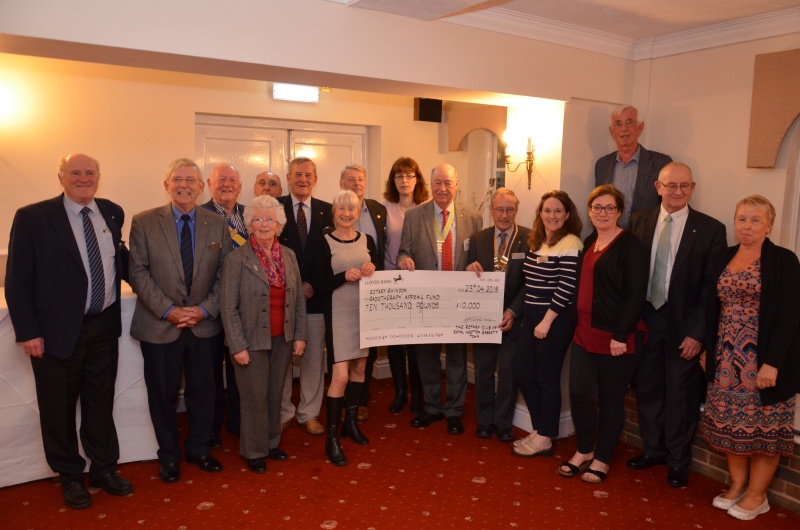 Here are Assistant Governor Howard and Club President Alan with members of the RWBTRC
---
Skittles Played 4 - Won 3; Tied 1
A great evening against Cirencester RC resulted in a narrow victory - 345 v 340, and a subsequent game against South Cotswolds resulted in a very rare result - a Tie. Our last chance to progress to the Knock-Out part of the competition was achieved in a 302 v 280 win against Swindon Phoenix to reverse our previously diminishing 'pins-gap'. Well done to all the players - now it gets serious!!
Here are the culprits from the Cirencester game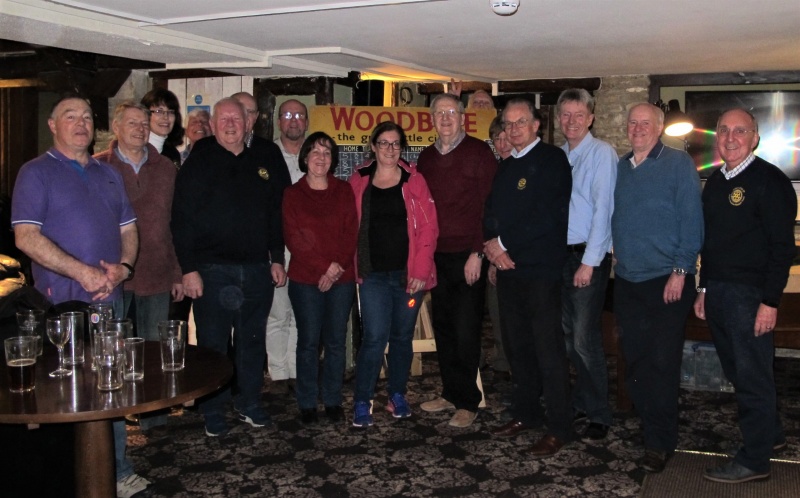 ---
Welcome New Member Chris Morgan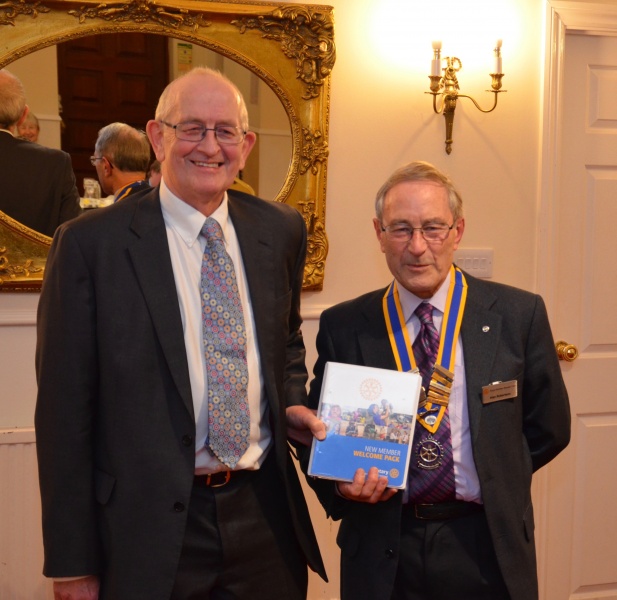 Our Speaker Evening on 5 February was enhanced with the induction of new member Chris Morgan who has already made a significant contribution to the Club's activities over Christmas and the New Year.
The speaker for the evening was Andy Carr of the Royal Wootton Bassett Gin Company (www.royalgin.co.uk). Andy and his family and friends have launched their "premium strength and quality" gin under the "Dauntless" label and are already making significant inroads to the spirits market by partnering with Schweppes and being accepted as a supplier to Marks & Spencer in the South West. Driven by ethical as well as business targets, the Company is supporting 'Combat Stress' and the 'Cavell Nurses Trust' each with 10% of profits. The Company's aim is to focus attention on PTSD sufferers through Bursaries and 'Dauntless Awards'.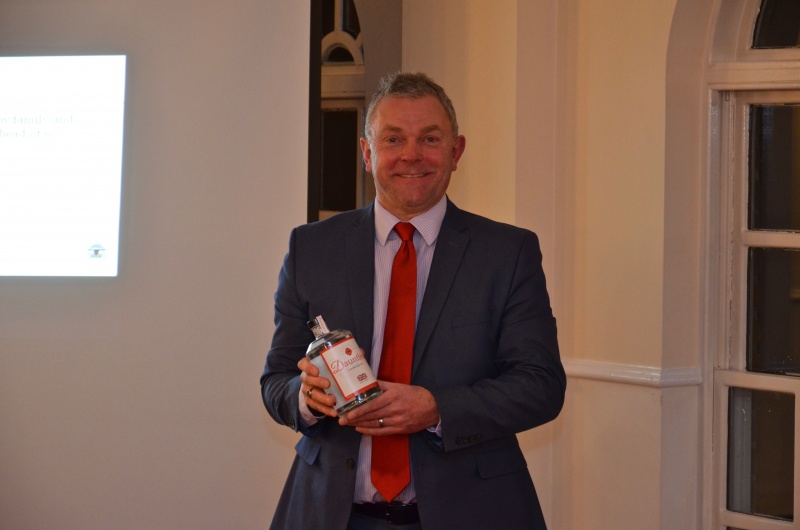 ---
We're Supporting "Brighter Futures"
RWBTRC will be supporting Swindon's Brighter Futures Radiotherapy Appeal
Each year hundreds of Swindon Cancer patients travel on average 2,500 miles to receive essential Radiotherapy treatment. At one of the most vulnerable times in their lives they make this journey away from their support network.
The appeal needs to raise £3 million in order to equip Swindon with 2 specialist linear accelerators.
Brighter Futures, the charity for Great Western Hospitals NHS Foundation Trust, are running an appeal in order to provide this equipment onsite in Swindon. This is in partnership with Oxford University Hospital who will build the facility. Your donation directly, or through a RWBTRC fund rasing event, will be used to purchase the equipment required to provide local people with radiotherapy in Swindon.
With eight people every day being diagnosed with Cancer most of us either know someone effected or have been personally affected-this is our chance to support the biggest improvement in Cancer care in Swindon for over a generation.
Please help when you see the Brighter Futures logo
---
Welcome
Welcome to the Website of the Rotary Club of Royal Wootton Bassett Town. We are a small but active group of ladies and men committed to changing people's lives through our fundraising activities in the local community. We have supported charities in our own community and as far afield as Africa, the Far East and the Caribbean. Alongside our charitable work, we aim to have fun and enjoy each other's company through an ongoing programme of meetings and events.
RWBTRC is proud of its connection with the Town which is situated towards the southern extreme of the Cotswolds and just north of the Marlborough Downs. Now a small market town, Royal Wootton Bassett was originally larger than its neighbour, Swindon but has become very well known around the world for the dignified respect that was given when the bodies of servicemen killed overseas were repatriated through nearby RAF Lyneham. As a result of these selfless and spontaneous acts of respect and remembrance, Her Majesty the Queen conferred the title of 'Royal' on the Town in October 2011 when HRH The Princess Royal handed the Letters Patent to the Mayor, Councillor Paul Heaphy. Although the repatriations moved to RAF Brize Norton following the closure of RAF Lyneham, the Town - and RWBTRC - maintains close contact with the new occupants of the Lyneham base - The Defence School of Electrical and Mechanical Engineering - and the military in general. RWBTRC has been a proud supporter of Help for Heroes through the annual calendar project although, at the moment, all our efforts are focussed on Brighter Futures, the project to bring a radiotherapy capability to the Great Western Hospital (see above). More information on the Community and the Local Area may be found on the Town Council website.
The Club's annual activities have now become focused on 4 activities: a Charity Shop; a Golf Day; a Remembrance Ball and a Charity Calendar. The Charity Shop depends upon the availability of empty premises in the Town and a more permanent site would be welcomed, as it is a very popular 'fundraiser' for the Club's charities raising over £2000 in 2016 for the Wiltshire Air Ambulance. If any of our readers knows of a suitable shop that we might use, please get in touch via the 'Contact Us' tab at the top of the page.
We have managed, each year, to secure the generous support of local businesses for the calendar so that the Limited Edition print run can been entirely funded by donations. This has meant that every penny raised has, and will, go to "worthy causes" and the sum raised from the 2016 calendar was divided between Help for Heroes, Brighter Futures, and the Wiltshire Air Ambulance. Local businesses also help our cause by selling the calendars on our behalf. The summer event is the Golf Day, usually held in July and from which the proceeds have recently been channeled to Brighter Futures. In the days leading up to Christmas we take "Father Christmas" in his sleigh around the streets and neighbourhoods of Royal Wootton Bassett with a band of eager helpers and some joyful seasonal music. The wonderful folks of Royal Wootton Bassett regularly donate over £1500 to Rotary charities during the 3 week period.
In addition, we hold annual Street Collections for our Worldwide "End Polio Now" campaign and to raise money to support the victims of natural disasters such as the typhoon in the Philippinnes in November 2013; the generosity of the Townsfolk is always humbling in its selflessness. We also raise funds to send a local teenager each year on Rotary's own "Leadership Award" course.
But our efforts are not solely geared to fund raising, and we have a regular programme of Speaker Evenings and Fellowship Evenings as well as an entry to the District Quiz, District Skittles and - recently - District Boules competitions. Our motto is 'Service Above Self' but we try to make sure that every 'service' or fundraising activity is founded on a strong fellowship between the Members and their families. Recently we have enjoyed Dog-Racing Nights at Blunsdon Stadium, Curry Supper Evenings at the Ganges Restaurant and a Treasure Hunt. We also hold an annual Quiz Night, a Horse Racing Night and produce an entry for the Town's Carnival.
Reports of our past fun and fundraising activities appear on this page for about a month and are then filed under the major activity groups: International, Community and Youth - and Rotary's own charity - Foundation. These folders, photograph galleries and reports can be accessed through the menus at the top of the page.
An Invitation to You
The Royal Wootton Bassett Town Rotary Club (RWBTRC) welcomes visitors to its meetings on a Monday evening and is always seeking to increase the Club membership. Please visit our Meetings and Events pages to see what we do, or Contact us if you would like to send an e-mail to the Royal Wootton Bassett Town Rotary Club on any topic.
The direct access website address is www.wbtrc.org.uk and if you would like to visit the website of our 'Mother Club' - the Rotary Club of Royal Wootton Bassett and District (RWB&DRC) - which meets on a Wednesday lunchtime, please click here.
As a final reminder, there are two Rotary Clubs in Royal Wootton Bassett. This is the website of the Royal Wootton Bassett Town Rotary Club (RWBTRC) but the Events calendar sometimes includes events that are being organised by the Royal Wootton Bassett & District Rotary Club (RWB&DRC) ; you should go to their Website for more information on these activities.
Happening soon...
Meetings and events happening soon
Friday 25th May 12.00 - 12.00 Monday 31st December
RWBTRC Privacy Statement
---
The Club's full Privacy Statement may be accessed by clicking on the link below the image of the Summary
details
Monday 25th June 19.30
Fellowship Evening
---
Sunday 15th July 09.00
Annual Charity Golf Day - 15 July
---
Our annual Charity Golf Day to raise funds for the Brighter Futures Radiotherapy Unit Appeal. You can copy and print the entry form from this page
future events completed calendar district events local events
---
---
---
Rotary News
Be part of a global network of volunteers, trying to make the world a better place. Please also see the 'links & news' page for information from the local district and live feeds from Rotary International and Rotary International in GB&I.
Family Rotary club use skills to kick-start local charities
---
Rotary members unite to tackle world hunger
---
---
Meetings & Venue
Where and when:
We meet on Mondays at 1930
(
for a 1945 start on the First and Third Monday only - for Second and Fourth Mondays contact Secretary
)
The Marsh Farm Hotel, Wootton Bassett, Wilts SN4 8ER
01793 842800