Welcome to the Rotary Club of Basingstoke Loddon
Featured pages: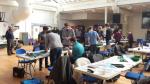 Contestants working on their projectRead more
For a great place to volunteer in your local community look no further than ...... Basingstoke Loddon Rotary.
A motivated team of enthusiastic individuals who all share the same goal of helping add to the lives of others in any way we can.
Every year local people benefit from our support and every year we focus on local causes. We have great fun creating activities to support our goals.
We also organise many stimulating activities for the younger generation aimed to grow confidence and prepare for the real word.
If you would like to know more give us a call and then pop along on any Monday evening from 6:30pm to 7:45pm (except Bank Holidays). We are conveniently located at the Red Lion Hotel right in the centre of and in 90 minutes you will realise how enjoyable and rewarding it is making a difference in your local community.
We can't wait to welcome you so to arrange a visit call Ian on 07768 574400 or email rotary1187@gmail.com
Charity Registration No. 1098794
Meeting Details
Interested in joining Rotary
In the next 30 days...
Meeting Information...
We meet on Mondays at 6.30 pm (No meeting on a Bank Holiday) Red Lion Hotel
24 London Rd
Basingstoke
RG21 7NY tel: 01256 328525