Just 9 days to go ....Countdown to: President Paul Wilkinson Walk 8th April 2017 - Cancer Awareness - Sat 8th Apr at 09.00 . President Paul Wilkinson will be Walking West Coast to the East Coast of England. Contact Paul if you would like to join him on the walk or just sponsor him to raise funds for the Sandra Chapman and Louise Hamilton Centre at the JamesPaget Hospital Please support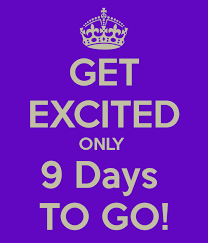 Welcome to the Rotary Club of Lowestoft East Point
We are a dual gender club with 33 members. We meet at The Hotel Victoria in Lowestoft every Tuesdays at 6.00 pm for 6.30pm. http://www.thehotelvictoria.co.uk We welcome new members of all ages .
So what is Rotary
https://youtu.be/LlN6k0dLZF4 Find out more by watching this short clip
We are part of
District 1080
-
"Rotary in East Anglia"
- Most of East Anglia, including Norfolk, Suffolk, and parts of Cambridgeshire, Essex and Hertfordshire. There are 73 Clubs in District 1080.
We are very much a local club but we are part of a very large global organisation. Rotary is an international organisation with over 1.3 million members worldwide (July 2015) . We have over 30,000 clubs in more than 200 countries. With over 50,000 members in the UK alone. All Rotary Clubs are different but we are all a group of people wanting to do good work in the community by volunteering. Our Club is a Charity Registered Club.
Charity Registration No. 1073198
President Paul Wilkinson 2016/2017
eastpointrotary@gmail.com
We would love to hear from you if you'd like to get involved or have a project you'd like our Club members to help with. If you are interested in finding out more or would like to attend a Meeting contact Martin Lott eastpointrotary@gmail.com
24th September 2017 Ron Sampsom Charity Cycle Ride -
The money raised will be donated to our Rotary Club Charity Trust Fund, which supports a large variety of charities both locally, nationally and internationally. Contact Steve James for further details

Kids Day Out –
Wednesday 14th June 2017
at Quaser, Gisleham Industrial Estate. Timings to be advised

Andy Deal would like 2/3 volunteers on the day – please go direct to Andy Deal
D4L – (Dictionaries for Life ) - The Three Rotary Clubs join together to ensure that this project has outstanding results -Dates for your diary - dictionaries will be delivered to schools on Tuesday 12th September.
Presentations on Monday and Tuesday 25th and 26th September. More details nearer the time. Paul Tabiner is the lead for our Club



RYLA - Rotary Youth Leadership awards Interviews to take place on Monday 27th March – led by Paul Tabiner & Ian Davies.
Lowestoft Festival – following a proposal from Council – it was agreed that we would "have a presence" at this year`s Festival 22/23rd July. As well as combining with the other two Rotary Clubs - and other organisations in helping – eg car parking, directing stallholders on arrival etc – we would also staff our own Gazebo to "showcase" our Club, in preparation for another "Information Event" for potential new members on 12th September.


President`s Walk
– Ormiston Denes Academy have kindly agreed to hold a "Cake Stall" at the end of term in support of the walk.
Friday 31st March, at morning break, 10.25, and again at lunchtime 1.15. Cakes selling at 50p each. If any members would be willing to support this by providing any cakes please let me know. Paul Wilkinson is happy to collect any offerings – or, could receive them the evening before at the President`s Dinner at Lowestoft college. Any members who would like to come into school to help with the sale – again, please contact Paul Wilkinson
EasyFunding Rotary Club of East Point Trust Fund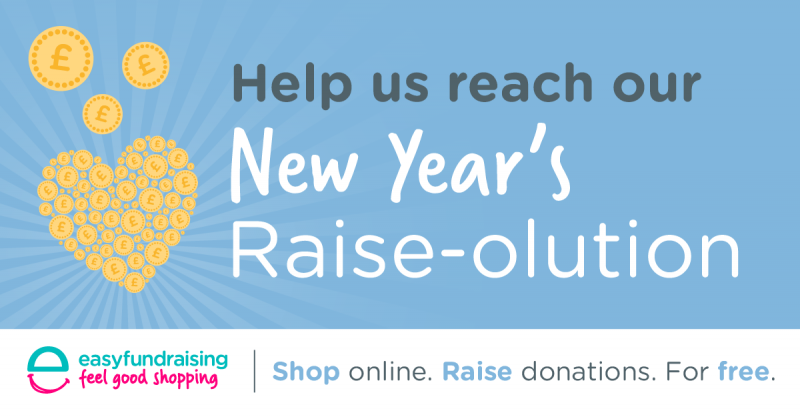 Our EasyFunding Club Trust Fund cause has raised... £1,126.65 raised so far and £172.67 raised this Quarter
... Are you a supporter yet, if not why not? Its FREE money and all you do is register and click a button. Everytime you purchase anything online (tickets, holidays, flights, Insurance, groceries, furnishings, goods etc) Yes that simple! There is no catch.
Do you shop online? Do it through easyfundraising.org.uk and raise a free donation for Rotary Club of Lowestoft East Point Charity Trust Fund every time you shop!
PURPLE4POLIO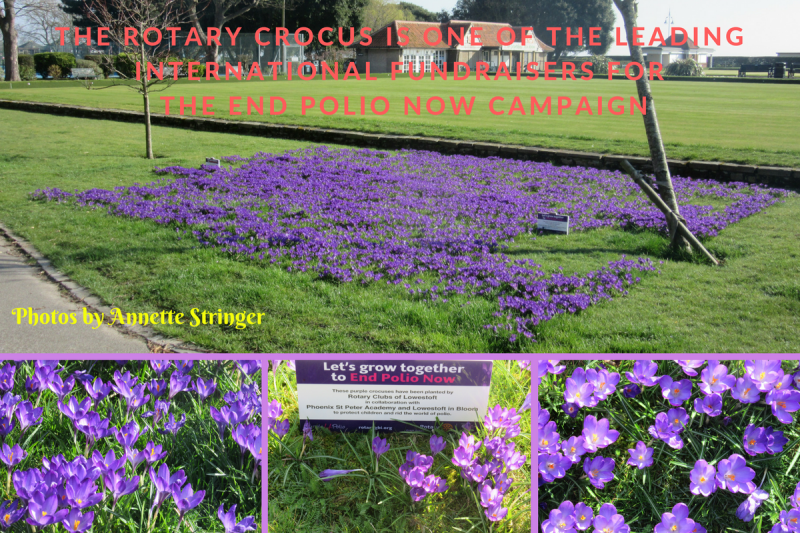 During the first week of November 2016, 30000 crocus corms were planted on a site within Kensington Gardens, Kirkley Cliff Road, Lowestoft.
All 30000 corms are PURPLE.
The project was launched by Rotary International in Great Britain and Ireland and is being supported by Rotary Clubs of Lowestoft.
Rotary Clubs throughout the world are helping to rid the world of POLIO by supporting the nationwide project Purple4Polio. Rotary are trying to encourage everyone to join together in the final push to eradicate polio worldwide.
To make a polio free world a reality, Rotary, who started the campaign to eradicate polio more than 30 years ago and has spearheaded this major health initiative ever since, is determined to raise awareness and funds to finish the job.
The Rotary Clubs of Lowestoft have teamed up with Waveney Norse, Lowestoft in Bloom, and other local community groups to transform public spaces and brighten up the local community by planting PURPLE crocus corms across the town.
The colour PURPLE has been chosen as it represents the colour of the dye which is placed on the little finger of a child on mass immunisation days when literally millions of children in entire countries are protected against the disease.
The campaign ties in with the 100th Anniversary of the Rotary Foundation, Rotary's own and only charity.
More information visit
and see the Purple4Polio information
Photos by Rotarian Ian Davies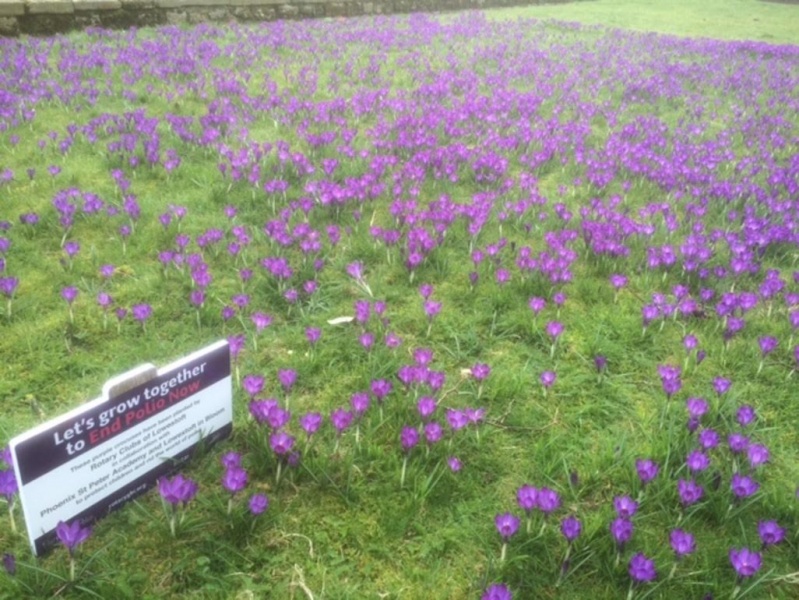 Memories from the Annual Charity Quiz. It was a very enjoyable evening.
First, a big congratulations and thanks to everyone involved in setting up, helping to run and attending the Annual Charity Quiz

A great success with £470 (to be confirmed) raised.

We all hope Pam and Graham have many happy, healthy years in your new home Thank you Annette Stringer for Photos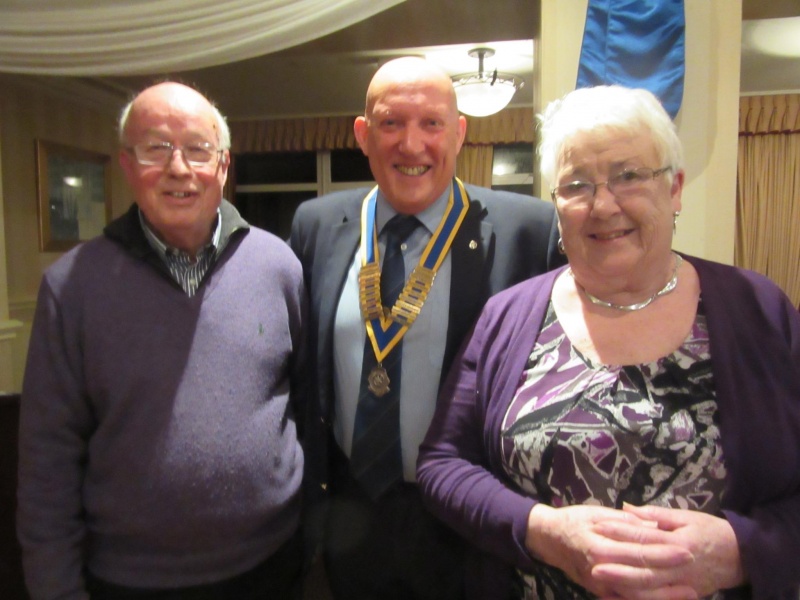 Waveney Sailability Report from Rotarian Sally Green PHF
Around 100 people attended the Waveney Sailability Party celebrating the end of another very successful year. With the weather on our side, we sailed almost every Tuesday between April and October with nearly 1000 sails. Forty badges were awarded at the party, ranging from Entry to Platinum level which challenge members to learn new skills and become independent sailors. Racing takes place every week and 11 sailors have achieved the Platinum award which involves learning racing and
collision rules and this enables them to race against able-bodied sailors during Oulton Week. Trophies were also awarded for a variety of achievements including most improved sailor and, of course, the ; Wooden Spoon; awarded to the most
With a new season on the horizon, plans are being made and boats are being prepared keeping the Directors and Committees busy during the winter months. Chance conversations with members make it clear that we are all looking forward to
getting back onto the water in April. We always welcome support and visitors - please pay us a visit in 2017.
Huge appreciation of Rotarian Chris Addison and Rotarian Sally Green PHF for their stoic work and dedication to Sailability

Rotarian Jon Doran is running in the 10K Run - Run Norwich
Most people know Jon for his voluntary service to SERV Norfolk . Please sponsor Rotarian Jon Doran and help him succeed in the fundraising event (www.runnorwich.co.uk) . 6th August 2017
Serv are a little known Charity who are dedicated to the movement of blood platelets, plasma samples, medical records, equipment and donor breast milk to hospitals in need when there are no other way of moving these items Riders are on duty 365 nights a year and day times during bank holidays and weekends '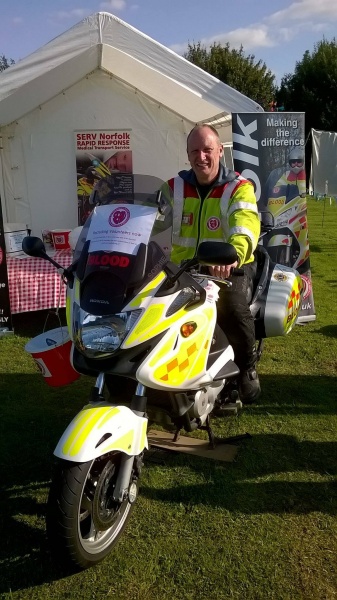 Presidents Evening
Invitation to Rotarian's for 30th March 2017 at Lowestoft College . Please contact Paul Wilkinson if you would like to join Paul for this very special evening. Limited to 48 people only.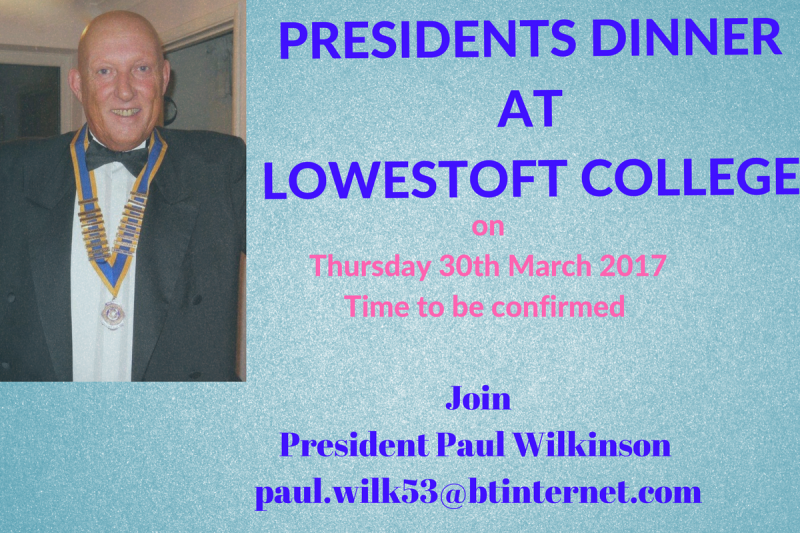 Coast To Coast Walk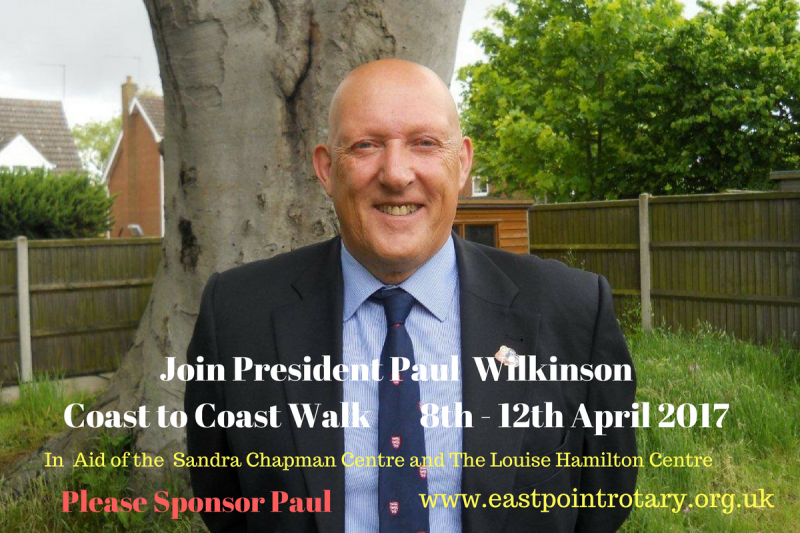 Friday 7
th
April – drive to Newcastle, leave car and train to Carlisle. Complete 10th April 2017 - contact Paul Wilkinson
paul.wilk53@btinternet.com Sponsored Walk. Please join Paul in raising money for his Cancer. To Donate to this amazing challenge
https://mydonate.bt.com/events/paulwilkinson/406190
You are welcome to join Paul on the walk.
The Lowestoft Santa Sleigh 2016 has been incredibly rewarding and raised in excess of £6500 from the generous donations of the Lowestoft residents. All the money raised from the fundraising will go to charities in the community.
Santa Sleigh and his helpers are all voluntary folk, who try and cover as many streets as possible each night. Traffic and weather determine how many streets Santa visits. We are not able to give definite times for the same reason . The local council licence determines the time we are able to be out on the street.
Please share this wonderful news with all the people of Lowestoft , our Rotarian members and Friends. A tremendous effort from everyone and should send us all into the Festive period in good cheer. I wish all the public, members, partners and friends a great Christmas and New Year.
Looking forward to seeing you all again in 2017. The Lowestoft Santa Sleigh has raised in excess of £6500 in 2016, thanks to the generosity of the pubic , which will be boosted by Gift Aid. All the Money raised will be donated to Charities in
the Community.
President Paul Wilkinson The Rotary Club of Lowestoft East Point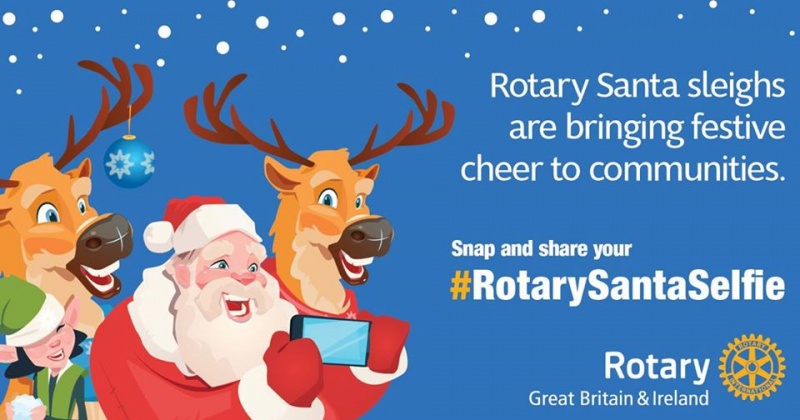 Thank you Lowestoft College for your generous Donation towards the Lowestoft Santa Sleigh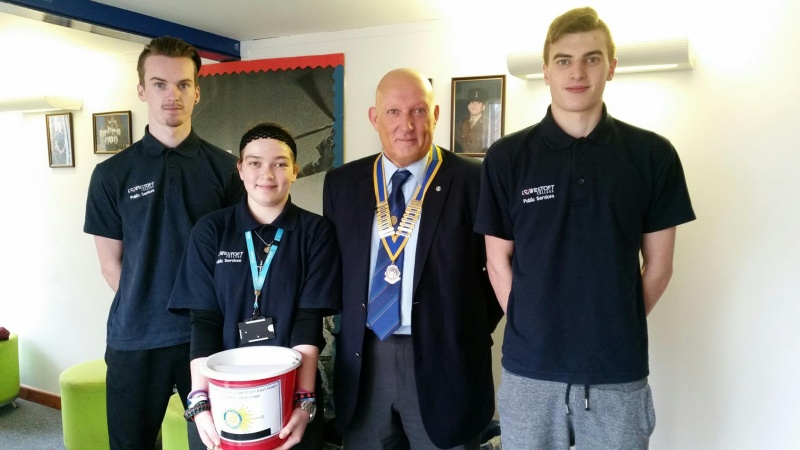 Rotarian Annette Stringer is collecting Post Cards for an extremely worthy cause. MAF is an aviation charity operating more than 130 light aircraft in around 25 developing countries bringing doctors, medicines, food, aid workers, teachers and school supplies to the most remote communities. Please email Annette Stringer for more details. eastpointrotary@gmail.com. Annette also collects Ink toners, Old mobile phones, stamps for Charity
Join the 100 Club - For details go to Club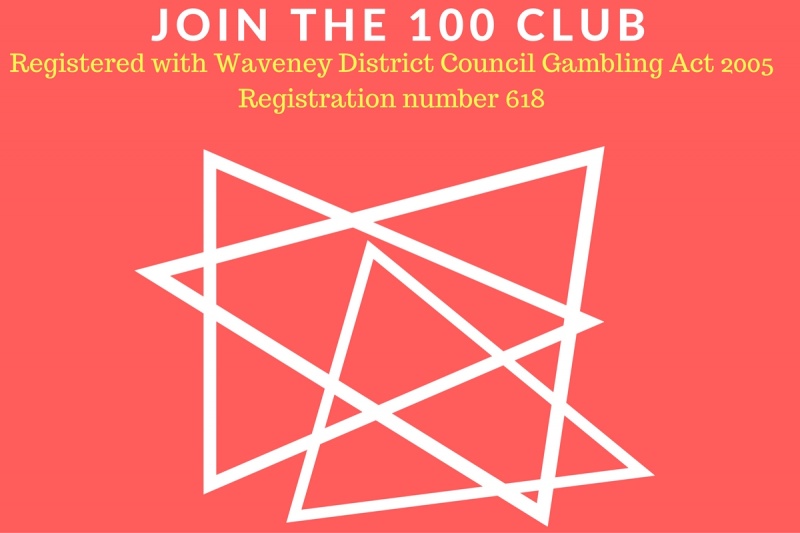 Young Carers Project-
Food For Thought Project (Stage One)
This amazing project was run in association with Jamie Oliver Food Foundation, The Rotary Club of Colchester Forum, Morrisons Supermarket Pakefield, Pakefield School, and a grant from the Rotary Foundation.
http://www.pakefield.org.uk/docs/Newsletters/November_2016.pdf
The enthusiasm for this project, which is aimed at Young Carers within our community, came from Nanna Lay. It did take almost twelve months before a project committee was formed, but in that period the Club hosted a presentation by the Rotary Club of Colchester Forum to show us how successful the project could be if we decided to proceed with it.
Once our Club had decided to take on this project, the project committee started a detailed evaluation and planning process, and Nanna lay and Bev Sampson undertook a week long training course with the Jamie Oliver Food Foundation at their training centre in London. The enthusiasm of both Nanna and Bev really drove the project committee forward so that each month we were getting much closer to being able to run the 8 week training course in food preparation, hygiene, nutrition and basic kitchen skills.
The project committee forged links with Suffolk Family Carers and Pakefield School, two key partners in the delivery of the project. A strong contact was made with Morrisons Supermarket at Pakefield through their Community Service Champion.
After a full six months of planning the course commenced on 27th September with a total of 9 Young Carers. The course continued for eight sessions and ended with a presentation evening on 6th December when course completion certificates were presented to the Young Carers.
Besides the project committee, a number of fellow Rotarians, Friends of Rotary, and partner's of Rotarians assisted in the weekly sessions.
As a member of the project committee, I can say that this was indeed the most complex project that I had been involved with since our Club was chartered in 1998. It was a delight to see how, as a Club, we were able to pool our skills to deliver such a successful project.
Stage two planning is now underway and we hope to be at the Ormiston Denes Academy September 2017

Rotarian Ian Davies (Chair of Project)
The Rotary Club of Lowestoft East Point aim to help young carers in Lowestoft . We want to support these amazing young people. Volunteering in our community is extraordinary important to our Rotary Club. The project is underway. Rotarian Ian Davies is the lead on this project and supported by members of the Rotary Club of Lowestoft East Point. Follow us on Facebook
www.facebook.com/LowestoftYoungCarers
The community-based Jamie's Ministry of Food is a practical & hands- cooking programme that teaches people of all ages how to cook from scratch to improve health. Rotary International are starting to work with Jamie's Charity

.
The Strap line to the project is #Keepcookingskillsalive.
This is a
Jamie Oliver Initiative and we are also working with The Rotary of Colchester Forum.

For any succesful project it needs dedication, teamwork and 'doers! So if you want to join the team - step forward Rotarians! Start date for project. Tuesday 27th September 2016 3.45pm to 5.15pm. Eight Children will be selected for a session and initially from Pakefield High School. Once the course has been concluded evaluation of the course can then move things forward to the next stage of the project. Contact Rotarian Ian Davies for more information eastpointrotary@gmail.com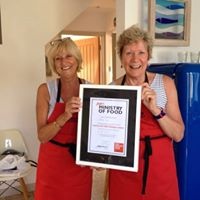 Service above Self
The Rotary motto is 'Service above Self' so it is not just about fundraising. There are various local projects in which our members are involved - such as Waveney Sailability , a sailing group for disabled people, and Kids Day Out for children from Warren School. A very successful project which has been running of a number of years is Dictionaries for Life. Along with the other Lowestoft Clubs, we provide an illustrated dictionary for every year 3 child in the town, supporting the schools' drive to improve literacy rates. Many Lowestoft residents probably know us best for our Santa Sleigh's ride through the streets of Lowestoft to meet the town's children and to raise money for our good causes. (These are just a few examples of the good causes that the club supports.)
Who becomes a Rotarian?
The club is a very active with a good mixture of men and women (23 men 9 females ) from a variety of professional and social backgrounds. Many have retired from work or find themselves in a position to put the skills learned through their professional and working lives to work to the benefit of others. The main thing we look for in members is a commitment to help others as part of a community of like-minded people. Not just hard work! To become a member of our Club you need to be a person of good character who has a good reputation in their business or community and is willing to serve the community. Rotary offers something for everyone. Rotary International is a diverse and flexible group of people who work in a variety of ways to support our communities.

The Rotary Club of Lowestoft East Point 'Friends of Rotary' Scheme is planned to provide an opportunity for people who are not able, or may not wish to, join the Club as a Rotarian at the present time. These people may like to assist the local Community by getting involved in the Club's activities, and may become a Member in the future. Friends of Rotary are volunteers supporting the work of Rotarians in the community.
'A Friend of Rotary' will be invited to participate in Club activities
1) invited to selected meetings of the Club
2) invited to selected Social activities of the Club
3) invited to assist in Fund Raising activities and Service Projects organised by the Club for the benefit of the local Community
Cost of being a Member
Membership £122 per annum (2016) plus a meal £10 and drink when attending meetings
There is no cost to be 'Friend of Rotary' . Please email if you would like to become a Friend of Rotary
So what next ? If you are interested in membership or just being a Friend of Rotary we are very keen to welcome new members who feel they want to make a difference. So if you feel you might like to join us, or if would like more information, please contact our secretary, Martin Lott at eastpointrotary@gmail.com
---
---
End Polio Rotary International Partnership
with Bill and Melinda Gates Foundation
We use BT MyDonate for Fundraising Activities. The Fees and Set up Fees are one of the lowest

Please Double Click the BT MyDonate Logo
http://reasondigital.com/advice-and-training/ten-uk-charity-fundraising-websites-compared-2015/
email info@thehotelvictoria.co.uk
Telephone +44 (0) 1502 574433
If you have any articles please forward them to the PR Committee . The website relies on members participating and providing good quality photography. Rotary is all about a team effort.
Please feel free to make suggestions and ideas to make the site more interesting . We are unable to change the software but most of the content can be updated.
Rotary Club Of Lowestoft East Point Charity Trust Fund

Charity Registration No. 1073198
Photos by Rotarian Annette Stringer, Rotarian Claire Guppy , Rotarian Ian Davies , Rotarian Paul Wilkinson, Rotarian Alan O'Neill, David Collins
Disclaimer Rotary Club of Lowestoft East Point
Links Disclaimer - Rotary Club of Lowestoft East Point Lowestoft
On our Club site you will find links to external websites. Although we make every effort to ensure that these links are accurate, up to date and relevant, Rotary Club of Lowestoft East Point cannot take responsibility for pages maintained by external providers.
Through these links, you may also encounter views expressed by individuals on their own webpages/blogs (or on external sites to which they link) which are not necessarily those of the Club itself.







Meeting Information...
We meet on Tuesdays at 18:00 for 18:30 (We meet weekly at 6pm for 6.30pm. We always welcome visitors. Meeting with partners/friends start at 7pm (every 5th week) If you wish to visit the Club please email martin.lott1@btinternet.com Dress Code: Smart casual. A Warm Welcome Awaits!) Hotel Victoria,
Kirkley Cliff,
Lowestoft
Suffolk

NR33 0BZ tel: 01502 574433
Meeting Details
Interested in joining Rotary
In the next 30 days...
Social Media...
Lowestoft East Point Rotary
Promote your Page too
Follow @twitter