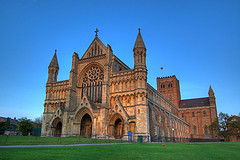 The Rotary Club of St Albans Priory is one of three Rotary clubs in St Albans. We meet every Wednesday morning, the others meet at lunchtime or in the evening. Our members are very active in business and the community, bringing a wide range of talent to the Rotary aim of voluntary service.

We currently have 30 members, about equal numbers of men and women, and are actively looking to recruit new members. We have no links with any religious or political groups. We just meet up as friends, have fun and work together for the good of our local, national and international communities.

Meetings are varied: at some we have a speaker and the range of topics covered is very wide indeed. Other meetings cover Rotary business, and some breakfasts have specific themes. As a service club, we decide how we will become involved, collectively and as individuals, in various humanitarian projects. We also support other local and international charities.

If you would like to pursue your interest in Rotary, we would be delighted to welcome you to one or more of our meetings so that you can get to know us a little better before considering membership. Use the "contact" tab, below, right now.

Meeting Details
Interested in joining Rotary?
Meeting Information...
We meet on Wednesdays at 07.30 am Verulam Golf Club,
The Home of the Ryder Cup,
London Road, St Albans, Herts, AL1 1JG