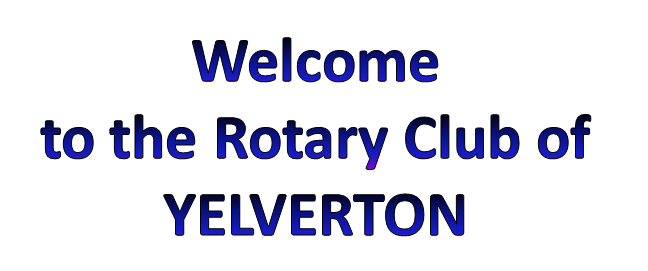 The village of Yelverton is located almost at the centre of the area covered by our Club membership.
As we are a Club which only meets in the evening, our membership is open to people living in areas covered by other Clubs, who might otherwise be unable to regularly attend lunchtime meetings. We have men and women members who enjoy the relaxed and unhurried atmosphere of an evening Club with pleasant surroundings in convivial company.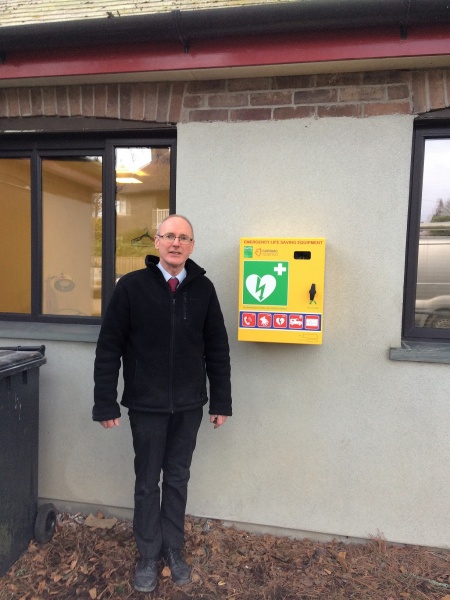 Pictured here is our President Ross Dent
The Rotary Club of Yelverton has recently fitted this defibrillator outside Yelverton Doctors Surgery. We will shortly be rolling out Defibrillator Awareness Courses to the local community.
How to sign up for your (free) defibrillator awareness course:
Either: send an e-mail to yelvertonrotary@gmail.com with your name and contact details.
Or: add your contact details to the clipboard in the Yelverton Doctors Surgery.
Courses will last for about 45 minutes, starting in early April.
Dates are yet to be finalised but will be held either early evening or on Saturday mornings.

Planting crocus bulbs at Princetown Primary School - to support Rotary's End Polio Now campaign

The club lines up to celebrate the start of a new Rotary Year with President Ross

Club Secretary, Terry receives a £40 cheque for the Yelverton Rotary Memory Cafe from Moorgate Residential Care Home

Riding for the Disabled - we replaced their previous road trailer that is used for moving their carriage between locations

A fun croquet evening at Hartley Park, Plymouth with the Rotary Club of Tavistock on 27-07-2016

And a meal together to celebrate afterwards




The young people at Youth-2-Youth, Bere Alston learning to cook chicken fajitas as part of our Rotary sponsored "EAT" Project 20/06/2016

And a chance to try the finished product, Rotary "EAT" Project 20/06/2016



Weekly meetings are held at the Prince of Wales in Princetown, where a two-course meal is available at a reasonable cost. The meetings vary between fun social, business and in house or invited speaker evenings. All who visit enjoy an evening of friendship and congeniality, with a good deal of friendly banter and much good work for local, national and international charities. Locally we support Scout and Guide groups, football teams, schools, the Rotary Youth Leadership scheme, Kids Out, CHICKS, Hearing Dogs for the Deaf, Children's Hospice SW and many others.
Our main areas for the collection and distribution of funds cover the Villages of Bere Alston, Bere Ferrers, Buckland Monachorum, Horrabridge, Meavy, Princetown, Walkhampton and Yelverton.
We contribute to national disaster charities and charities proposed by other Clubs. Internationally we have provided a solar powered refrigerator for a mountain village in Nepal and have sponsored Emergency Boxes and filled Aqua Boxes and their derivatives. We also contribute to the vital work undertaken by the Rotary International movement to eradicate the scourge of polio from the World.
Committee chairs announced continuing support this year for the O.A.P.s' Spring Tea Party, car boot sales, a Goose Fair stall, an Art Exhibition and the annual Christmas collections. Internationally, we will continue our support for Shelterbox and Overseas Vision-Aid, to which we aim to add support for Life Straws and "Send-a-Cow" scheme. We have recently completed a Rotary grant assisted Foundation project to provide a well in the village of El Shaddai in Goa. There are also a projects to support local people and communities, such as continuing to finance two young people per year on the Rotary Youth Leadership Award scheme (RYLA), Young Chef at Princetown Community Primary School and also assistance for various local charities.








-
Meeting Information...
We meet on Wednesdays at 1930 (Most 5th Wednesdays are Away Nights, no meeting at the Prince of Wales) Prince of Wales, Tavistock Rd, Princetown, Devon. PL20 6QF tel: 01822 890219