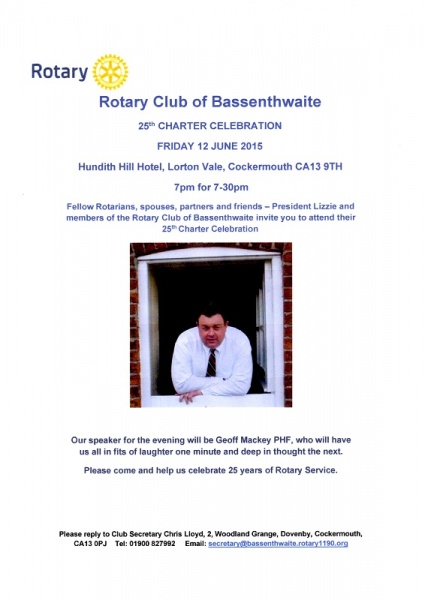 SOME DATES TO THINK ABOUT!!
Bassenthwaite School Playground opening - 15th February
Curling at Lockerbie (with Workington Derwent) - 13th March 2017
Latrigg Cafe Easter Sunday -16th April 2017
and ......WHAT HAVE WE BEEN UP TO RECENTLY
10 Pin Bowling (with Workington Derwent) (January 2017)
Keswick Victorian Fayre (December 2016)
Fund raising - stall selling Mulled Wine and Mince pies, and the Original Human Fruit Machine
Project at Bassenthwaite School (October 2016)
Practical work to clear the play area damaged during the December 2015 Floods, to reduce the cost to the school plans to upgrade the play area.
We successfully recycled a significent amount of wood to be used locally as firewood and stones and rubble as hardcore for construction work in the village.
Tiger Boat races in September 2016
to find out more go to https://sites.google.com/site/tigerboatchallenge
The Human Fruit Machine at the Cockermouth Food Fayre in September raised over £600
The Euro 2016 Prize Draw raised over £900, which will support the West Cumberland Special care Baby Unit (Sainsburys selected Charity) as well as other local charities. The Lucky Draw Winner (who wishes to remain anonymous) has genorously donated the £100 Sainbury voucher to the North Lakes Food Bank - President Warwick will make the presentation as soon as it can be arranged.
2016 HOSPICE AT HOME RAFFLE RAISED £7,705.00 - HIGHEST FIGURE TO DATE - MANY THANKS TO ALL OUR DONORS OF PRIZES, VOLUNTEERS AND HELPERS INCLUDING THE 5 LOCAL ROTARY CLUBS THAT HAVE GIVEN SUPPORT. PRIZE GIVING HELD 21 JUNE 2016***
FURTHER AHEAD
On 27th August 2017 = we will be putting on the "Take That Experience" at Keswick's Theatre by the Lake, put the date in your diary now - Tickets will be available in 2017
Why should you want to find out about our club?
We have fun - but at the same time we seek to support Rotary traditions through a progressive hands-on approach, raising funds for charitable causes,
working with other Rotary Clubs and organisations, involving the local community, seeking to make best use of
income and contributing to both local, national and international charities.
We are located in a delightful location - a fantastic venue the Pheasant a superbly appointed former coaching inn
with history dating back over two centuries in a corner of the English Lake District with stunning views of the fells
and extensive opportunities for walking and outdoor pursuits.
For more information check it out http://www.the-pheasant.co.uk/
Our meetings are held on Monday nights in the restaurant with either a two course meal or a cold buffet, with a
number of outside activities and guest speakers during the year.
For more information click on Programme/future at the top of the page
Our members are from a wide variety of businesses and professions drawn from a diverse area around the towns of
Keswick and Cockermouth.
Fellowship is an important pat of our activities and we welcome speakers, guests, and potential new members at
our meetings - come along to find out!
Our new Rotary year is now nealy three quarters through - see what we have in store!