Featured pages
Welcome to the Rotary Club of Odiham and Hook. Please scroll down for details of where we meet and our latest programme of meetings
---
About us
Happening Soon...
Rotary Foundation Lunch -
A Fund Raising lunch at El Castello, Odiham High St. to be held on
2nd April 2019
All proceeds in aid of Rotary Foundation End Polio Now campaign.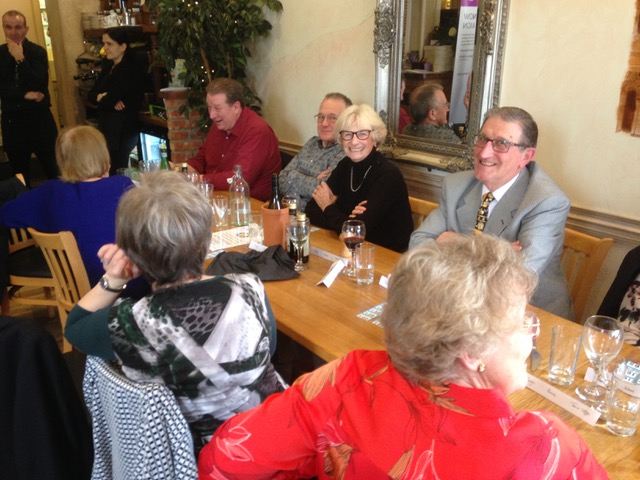 (Photo from last year's Event)
---



2018:
2017:


District Events










---




See the panel with the blue & gold Rotary Wheel above,
or click the fifth button in the orange panel on the right
---
For our latest LOCAL NEWS update CLICK HERE


For our 2019 Calendar, CLICK HERE



---
Rotary Youth Competitions 2018
Our Young Photographer 2018 was won by Anna Harry from Hook Junior School. Her entry was also judged winner of the National UK competition. Well done Anna!
See her winning entry HERE
For LAST YEAR'S competition see below:
Young Photographer 2017
The theme was "Reflections"
The winning photograph was taken by Isabelle Crampton aged 10 of Form 6, Hook Junior School.
Please click HERE for full details.

---


---
Merry Christmas

Santa hits the streets......

He shops at Tesco's...........and at Newlyns too!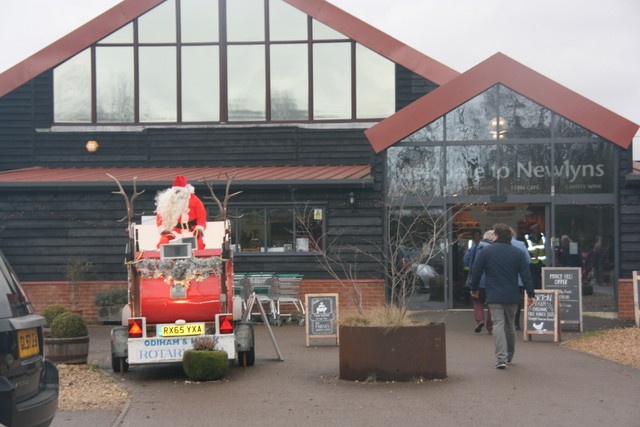 ---

President-Elect??
Our Club Christmas Dinner December 2016


Welcome to New Members

On 18th October we were very pleased to welcome David Burke and Bryan Carter to the club.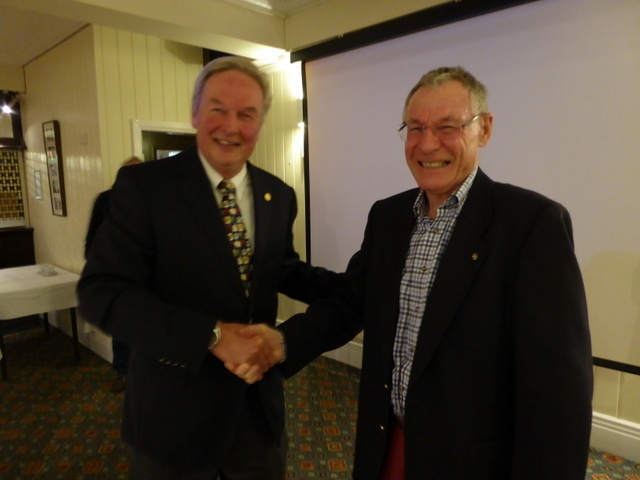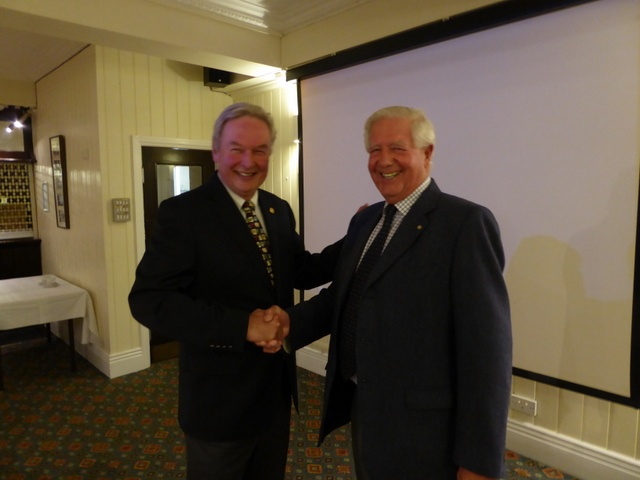 Bryan Carter
Update 12 July 2016 - Our new President, Howard was presented with a Paul Harris Fellowship by immediate past President Graham.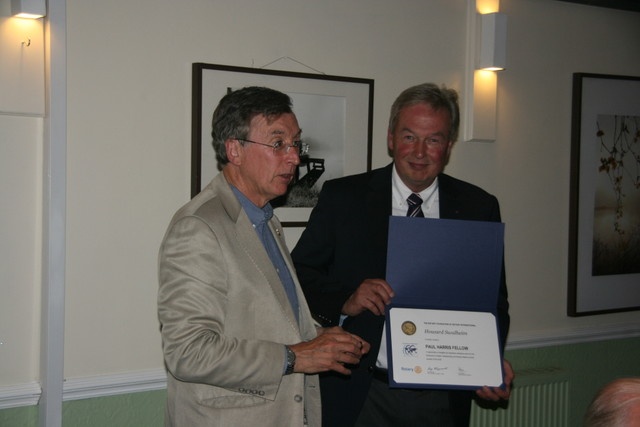 Paul Harris was the Founder of Rotary and every Club is able to purchase a Paul Harris Fellowship to present in recognition of a high standard of service to the club.

---
Dictionaries 4 Life
You can see photos of the presentations to Year 4 pupils at Hook Junior School by clicking
---
28th June 2016 New Club President Howard Swalheim receives the chain of office from outgoing President Graham Deverill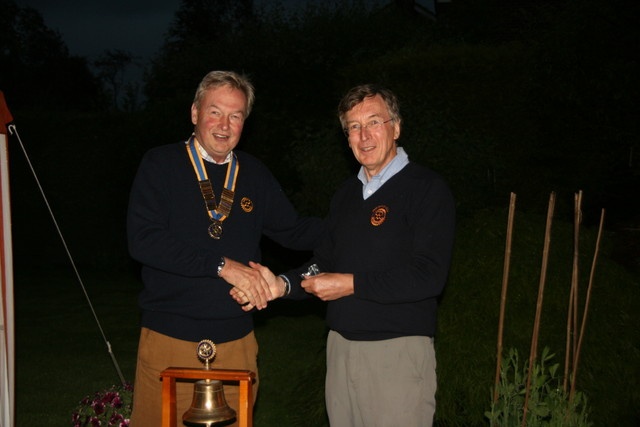 Young Photographer 2016 Winner



Rotary Life Education Bus visits Mayhill Junior School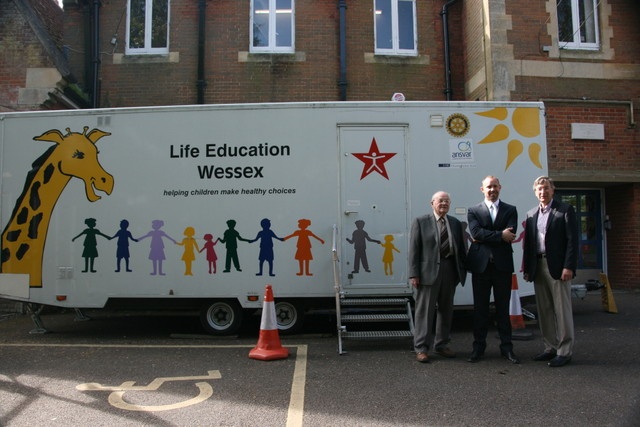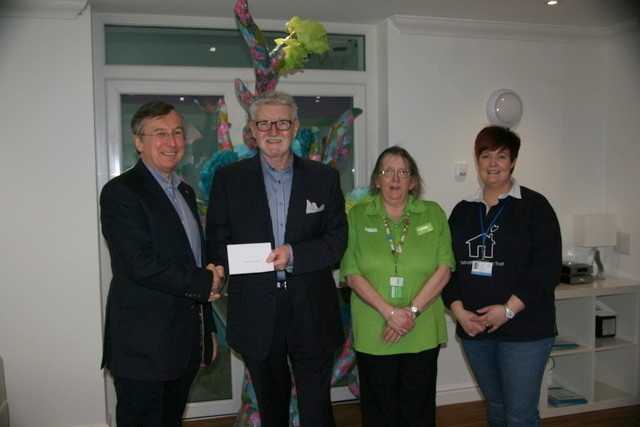 President Graham presents our donation to Sebastians Trust (Bluebells House) following the Christmas Sleigh collection at ASDA, Basingstoke

(more photos in "Photo Gallery" above)
Christmas Quiz



There were Six All Correct answers from:

Brian Broadbear (Littleton)
Libby Chisman (Felpham)
Ray Fishman (Chandlers Ford)
Lesley Taylor (Redruth)
The Evans Family (Farnham)
Janet Leech (Hook)

The draw for Winner of The Famous People Cryptic Quiz 2015 was won by

Ray Fishman


Download our 2015 Christmas Quiz

HERE
Download the full answer sheet HERE
SANTA'S SLEIGH
Thanks to you, our Santa's Sleigh collections this year achieved a record gross amount of £8100
---
ODIHAM FIRE SHOW 2015: Click HERE
---
Buryfields Infant School
Last month we presented a cheque to Buryfields Infant School, Odiham to enable them to purchase a much-needed new Interactive Whiteboard.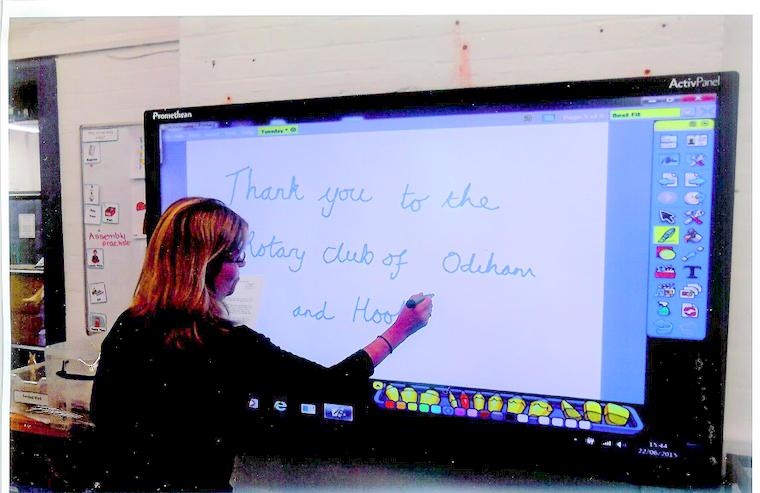 MAGNA CARTA
MEDIEVAL VILLAGE
May 23rd to 25th, 2015
Our collections at the Car Park on Hook Road, Odiham raised the magnificent sum of
£1830
This will all go to ShelterBox for the Nepal Earthquake disaster relief.

THANKS!
For more photos of the event, please click HERE
---
NEPAL EARTHQUAKE DISASTER
Tesco Collection 2nd May 2015
Thanks to the generosity of Odiham and Hook customers, our collection at Tesco's in Hook on 2nd May raised
£1177
---
Please click HERE to see our
"Friends of Rotary"
newsletter and find out what we are up to and how you can help us.
---
New Member
We are pleased to welcome Steve Watson into membership of our Club.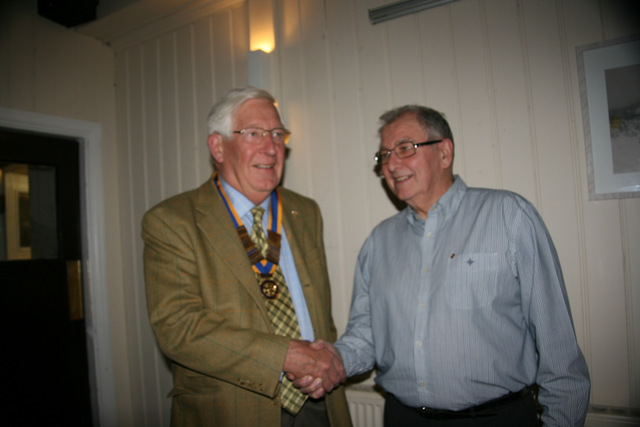 ---
Magna Carta 2015
To see details of all that the Odiham Society are planning for next month,
please go to their new dedicated website at: Magna Carta 2014
Rotary Works!!
One of the most amazing features of the International aspect of Rotary Fellowship is the fact that Rotary Members can expect a very friendly welcome when visiting any other Rotary Club in the Rotary Family of some 34,000 clubs worldwide.
This was evidenced on 26th August when we welcomed Paul Kalaitzidis, a Rotarian from Xanthi in Northen Greece to our meeting. Paul has recently come to work in our neighbourhood and has now asked to join our club.
Welcome, Paul!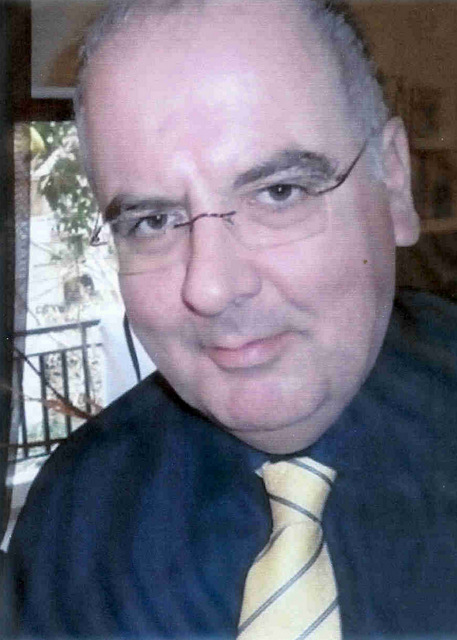 ---
Welcome, Graham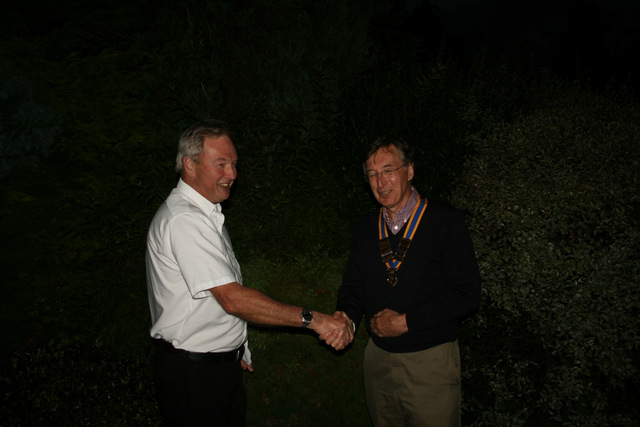 Outgoing Club President Howard
welcomes his successor, Graham Deverill
at a BBQ held at Graham Deverill's house on Friday 27th June 2014
(For more photos click on Photo Galleries above)
---
---
Rotary Young Photographer Winner
- Matthew Burbidge of Hook Junior School
Click on this link to see details and his photos:

Young Photographer 2014
Click on this link to see photos of the prize giving:

YP Prize Giving 2014
---
---
Presentation to Bluebells
(Sebastians Action Trust - Basingstoke)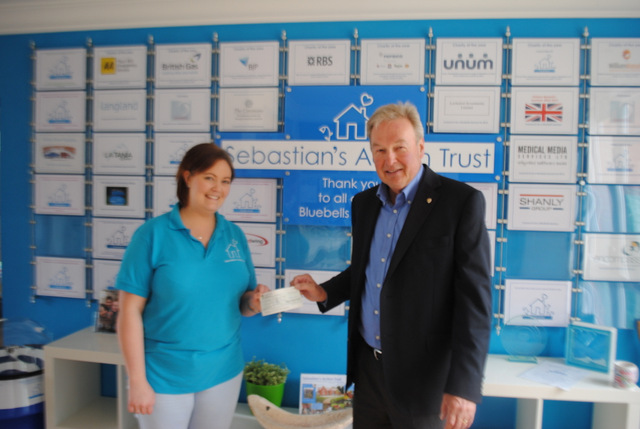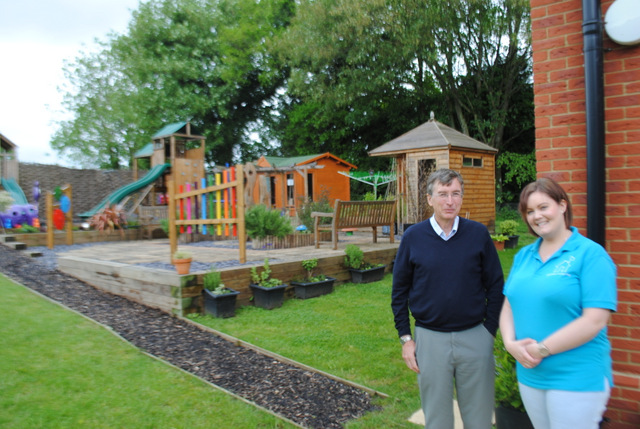 President Howard presents a cheque for �250 raised in our Sleigh collection last year at ASDA Basingstoke, whilst President -Elect Graham looks at a possible venue for next year's Club meetings!
---
---
RACE NIGHT 2014
A our Race Night was held on 17th May and thanks to our generous sponsors, those who bought Horses, Trainers and Jockeys, and all who attended on the night, it was a very successful evening.
---
NEW MEMBER
A very warm welcome to IAN GREEN on 29th April 2014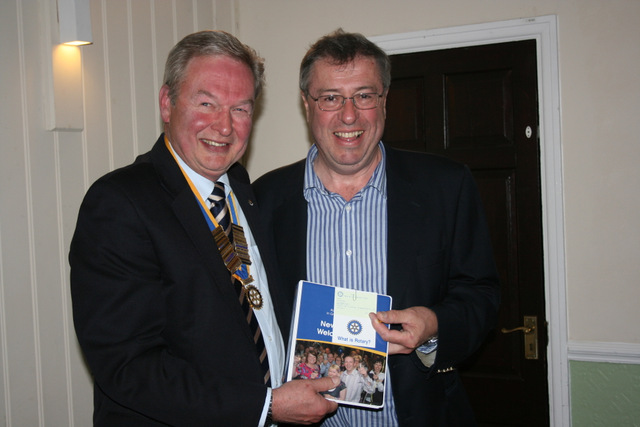 ---
---
Thank You Evening - 28 January 2014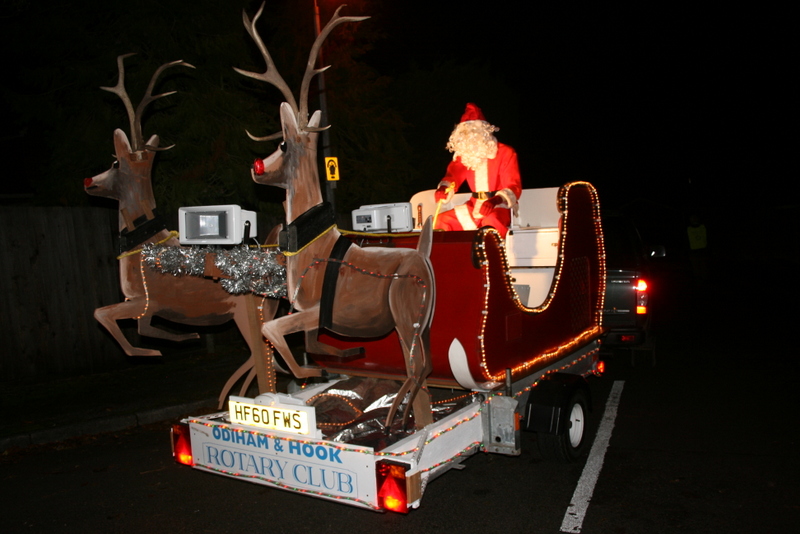 We had a very enjoyable evening at the Raven Hotel, Hook on 28th January when we invited representatives of all those who had helped to make our Christmas Santa Sleigh collections such a success, raising a total of almost �6,000 for local and international charities.
Each of the following local charities were presented with cheques for �350 in thanks for some of their members turning out in all weathers to help us collect on the streets of Odiham and Hook:
St Michael's Hospice
Hook Explorer Scouts
Odiham Mothers Union
Hook Girl Guides
Hook Base Youth Club
Frimley Park Hospital
We also thanked representatives of Tesco's in Hook, Asda in Basingstoke and Newlyns Farm Shop in N. Warnborough for their continued support in allowing us to make static collections outside their premises.
***For photos of the evening Click HERE or in "Photo Galleries" above. ***
Christmas Celebrity Quiz
For Winners, Answers and Comments please click HERE
---
---
---
---
Twinning Weekend
October 4/5/6 2013.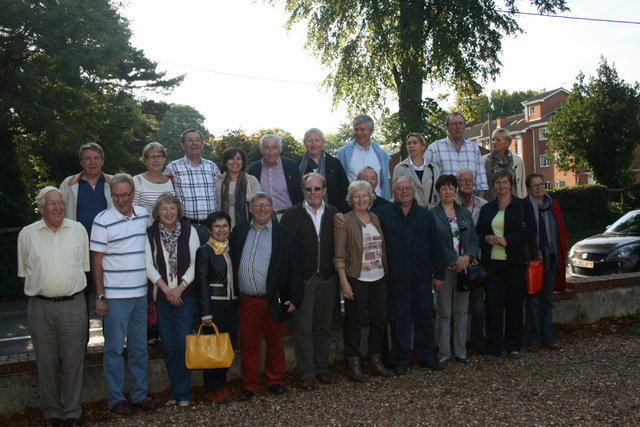 We had a very successful weekend visit from 12 members of our twin club, Rotary Club of Cambrai-Fenelon (France) together with afurther 8 members of their twin club from Colfontaine (Belgium).
The weekend started on the Friday evening with a reception at Graham Woodhouse's house followed by an excellent meal at the Grapevine in Odiham.
Saturday was a full day with a trip t o Blenheim Palace, where a French-speaking guide considerably assisted us poor French speakers and made it a fascinating and interesting tour for all. This was followed by a spectacular Barn Dance and Hog Roast at the Elizabeth Hall in Hook, where our visitors fully entered into the dancing although many of them did not have a clue what it was all about!
After a leisurely breakfast at the Oaklea Guest House, our visitors headed back home throough the Tunnel all saying what a supoer weekend it had been. Our thanks to all who helped in any way to make this such a successful weekend.
For more photos click on the tab on the left.
---
ODIHAM JAZZ WEEKEND -24/25 August
was an amazing success. -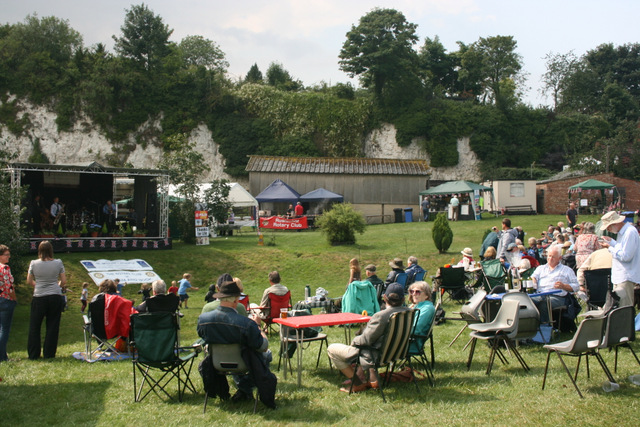 A big thank you to all who supported and helped us in any way.
Please watch this space for details of the money raised
and how much we were able to donate to
St Michaels Hospice.
---
---
ODIHAM FIRE SHOW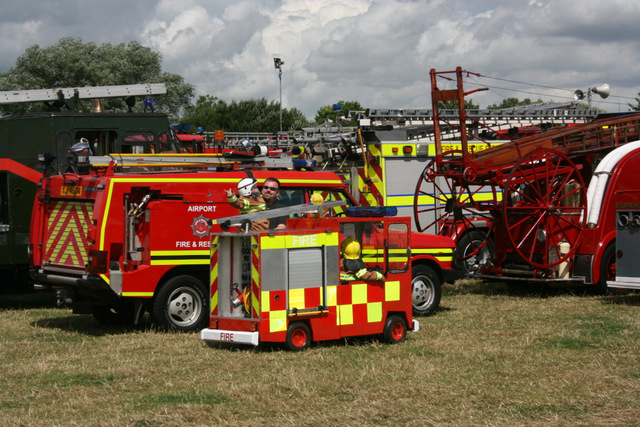 With over 120 vintage and modern fire engines on show, the annual Odiham Fire Show is the biggest collection in Europe!
Our very successful stand at this year's Show 0n 3/4th August gave out wrist bands for children and incorporated a whisky raffle. Click here to see slide show
---
President's BBQ
Tuesday 30th June - at Howard's House:
Excellent Food, excellent drink, excellent company, excellent location, excellent weather - could we ask for more?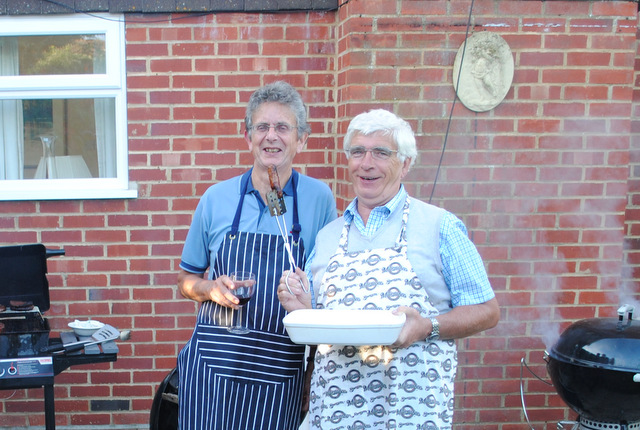 Secretary and Treasurer cook the books?
---
Happy New Year!
at the start of the new Rotary Year on 1st July, our retiring President, Chris Clark, handed over his schain of office to incoming President, Howard Swalheim and Graham Deverill becomes President Elect for next year.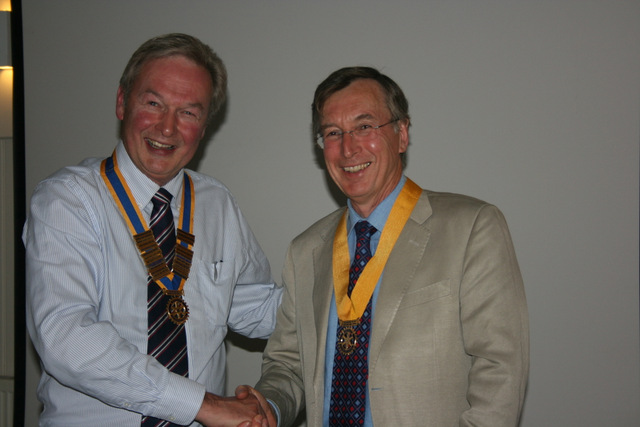 ---
Thanks for Life:
At least 1200 more children saved!

Street sales of fabric crocuses on Rotary day this February raised enough cash to vaccinate over 1200 children.
Lets see if we can reach 2000 with our static sales in various local shops.

Our sincere thanks to all who supported us.
---
Bluebells

19 February 2013:

President

Chris and Treasurer Finlay present a cheque for �350 to Sebastian Action Trust for their Bluebells respite holiday home in North Waltham.
Christmas Thank You Evening
On 15th January we held a Thank You Evening at the Mill, N. Warnborough to thank all those who helped with our Christmas Sleigh Collections and to give our donation cheques to those local charities who braved the weather and came out to help us with our street collections. Each of the following received a cheque for �350:
Base Youth Club (Hook)
Mothers Union (Odiham)
Frimley Park Hospital (Stroke Unit)
St Michaels Hospice (Basingstoke)
Girl Guides (Odiham)
Explorer Scouts (Hook)
For slideshow pictures of the evening, click on the tab on the left.
Christmas Quiz Results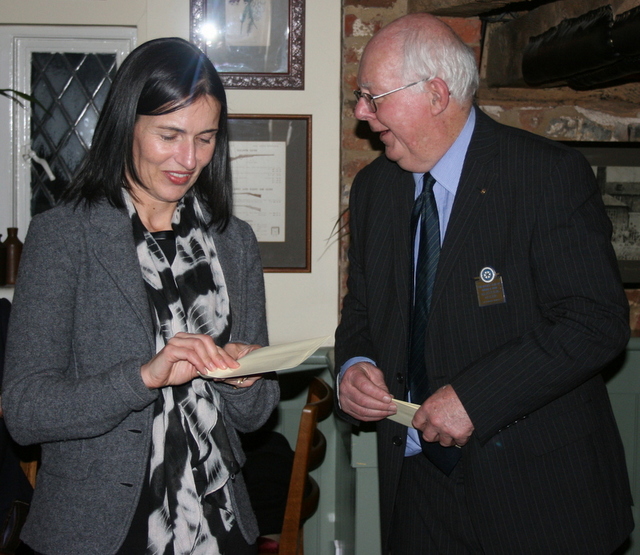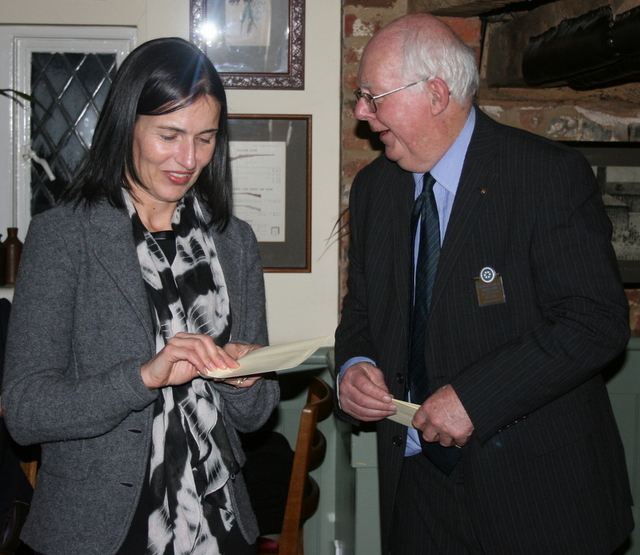 Helena Maskell from St Michaels Hospice, Basingstoke opens the winning entry watched by organiser Alastair Allan.
For details of the Winner and the Full Answers please click on the top left tab
---
End Polio Now! For latest news, watch this short video:
http://www.rotary.org/en/ServiceAndFellowship/Polio/Pages/ridefault.aspx
---
Click HEREfor latest CLUB CALENDAR in printable form.
---

Diana Award
You may remember that last year, we entered Lee Craven from the Hook Venture Scouts for a Diana Award for saving hid friend�s life last February.
Our picture shows Lee receiving his award from our local MP, Rt Hon James Arbuthnot on behalf of the Prime Minister at a ceremony at the Hart Council Offices on 7th December 2012 .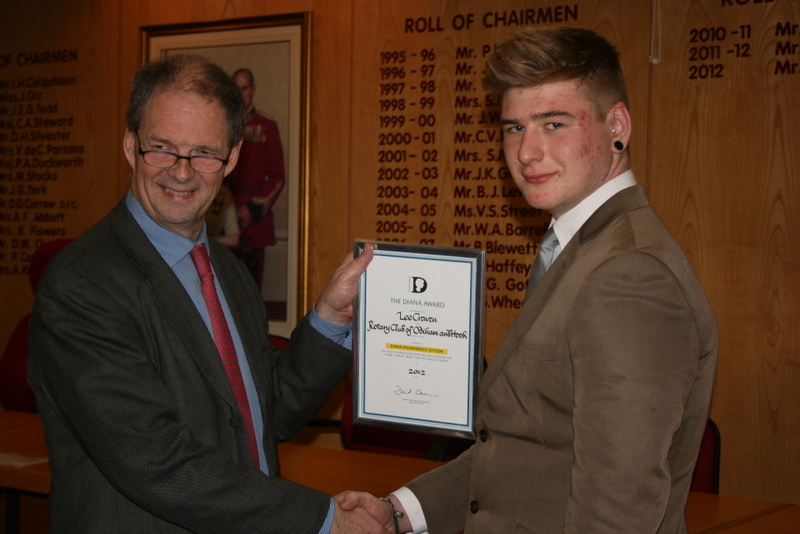 This follows closely behind Lee winning the national The Guy Evans Award for Life-Saving from the St John�s Ambulance Association in November.
Please click on "Diana Award" tab top left for more photos
---

---
Welcome Caroline
We are very pleased to welcome Caroline Birkby as the first lady member of our club, bringing our total membership up to 26.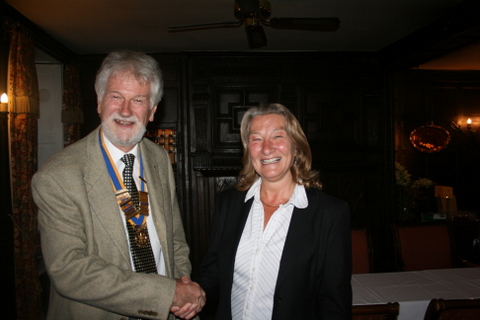 ---
Dictionaries 4 Life Presentations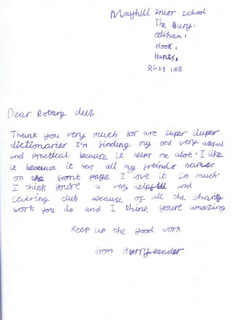 Full details under the New Generations tab on the left.
---
NEW CLUB PRESIDENT
3 July 2012 - Past President David seems very happy to hand over the Presidential chain of office to our new President Chris Clark. - Welcome Chris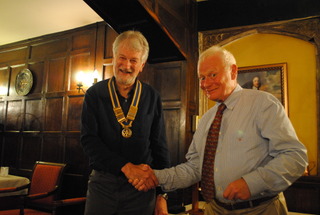 For more photos click HERE
---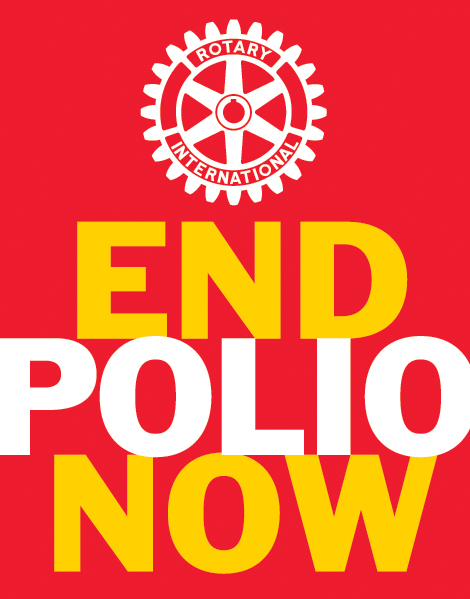 Rotary President Banerjee meets Karzai - See "Thanks for Life"
For latest full programme of our Club meetings click HERE
---
22nd to 24th June
Club Visit to our twin club Cambri-Fenelon in northern France
See Photos

HERE
---
Odiham Jazz Weekend - tickets now available and selling fast!!
---
Another New Member
We are pleased to welcome John Gray into our club. Membership is now 26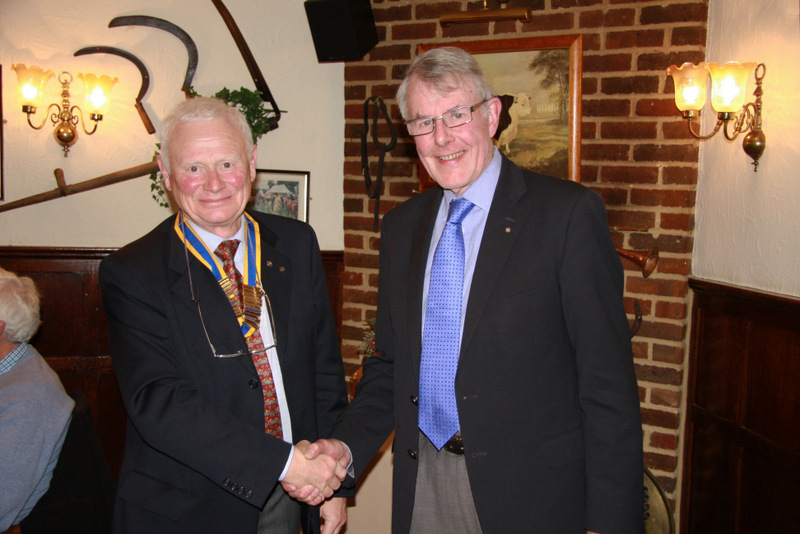 ---
February 19th to 26th is Rotary Week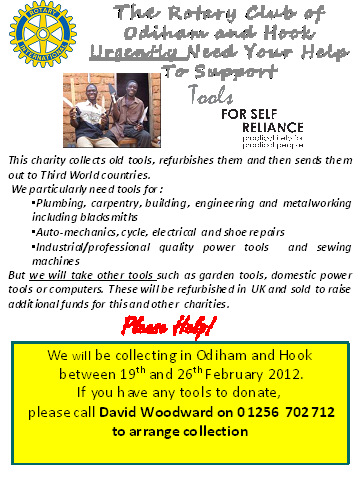 ---
Welcome John
Another new member inducted on Tuesday 31st January 2012
President David welcomes John Pender to our Club.
Membership now 25.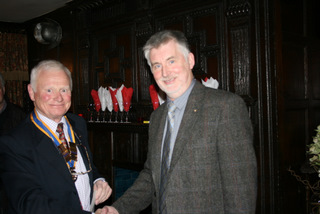 ---
Thank you Night
Tuesday 24th January, 2012
Representatives of the 6 charities who helped us with our Sleigh collections receve their cheques at the George Hotel.
---
Welcome Richard.
President David inducted our latest new member on Tuesday 17th January. We now have 24 members.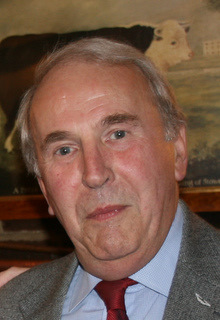 ---
Well Done!
Our Christmas collections this year totalled a record �6600!
---
Burns Supper 2012
27th January 2012
Click on "Events" above for full details
---
PUDSEY IS A STAR!!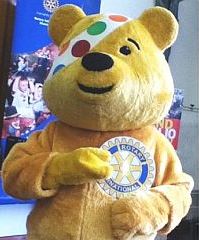 Our Pudsey Race Night on November 12th raised �2500
of which 50% will be donated to Children in Need and the remainder to Rotary Charities
---
11 August
Congratulations!
Congratulations to John & Phil for winning the District Golf for our club.
They will now go on to represent the District at the RIBI Finals

---
10th August
RAF Odiham Families Day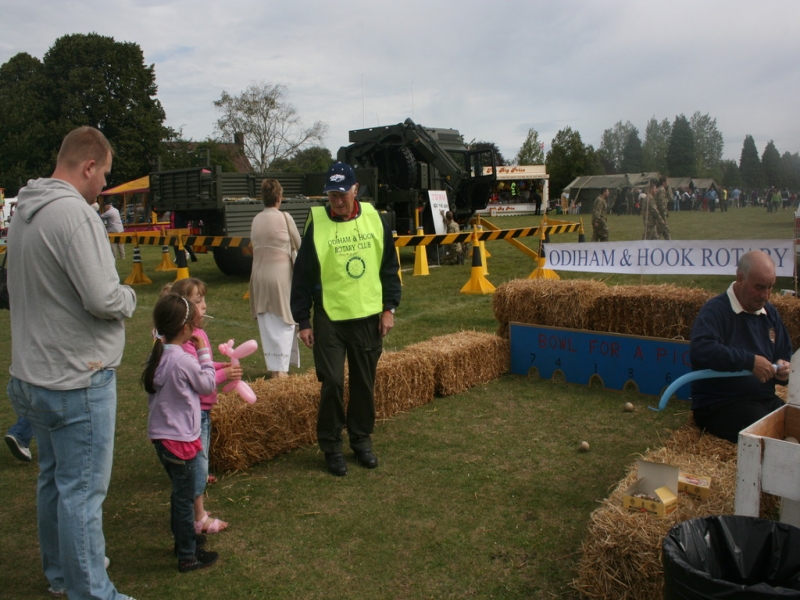 (for more photos, see "Photo Galleries" above)
---
6/7 August
Odiham Fire Show
Charity Balloon Race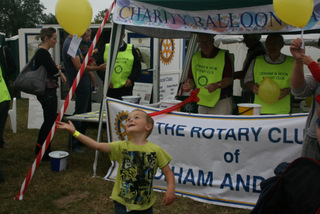 One Happy Customer!
(for more photos, see "Photo Galleries" above)
---
29 July 2011
Odiham in Bloom
Rotary share with SSAFA to provide an Olive Tree in front of the church at RAF Odiham to be a "Prayer Tree"
Part of the RHS National Scheme which RAF Odiham (Home of the UK Chinook) took part.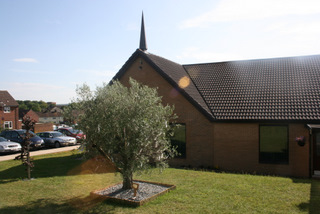 see more Photos in "Photo Galleries" above
---
2 July 2011
2 New Members in 1 go!
At the first formal meeting of his year as President, David Woodward inducted Peter Leech and Finlay Macdiarmid into membership of the club.
Welcome, both!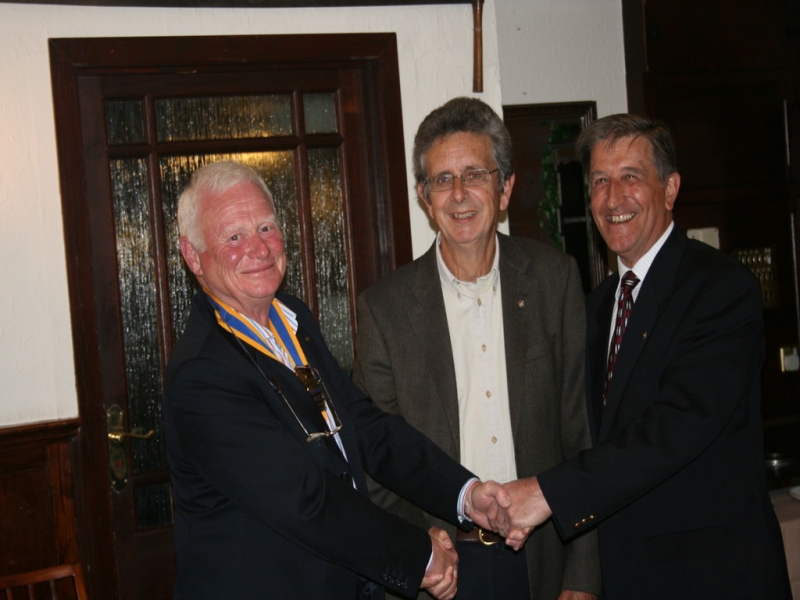 We then proceeded on to the less formal part of the evening!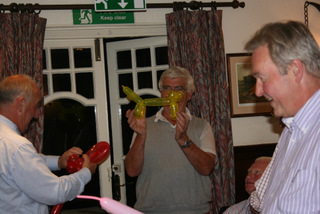 (for more photos, see "Photo Galleries" above)
---
1st July 2011
Welcome to New Club President
David Woodward PHF
---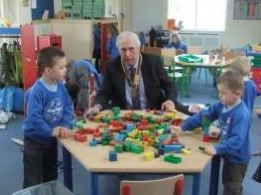 At the International Inkjet Printer Conference on 25th March 2011,
President Brian assists colleagues in sorting out used colour cartridges!
or perhaps he is just relaxing with his toys after
the Official Opening of the Leapfrogs Playschool in Odiham
where we contributed to the provision of new Classroom furniture
(Click on "Photo Galleries" above to see more pictures)
---
Another New Member joins the Club!!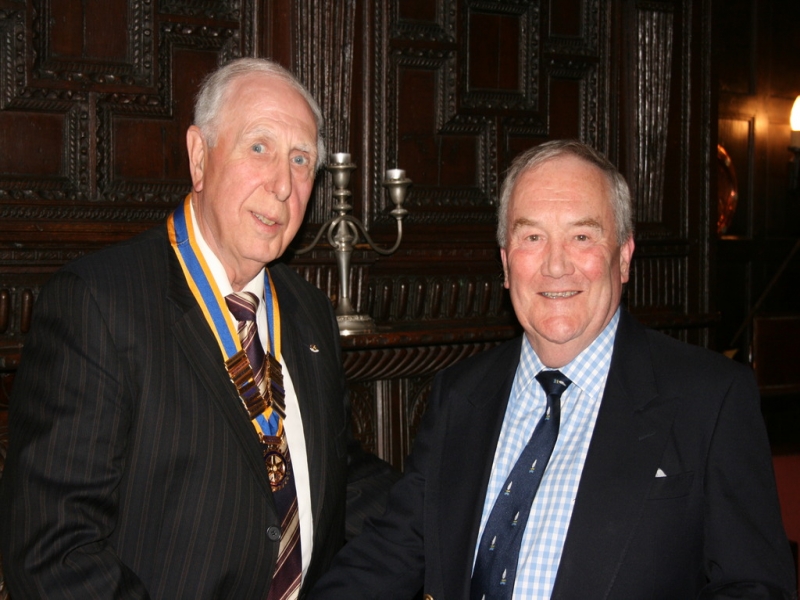 Tuesday 24th May
President Brian welcomes Andrew Gleadow to the Club.
---
Rotary Makes a World of Difference
See this short video clip at http://youtu.be/Ubqc7_MnBeE
---
New Member joins the Club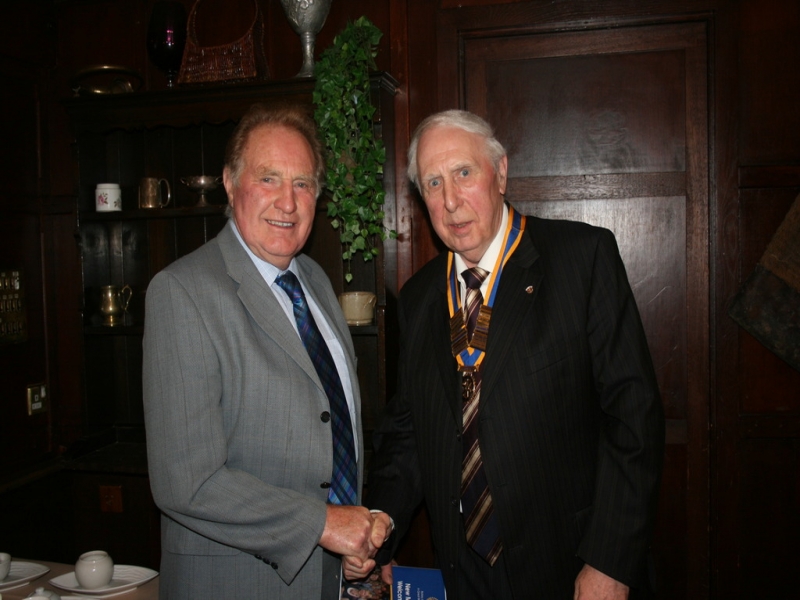 Tuesday 26 April 2011
President Brian welcomes Alan Culver into membership of our Club.
Membership now stands at 22.
---
Rotary Day 23 February
Wednesday 23rd February was Rotary Day,
celebrating the first Rotary club meeting on this day in 1905.
Here are some of the crocuses we planted in Odiham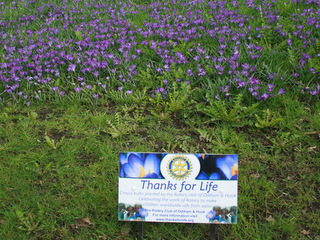 Welcome back, Howard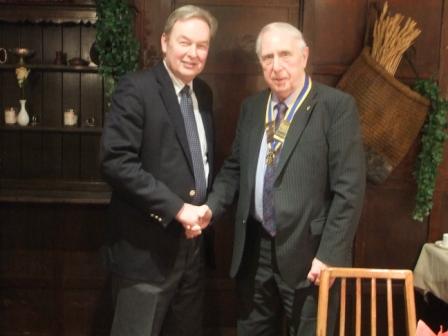 Howard Swalheim being welcomed back into membership after a 3 year break
Christmas Collections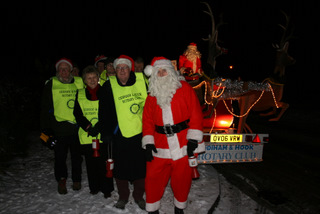 Total Net Collections �5140.
Well Done and Thanks to all Collectors and kind supporters!
(Full Christmas accounts now available on Members page)
---
20 UP!!
Welcome, new member Chris Clark - now bringing our number up to 20.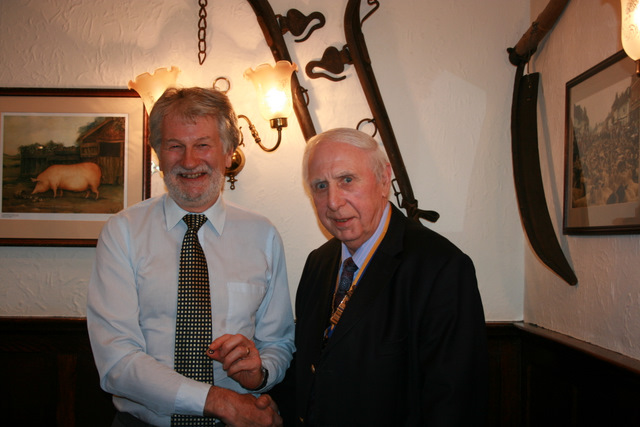 19th October - Chris is inducted by President Brian
---
Crocus Planting: We are on the map! 2500 in Hook, 2500 in Odiham
What's it all about? See www.focusonthecrocus.org
---
Rotary Fellowship in Action - Stephen visits the Rotary Club of Vancouver,BC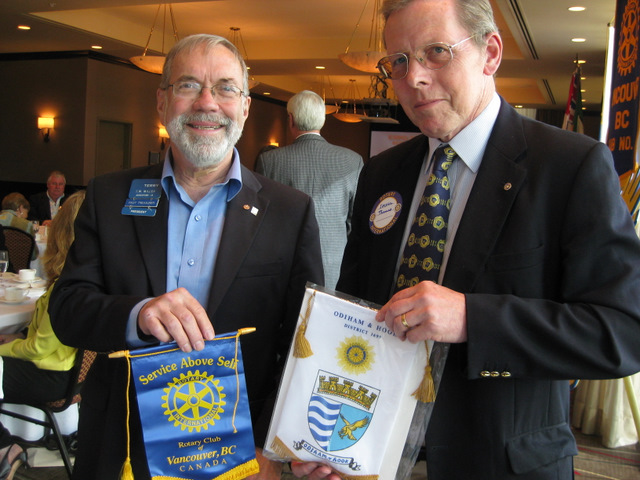 ---
Welcome, Derek
Tuesday 3rd August 2010:
New Member Derek Spruce inducted by President Brian Bass
and welcomed into Rotary by District Governor Keith Waller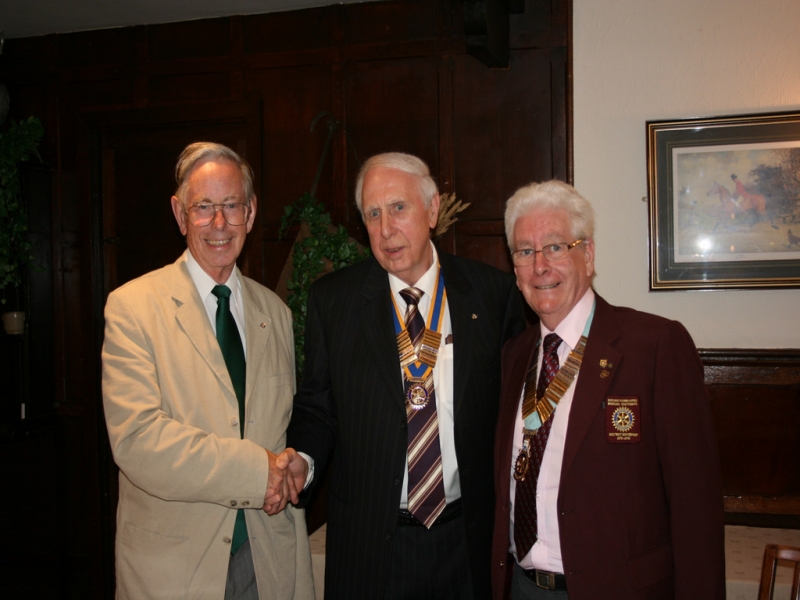 For more photos, click on "Photo Galleries" above
---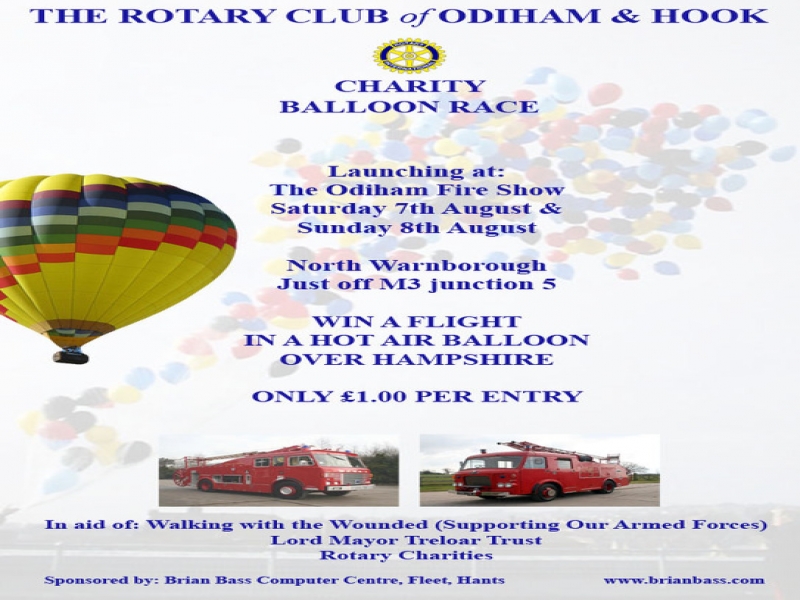 ---
Welcome, Simon
Tuesday 20th July 2010: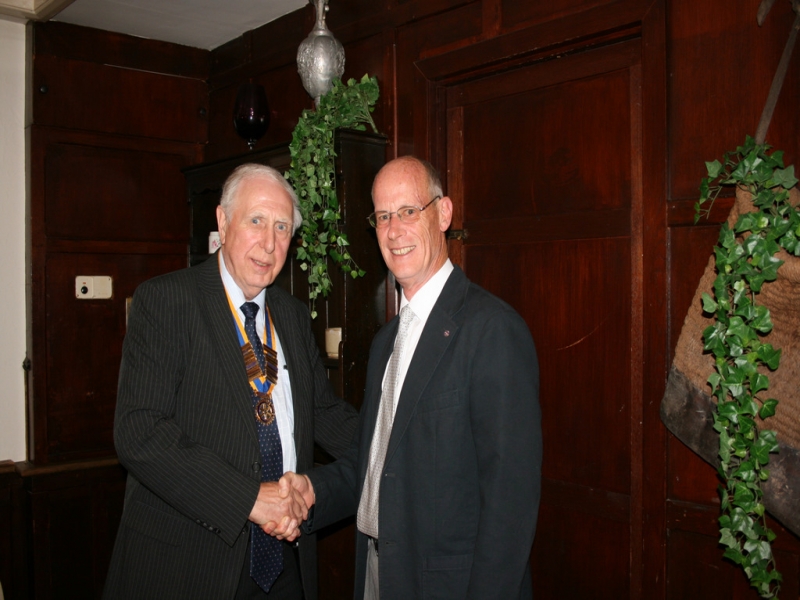 President Brian inducts Simon Quarrell as the first new member of his Rotary Year.
---
Cambrai 20th Anniversary dinner:
An excellent weekend of fellowship hosted by our twin club, RC Cambrai Fenelon (Northern France).
A good time was had by Graham & Geraldine Woodhouse, Alastair & Judith Allen and Lewis & Linda Scard.
Cambrai were presented with a copy of the Limited Edition Millenium painting of 5 scenes around Odiham, plus a rather large bottle of Whisky.
More photos in the Photo Gallery above - all photos curtesy of Alastair.
---
We are Getting There!
Rotary fundraising:
As of 31 March, Rotarians have raised about $117.5 million for Rotary's US$200 Million Challenge. These contributions will help Rotary raise $200 million to match $355 million in challenge grants received from the Bill & Melinda Gates Foundation. The resulting $555 million will directly support immunization campaigns in developing countries, where polio continues to infect and paralyze children, robbing them of their futures and compounding the hardships faced by their families.
Polio occurrence:
Data as at 08 June 2010
| | | | |
| --- | --- | --- | --- |
| Total cases | Year-to-date 2010 | Year-to-date 2009 | Total in 2009 |
| Globally | 288 | 528 | 1604 |
| - in endemic countries: | 56 | 385 | 1256 |
| - in non-endemic countries: | 232 | 143 | 348 |
Headlines:
India responds swiftly to type-1 case: A type-1 case in West Bengal has resulted in swift action by the Indian Government, which has sent a representative to the state to investigate. Nine Surveillance Medical Officers from the East Region and a WHO HQ consultant have also been dispatched to Murshidabad - the poorest-performing of the West Bengal districts in terms of Supplementary Immunization Activity (SIA) quality. Large-scale mop-up activities are expected to be held in June and July, using mOPV1. Meanwhile, India's remaining two endemic states are currently experiencing their longest period in history without a case of type 1 concurrently. Uttar Pradesh (UP) recorded its most recent case in Moradabad on 13 November 2009, while Bihar's most recent case was in Lakhisarai on 29 October 2009. India has also recorded its first month - March - without a single polio case in more than a decade.

---
---
Rotary News
Be part of a global network of volunteers, trying to make the world a better place. Please also see the 'links & news' page for information from the local district and live feeds from Rotary International and Rotary International in GB&I.
Family Rotary club use skills to kick-start local charities
---
Rotary members unite to tackle world hunger
---
---
Meetings & Venue
Where and when:
We meet on Tuesdays at 7.00 for 7.30pm
(
Our regular meeting place is the Raven Hotel in Hook, except for the first Tuesday in the month when we have a pub night at the Bell in Odiham. Please see website & check by phoning 01256 701937 or 01256 762303 beforehand.
)
Raven Hotel, Station Road, Hook RG27 9HS
01256 762541