Featured pages
Rotary Club of Otley Chevin - welcome! Please scroll/swipe down through this page to find out more about us, in addition to the pages linked in the menu, top-left.
---
About us
We meet every Monday evening 6.30pm.for 7.00pm. at The Chevin Country Park Hotel and Spa, 'the largest log cabin in England' a short distance from the old market town of Otley, West Yorks. Guests are always welcome, but could you please ring (before 10am. Monday) our attendance secretary, Stuart Angus on:
01943 468763 or stuartangus3@btinternet.com to

ensure a meal

.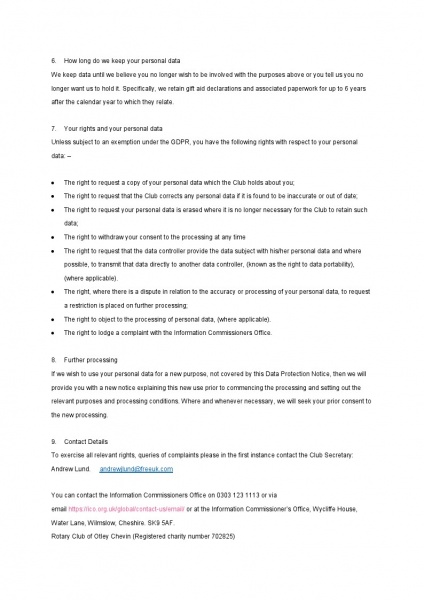 2019
President George greets H.M. Deputy Lieutenant David Pearson our guest speaker at the Charter Dinner held in March.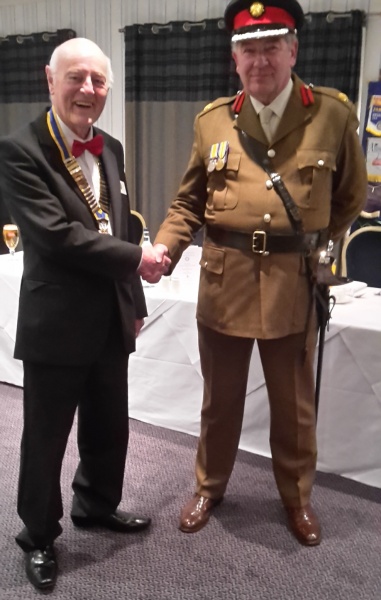 Outgoing President Stuart Angus presents George Duncan with the sash of a new President.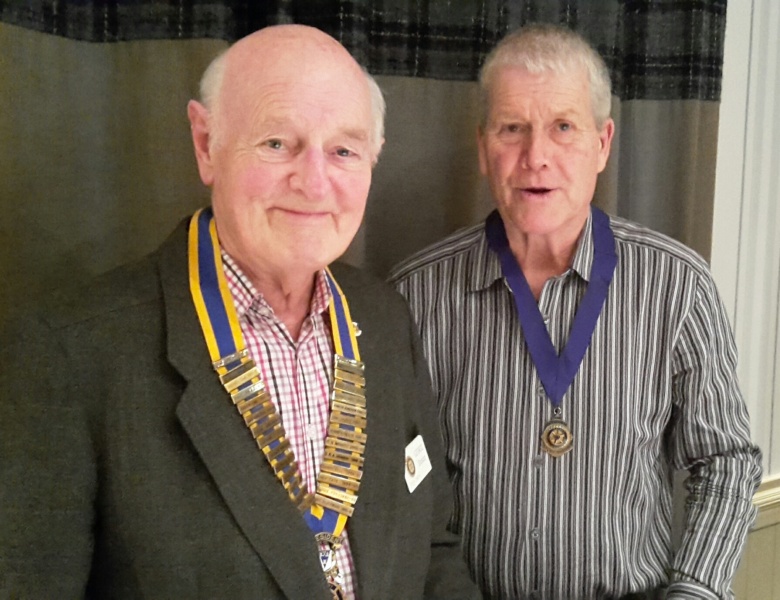 2018
International Chair, George Duncan was delighted to present the Club's cheque of £300 to Andrea Ainlie of Open Arms Malawi in February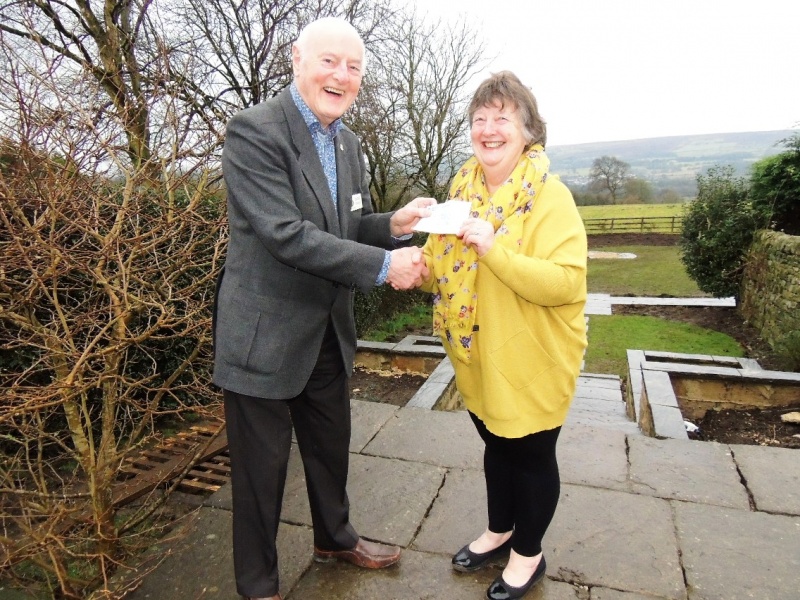 2017
The year closed with our annual sojourn into the nightlife of Otley and area with our Carol Singing in the restaurants and a record-breaking collection of £1,485. Well done all.
Here at Murgatroyd's Yeadon, ably assisted by members of 41 club.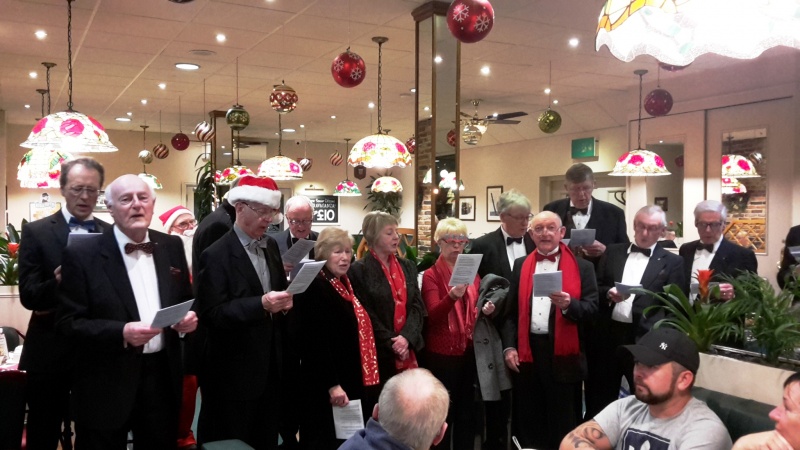 ...and at Buon Apps wonderful new restaurant by the river in Otley.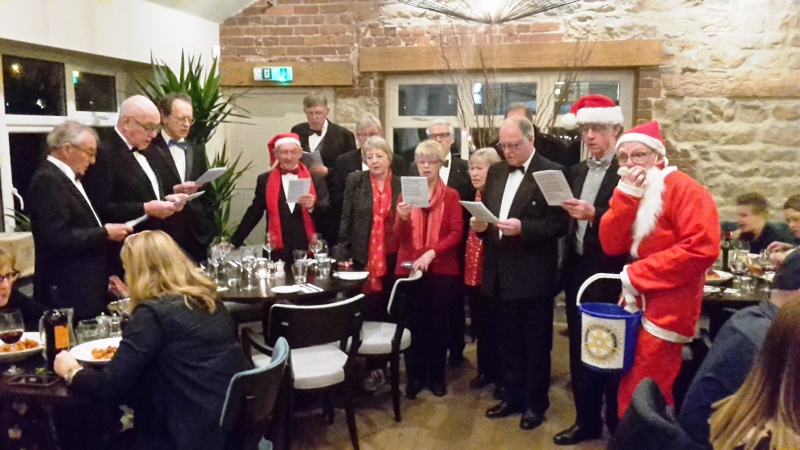 Otley's famous Victorian Fair was host to some 20,000 visitors early in December and the Club demonstrated their 'Human Fruit Machine'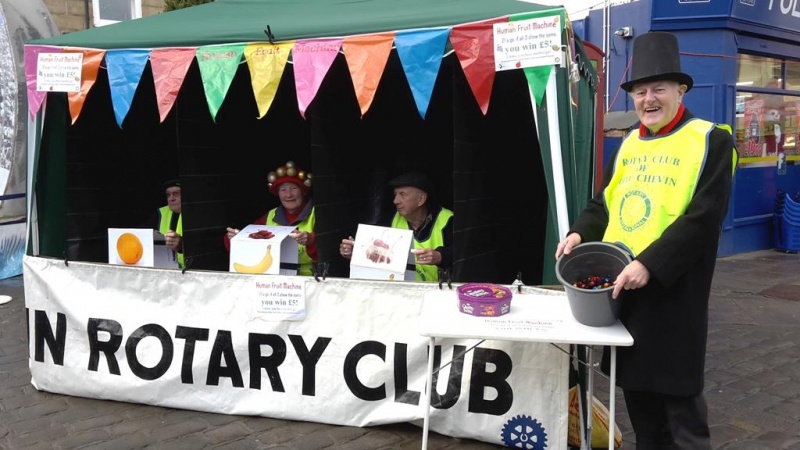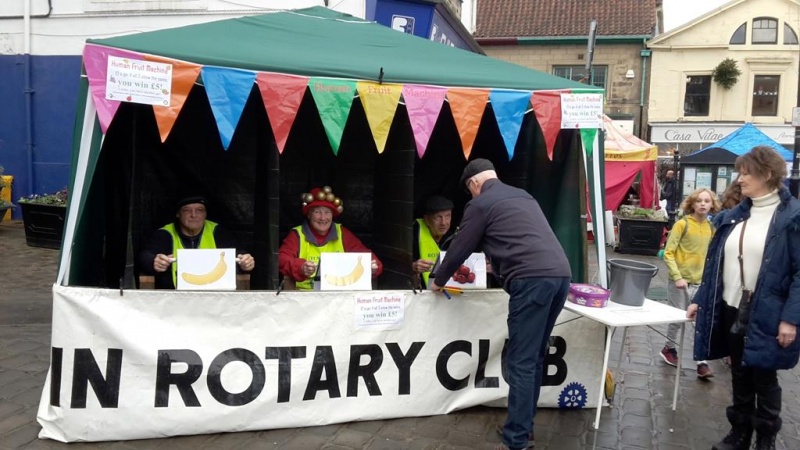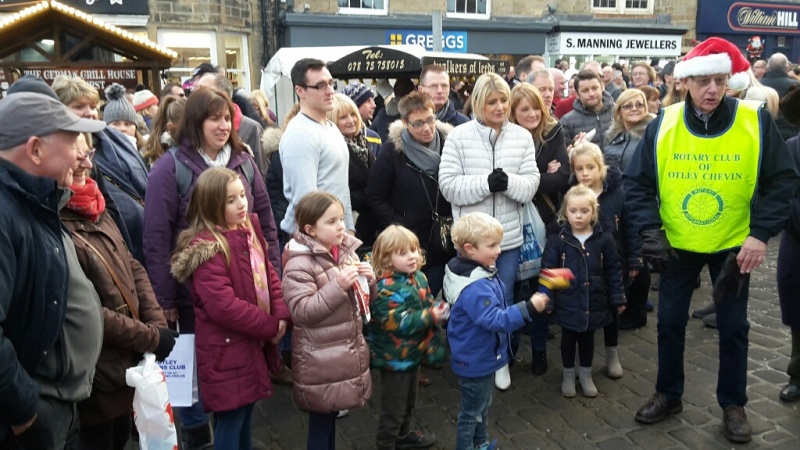 October

Half a dozen members and wives journeyed to the Aquabox depot in Derbyshire and enjoyed a fascinating tour of the facilities.
L to R,David Rawson, Andrew Taylor,Stuart and Jennifer Angus, Pres. David Wilkinson, Aquabox's John Holden & George Duncan.

                 


August
The club enjoyed a magnificent barbecue at Harvey's farmhouse at Clifton near Otley in mid August and the weather was kind to us.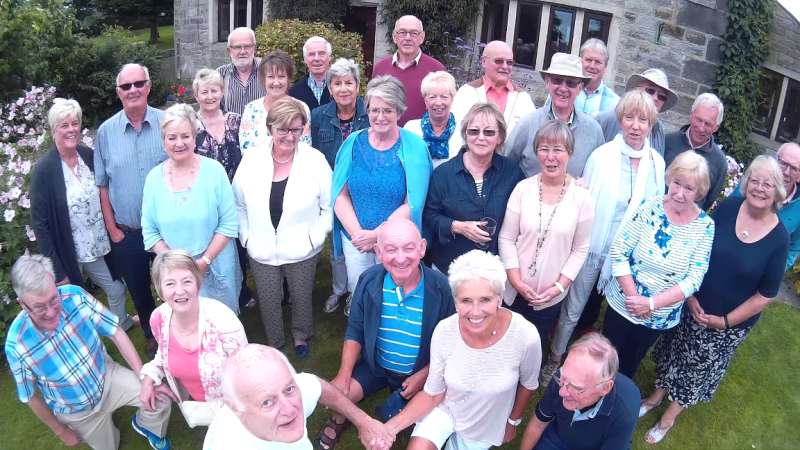 July

The 2017 distribution of Usborne Illustrated Dictionaries to all year 6 pupils in Otley, Menston, Askwith and now Pool was this year funded by a grant from Aviva Insurance.

Below is Pool Primary School.
Past President Andrew Taylor presents the Chain of Office to new president David Wilkinson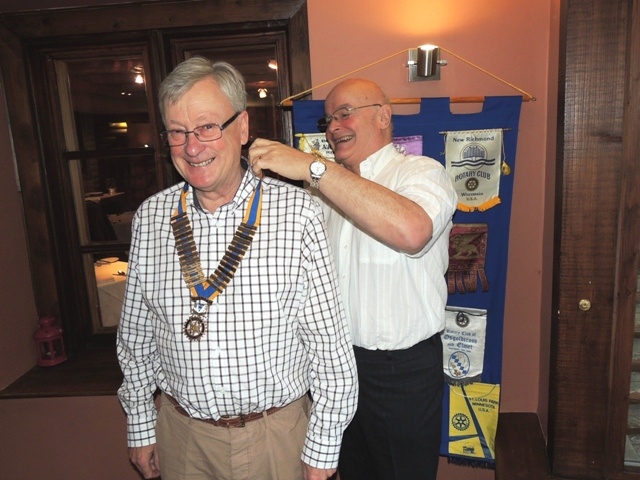 The 'Rotarian of the Year' rose bowl was presented to Harvey Meggitt.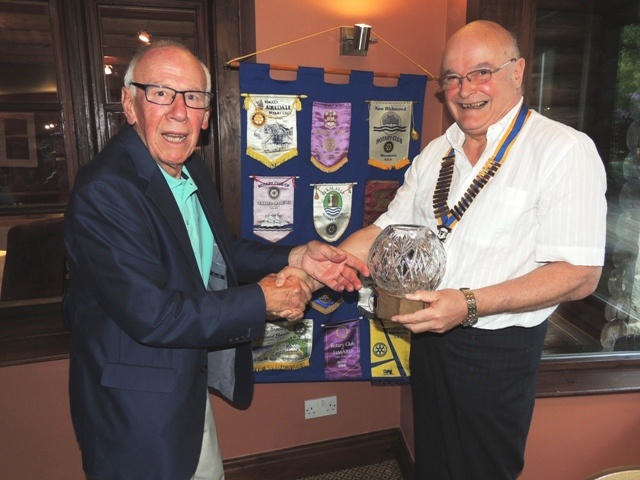 Our new Sergeant at Arms - David Johnson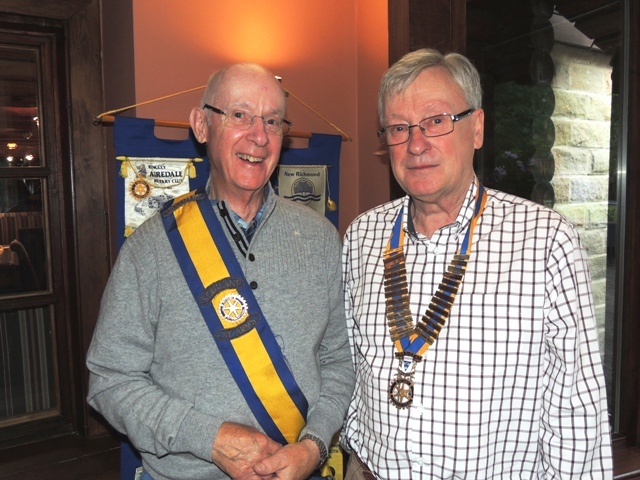 June
Our first ever 'al fresco' talk by Elmete member Bill Baker on Witty Monologues
March


President George Duncan on right hands over to incoming President AndrewTaylor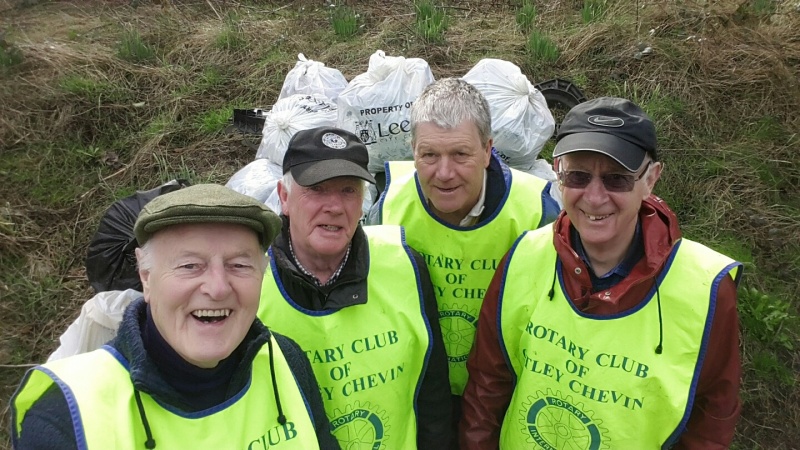 President George, Bryan Kitching, Stuart Angus and David Johnson, part of our stalwart team of 7 who were joined by Otley in Bloom on Saturday 4th. March and collected an amazing 25 bags of rubbish (pictured).
February

Rod Cam organised February's walk from Clifton Village via Cromwell's Trench to the Roebuck Inn.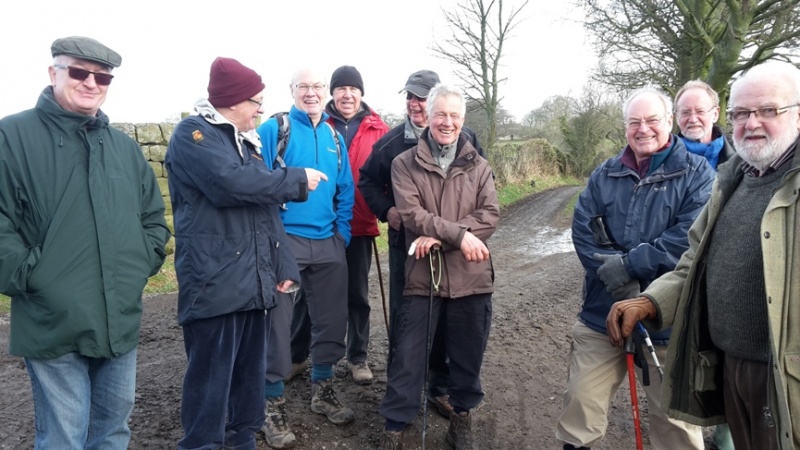 2016
December
Our annual Carol Singing was well

supported with upwards of a dozen members and friends joing us for two nights and

raising a magnificient £1,200 for local charities.

Here at the Westbourne Spice Restaurant in Otley.

and in front of 400 guests at The Stansfield Arms at Apperley Bridge.
We raised over £1,200 over the two nights for local charities, well done everybody!
Victorian Fayre in Otley

Maisie Hawkins from Otley plays our popular 'Human Fruit Machine' which raised over

£350 for Harrogate Hospital Radio.
November
Supporting President George at the Otley Remembrance Day Parade were (left to right) Rtn. Andrew Taylor, Town Councillor Mary Vickers and Rtn. Richard Pulleyn
The November handover shows incoming President George Duncan (left) receiving the Chain of Office from Past President Stuart Angus.






A blast from the past.....from ex- member Les Roberts.
Working at Gallows Hill, Otley circa 1995, from left to right: the Digger Driver, John Moore,Alan Hartle, Tony Waye, David Spencer, Glyn Collard, Eddie Foy, Tony Beck, Mike Silverwood, Bill Baker and Tony Dunford.
July
For the 7th year running, we presented dictionaries to all year 6 Primary School children i Otley.
Here at the Westfield School, Otley.

July Handover

Past President Tom presenting the regalia to President Stuart Angus




Rotarian of the Year was Andrew Lund


May
Avid Rotary diners at the Wetherby Whaler in Guiseley supporting the Spinal Injuries Association raised £750 to aid people with spinal injuries.
April
Bryan Kitching led the spring team of litter pickers on April 16th and helping to clear Rotary Way in Otley were Stuart Angus, Roy Tate, David Johnson, John Kitchen & Frank Rundle .
It is certainly one of the more dangerous community service jobs that the club undertakes as shown by the traffic on Rotary Way.
Mike Saunders, a volunteer from St. Gemma's Hospice gave a presentation to the Club and was presented by president Tom with a cheque for £500 along with a rare DVD copy of the visit in 1982 by Prince Charles and Princess Diana.



March
Under Bryan Kitching's direction, and as part of the reforestation project currently underway at Danefield Woods on Otley Chevin, many club members enjoyed a sunny morning planting a whopping 420 trees, well done all.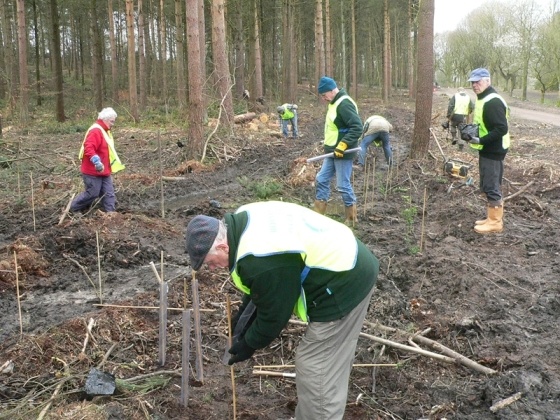 2015
December.
Our annual Carol Singing tour of the restaurants in the Otley area started at the Wetherby Whaler in Guiseley.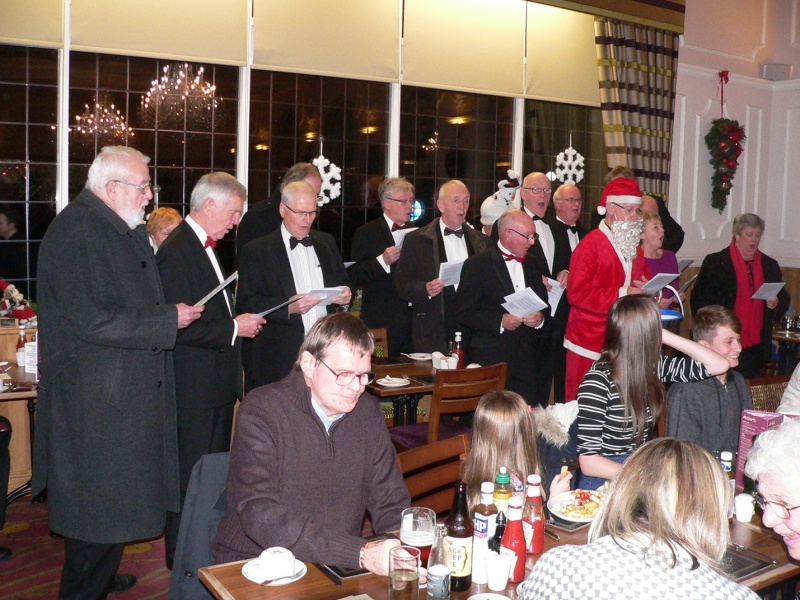 David 'Santa' Johnson busy collecting.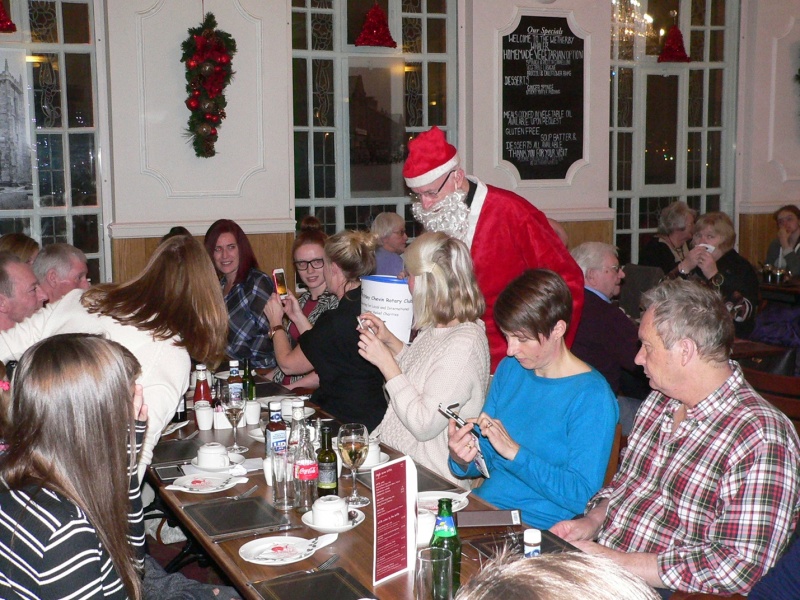 Over two evenings, the magnificient sum of over £1,600 was collected.
November.
Our Autumn bulb planting on Otley's Rotary Way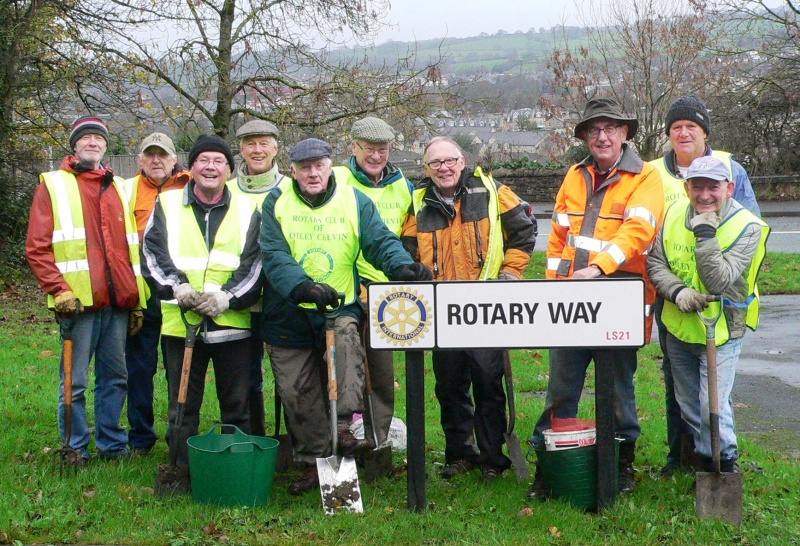 A funny thing happened at Asda the other day...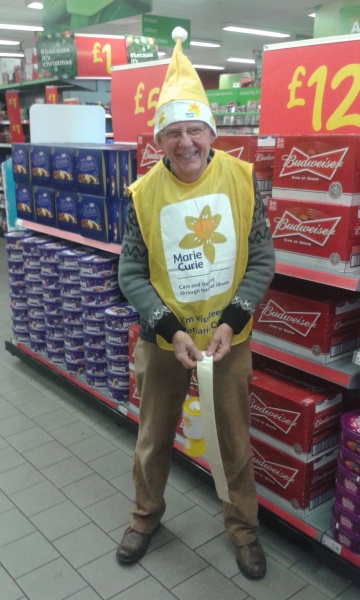 ...and at Smith's Garden Centre!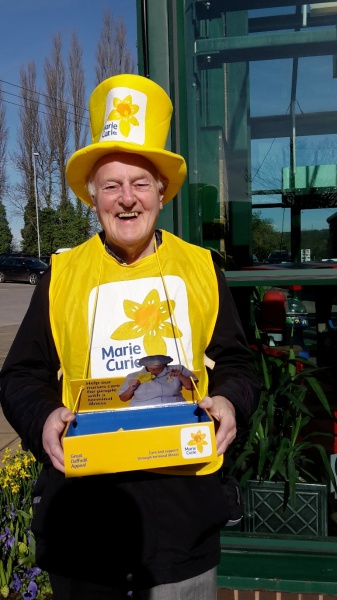 The 'official' unveiling of the Club funded Defibrillator in Orchard Gate, Otley.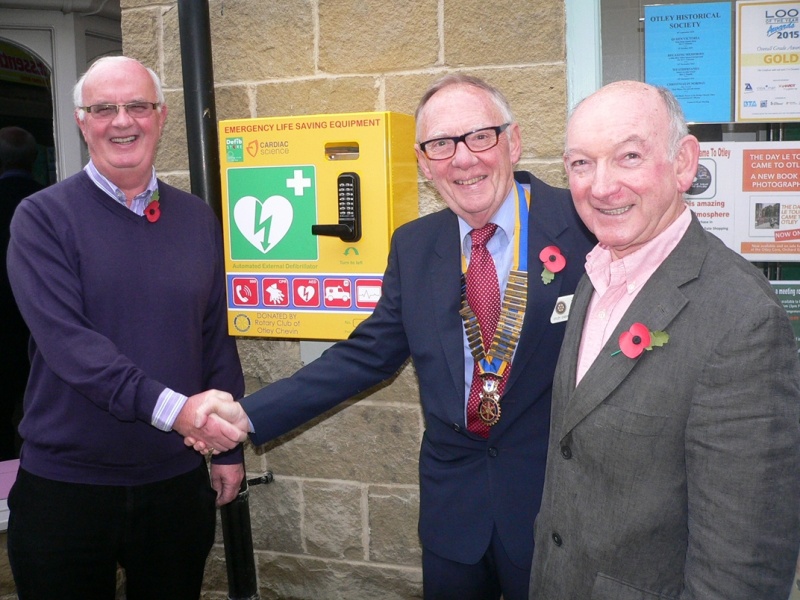 October Walk
All smiles at the start from Rod Cam's house at Calverley to lunch at Veritas in Central Leeds.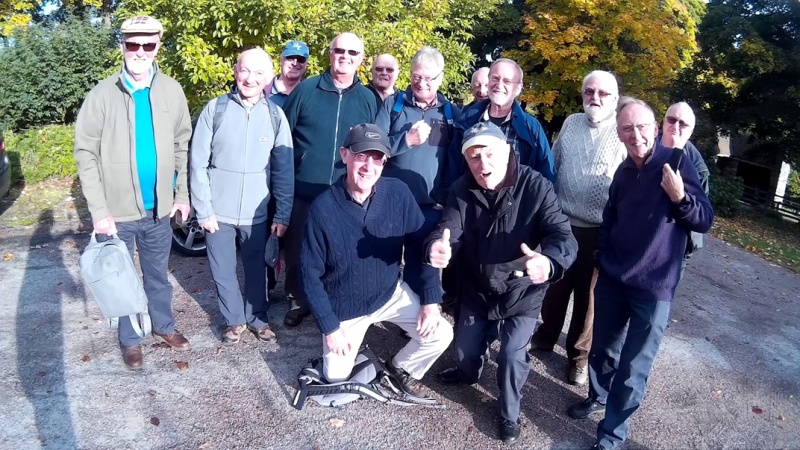 Our 'selfie' snapshot halfway on the Leeds/Liverpool Canal.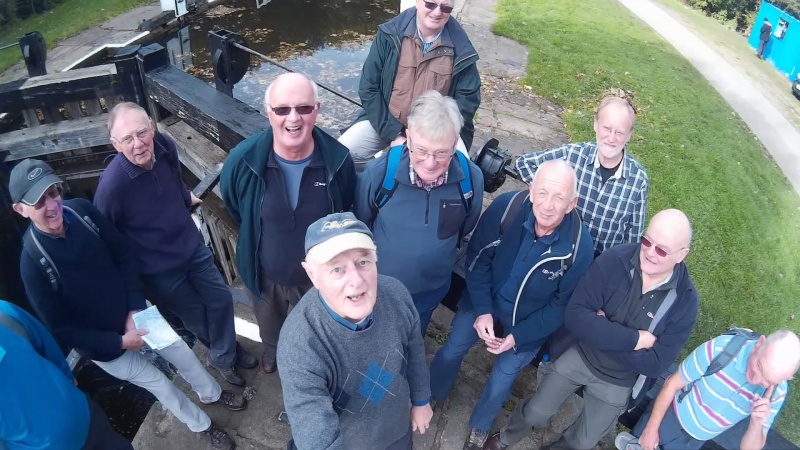 July
Stuart Quarmby organised an entertaining walk and informative talk around some most impressive homes in Ilkley ,seen here in front of the famous Edgar Lutyens house, followed by pie and peas at the Flying Duck.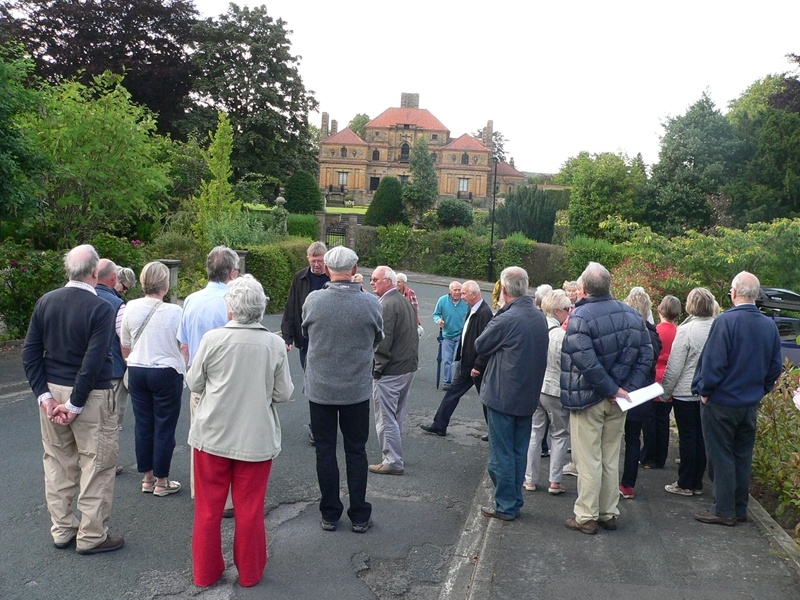 Our new President Tom Liptrot (r) takes over from John Kitchen.


The very worthy recipient of the President's "Rotarian of the Year"
award was Richard Pulleyn (r).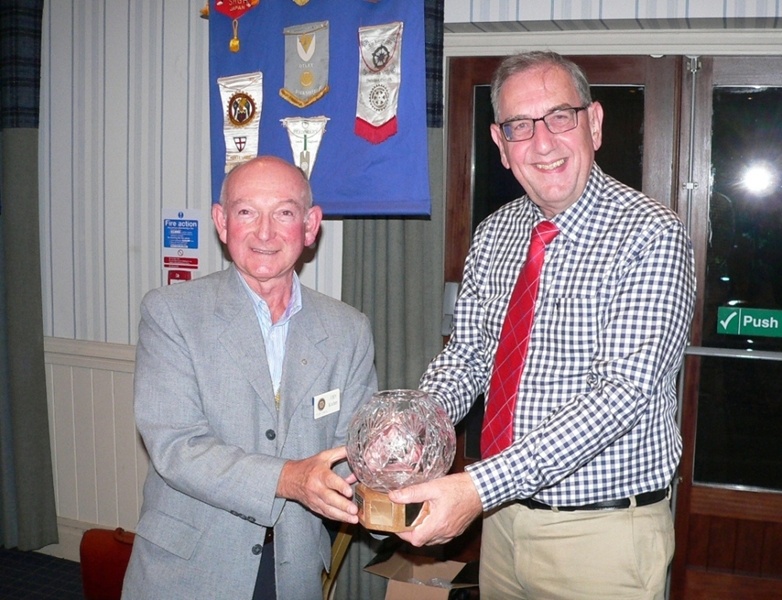 Dictionaries 4Life in July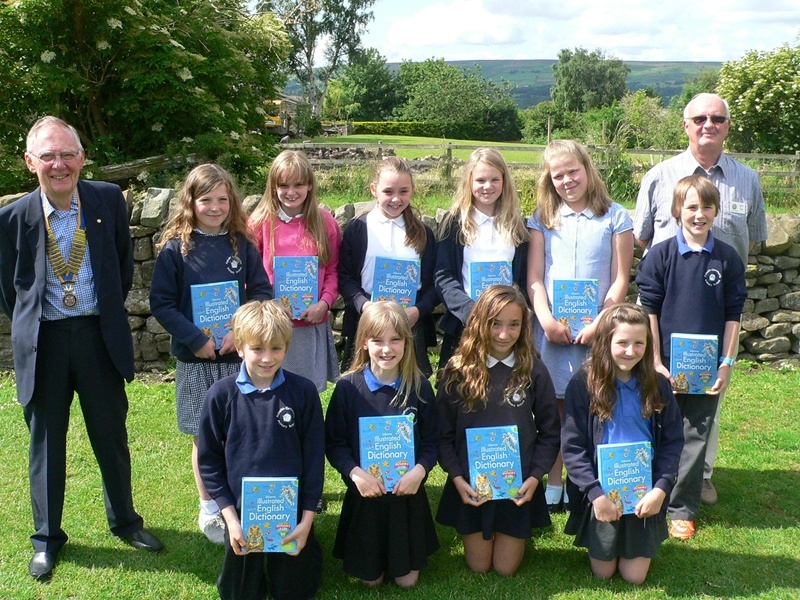 Collection for Nepal in April.


Club members Roy Tate, Rod Cam, Harvey Meggitt and George Duncan amongst many who helped raise over £700 at Stephen Smith's Garden Centre in Otley.


Leaping Leprechauns!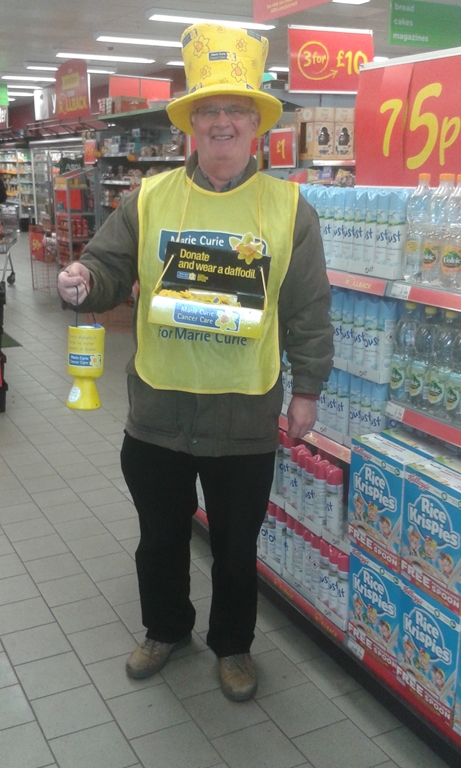 Roy Tate and others collecting for Marie Curie at Asda, Otley in March.
February Club visit to the Aston Martin facility in Pool.
22 members enjoyed a mouth watering and eye opening visit to Adrian Johnson's Aston Martin workshop and showroom in Pool recently.

A multi-million pound ex works Aston Martin DB3S as raced by Roy Salvadori and Tony Brooks.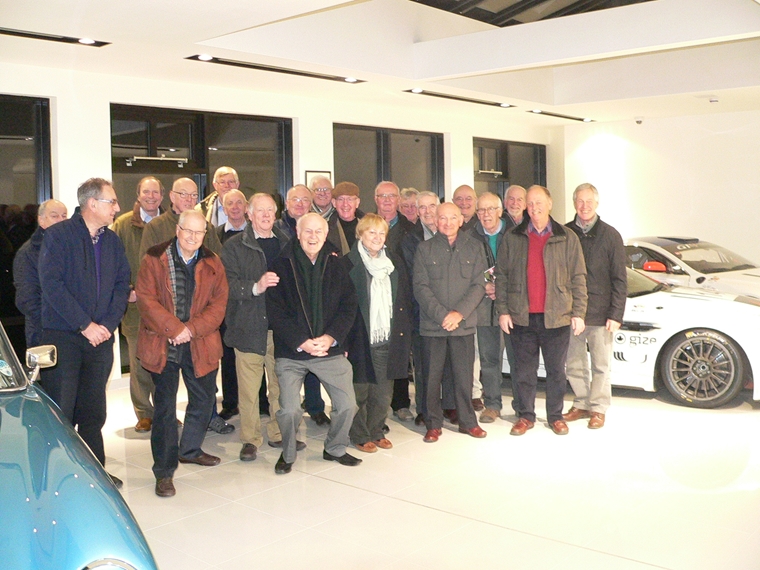 Big clean up on Rotary Way.
Full marks to club environmentalists, Bryan Kitchen, David Johnson and Stuart Angus who braved the cold and rain to clean up the litter from Rotary Way in Otley.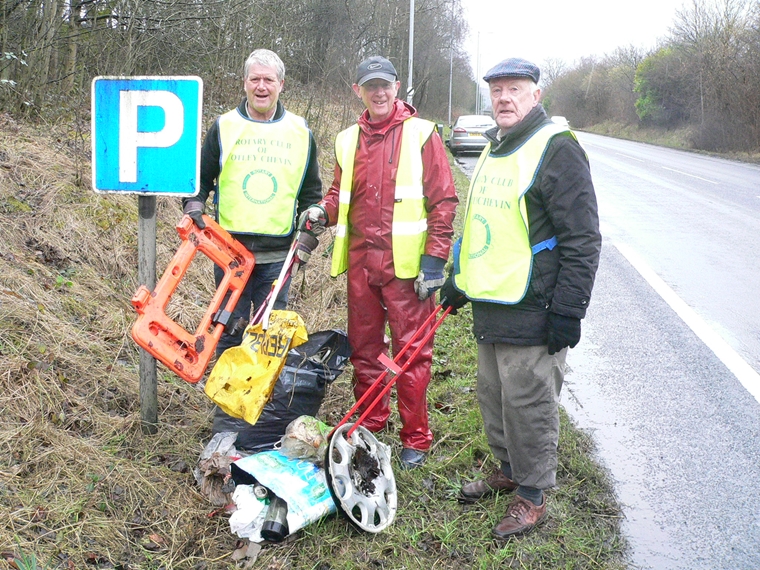 First Aid training at St. John's in Otley.
Andrew Lund, Roy Tate and Bill Baker attempt to rescusitate other members!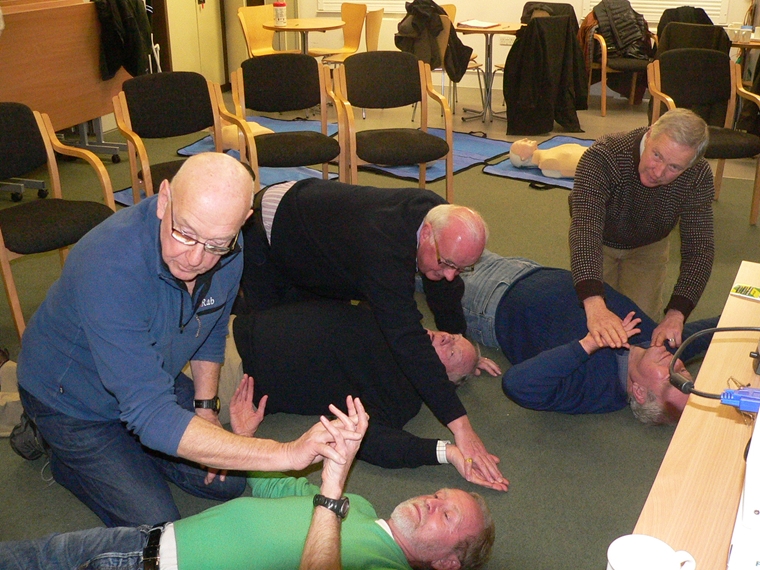 The club have donated �500 to Rotaries own Ebola appeal.
2014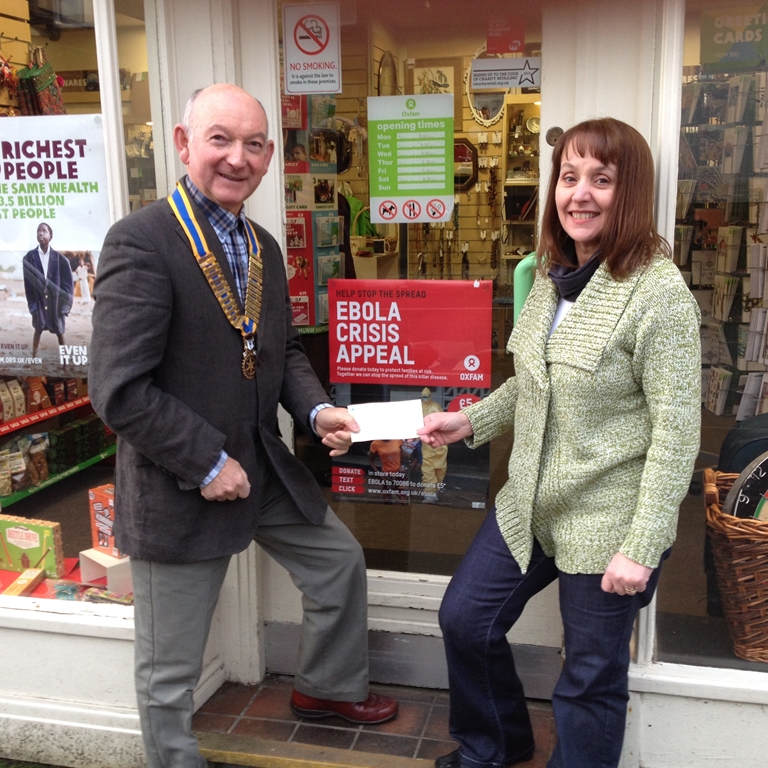 2014
December.
This year's carol singing raised an astonishing �1,800 for local charities, very many thanks to all who turned out in the miserable weather.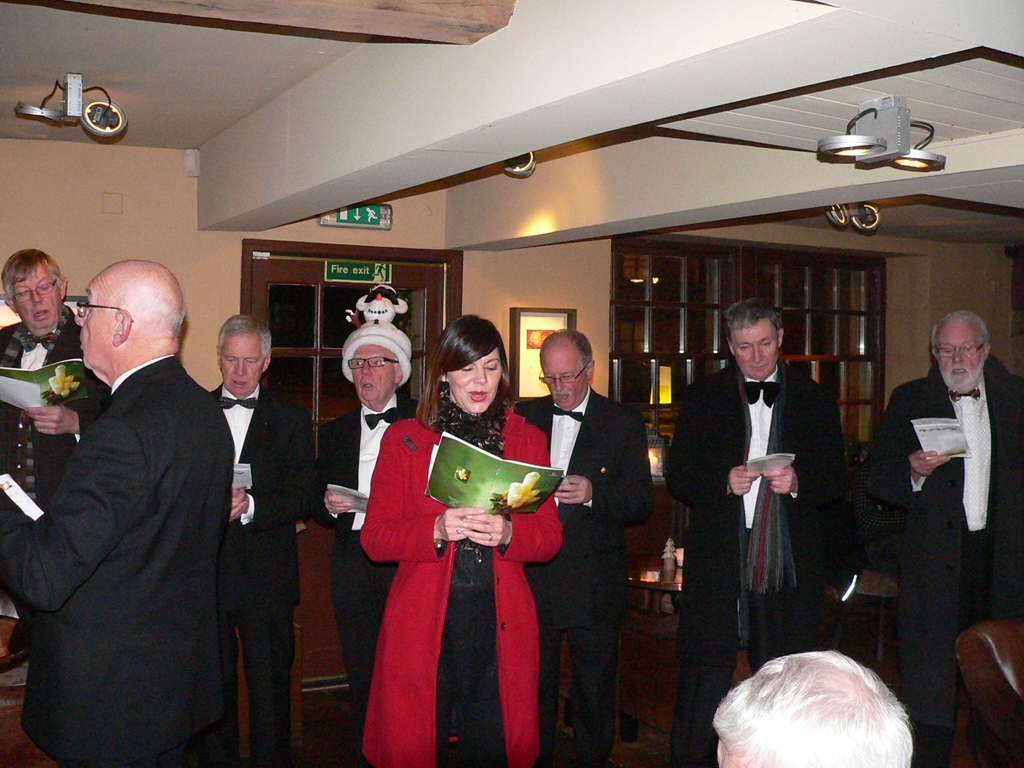 Unveiling the plaque for the tree planting on the Chevin with 2nd Otley Group Scout leader, Trevor Oates and his daughter Jess, Rotary Club of Otley Chevin Environment Officer, Bryan Kitching, Cub Scout, Zachary Quin and Rotary Club of Otley Chevin President, John Kitchen.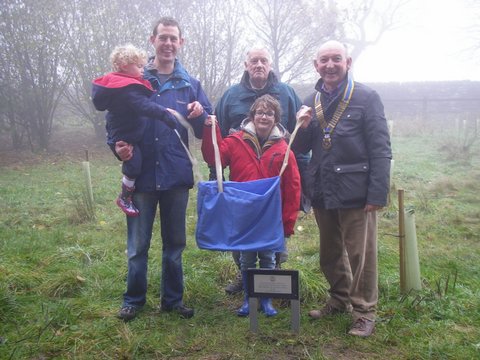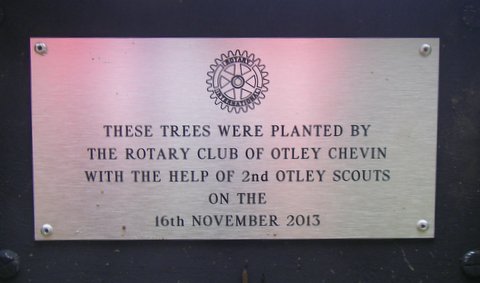 Our 2014 Dictionary distribution began in July and as usual we presented the beautifully illustrated Usborne Dictionaries to all the Year 6 pupils at each Primary School in Otley, Menston, Askwith and Farnley.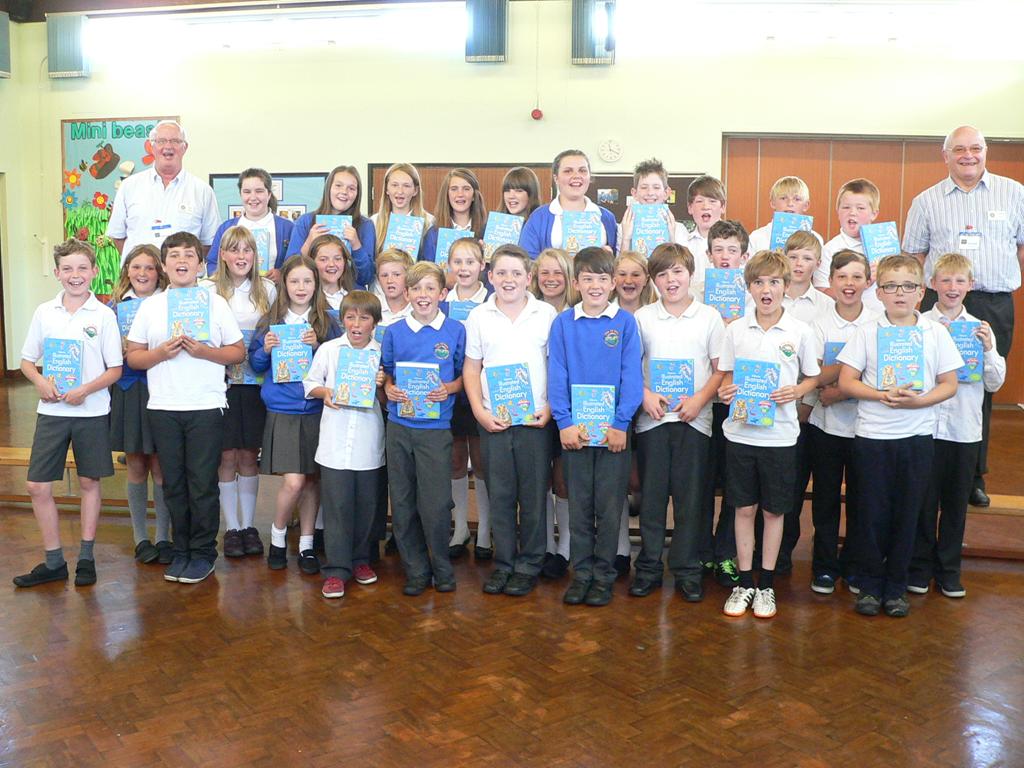 Community Chair Roy tate with Andrew Taylor at All Saint's Primary, Otley.
---
The June 30th. Handover with President Brendan Cunningham presenting the sash to incoming President John Kitchen (left).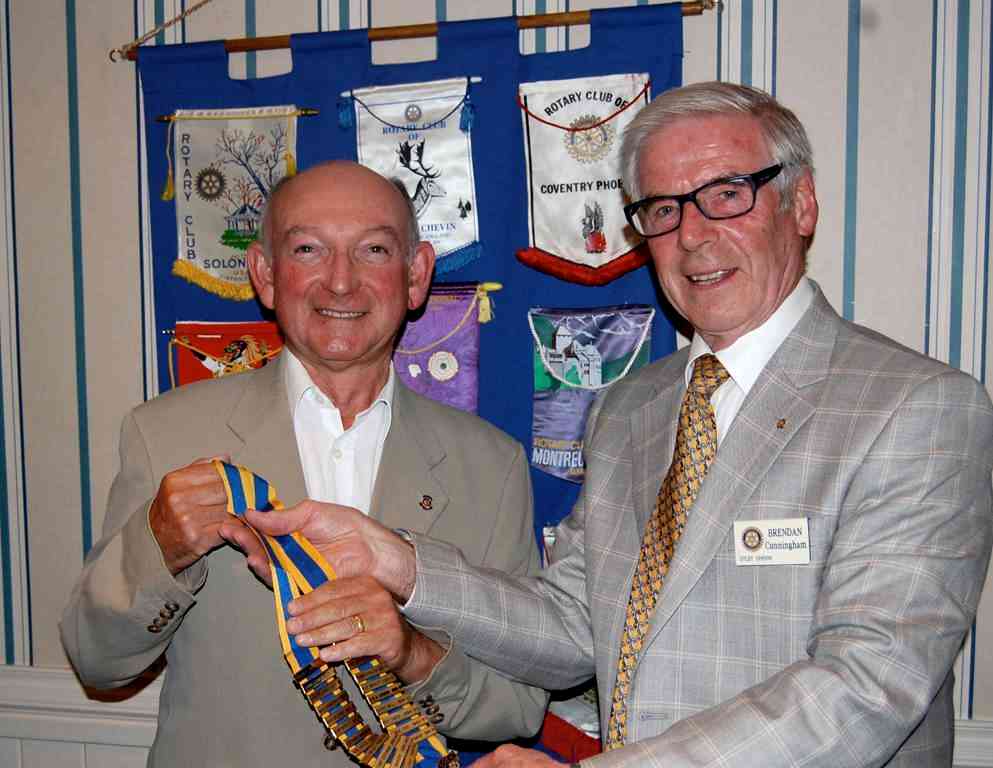 2014 Rotarian of the Year. Environmental Chairman Bryan Kitching (left).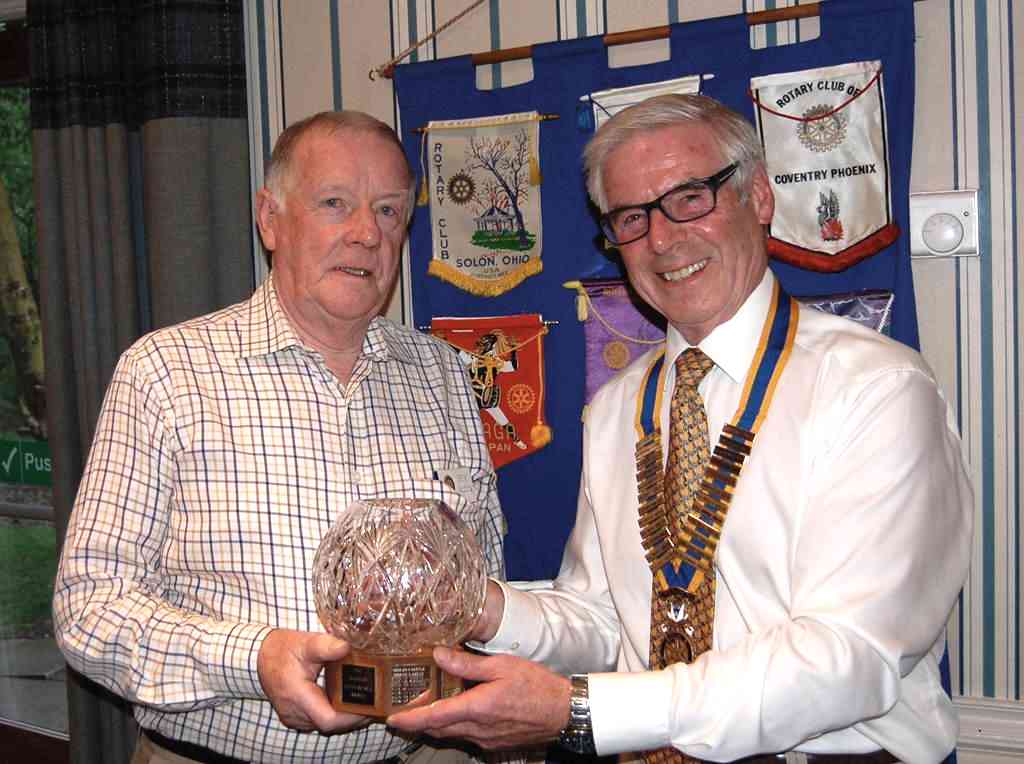 February 24th. saw the Club enjoy a hugely interesting talk on THORIUM by Physicist Professor Rebecca Seviour of Huddersfield University.
For an element that is 200 times more powerful than Uranium with little or no dangerous side effects and yet is little used for power production, seems a ridiculous waste of World resources, until one learns that it is almost impossible to produce nuclear weapons from it. Hence the Military and World Governments have almost no interest in developing it!!!
Food for thought.
The Rotary Club of Otley Chevin were recently privileged to hear from Arek Hersh M.B.E., a Holocaust survivor , of his experiences as a Jewish boy of 11 years of age. From life in German occupied Poland, through work camps, ghettos & Auschwitz Birkenue.He survived despite extreme terror & brutality, witnessing at first hand one of the worst crimes in history.A truly fascinating account which is told in his book ` A Detail of History`. Today Arek visits schools, universities & other organizations to talk about his experiences of the Holocaust.
He hopes by doing this he can help young people to build a better world.
January 14th. First Club Walk of the Year

Thirteen walkers met at St Ives estate Bingley for a 6/7 mile walk which took in The
Pack Horse Bridge,Beckfoot,Myrtle Park & The River Aire banks before climbing upwards to a ridge where there were great views of the Aire Valley including Bingley ,Riddlesden & Ilkley Moor.Great discussions took place on what was what but we were eventually rewarded with a view of the lost town of Silsden!!

We walked through St Ives Estate ,stopping at Lady Blantyres Rock,thence to the cars.
We lunched at The Malt Shovel Harden where the 2 course Seniors Special was a firm favourite.

Next Walk February 18th leader John Kitchen.

Roy Tate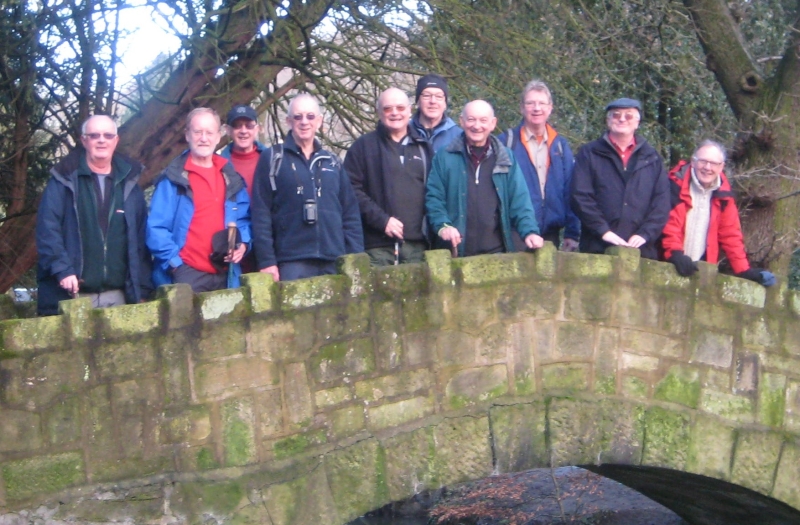 After a period of dodgy weather, 11 walkers were relieved and delighted by a lovely sunny day for our recent walk.
We parked at Adel Church and caught the bus to Hyde Park corner. We then had a most interesting walk some 5 miles up the Meanwood Valley trail, going under the ring road and up through Adel woods to return to our cars, and hastily off to the Fox at Bramhope, where we fed well in the tap room and enjoyed some good real ale and put the world to rights one more time.
It is amazing just what country areas can exists from within a huge city.
2013
The final event of the year was our annual Carol Singing, taking in many of the restaurants and hostelries in the Otley area over three nights and raising the amazing total of �1733 for our local charities. Well done everybody.
December found us running our annual tombola stall at the Otley Victorian Fair.
The maginificent total of �429 was raised for International Funds.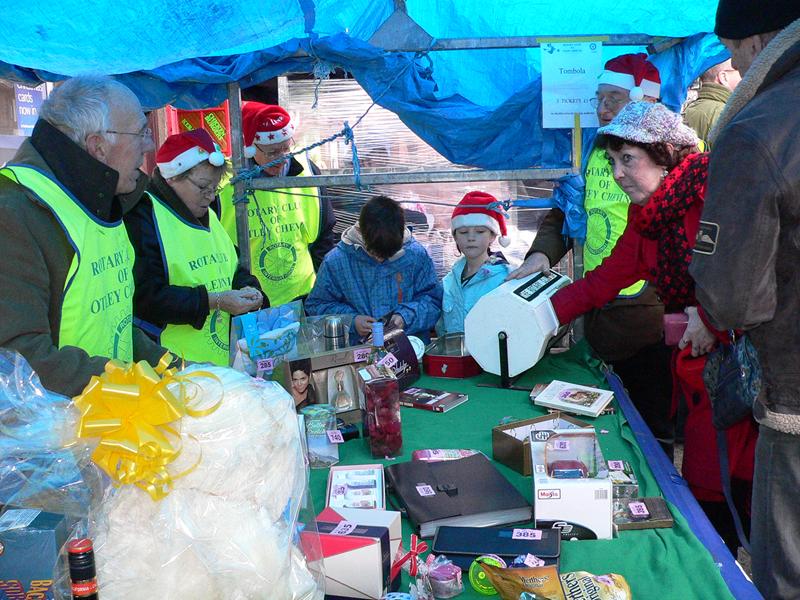 ROTARY WAY
On the 24th. November, the Otley Bypass was ceremoniously renamed by the Lord Mayor of Leeds, Coun. Thomas Murray. In attendance were Otley

Town Mayor, Pam Gill

,

District Governor, Mark Stewart-Clarke, Club President, Brendan Cunningham and Environmental Officer, Bryan Kitchen.

Club members enjoying the occasion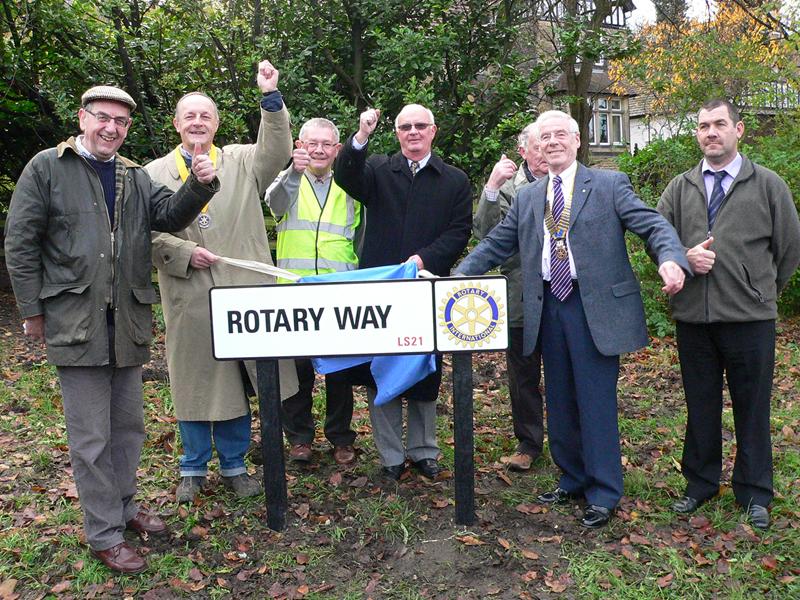 Our collection for the Phillipine's Typhoon Haiyan disaster at Morrisons, Guiseley, collected over �1300, sufficient for 2 Shelterboxes.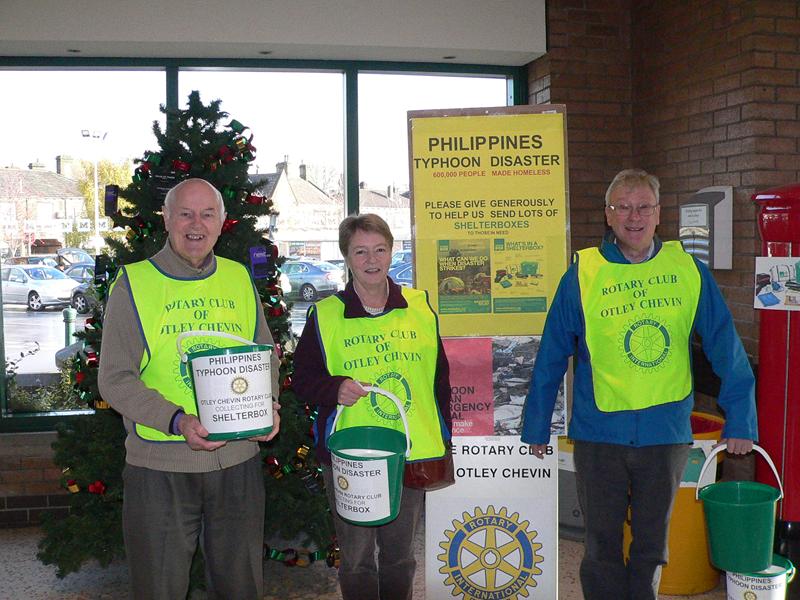 November found us planting over 300 tree saplings at Bramhope with the help of the 2nd Otley Scout Group with families and friends.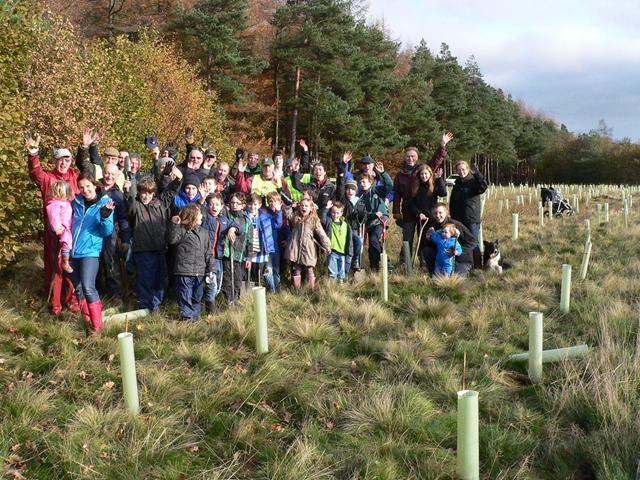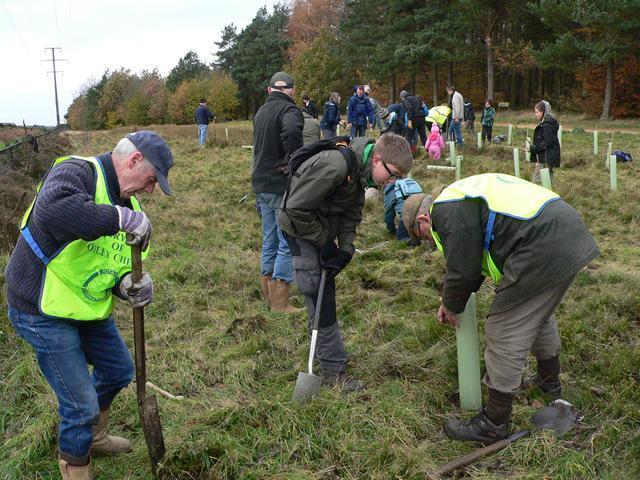 Bryan Kitching organised a wonderful day out in September, visiting the Jaguar Factory at Castle Bromwich where we saw the new' F' Type and XJ range being manufactured.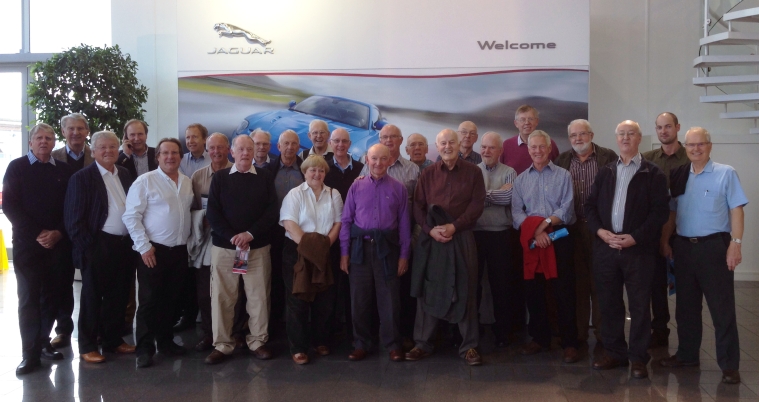 Bryan Kitching's 'Lock-up your car campaign' got under way at Otley's East Chevin Car park on Sunday 28th. July ably helped by Pres. Brendan and Community Chair, Roy Tate.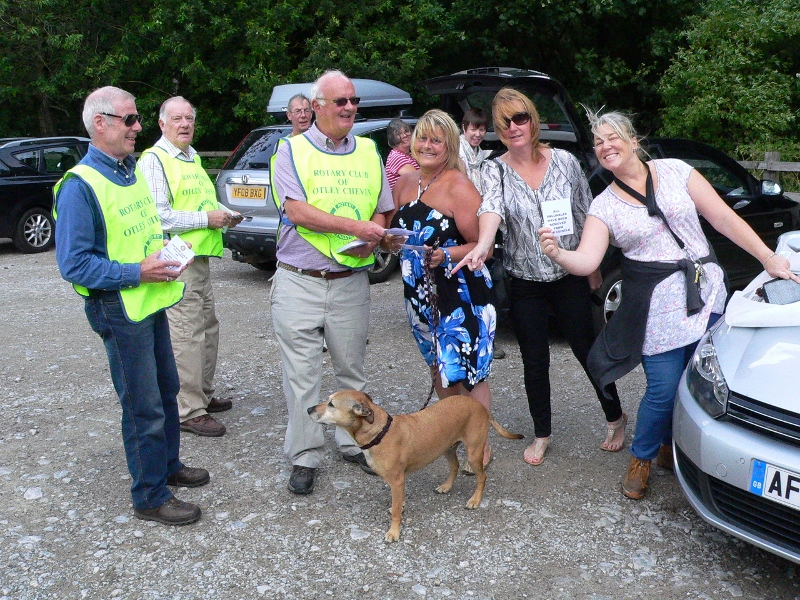 2013
2013

Our distribution of Dictionaries4life started this year at the Ashfield Primary School, Otley.

The Land Rover Experience paid us a visit in July

Winner of the Clay Pigeon Shoot held at Yorkgate Gun Club, July 18th. 2013 was 'Hot Shot' Stuart Quarmby who had never fired a gun in his life!!Stuart is second from the left (in the big hat)

2012

Painting the new Scout Headquarters in Otley and celebrating our large donation.

2011

The last event of the year found many members out Carol Singing, seen here at the Stansfield Arms. Apperley Bridge. Over �1,300 was raised for Martin House Hospice.

Our environmental group planting daffodil bulbs on the Otley Bypass in October.

Super Golf day at Otley Golf Club raises an amazing �3400 for local charities.

The Annual Charity Golf Tournament is held every August at Otley Golf Club

Congratulations to the winning team from The Insurance Partnership.

The club team enjoying the day

Our local MP Greg Mulholland visited us in June and brought us right up to date on the Coalition.

Stroke Awareness Day

With our friends at Otley Rotary Club, we tested a magnificent 156 local people for Blood Pressure at Sainsbury's of Otley in April.

Our collection with the Otley Club for 'Thanks for Life' at Sainsbury's in Otley raised �350.

14 members and friends 'load testing' a bridge on the Leeds to Liverpool canal during the walk from Calverley to Leeds in February

Members and friends enjoyed a trip to the Ginetta racing car factory at Garforth

The Shelterbox Roadshow arrived in Otley Market Place in July with members helping David & Linda Glover all day

kk
---
---
Rotary News
Be part of a global network of volunteers, trying to make the world a better place. Please also see the 'links & news' page for information from the local district and live feeds from Rotary International and Rotary International in GB&I.
Family Rotary club use skills to kick-start local charities
---
Rotary members unite to tackle world hunger
---
---
Meetings & Venue
Where and when:
We meet on Mondays at 1900 - 1930
(
Not Bank Holidays
)
Chevin Country Park Hotel, Yorkgate, Otley, LS21 3NU
01943 467818