Rotary Club of Sittingbourne Invicta
We like to connect with others & become actively involved within our Sittingbourne (UK) community. Internationally, we're proud to be helping to eradicate polio from the world. As a group of friends, we have much fun and enjoy a range of sporting & social activities together.
This Rotary year we will:
Would You Like To Join Us?
We welcome enquiries from people who would like to work with us towards our goal of improving our community locally, nationally and internationally.
We are keen to attract new Rotarians as this means we can do more for our communities and also widen our circle of friends. However, if you can't make a commitment straight away then our Associate Membership option may ideally suited to you.
We can also provide volunteering opportunities at occasional community and fund-raising events without the need to attend any of our club meetings.
Please check out our
Like to Join Us?
webpages for more details.
We're Rotary
Latest Club News
Easter Egg Draw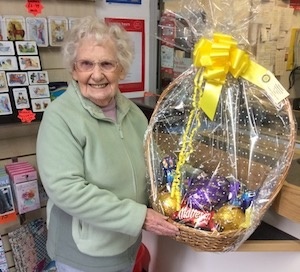 Lily Bardeleau with her Easter Egg Basket
Once again, the club organised an Easter Egg Draw in pubs, coffee shops and other retail outlets around the area to raise money for the club's supported charities.
This year, the income from the draw will go to Home Start and Harmony Therapy Trust.
Lily Bardeleau was the lucky winner of the Easter Egg Draw run by the Bredgar Farm Shop and Post Office.
---
Rotary Civic Awards Evening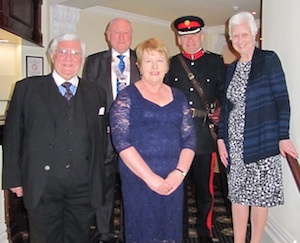 Rotary Civic Award Evening
Our Rotary Civic Awards Evening was held on Monday 27th March 2017.
Special guest speaker was Paul Auston, Deputy Lieutenant, representing the Lord Lieutenant of Kent.
The three Rotary Civic Award winners each received a certificate from Deputy Lieutenant Paul Auston as follows;
Lyn Newton, a bereavement counsellor with Cruse and also a volunteer with the Salvation Army
John Greenhill, Vice Chairman of Swale Senior's Forum
Suzanne Austin, who has held many roles as a Guide Leader
---
New Benches for Milton Creek Country Park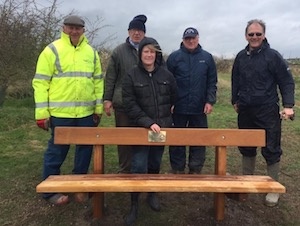 New benches for Milton Creek Country Park
On the cold, windy and rainy morning of 22nd March, five Rotarians braved the elements to install two benches for the use of visitors to Milton Creek Country Park.
The benches, and rotary plaques to be fixed on them, were funded by a District Grant, matched by a donation from the Rotary Club of Sittingbourne Invicta.
The club members who turned out to install the benches were very ably assisted by Park Ranger, Kris Staples, who brought all the necessary kit and a lot of expertise to the job. Everyone worked really hard, and after a couple of hours the benches were in place - one on the edge of the open area near the entrance to the Park and one much further back in a wilder part.
Let's hope they are enjoyed by many park users, for many years to come.
---
Support for Hi-Kent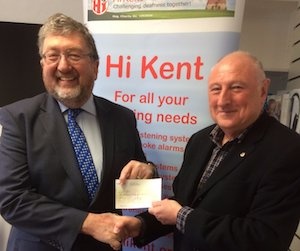 John Clayton & President Chris
President Chris Bunting visited Hi-Kent on Monday 23rd January 2017 and presented John Clayton, Hi-Kents Chief Executive, with a cheque for £2500.
Hi Kent is a registered charity for deaf and hard of hearing people in Kent. It is also one of President Chris's chosen charities for support this Rotary year.
---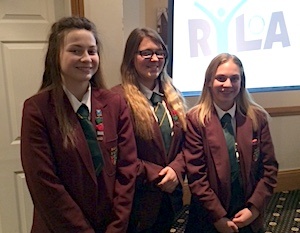 Summer, Abbie & Paige
Club Talk by Rotary Young Leaders
Club members were pleased to welcome three pupils from the Sittingbourne Community College to our meeting on Monday 23rd January 2017.
Summer, Abbie & Paige, who were accompanied by parents and teachers, gave a presentation about their Rotary Youth Leadership (RYLA) experience last October.
The residential course was held at the Arethusa Venture Centre, Upnor. As well as learning about leadership and teamworking, the girls said they had also made many friends.
They ended their talk by thanking the club for providing this opportunity to attend.
---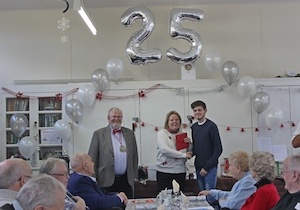 Companionship at Christmas
25 Years of Companionship at Christmas
Companionship at Christmas recently celebrated 25 years of providing Christmas dinners to those on their own in Sittingbourne.
Over Christmas Day and Boxing Day, 120 people enjoyed each others company over the festive season. There was lots of laughter, music, balloons and a special cake marking the 25 years. Everyone enjoyed the truly excellent cooking from the volunteers who gave up their own time over the Christmas period.
Companionship at Christmas is a charity supported by the Rotary Club of Sittingbourne Invicta and club member Pamela Prescott helped hand out dinners and presented a cheque for £200 as the club's contribution to this years event.
---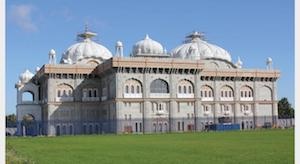 Sikh Temple at Gravesend
Visit to Sikh Temple
A group of 26 club members and partners visited the Siri GuruNanak Darbar Gurdwaras (Sikh place of worship) at Gravesend on Monday 28th November 2016.
Our host was Rotarian Kang from the Rotary Club of Gravesend and Meopham, who split the group into three for a tour of the temple.
The visit ended with pangat; a free community kitchen that produced a wholesome vegetarian meal for us (normally served with dignity to everyone irrespective of one's own colour, casre, creed or status).
---