Rotary Club of Sittingbourne Invicta
We like to connect with others & become actively involved within our Sittingbourne (UK) community. Internationally, we're proud to be helping to eradicate polio from the world. As a group of friends, we have much fun and enjoy a range of sporting & social activities together.
This Rotary year we will:
Would You Like To Join Us?
We welcome enquiries from people who would like to work with us towards our goal of improving our community locally, nationally and internationally.
We are keen to attract new Rotarians as this means we can do more for our communities and also widen our circle of friends. However, if you can't make a commitment straight away then our Associate Membership option may ideally suited to you.
We can also provide volunteering opportunities at occasional community and fund-raising events without the need to attend any of our club meetings.
Please check out our
Like to Join Us?
webpages for more details.
We're Rotary
Latest Club News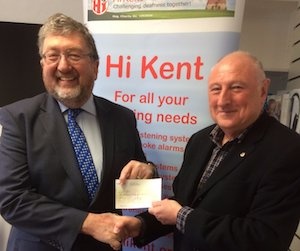 John Clayton & President Chris
Support for Hi-Kent
President Chris Bunting visited Hi-Kent on Monday 23rd January 2017 and presented John Clayton, Hi-Kents Chief Executive, with a cheque for £2500.
Hi Kent is a registered charity for deaf and hard of hearing people in Kent. It is also one of President Chris's chosen charities for support this Rotary year.
---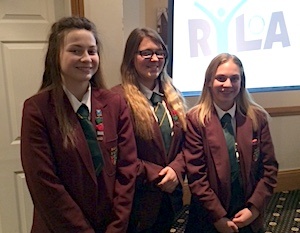 Summer, Abbie & Paige
Club Talk by Rotary Young leaders
Club members were pleased to welcome three pupils from the Sittingbourne Community College to our meeting on Monday 23rd January 2017.
Summer, Abbie & Paige, who were accompanied by parents and teachers, gave a presentation about their Rotary Youth Leadership (RYLA) experience last October.
The residential course was held at the Arethusa Venture Centre, Upnor. As well as learning about leadership and teamworking, the girls said they had also made many friends.
They ended their talk by thanking the club for providing this opportunity to attend.
---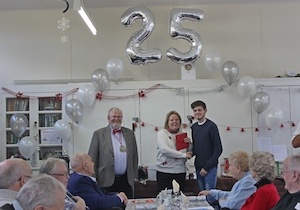 Companionship at Christmas
25 Years of Companionship at Christmas
Companionship at Christmas recently celebrated 25 years of providing Christmas dinners to those on their own in Sittingbourne.
Over Christmas Day and Boxing Day, 120 people enjoyed each others company over the festive season. There was lots of laughter, music, balloons and a special cake marking the 25 years. Everyone enjoyed the truly excellent cooking from the volunteers who gave up their own time over the Christmas period.
Companionship at Christmas is a charity supported by the Rotary Club of Sittingbourne Invicta and club member Pamela Prescott helped hand out dinners and presented a cheque for £200 as the club's contribution to this years event.
---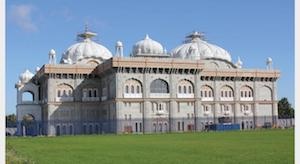 Sikh Temple at Gravesend
Visit to Sikh Temple
A group of 26 club members and partners visited the Siri GuruNanak Darbar Gurdwaras (Sikh place of worship) at Gravesend on Monday 28th November 2016.
Our host was Rotarian Kang from the Rotary Club of Gravesend and Meopham, who split the group into three for a tour of the temple.
The visit ended with pangat; a free community kitchen that produced a wholesome vegetarian meal for us (normally served with dignity to everyone irrespective of one's own colour, casre, creed or status).
---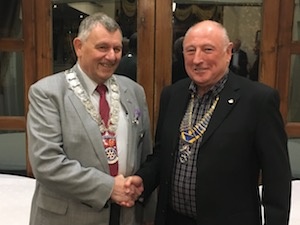 DG Peter West & President Chris Bunting
District Governor's Visit
District Governor Peter West visited our club on Monday 21st November 2016.
DG Peter said he was pleased to see the club had a new member under 50 in Richard Ingram.
He then went on to talk about other forms of membership. He recognised Invicta as being a dynamic club with plenty going on to attract potential members.
DG Peter also reminded us of the campaign to eradicate polio and produced an End Polio Now bear for us to name in exchange for a small donation to the cause.
---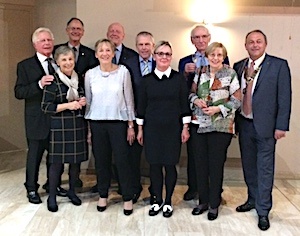 On our visit to Arras
Invicta Visits Arras
Four Invicta couples made a brief visit to Arras on Wednesday 16th November 2016.
Our members met a group from the Rotary Club of Arras Vauban for lunch followed by a tour of WWI tunnels where 24000 British troops hid for a week ahead of the Battle of Arras in September 1917.
In the evening, the Invicta group joined the Arras Vaunan Club members for a partners evening buffet with tasting of the Beaujolais nouveau.
Our hosts were very welcoming and plans were laid for future visits. The photo shows Invicta members with Pierre Rondot and Arras Vauban President Freddy Fontana.
---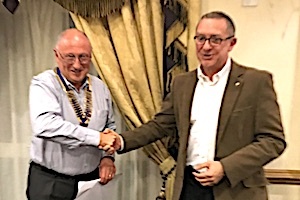 President Chris welcomes Richard to Rotary
Invicta Welcomes Richard
President Chris Bunting had the pleasure of welcoming new member Richard Ingram to the club, and the worldwide Rotary movement, on Monday 7th November 2016.
Richard, who lives in Bredgar, said he was keen to play an active role in the work of the club.
Richard now takes our total membership to 37 active members.