Rotary Club of Sittingbourne Invicta
We like to connect with others & become actively involved within our Sittingbourne (UK) community. Internationally, we're proud to be helping to eradicate polio from the world. As a group of friends, we have much fun and enjoy a range of sporting & social activities together.
We welcome enquiries from people who would like to work with us towards our goal of improving our community locally, nationally and internationally.
This Rotary year we will:
Quick Links
We're Rotary
Latest Club News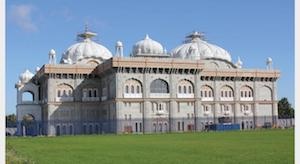 Sikh Temple at Gravesend
Visit to Sikh Temple
A group of 26 club members and partners visited the Siri GuruNanak Darbar Gurdwaras (Sikh place of worship) at Gravesend on Monday 28th November 2016.
Our host was Rotarian Kang from the Rotary Club of Gravesend and Meopham, who split the group into three for a tour of the temple.
The visit ended with pangat; a free community kitchen that produced a wholesome vegetarian meal for us (normally served with dignity to everyone irrespective of one's own colour, casre, creed or status).
---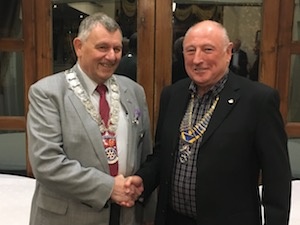 DG Peter West & President Chris Bunting
District Governor's Visit
District Governor Peter West visited our club on Monday 21st November 2016.
DG Peter said he was pleased to see the club had a new member under 50 in Richard Ingram.
He then went on to talk about other forms of membership. He recognised Invicta as being a dynamic club with plenty going on to attract potential members.
DG Peter also reminded us of the campaign to eradicate polio and produced an End Polio Now bear for us to name in exchange for a small donation to the cause.
---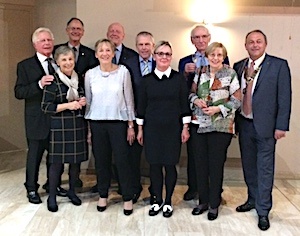 On our visit to Arras
Invicta Visits Arras
Four Invicta couples made a brief visit to Arras on Wednesday 16th November 2016.
Our members met a group from the Rotary Club of Arras Vauban for lunch followed by a tour of WWI tunnels where 24000 British troops hid for a week ahead of the Battle of Arras in September 1917.
In the evening, the Invicta group joined the Arras Vaunan Club members for a partners evening buffet with tasting of the Beaujolais nouveau.
Our hosts were very welcoming and plans were laid for future visits. The photo shows Invicta members with Pierre Rondot and Arras Vauban President Freddy Fontana.
---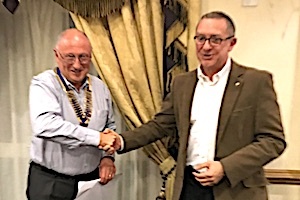 President Chris welcomes Richard to Rotary
Invicta Welcomes Richard
President Chris Bunting had the pleasure of welcoming new member Richard Ingram to the club, and the worldwide Rotary movement, on Monday 7th November 2016.
Richard, who lives in Bredgar, said he was keen to play an active role in the work of the club.
Richard now takes our total membership to 37 active members.