Hello!
We're a small, friendly, club - men and women from Galway. Please look round the site to find out more about what we do. We are a part of Rotary International, which is the world's largest service organisation for business and professional people. We enjoy social contact with like-minded, ethical professionals in all corners of the globe.
The Galway Salthill Rotary Club meet in the Ardilaun Hotel located in Galway
every Monday at 6:30 PM (except bank holidays).
---

Our club has a long tradition of community involvement and visitor hospitality. We particularly welcome visitors from all over the Rotary world to be our guests at our meetings, check the programme page for futher details.
Click the 'Sat Nav info' on the meeting information--right side of home page to get detailed directions on how to find our meeting place or click on the following link: 'Loc8code' for pinpoint accuracy for our location. So if you are in Galway on a Monday please do join us for dinner and I can assure you of good Rotary fellowship, and a really warm Irish welcome.
Photo of Galway Salthill Rotary Club members and guests at the Aras an Uachtarain (official residence of the President of Ireland, located in the Phoenix Park on the northside of Dublin) celebrating their 30th anniversary with President of Ireland Michael D Higgins.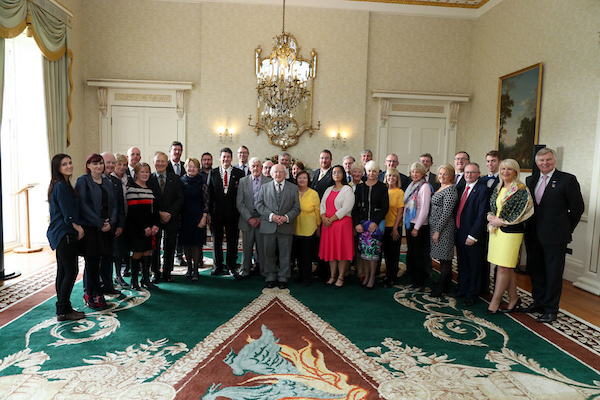 If you are accompanied on your visit to Galway by family or friends they also are welcome to join us.
We meet every Monday at 6:30 PM (except bank holidays) at the Ardilaun Hotel, Galway.
If you're interested in joining the Galway Salthill Rotary Club, please make contact and we will arrange for you to visit.

2016 marked our 30th year of serving our local community and also contributing to Rotary's international activities including the eradication of polio worldwide and humanitarian projects.
Michael J. Duke , President 2016 - 17
Meeting Details
Interested in joining Rotary
In the next 30 days...
Meeting Information...
We meet on Mondays at 1830 hours (No meeting on Bank Holiday or in August.) Ardilaun Hotel,
Taylors Hill,
LTD-56-NF9
Galway H91 H29F tel: 00353 91 521433