Welcome to the Rotary Club of Limavady.
Having just celebrated its 400th year, Limavady is a charming historical market town located right next to some of the most beautiful scenery in Northern Ireland.
The name 'Limavady' is of Gaelic origin and means "Leap of the dog" (Leim an Mhadaidh). This is a reference to a rather charming legend featuring a clever dog who warned the local clan of the O'Cahans, about approaching enemies. He did this by leaping across the River Roe with an important message in his mouth.
Meeting Information...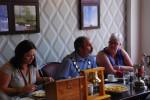 We meet on Wednesdays at 12:45 (Except the first 2 weeks in July, where there is no meeting. Also, whenever there is a 5th Wednesday in the month we meet at at 6pm) Roe Park Resort BT49 9LB tel: 028 7772 2222