It is said that every minute of every day Rotary will touch the lives of millions somewhere in the world. By combining their skills and resources, members of Rotary are able to make a real contribution to the lives of others. In North Down alone, our club has raised tens of thousands of pounds for community projects and local charities. Members also volunteer their time supervising and running community projects and events. Several projects are aimed at promoting the achievements of young people, such as the Northern Ireland Primary School Musician of the Year, which has for years now provided children with a great opportunity to perform and learn.
-------------------------------------------------------------------------------------------------------------------------
PRIMARY MUSICIAN OF 2017
The 22nd Primary Musician of the Year Competition will be held in Towerview Primary School, Bangor, from 15th to 19th May 2017. Heats will be held on the 15th and 17th and the Finals Night will be Friday 19th.
Full details of the rules and an entry form can be found on the "Music Competition" page.
Last year the winner was Oliver Logan of Groggan Primary School, Randalstoen. Oliver's playing of Donizetti's Flute Sonata was described by Adjudicator Dr. Joe McKee as deomonstrating a high level of skill and aritstry. Runner-up was Ben McDonald of Meigh Primary School, Newry and, in third place was Hannah Pollock-Chan on the piano.
Here are all 15 of the finalists in 2016. The group at the back includes Lady Sylvia Hermon MP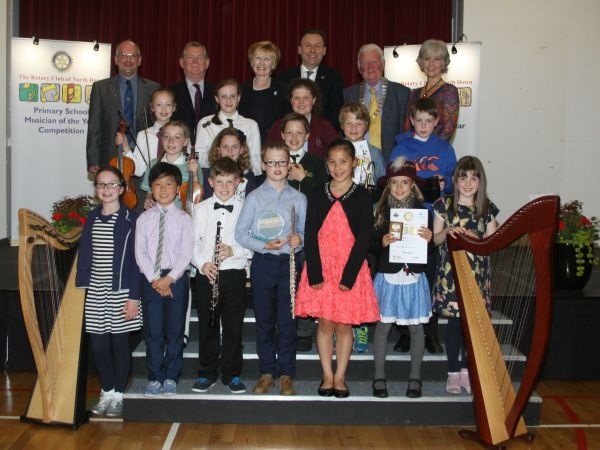 ---------------------------------------------------------------------------------------------------------------------------
The Rotary Club of North Down is very much a fun loving club, made up of members covering a wide range of professions, with the common theme of fellowship and providing service to the local community and abroad. We also contribute to Rotary International initiatives world wide, such as the eradication of polio as well as the very successful Shelter Box initiative.
We meet for dinner every Monday evening at The Old Inn, Crawfordsburn and have speakers at most meetings except for our monthly business meeting. These speakers provide us with great entertainment or information of interest. Rotary is a great opportunity to catch up with friends, visitors and guests who are always made most welcome by the membership. The meetings are well attended and the atmosphere of laughter and conversation really make this a weekly event to look forward to.

Both guests and visiting Rotarians are very welcome and we would encourage you to come along and meet with the club to see the fun, fellowship and fulfilment that comes from being in Rotary. For further information relating to meeting start times etc. please contact the The Old Inn on 028 9185 3255. or simply check out the details on this website.
Further information on the club can be found on the website, but if you wish to contact the club there is a link on the site and someone will get back to you as soon as they can.
General information
The Rotary Club of North Down was founded on the 11th June 1984 and is within District 1160, which covers all of Ireland.
Meeting Information...
We meet on Mondays at 18.30 (We do not hold meetings on Bank Holidays and have a four week break in July. Please contact us for details.) Old Inn, 15 Main Street, Crawfordsburn, Co Down, BT19 1JH tel: 028 9185 3255