WELCOME TO THE WEBSITE OF



THE ROTARY CLUB OF HARLOW

Chartered on 29 February 1956, the club currently has 23 members. We meet every Monday lunchtime at 12:15 for 12:30 until 14:00 hours at Canons Brook Golf Club, Elizabeth Way, Harlow, CM19 5BE. Additionally we have social functions and fundraising events intermittently throughout the year.

Perhaps you know little about Rotary. It started from an idea of Paul Harris, a Chicago attorney, who met with three other local businessmen in 1905 - 'rotating' the hospitality between the four of them, from which small beginnings Rotary International grew and spread around the world.

WHAT IS ROTARY?

WHAT CAN ROTARY DO FOR You

Rotary can enrich your life beyond measure.

You can:

get involved in projects in the local community, through the UK and in the wider world,

network with the local business community and bring your vocational expertise to help local young people,

expand your social circle and make new friends for you and, if you have one, your partner,

get a feeling of giving something back that is beyond words.
Why Rotary? from RIBI on Vimeo.
WHAT DOES THE ROTARY CLUB

OF HARLOW DO?
These are just a few of our activities
We have a wide range of events for members and friends including formal dinners, informal meetings with or without entertainment. At our weekly luncheons we endeavour to get interesting speakers on a wide range of subjects.
We also raise money for charity with a variety of fund raising events such as sponsored cycle rides, collections at supermarkets and council car parks, and race nights.
The money raised is donated preferably to local charities and internationally. We have raised substantial sums for the eradication of polio and for shelter boxes and aqua boxes for disaster relief.

In the 1980s Eve Conway was a reporter on a now defunct local newspaper. She was sponsored by this club for an Ambassadorial scholarship and studied journalism in America for a year. Since then she has had a very successsful career in Television. In the next Rotary year 2016/2017 she will be President of Rotary Great Britain and Ireland.

On 19th. October 5000 crocus corms were planted in the Town Park Harlow as part of the purple4polio programme. The planting was carried out by pupils from Burnt Mill Academy and Tanys Dell junior school. This is to mark the near completion of the eradication of the wildd polio virus from the world to protect children.

FORTHCOMING EVENTS

Saturday 13th. May 2017. Bollywood evening at Community Centre, Bush Fair CM18 6LU

Musical Melodies by Uma & Sailesh 7.30pm to 11.0pm

Served vegetarian buffet meal, Pay Bar and raffle

Tickets £20 from Vipin Patel 07906119798

or Alan Leverett 07753933256
























Rae of Sunshine
Henry Moore's Family Group 1954 -5, commissioned by Harlow Arts Trust
It is the town's unofficial emblem and is on display in the Civic Centre.
It is also displayed on the Club Banner
Meeting Information...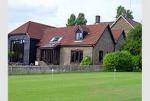 We meet on Mondays at 12:15 for 12:30 (No meetings on Bank Holidays. Occasional evening meetings replacing those at lunchtime.) Canons Brook Golf Club,Elizabeth Way,
Harlow

(from 1 August 2010) CM19 5BE tel: 01279 418 357