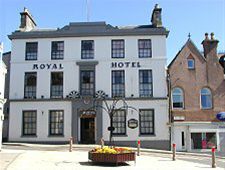 Welcome to the web site of the Blairgowrie Rotary Club
Greetings from all of the members of our thriving and active Rotary Club in Blairgowrie. We have 24 members and our numbers are rising. They all work in or have worked in and around Blairgowrie, or just laze about and pretend to be retired. [Where does the time go when you're enjoying yourself?].
Our Social Calendar is always changing and includes visiting other clubs for a games night, theatre visits, BBQs, Car Treasure Hunts, Quiz nights and Wine evenings, so this will give you a 'taste' of the friendship we offer as well as the other side of Rotary which of course involves our charities at home and abroad.
We meet weekly on a Wednesday at 6.00 for 6.30pm, in the Royal Hotel. (see picture above). Come and join us for a drink, dinner, a night out, listen to an interesting speaker, and find out what Rotary is, does, and what it can do for you. Put a bit back and make the world a better place, "YOU KNOW IT MAKES SENSE".
If you find yourself in Blairgowrie on a Wednesday please do try to come along at 6.00pm. We usually meet in the bar to have a "wee dram" before our meal and someone will always buy you a drink. You will be very welcome!
We do not meet on the last Wednesday in July as this is traditionally known as the 'Berry Holiday'
Visiting Rotarians are welcome at anytime.
Give us a call and we'll arrange an invitation: 01250 870578 : Secretary - Liz Mason
We do hope to see you soon!!
The Royal Hotel is at the top of Allan Street. Post code is PH10 6AB
Blairgowrie is a town with about 8000 inhabitants. There are many of the younger members who work either in Perth, Dundee or even further afield, with both major cities being about 15 miles away. Being an 'evening club' has allowed us to attract talent and members who live here, but work elsewhere.
Meeting Information...
We meet on Wednesdays at 18.00 for 18.30 (We do not meet on the last Wednesday of July. Check weekly meeting dates.) Royal Hotel,
53 Allan Street,
Blairgowrie, PH10 6AB tel: 01250 872226