President 2016-2017 Malcolm Tugwood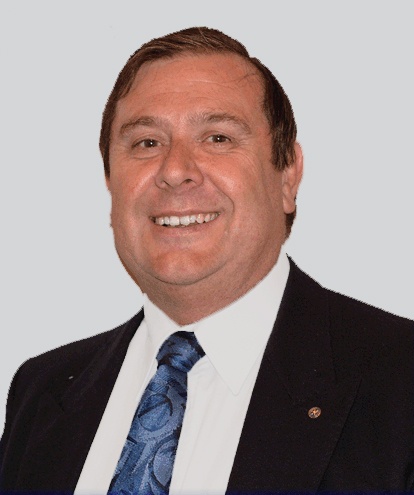 ---
We presented year 6 at Canvey County Junior school with Dictionaries for Life today.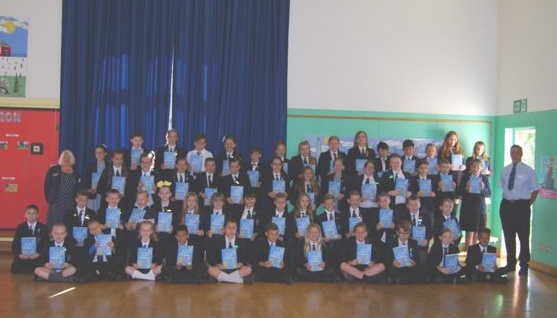 ---
Here are the winners of todays Raft Race. Another win for the Indee Rose Trust, http://www.indeerosetrust.org. a well deserved cheque for £250 being presented by Ray Howard.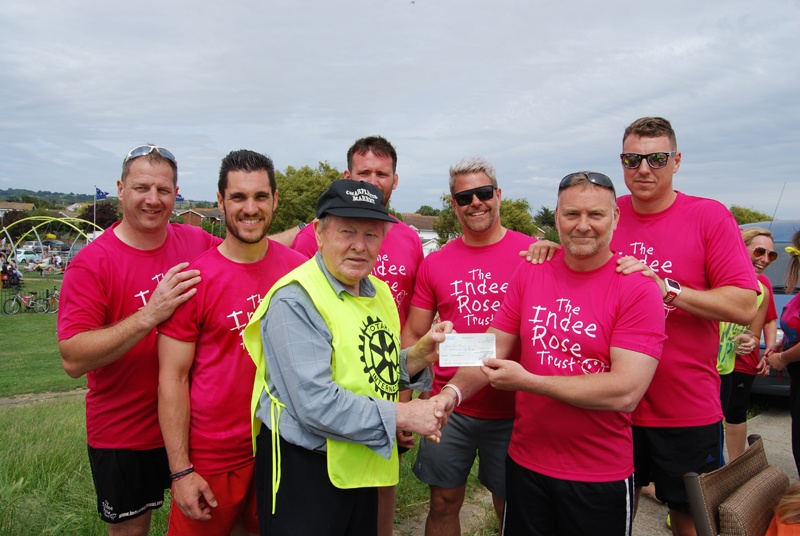 More photos here
http://www.rotary-ribi.org/clubs/page.php?PgID=643577&ClubID=1397
---
Don't forget that the Raft Race starts at 1.30 tomorrow at Thorney Bay. Bring your chairs and picnic and have a great day out.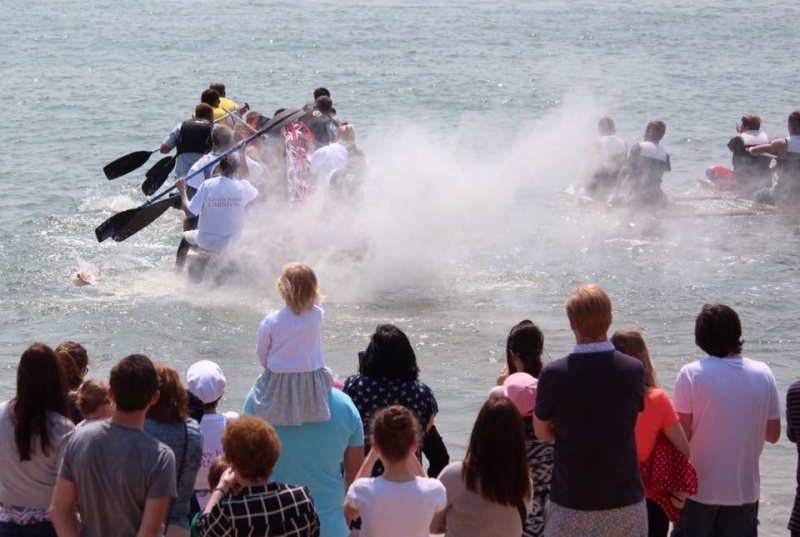 ---
President Malcolm presented David Stanley with a cheque for £1000 to assist the work of the Music Man Project. David explained his work with MENCAP in our area and the forthcoming Music is Magic show at the London Palladium.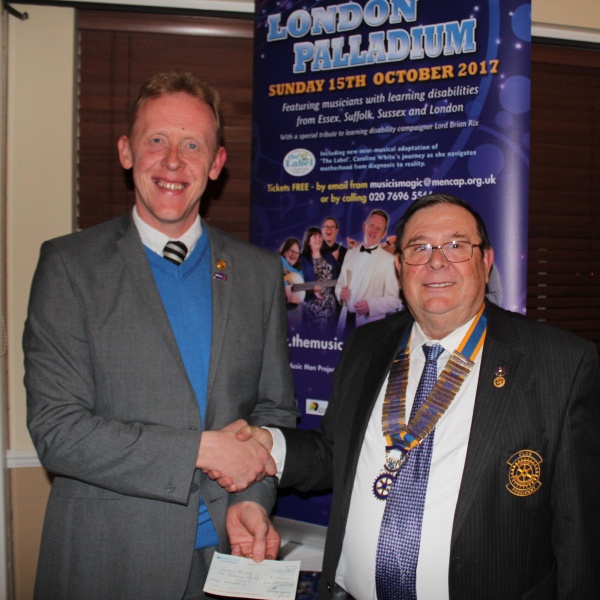 ---
Vice President Colin MacClean presented a donation of £1,000 to The Phoenix Club for Disabled and Special Needs. Receiving the cheque are Sandra Durrant, Kevin Gray and Aileen Bishop.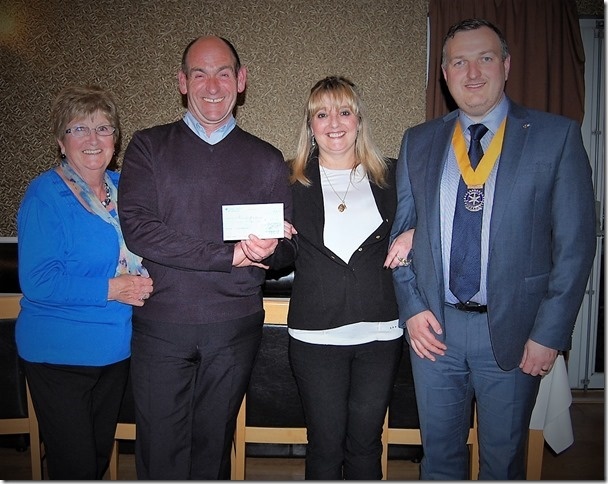 ---
Only another 850 crocus to go. These are just some of the 5000 planted locally to support Rotary Purple for Polio project. http://www.rotarygbi.org/what-we-do/purple4polio/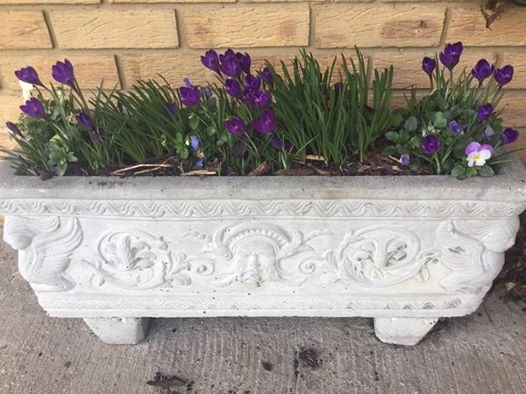 ---
A great night at St. Nicholas on Friday for the Macmillan National Big Quiz organised by Canvey Rotary Club. A total of £875 was raised by the event.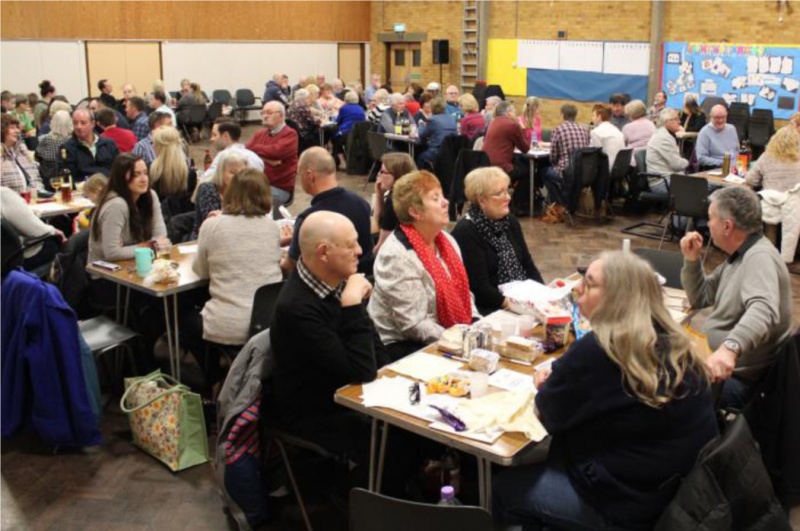 ---
The Rotary Club of Canvey Island is pleased to announce our 9th annual Charity Golf Day to be held this year at the Boyce Hill Golf and Country Club on Thursday 6th July2017.

More information available here: canvey.rotary@virgin.net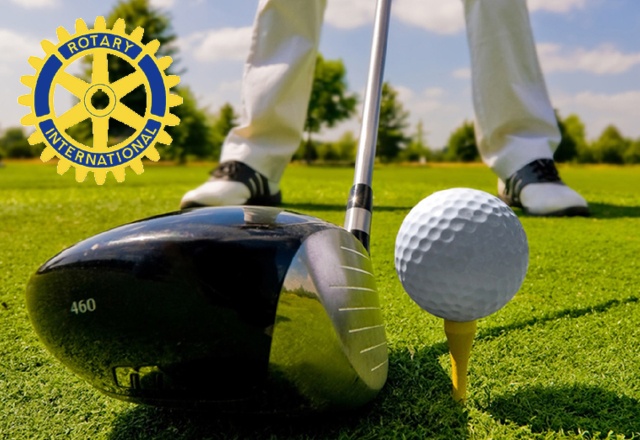 ---
President Malcolm presenting a cheque for £1000.00 to Barry Campagna and the members of Canvey Baywatch team. The group do a tremendous amount of work cleaning and supplying plants and benches at Thorney Bay beach. The money is to help with the cost of laying pathways on the beach for disabled access.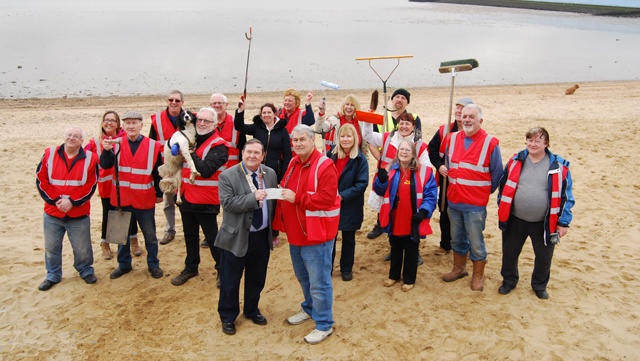 ---
Thank you to everyone who gave donations to our Christmas Sleigh 2016. Your donations totalled £10,746.00.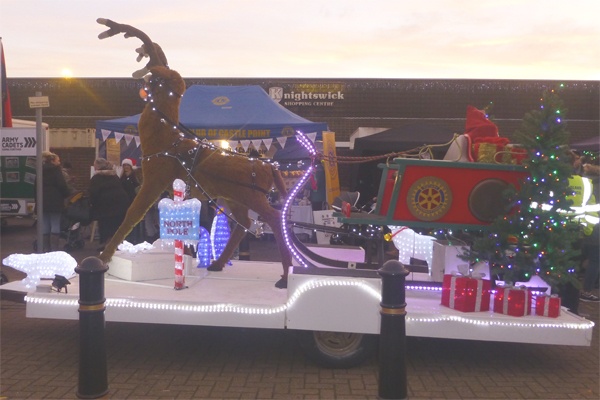 ---
Sleigh Routes 2016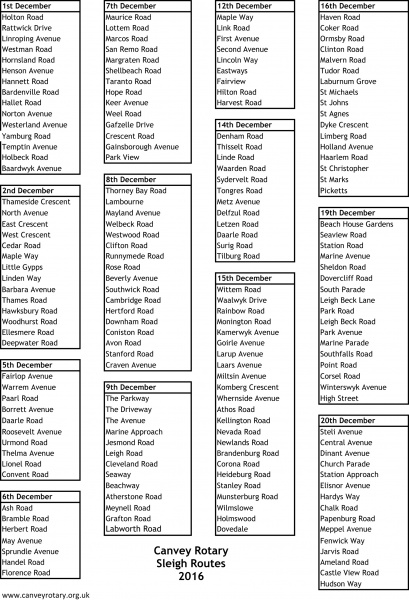 ---
President Sue and Rtn.Tony Clarke presenting Leigh Swan with a cheque for £500. The money is part towards a project by the Friends of Concord Beach to buy a beach friendly wheelchair enabling disabled people to easily access the beach.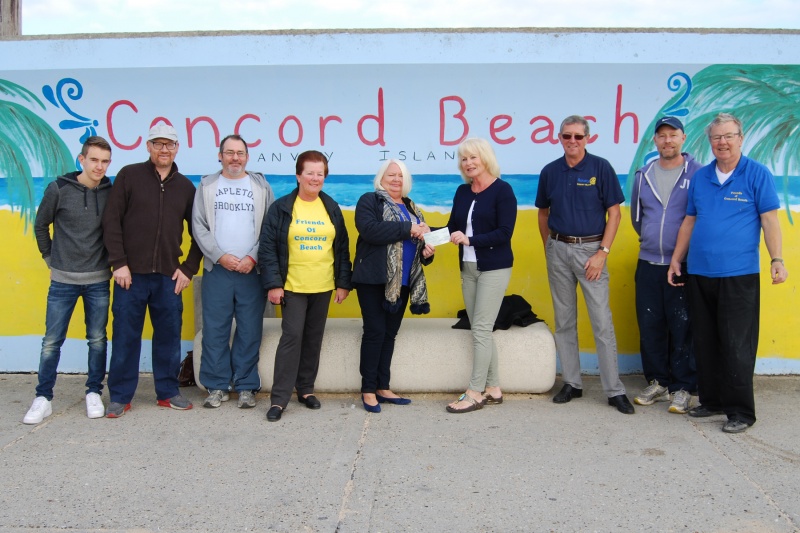 ---
Another great afternoon of entertainment at the bandstand T By The Sea project. Three bands, Fishing For Robots, FreeSpirit and The Long Run played from 2pm till 5 pm. Thank you all for your support.


---
Our latest recipient of a Paul Harris Fellowship was presented to Rtn.David Datson at our last meeting by President Elect Malcolm Tugwood. This is in recognition of David's commitment to our Club and community.
.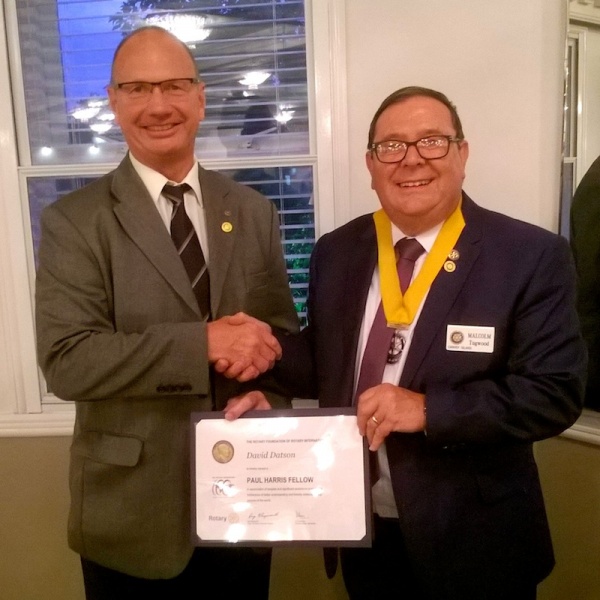 ---
We are pleased to welcome new member Ann Earle who was inducted last night to our Club.


---
A really great day again last Sunday at the Rotary Raft Race. Hundreds of people turned out to support us in the sunshine. The rafts fought it out in three heats and two entries shared the winning prize, 4th Canvey Sea Scouts and the Indee Rose trust.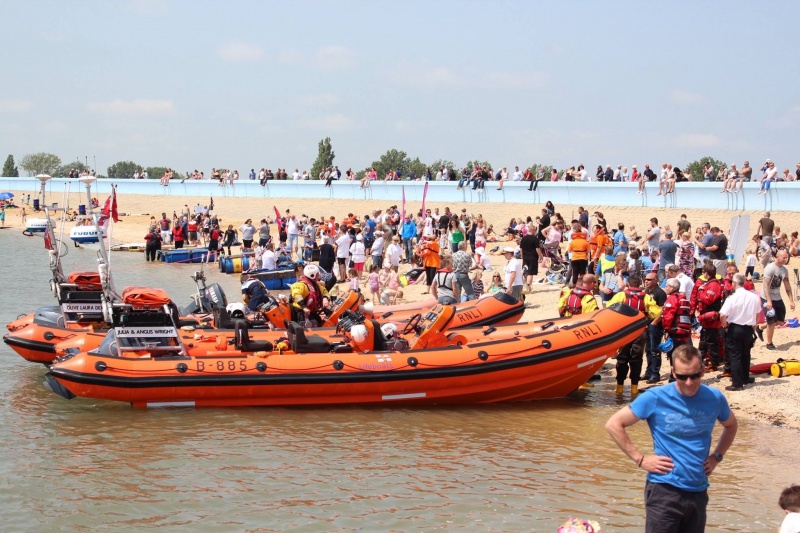 ---
Heres an image of our roving Rotarian Tony Belford on a visit to RC of Albany Creek Brisbane Australia.Watch out for the snakes Tony


---
Have you entered the Canvey Rotary Club Raft Race 2016 yet? It was a huge success last year and this time even more local businesses, charities, church's, schools and clubs will be building and sailing rafts at Thorney Bay Beach on Canvey Island. If you would like an application form contact organiser jtremain36@aol.com - you can raise funds for a good cause of your choice.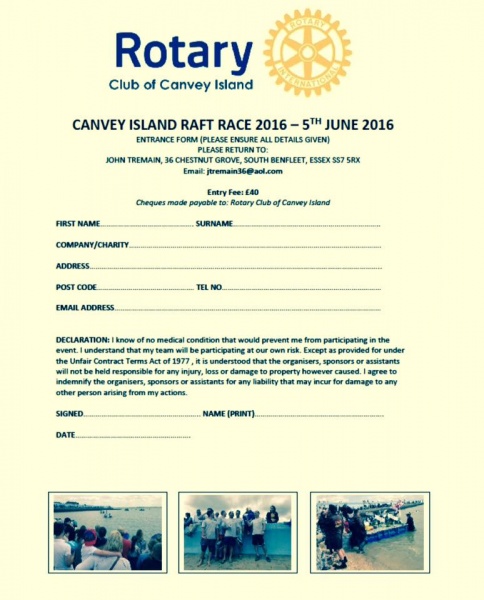 ---
President Sue presented Dictionaries 4 Life to Year six students at Canvey Junior School today. This is one of the schools on Canvey who receive the books. In total each year we give over 400 books to the students.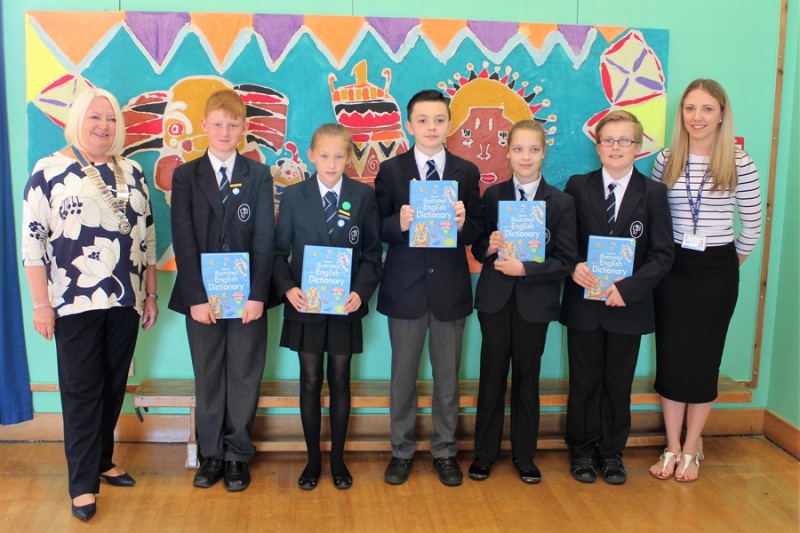 ---
President Sue Hampson and Rtn. Rev. Marion Walford presented a cheque to the Youth group at Winters Gardens Baptist Church for £3214. This is from the Furtherwick Park Legacy Fund and has paid for sports and games equipment.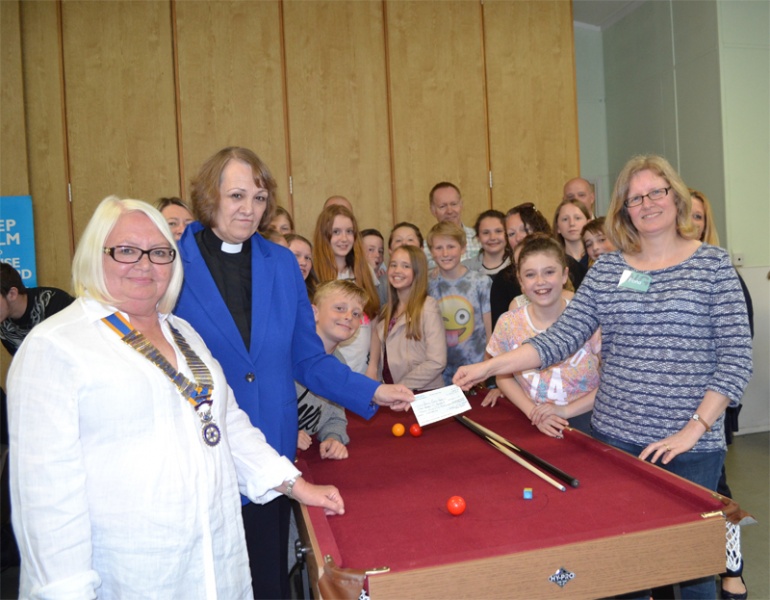 ---
President Sue presented Alan Whitcomb from CISCA House with a donation of £500. The money is part of a collection from boxes placed in various shops on Canvey, and will be used to update various items at CISCA.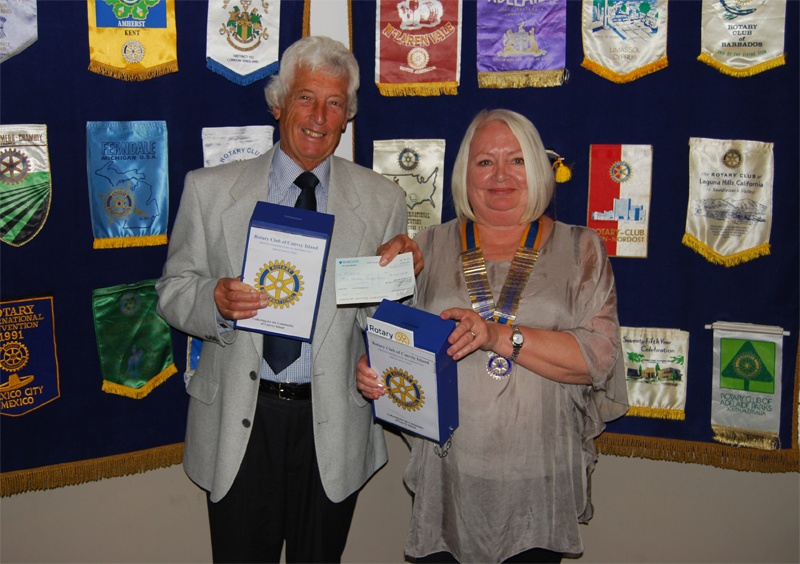 ---
Rtn Tracy Winch Presented the winner of the Rotary Young Writer competition Kiera Blake, with a cetificate and a shopping voucher.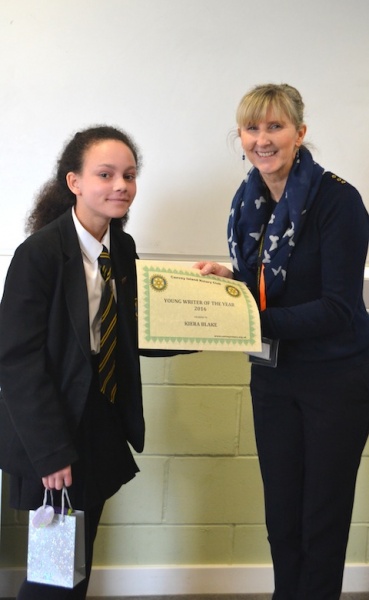 The winner of the Young Photographer of the year Amy Raymond, who was also presented with a certificate and a voucher.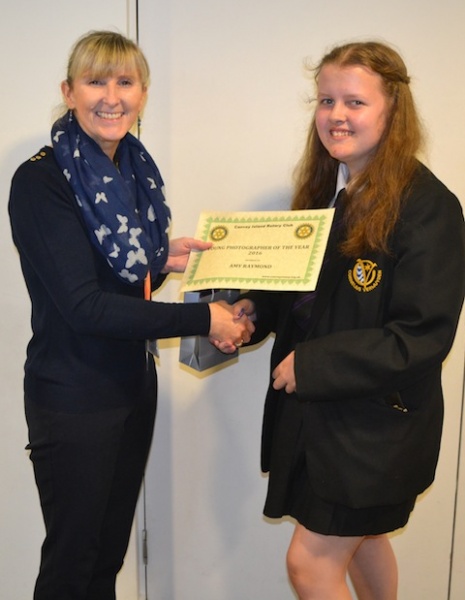 ---
This Saturday the we have arranged a free Blood Pressure Awareness event at the Canvey library. A qualified nurse will be available between 10am and 4pm to do the tests. Why not pop in and see us.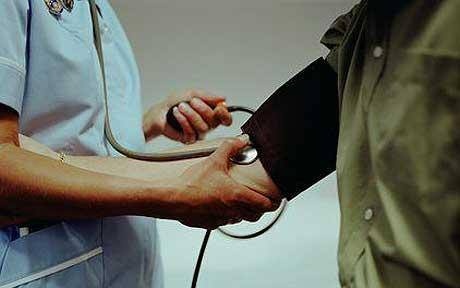 Another satisfied customer. Well done Nurse Stella.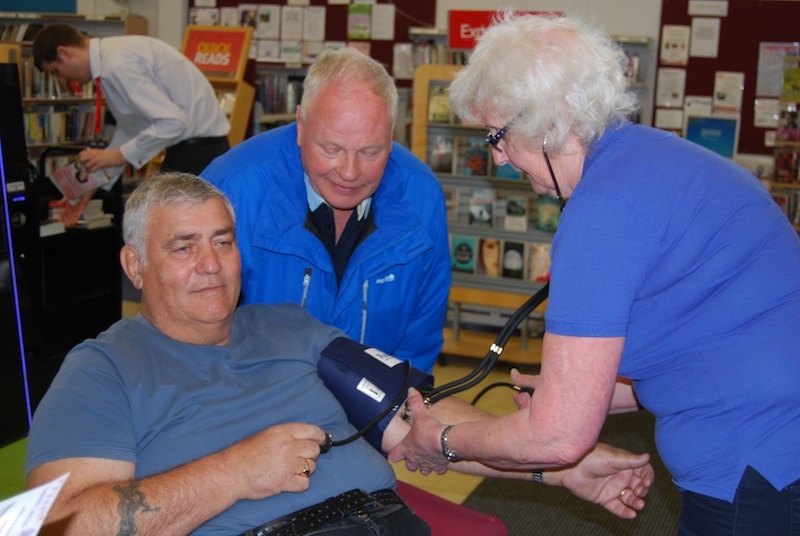 ---
President Sue with Sam Tudor at our last meeting. Sam gave an extensive report of his recent visit to the 23rd World Scout Lamboree in Japan last year. Sam had to raise over £3,000 for his visit and did this from various projects and donations from our community. Our Club made a donation of £500 from the Furtherwick Park Legacy Fund. Sam gave a very interesting and informative talk with a slide show. You can see more of the Jamboree here.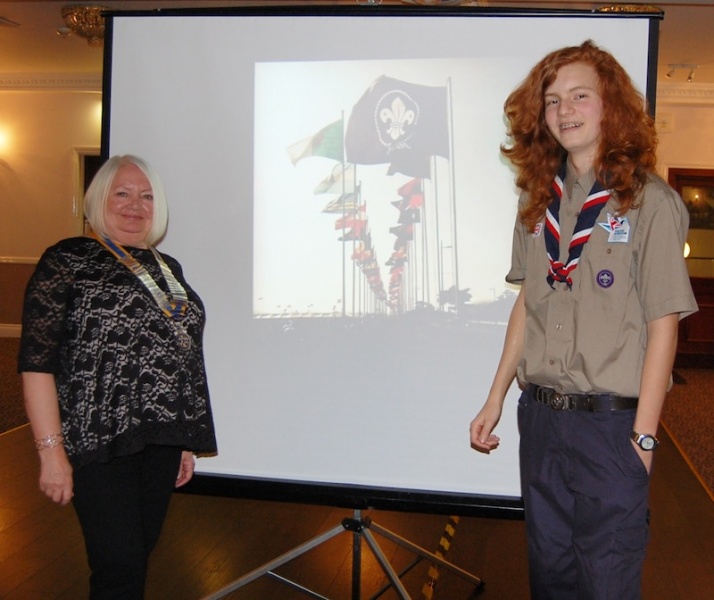 ---
President Sue presented officers Terry Drury and Tony Belford from Canvey Island Coastwatch a cheque for £400. The money that was raised from donations to our collection boxes located in shops on the Island. The money will pay for new recruits RYA training fees. More about Coastwatch here http://www.nci.org.uk/holehaven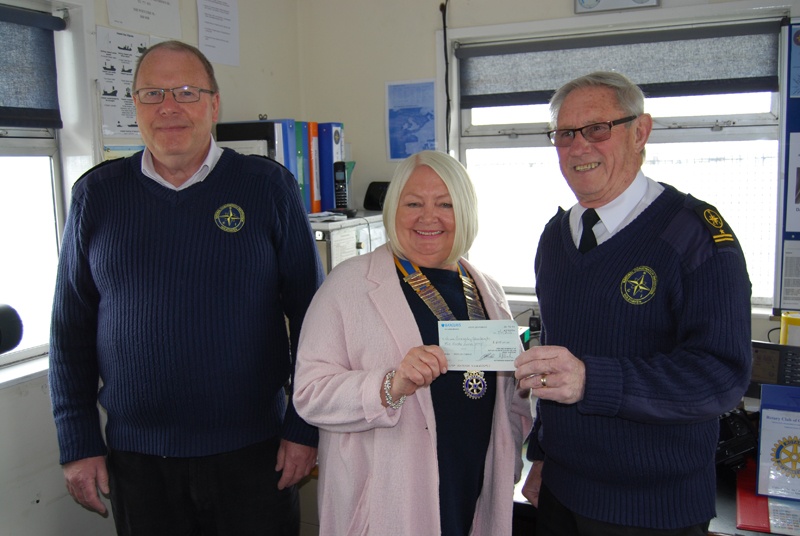 ---
President Sue Presenting a cheque to Doreen Cross and Mary Greenhalgh co chairpersons of CISCA House. The amount of £982 was towards the istallation of emergency doors required to update the building. More about CISCA House at http://www.canveyisland.org/page_id__203.aspx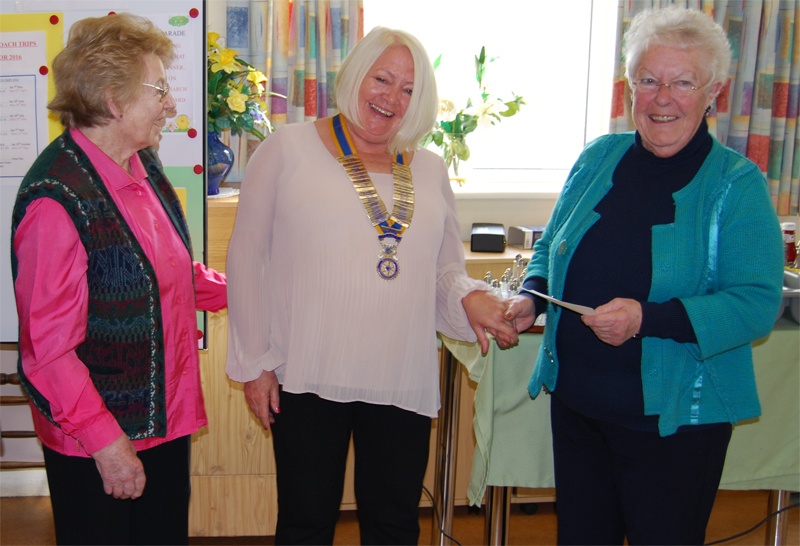 ---
A big thank you to everyone who voted for Canvey Rotary Club to receive the Canvey Town Council community charity organisation award. Here is Council Chairman Peter Greig presenting the award to President of the Club Sue Hampson. Just a reminder that our next community event is the Raft Race at Thorney Bay beach.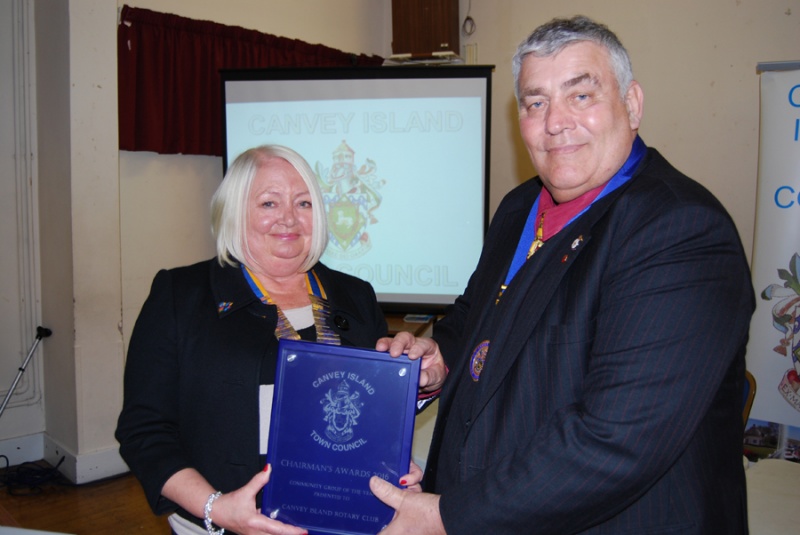 ---


Sleigh Collection Total to date £10,050.00
All money collected from the sleigh will only be distributed to projects on Canvey Island
---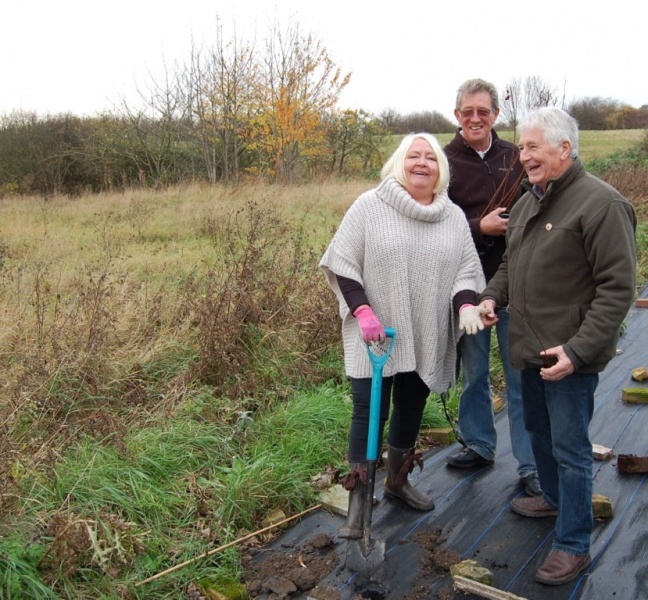 President Sue, Rod Bishop and Tony Clarke planting saplings supplied by the Woodlands Trust.
---
A great first night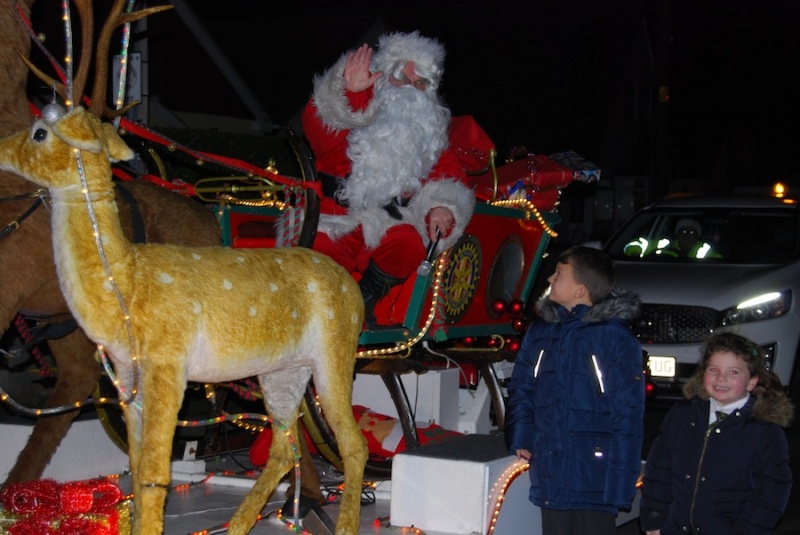 ---
Santa starts his visit tomorrow night about 5.30pm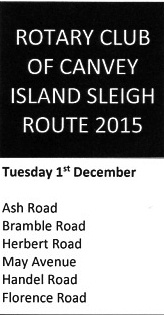 ---
It must be Christmas now. Santa arrived in the Town Centre to switch on the Christmas lights. Again this year the event was attended by hundreds of children and adults alike all delighted to see him. This was a great event organised by our Town Council.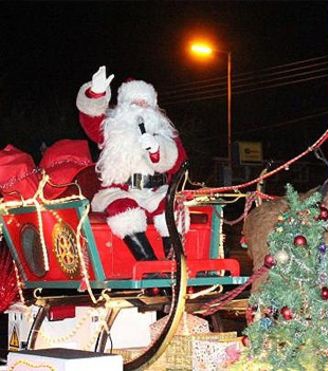 ---
President Sue, Rotarians John Clarke and Tracy Wynch laid a wreath at the memorial service on Sunday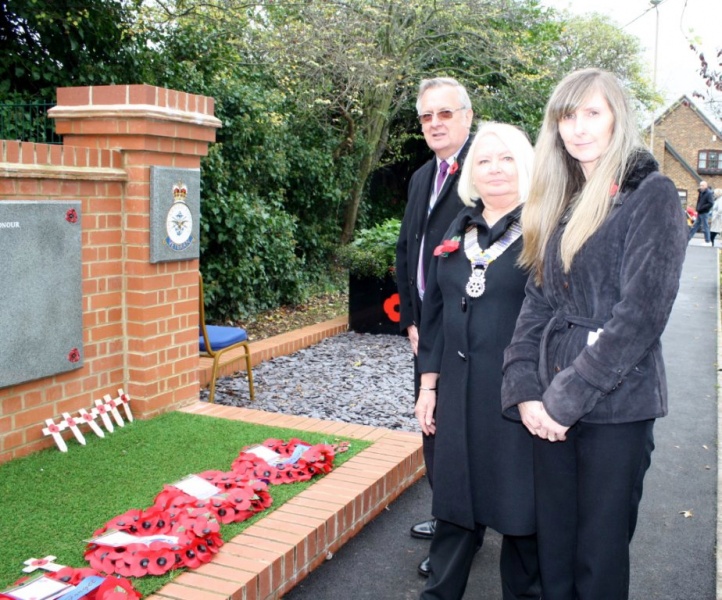 ---
Here comes Santa
This years planned routes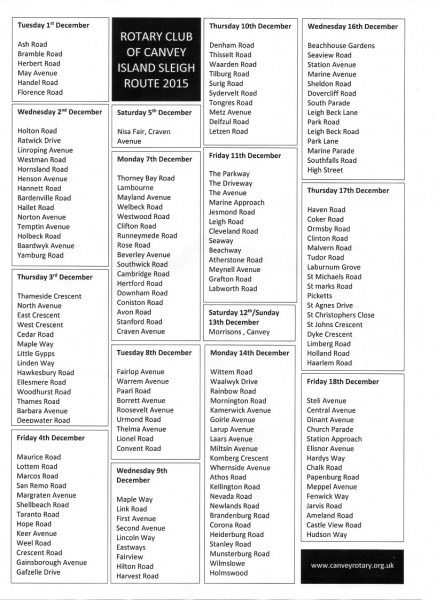 ---
Thank you to everyone who supported us on Saturday at the Knightswick Centre promoting the Stroke Association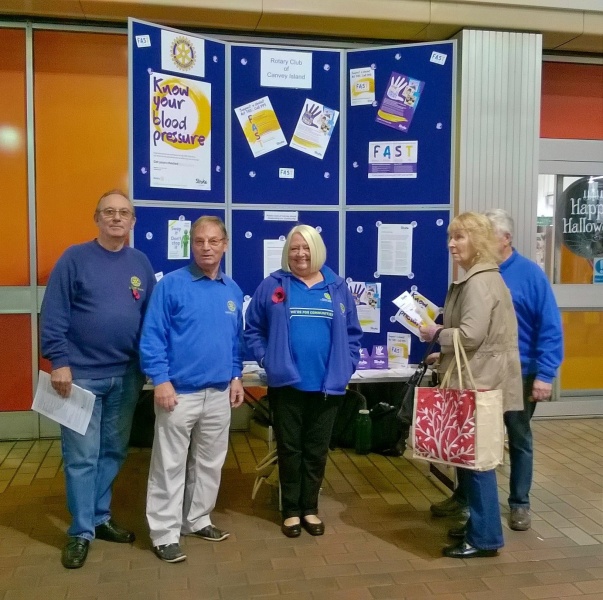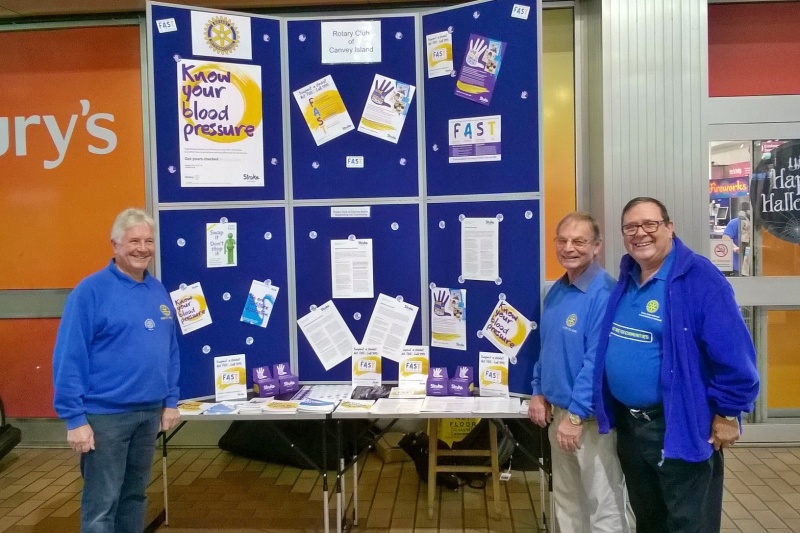 ---
Sue Hampson presents an award to Head Girl Lucy Proffitt of Castle View School, who excelled in Mathematics. Seen here with Sue are Associate head teacher Mr A Sappong, along with Guest of Honour Andy Pickles – International Pop Star with Jive Bunny, International DJ and successful Chief Executive of U-Explore.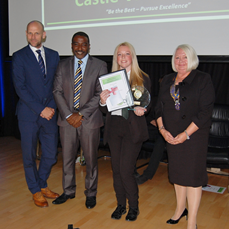 ---
On Saturday 31st October, between 9 a.m. and 4 p.m. in the Knightswick Centre, Canvey Island. The Rotary Club of Canvey Island are holding a Stroke Awareness day called " Give a Hand. "
The day is organised by the Stroke Association to make people aware of the symptoms and how to prevent a stroke. It is also hoped we can raise vital funds for the Charity on the day.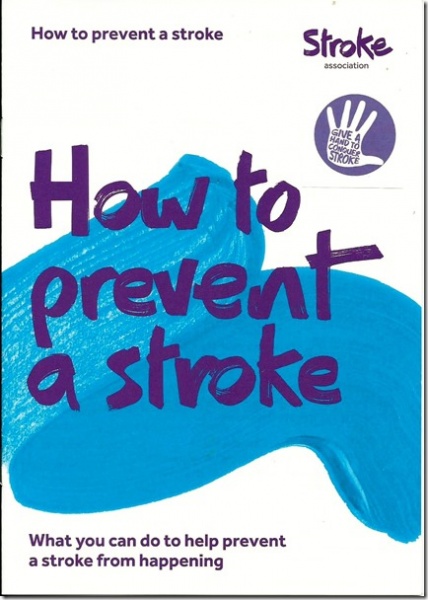 ---
Club had an informative talk at the last meeting from David Learmouth from Prostrate Cancer UK. David visits clubs and organisations making it clearer of what we can do to help detect the possible effects of prostrate cancer in the early stages. We were pleased to hand David a cheque for fourteen hundred pounds towards the work of the charity. The money was from the profits of a recent golf day and our recent 10k run.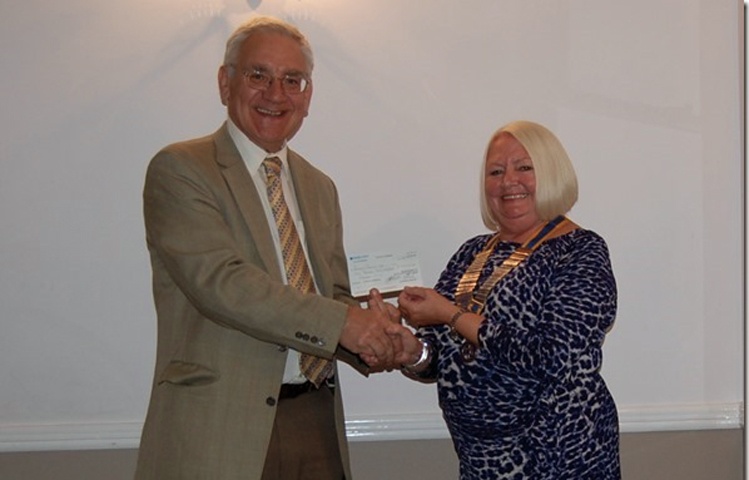 ---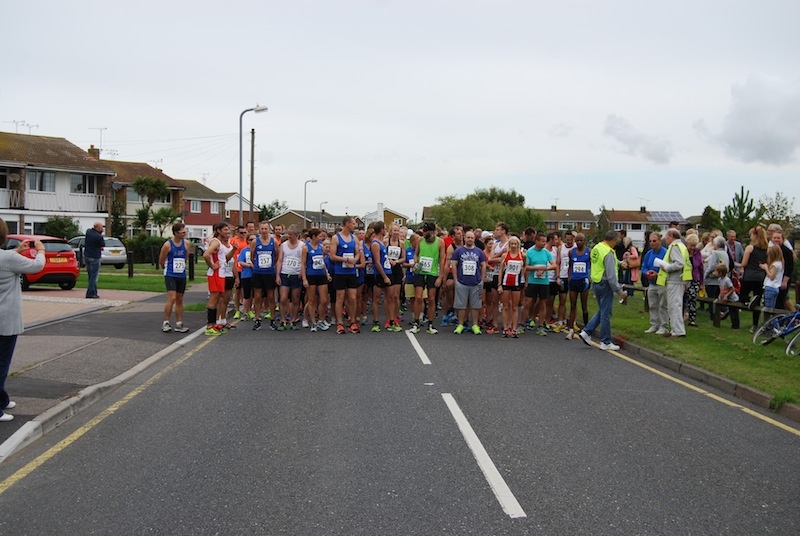 Another great event last Sunday when over 160 members of the public took part in our Fun Run and 10K Road Race.
More images and video plus results pages Here
---
A great afternoon of entertainment by two local bands, The Start and Biff Bam Pow. After a good deal of worry about the weather forecast half way through the event the sun came out and everyone had a very enjoyable time.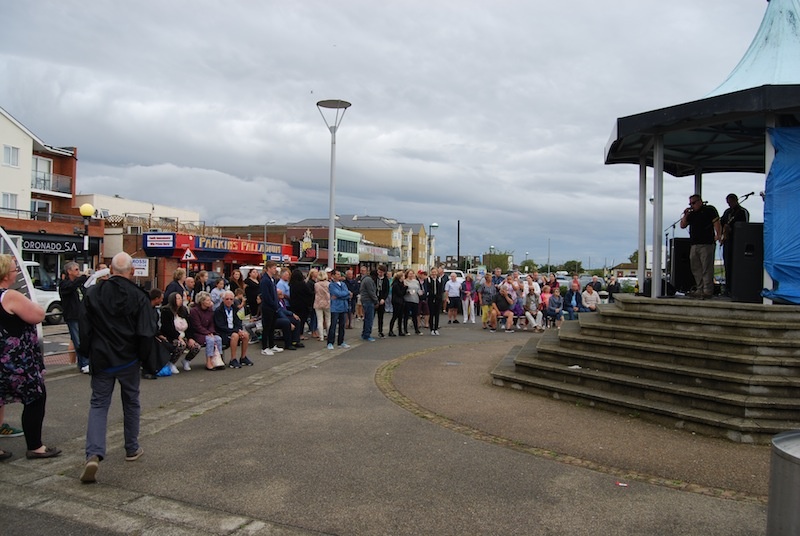 ---
THREE DAYS TO GO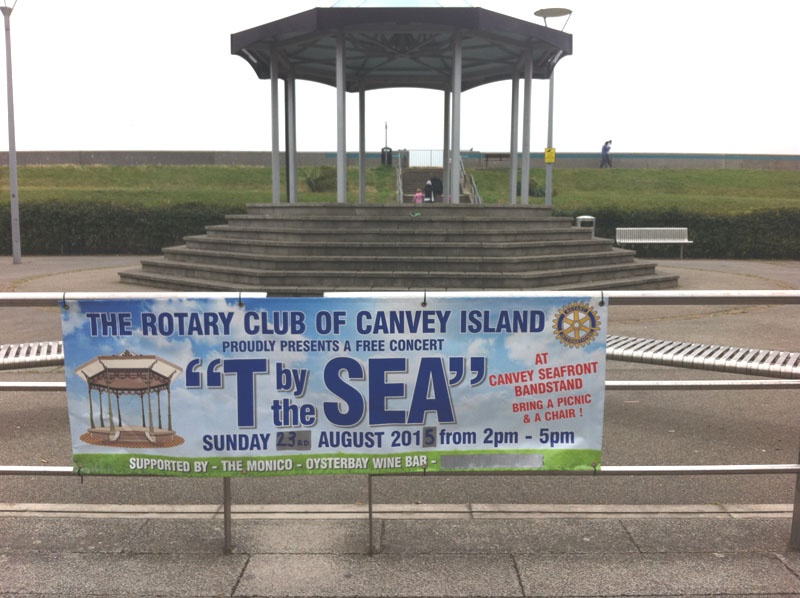 ---
President Sue handing our donation to the Little Lions Childrens Centre on Canvey. The donation is from the Furtherwick Park Legacy Fund. In the photo also are Tony Belford, a fund trustee, Stehanie Eaton from the Childrens Centre and Rev. Marion Walford, a trustee from the Legacy fund.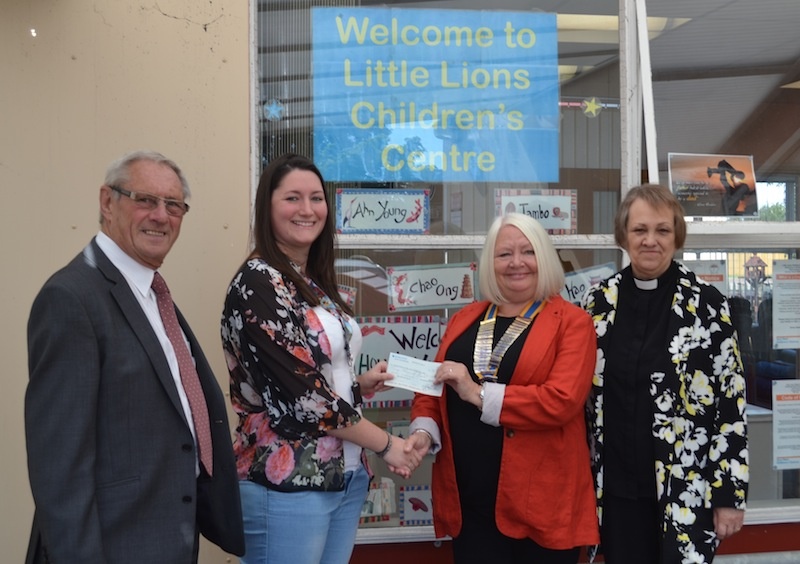 ---
We are having another try to hold the T by The Sea event next Sunday and hope that the weather stays fine this time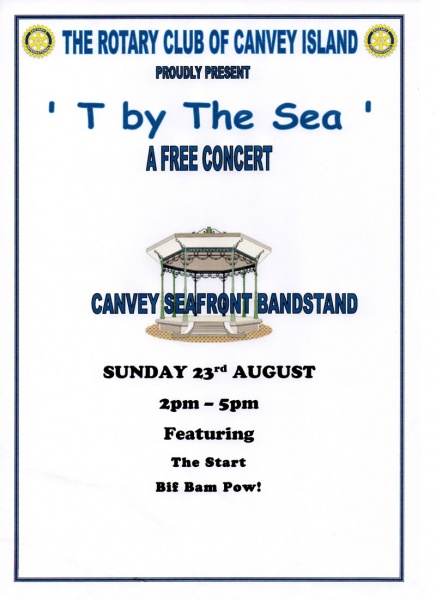 ---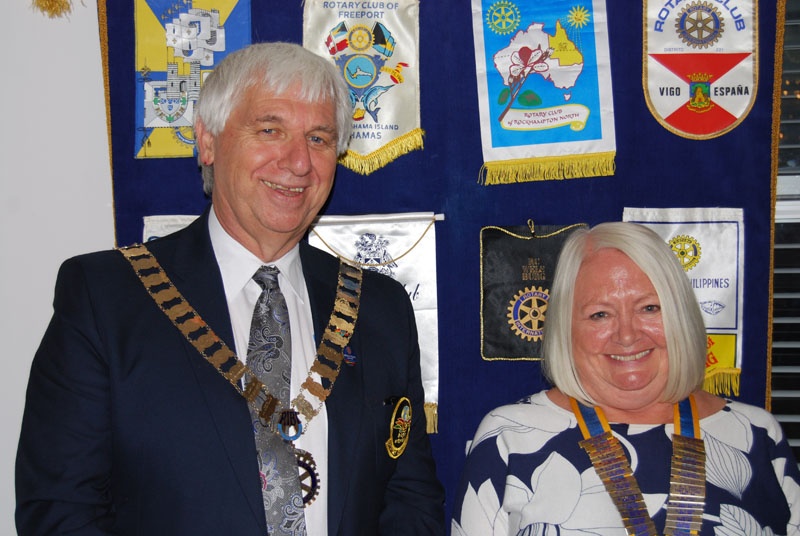 District Governor Alan Clark and our President Sue. It was an official visit by Alan to inform us of latest Rotary information.
---
Sorry to say that due to the awful weather prospects Todays Concert is cancelled.The good news is that it is re-scheduled for Sunday 23rd August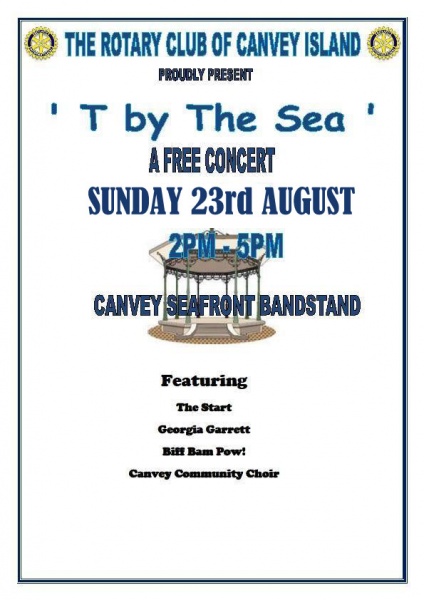 ---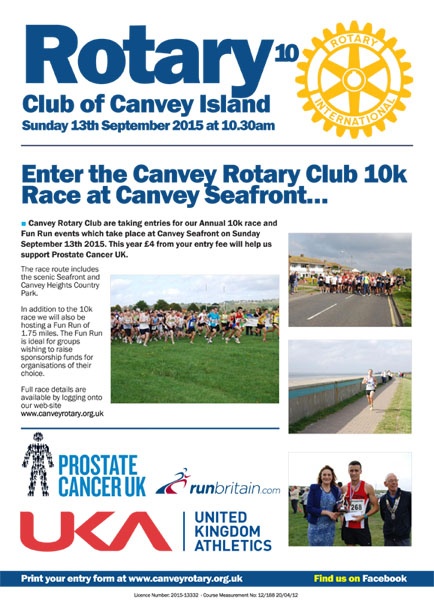 ---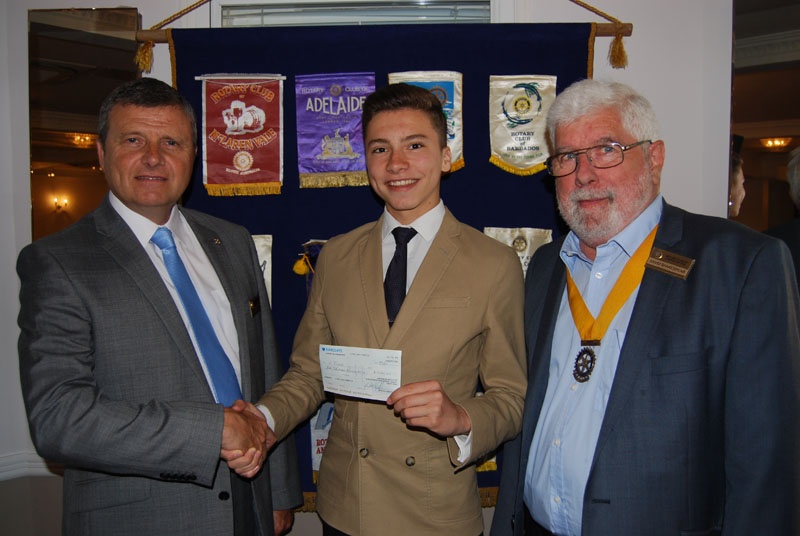 Rtn. James Kellard and Senior Vice President David Shakespear awarding Jonathon Tudor with a cheque for £1000 towards the cost of his forthcoming educational visit to the Galapagus Islands. This award is from the Furtherwick Park Legacy Fund.
---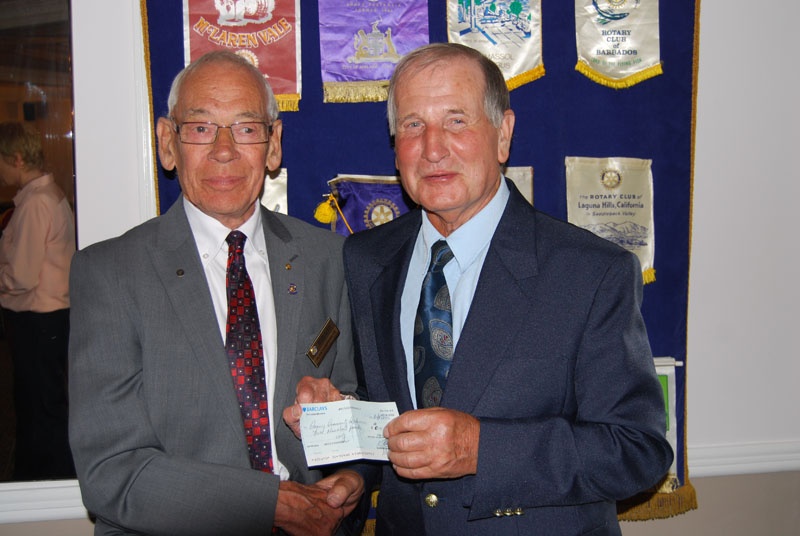 Past President Alan presented Graham Stevens from Canvey Community Archives with a donation of £500 towards the cost of the commemorative plaque for the two B17 bombers lost in WW2at the Point.
---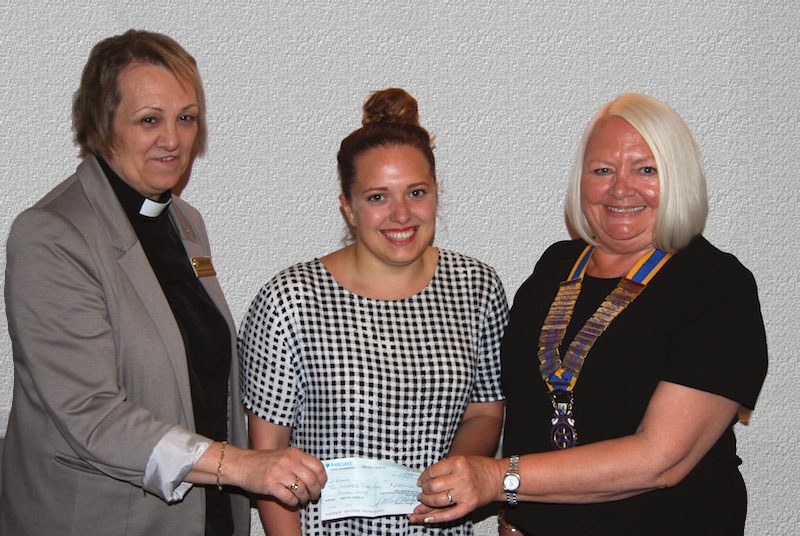 Rev. Marion Walford and President Sue presnted a cheque for £255 to Jessica Evans from the Rotary Club and the Furtherwick Park Legacy fund. Jessica is to go on an educational trip to Thiland to enhance her future medical career.
---
Another brilliant carnival day. Our theme this year was "Call the Midwife" and as usual some members showed thier femenine side to perfection. Well done to everybody
More Photos here Video http://youtu.be/TuZcDfM-W2U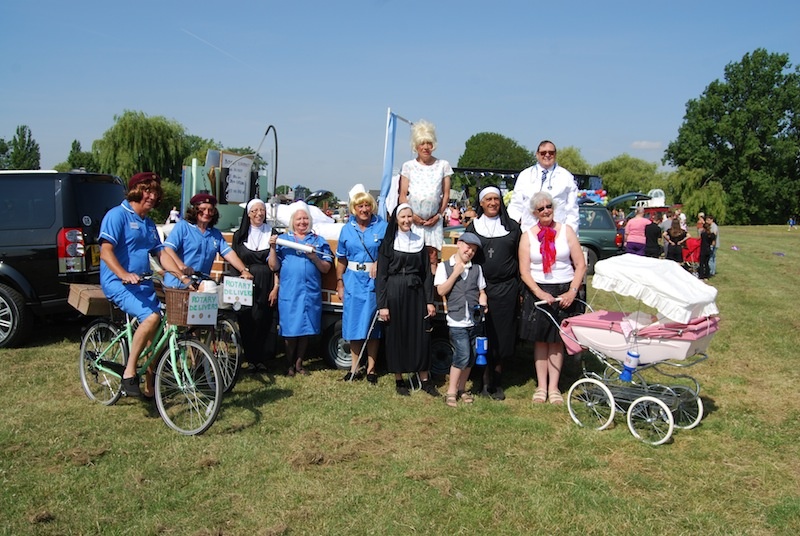 ---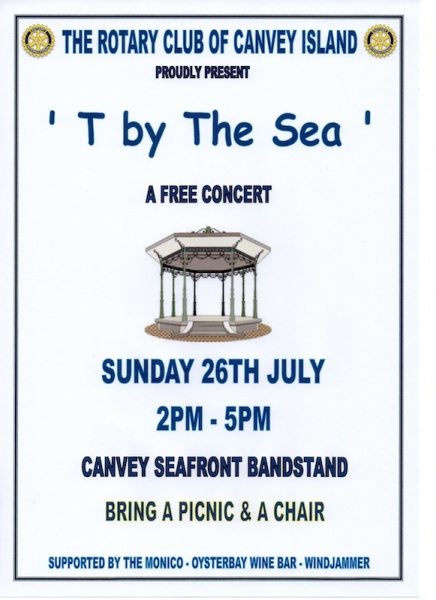 ---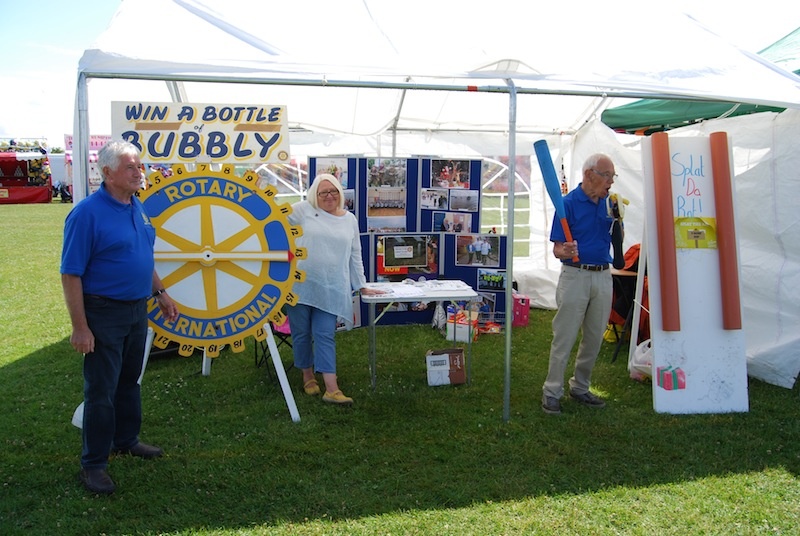 Rod Bishop, Sue Hampson and President Alan at the Castle Point Show last Sunday.
---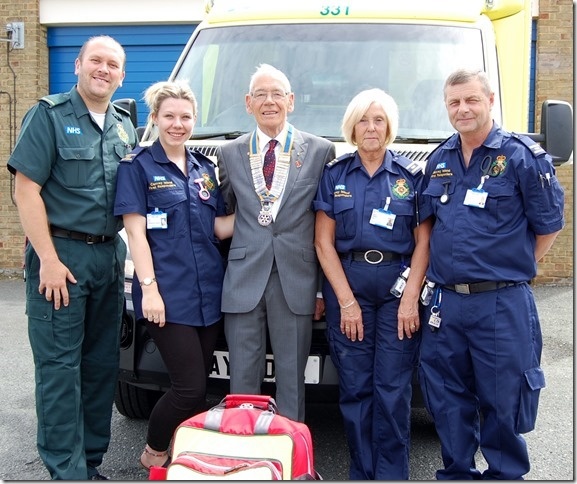 Our President Alan with the team of first responders wearing thier new unifoms purchased from the donation of £1000 that we made recently.
---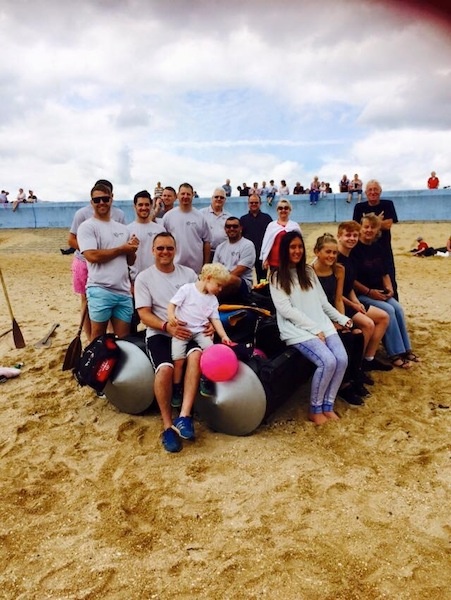 Sunday was our first Raft Race at Thorney Bay. It was well supported by the local community and great fun was had by everone involved in the event. The winners were the team from the Indee Rose Trust who won the cheque for £250 towards thier charity. Well don to everybody involved.
---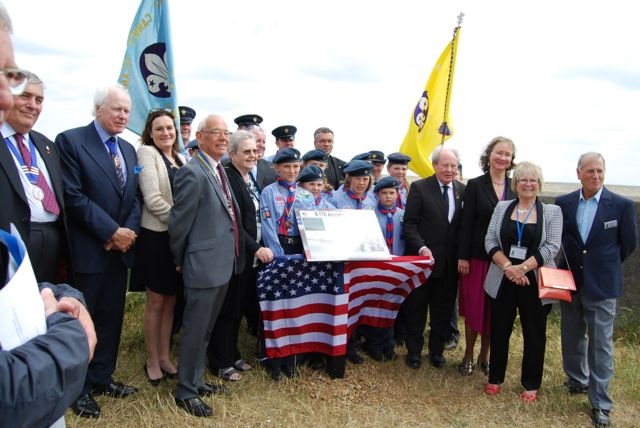 President Alan attended the dedication of the memorial plaque to commemorate the loss of two B17 aircraft at the point. The plaque has been arranged by the Canvey Community Archive group and our club has donated the money for its cost.
---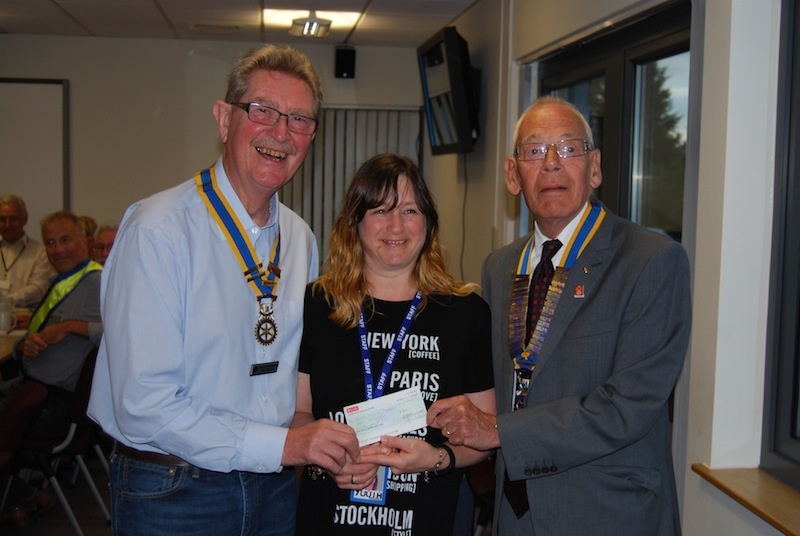 Presenting a cheque for £800 to Sue from the Canvey Youth Project, President of the Hadleigh Castle Club Roger Stevenson and our President Alan.This was a joint project to fund laptop computers for the young people
---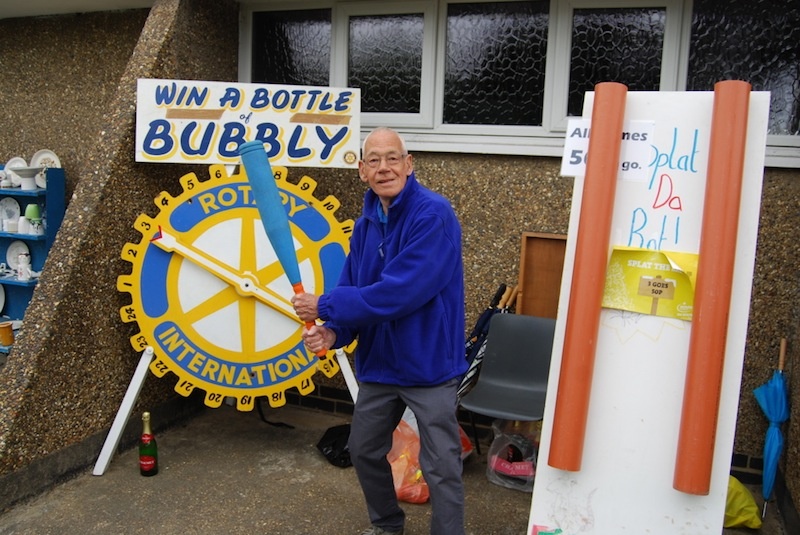 Anothe great day at the St. Nicholas Fayre. Congratulations to everyone involved collecting a grand total of over £5000. Well done.
---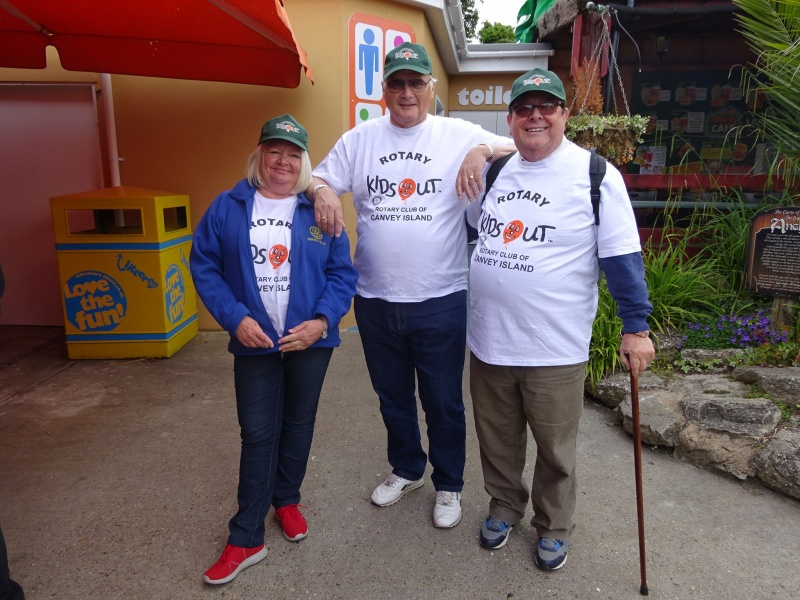 Sue Alan and Malcolm at the Kid's Out event.
More Images
---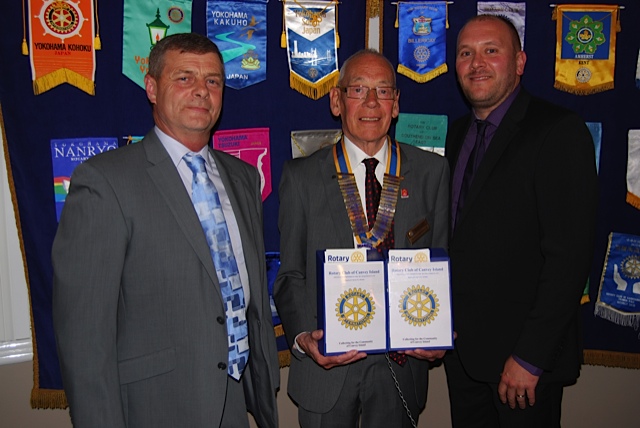 Canvey Island Rotary Club President Alan Humphreys, with First Responder Mick Allwood and Paramedic Lee Umpleby who gave Rotary Club members a talk on the important roll the First Responders make within the Essex Ambulance Service. The First Responders are all volunteers and have to rely on donations to purchase most of their equipment, including uniforms. To this purpose the Canvey Rotary gave them a donation of £1000 , from money collected in the boxes distributed in various businesses around Canvey Island.
All the money collected in these boxes is donated to good causes locally. Therefore, thanks must go to the generosity of the public.
---

President Alan Humphreys and Rotarian James Kellard present a cheque for £2,500 from the Rotary Club / Furtherwick Park Legacy Fund to the Canvey Island Football Club director
Billy Heale and Club Chairman John Batch. The money is to go towards setting up a Football Academy
at their Club, and will eventually also include girls and disabled.
---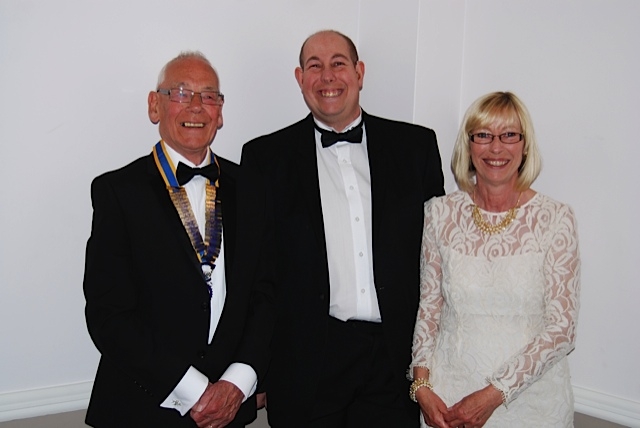 Rotary Club of Canvey Island President Alan Humphrey seen here with his wife Kay and son Anthony at the Annual Presidents Night dinner and dance held at the
Oysterfleet Hotel on Saturday 9th May. Fellow Rotarians and guests who joined Alan and his Family on the night had a very enjoyable evening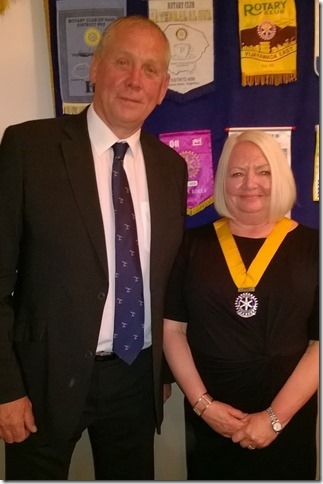 Vice President Sue Hampson is seen here with Colin Window, who gave members and guests a very interesting talk on how he exchanged his job for two weeks, from a Bridge Officer on the Woolwich Ferry , to a Bangladesh Ferryman, as part of the BBC's "Toughest Place To Be" program.
Colin applied to be part of the program, but at the time did not know what to expect. He thought that swapping his job on the Woolwich Ferry to that of a Ferryman in Bangladesh would not bea lot different. He went on to tell how wrong he was, as instead of a large motor driven vessel, he had to learn how to row a small wooden boat with a single oar, to ferry both people, goods and livestock across the Buriganga River. Colin's host was a Mr.Loteef a one time farmer, who lost his livestock and had to become a Ferryman. He, in his Seventies taught Colin to row the ferry, as he was still working the river on a daily basis, as he had done for many years, trying to save up to buy a cow, so he could return to being a farmer.Thanks to Colin's help he has now achieved this.
Mr.Loteef also took Colin to meet the street children of Dhakam, who live and work along the river, collecting recyclable items to make enough money to survive, but although the childrenhad nothing, Colin said they were always happy and smiling.Colin finished buy saying it had been a great and humbling experience.
---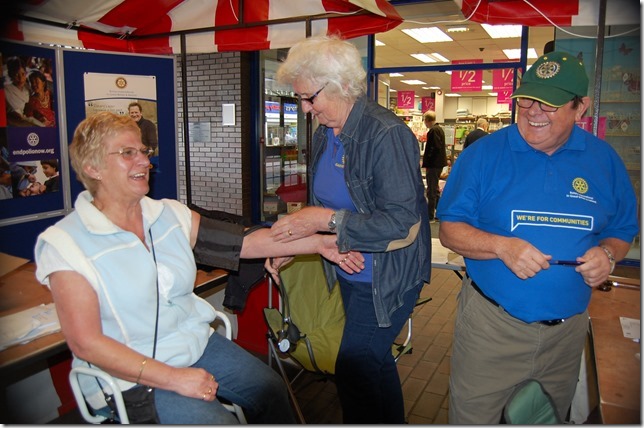 Canvey Rotarians Stella Norton and Malcolm Tugwood are seen here taking a member of the the public Ann Acott's blood pressure. The Rotary's annual blood pressure/stroke awareness day takes place at the Knightwick Centre on Canvey as part of The National Health Awareness Day. Rotary Clubs give this service annually throughout the UK.
---
---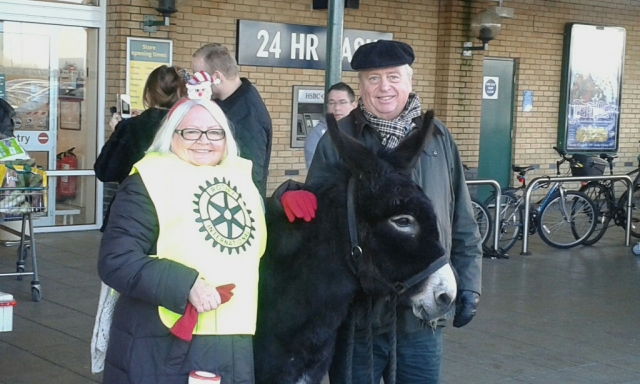 ---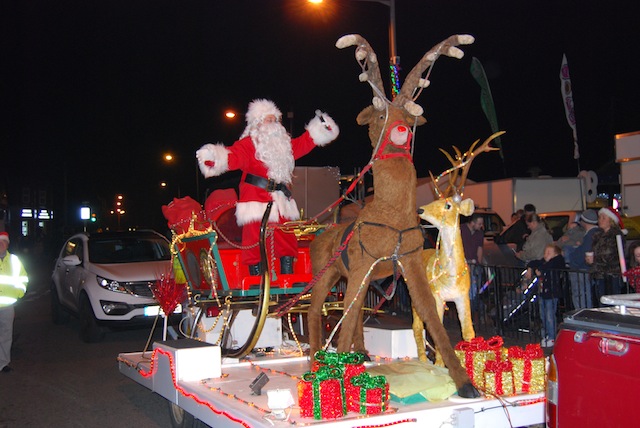 ---
President Alan presented Joseph Guthrie with a Highest Examinations Achievement award at Cornelius Vermuyden School sponsored by our club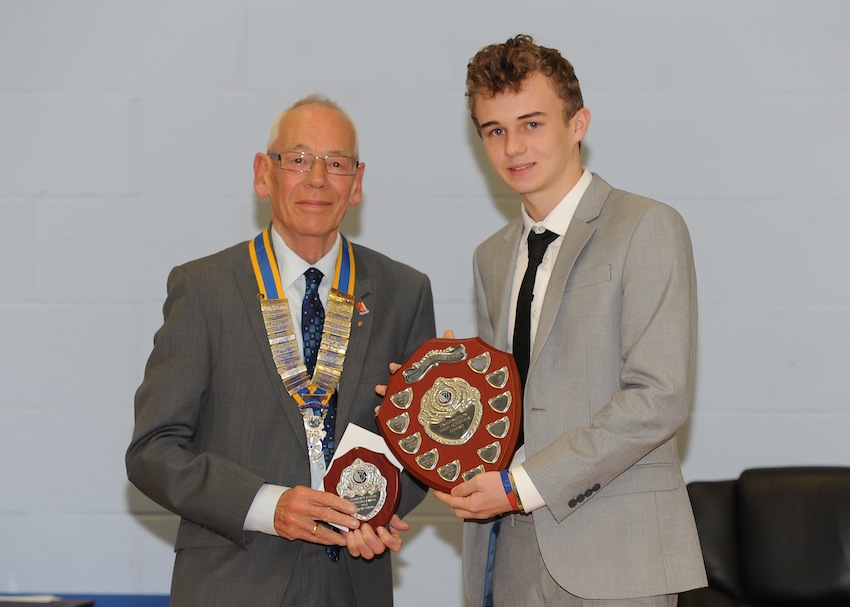 ---
President Alan awarded Sophie Peacock with the Canvey Island Rotary Bursary at Cornelius Vermuyden School
This award is for the Highest Achiever of the school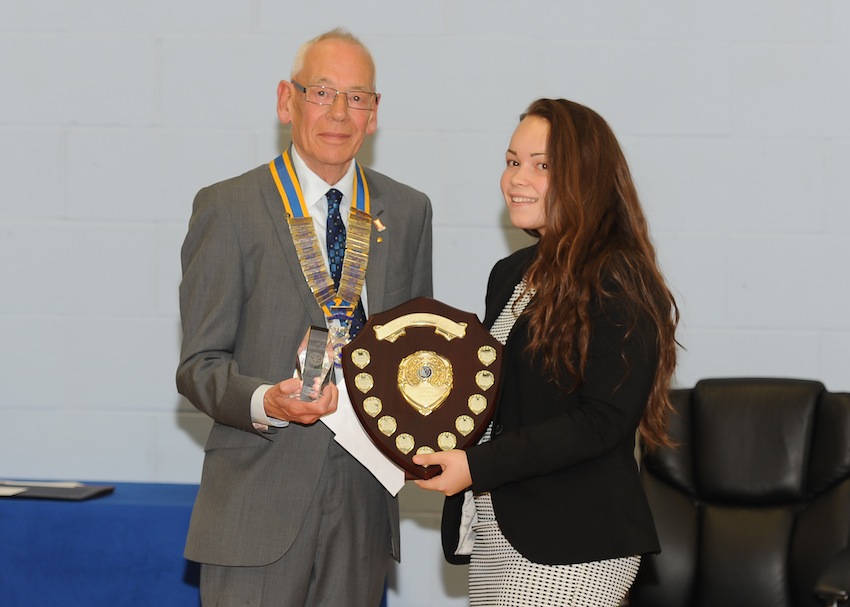 ---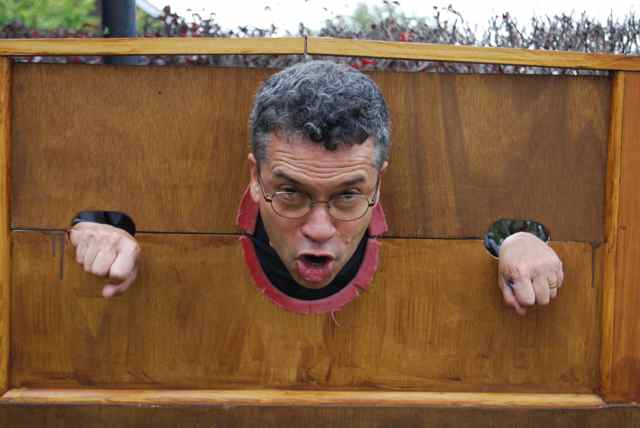 ---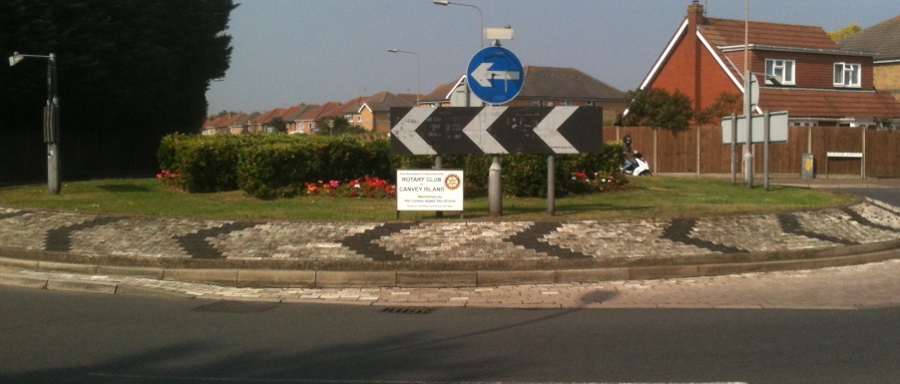 New roundabout signs are now in place
---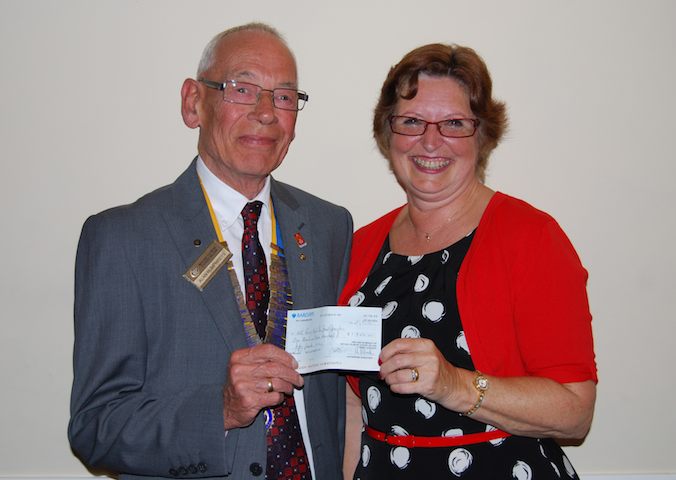 ---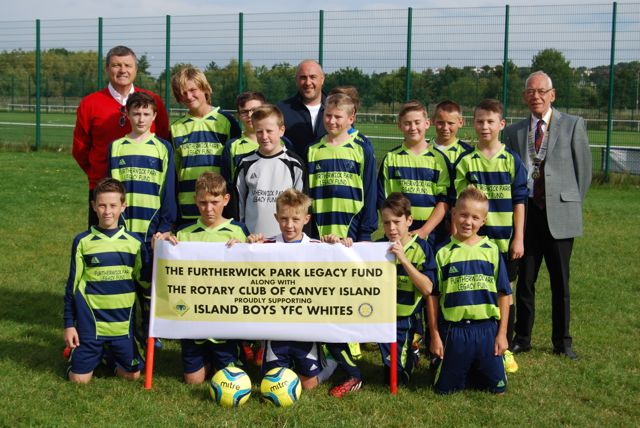 A recent image of the Island Boys YFOur Club are happy to sponsor and support these young people.
---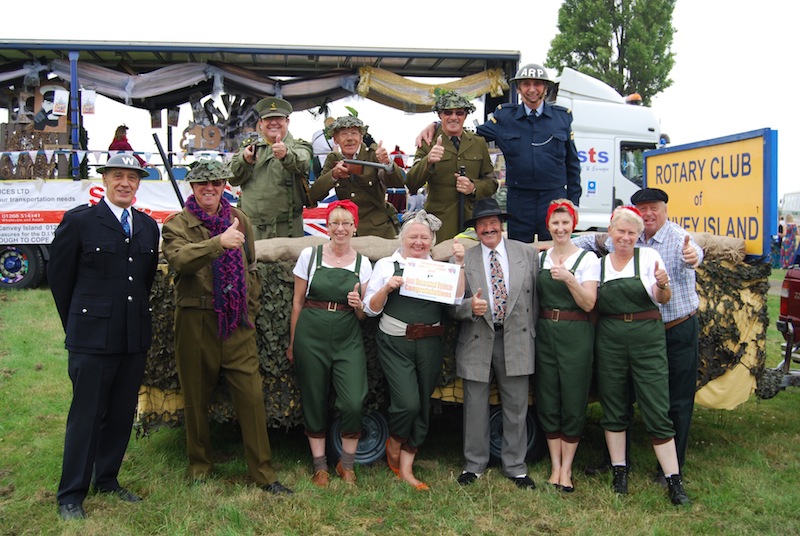 Well done everyone that supported the Carnival on Saturday winning a first prize for best decorated float and also a first prize for overall in the Carnival.
---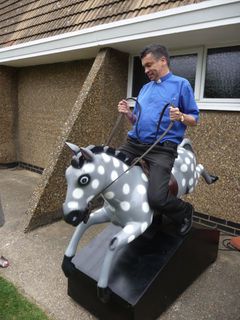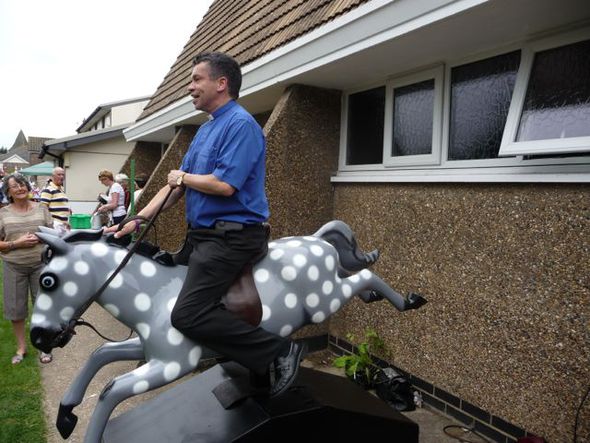 ---
We are very please to welcome Four new members recently
Tony Clarke, Tracy Winch and David Johnson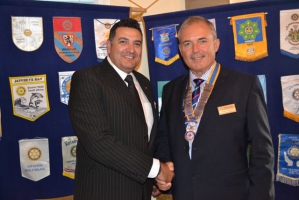 .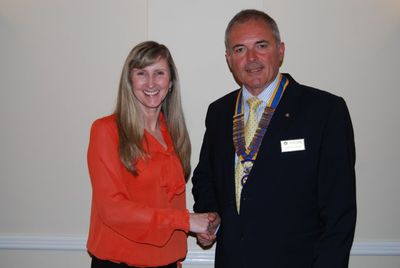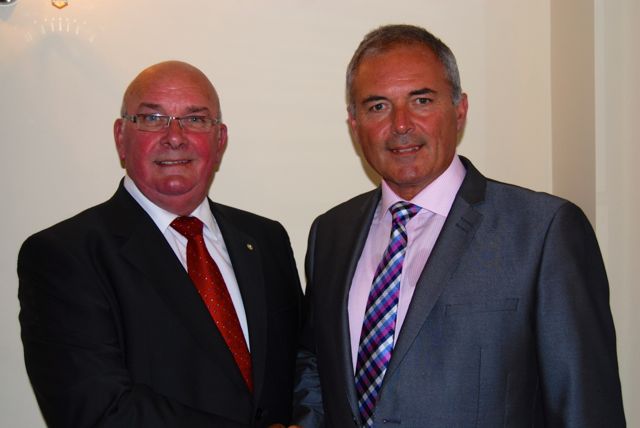 ---
At a recent meeting, President Rob presented a cheque for �1000.00 to Rachel Abbot and Sarah Murray from Southend Hospital.The money was collected from boxes in local businesses and shops over the last year.The money will be spent on refurbishing patient areas within the hospital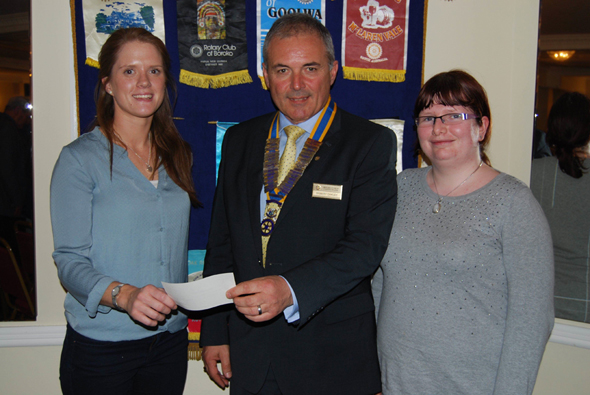 ---
At a recent meeting members agreed to donate �500 to the Essex Young Farmers project "Forageaid".
The Young Farmers are all volunteering their time so it means the Somerset farmers will get 100% of all donations and even the haulage of the forage is being generously provided by Tescos so not a drop of straw will be wasted!
For more information please go to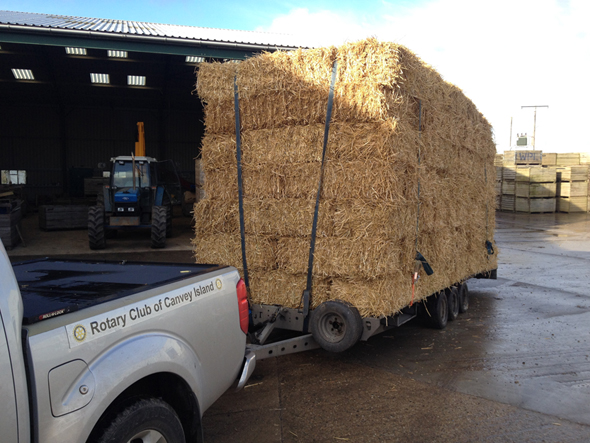 ---
Canvey Ice Rink
__________________________________________________________________________________________
In 2014 the sleigh will be given a makeover to ensure an exciting appearance for future years.
---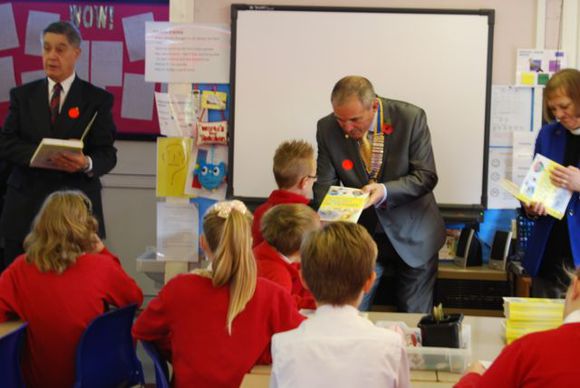 ---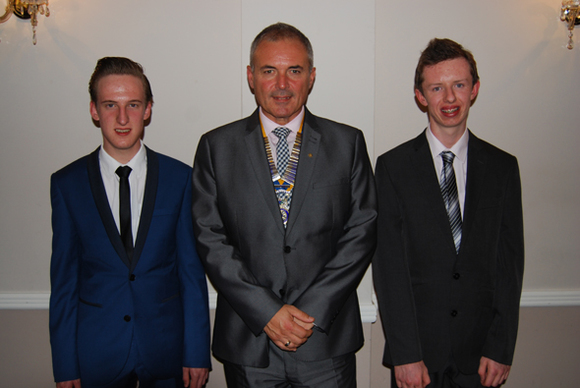 Pictured here with President Rob Oakley
---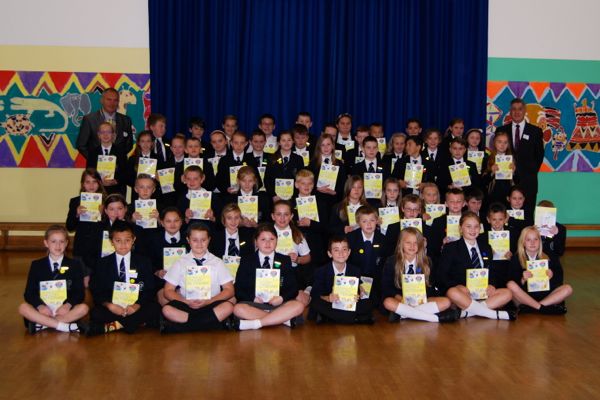 ---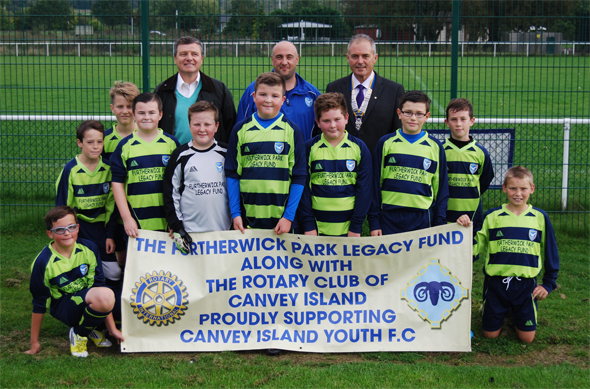 CANVEY ROTARIANS SUPPORTING FOOTBALL CRAZY KIDS
Youngsters from Canvey Island Youth FC will be avoiding muddy puddles this season as they showcase their stylish new football kits provided by Canvey Rotary Club and the Furtherwick Park Legacy Fund.
The Canvey based football club approached the local charitable groups for assistance in purchasing new kits and training equipment and were granted a donation of �680.
---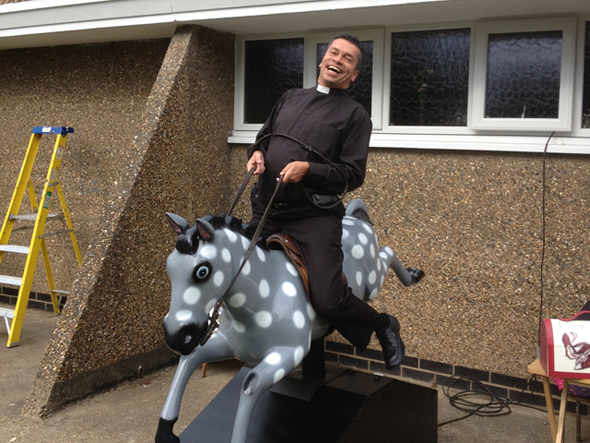 ---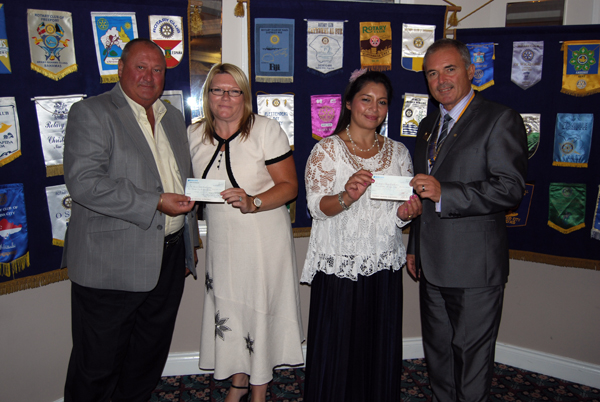 ---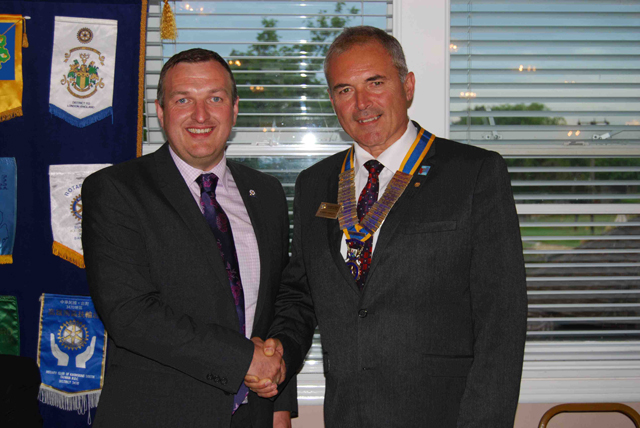 Past President Colin Maclean handed over to Rob Oakley for the ensueing Rotary year at our first meeting of the new Rotary year
---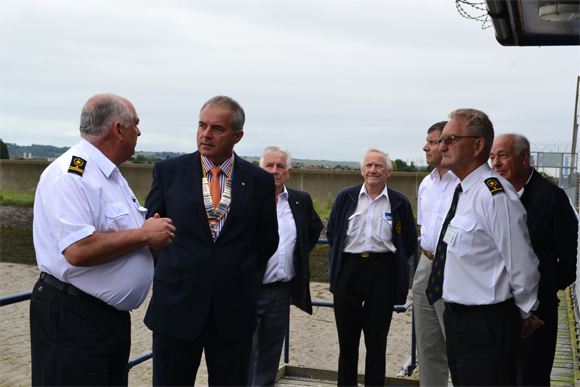 Canvey Rotary Visit NCI Holehaven
Canvey Rotarians took advantage of the sunny weather to visit the hardworking Coast Watch volunteers who are based at NCI Holehaven on Canvey Island
The Rotary Club were treated to a tour of the look ou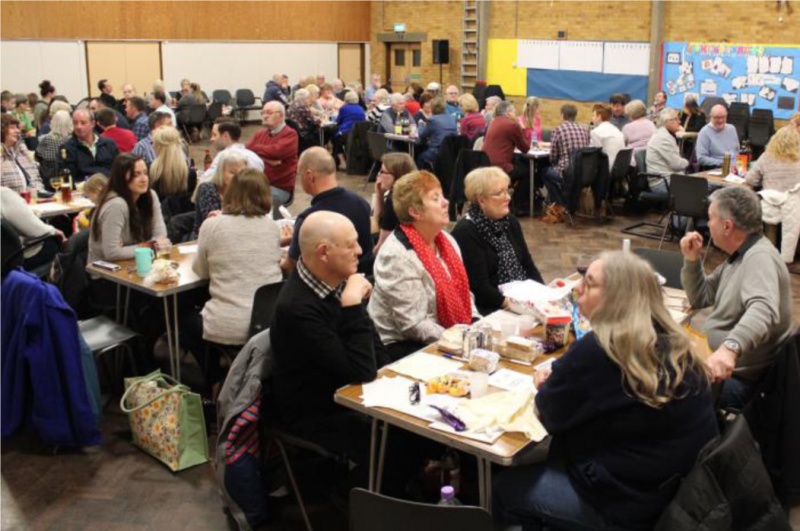 Meeting Information...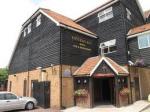 We meet on Tuesdays at 1915 for 1930 The Oysterfleet Hotel, Knightswick Road, Canvey Island, Essex, SS8 7UX tel: 01268 510111