The Rotary Club of Troon
SC013460
The Rotary Club of Troon is based in the seaside town of Troon, Ayrshire on the west coast of Scotland, UK.
To apply for £200 funding from Troon Rotary Community Support fund LINK HERE.

Weekly meetings are held in the Piersland House Hotel, KA10 6HD (01292 314747) on Tuesday evenings at 6pm for 6.15pm.
Contact name: Joan Duncan (Secretary) 01292 318202. Visiting Rotarians are very welcome.
We are a group of men and women who serve the people of Troon and Dundonald. There are currently 32 active members. Rotary club members represent a cross-section of business and professional leaders around the world. These 1.2 million men and women donate their expertise, time, and funds to support local and international projects that help people in need and promote understanding among cultures. Rotary works to improve the quality of life for everybody.
The Rotary Club of Troon is one of 49 clubs in District 1230.
Rotary is a volunteer organization with more than 32,000 clubs in over 200 countries and geographical areas. It initiates humanitarian projects that address challenges affecting the world today, such as hunger, poverty, and illiteracy.

Rotary International is the worldwide association of Rotary clubs united under a motto of Service Above Self. End Polio Now is Rotary�s flagship program. Its aim is to protect children against polio and eradicate the disease from the world.



What do we do in Rotary in Troon?

Take a look......
August 6th
We have an evening of
fellowship
with friends to enjoy at our annual BBQ at Frasers' Garden Centre.
October 1st to 2nd The annual 1230 District Conference is to take place at the Golden Jubilee Conference Hotel. This is a great fellowship opportunity where members learn about the work that Rotary is undertaking in our local communities and at national and International level.
November 12th A Rotary Community Sale will be held in the Town Hall, Troon. Funds raised at this sale will be distributed to the people of Troon through the Rotary TRCS fund.
November 30th Fellowship visit to Irvine Burns Club followed by lunch.
November 20th Wintertainment is a town event where Rotarians offer community service by stewarding parades and events throughout the day. We also get to meet Santa!
November 24th We are holding our fourth Young Musicians Competition. This vocational service encourages youngsters to participate. The winners of the two sections will be entered into the District competition to be held in the Royal Conservatoire, Glasgow.
December Throughout November and December we will be collecting new cosmetics and toiletries. These will be packaged as gifts to be donated to Women's Aid locally. This vocational project supports the group in our community. Many thanks to friends for donations.
December 13th Our Annual Christmas Dinner is to be held in the Piersland House Hotel, Troon where we will enjoy fellowship.
December 30th Bag Packing at Morrisons, Troon. We fundraise for our community fund at this event. Troon Rotary Community Support fund (TRCS) has donated £200 to many local groups month by month. This event is where we raise the funds to support that giving.
January 17th An evening of fellowship is planned as we celebrate a Taste of Burns.
January 23rd A Jean Armour Night will be held in Lochgreen House Hotel to mark the life of the wife of Robert Burns.
February 10th We are planning a Fiddlers' Concert starring The Tourie Band and the 1st Troon BB Pipe Band in Troon Concert Hall. Jim McColl MBE from the Beechgrove Garden TV programme has been invited to be our compere for the evening. This community event starts at 7.30pm and there is a licensed bar.
February 23rd A visit to the nearby Maritime Museum in Irvine is our next fellowship event.

March 13th Attendance of 4 members at the Commonwealth Day service in the gardens of Place St Germain-en-Laye, Ayr and County Hall, Ayr where a single Commemorative Act will mark the Centenary of World War 1.
March 16th The Troon Primary Schools' Quiz will be held in Marr College where all of the local schools will be represented. This community venture has been a great success in recent years.

March 19th Our District Young Musician of the Year competition will be held in the Royal Conservatoire, Glasgow. Two Troon finalists will take part.

March 21st A fellowship meal will be enjoyed at Ayr College.
April 1st Our annual Beach Clean will see us removing litter from the shoreline between Barassie and Troon. Volunteers are welcome to join us in this community project.
May 5th is the date for the 10th Rotary Ball. This Year's Themed Ball takes place in Lochgreen Hotel where 140 guests and friends will enjoy an evening of splendid food, music and fellowship. This is our main fundraiser for the year and proceeds will support Rotary projects (Local, National and International) as well as selected charities (tbc).
May 14th A fellowship visit to the Theatre Royal, Glasgow for a behind the scenes visit and a performance of La Boheme is planned.

June 17th We have our fellowship Safari Supper where members share a fellowship meal together in each other's homes.
June 27th The End of Year Handover Dinner when incoming President Jyl will be inducted.Wishing her all the best for 2017-18.

Meeting Details
Interested in joining Rotary
In the next 30 days...
Social Media...
Rotary Club of Troon
Promote your Page too
Meeting Information...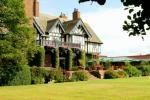 We meet on Tuesdays at 6:00 pm for 6:15 pm The Piersland House Hotel, Craigend Road, Troon, KA10 6HD tel: 01292 314747