Welcome to the Rotary Club of Barrhead
Featured pages:
Tue 28th June Out going President Bruce Tulloch hands over the chain of office to President Christine NivenRead more

Fri 4th November Guests enjoying a great evening of entertainment and FUNdraisingRead more

Sat 22nd July Read more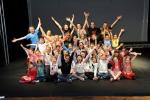 Sun 11th September Read more

Fri 3rd June Great night on Fri 3rd June 2016 and with everyone's help we raised £520. Great effort all round! Thank you and let's do it again next year!!Read more
Why Join the Rotary Club of Barrhead?
Our Rotary Club will always welcome interest from potential new members of all ages, gender and ethnic background who are willing to participate in a variety of worthwhile fundraising projects.
Friendship & Fun - Rotary maintains a simple philosophy - make friends in your own community and throughout the world. Rotary is fun ....... a lot of fun, outings and activities that provide a welcome distraction to our busy day to day lives.
Giving back to the Community - Through Rotary, service to local and overseas communities is well organised and rewarding. If you like helping others, here is your chance to do something worthwhile and make a real difference.
Some of the groups and charities we support -
Barrhead & St Luke's High Schools competitions - Youth Speaks, Young Citizen, Young Linguist, Euroscola, Rotary Youth Leadership Awards and Ocean Youth Trust.
The local community - Mary's Meals, Accord Hospice, Maggies, Salvation Army, Erskine Hospital, Poppy Appeal.
We host an Annual Sporting Dinner and a Charity Lunch in aid of Accord Hospice. International projects, Disaster Relief and Polio Eradication.
But we can do more with your help......
Can you help us to help your community by volunteering on a local project?
If you are interested speak to any Rotarian or contact the club using the JOIN ROTARY button on our home page.
We meet on 1st & 3rd Tuesday in the month in the Dalmeny Park Hotel, 6.15 for 6.30pm. Come along and join us.
All are welcome !
Meeting Details
Interested in joining Rotary
In the next 30 days...

An informal gathering in the Dalmeny Lounge Bar. All Welcome!

We are hosting a Cream Tea Afternoon Party to raise funds and awareness for the eradication of Polio

read more »
Meeting Information...
We meet on Tuesdays at 6:15 pm for 6:30 pm (Meetings are every alternative Tuesday in the month. Please check Programme - Future Diary on this page. Additional meetings may be held but telephone or text Angela Samson for details 07981 333391 No meetings Christmas & New Year ) Dalmeny Park Country House Hotel Lochlibo Road
Barrhead G78 1LG tel: 0141 881 9211