Welcome
We extend a warm welcome to visitors and particularly welcome prospective members
We are a friendly club of just under 50 men and women meeting every Monday for lunch at the Pirelli Stadium, the home of Burton Albion Football Club. Most weeks we have a speaker presenting a subject relevant to our community and Rotary.
Our members engage in a wide range of activities. We fundraise through concerts, parading 'Sandwich Boards' through the town, and any other ideas we can think of! We help the needy in our local, national and international community in many different ways. We organise programmes to help the young people in our community. We have lots of fun and fellowship.
Our home, in the brewing and football capital of the UK, is surrounded by the new National Forest and rural countryside with the River Trent flowing through the centre of the town - what a superb combination! To find out more about our area visit Information about Burton and Tourist information for East Staffs
Please read about our Club and the Rotary movement in general by exploring What we do and Programme and Photo Galleries in the menu bar at the top of the page. Our Club Bulletins and Weekly Bulletins give you lots of information about our current activities.
If you feel that you want to put something back into the community while gaining a whole new group of like-minded friends, then come and join us. Just click on this contact link and we will arrange for you to come as a visitor to one of our meetings.
News
1st July 2016. Mrs Sue Barke became the 81st President of Burton Rotary Club.
President Bob's year in office endeds on 30th June and he will have more than earned a 'breather' after leading the club through a very busy and successful year. To read all about the year a special issue of the bulletin has been produced. Please click here to view President Bob's review of his year - a fascinating read.
Burton Rotary Club receives District award - the District Youth Development Cup - for its work during 2015/16 with youth and organising the National Football Competition
Local and international communities recently supported
Langan's New Van
We recently helped Burton Addiction Centre/Langan's to buy a refrigerated van to develop an external catering service. On 27th February 2017 Langan's newly purchased van visited the club to say thank you. The splendid van is seen here with club members.
Gardening at John of Rolleston School
Rotary club members hard at work clearing an area for the children of John of Rolleston School in June 2016.
Blood Bikes
These volunteers provide a valuable service to the community transporting blood and life saving medical supplies to the NHS Foundations across our region and we have given support to help with their running costs.
Vision Aid Overseas
We regularly collect spectacles for Vision Aid Overseas to be recycled for use overseas and recently we gave a donation to help with this work.
Aquaboxes
We have recently donated 4 Community Aquaboxes to help with international disaster relief. This is a Rotary Charity based locally in Wirksworth and to read the fascinating story of its development and growth follow this link.
Nepal
Following the recent disaster in Nepal the club has worked hard to raise money to assist the people of Nepal. See our detailed report
Other local charities supported
Donations have been made to Burton Amateur Swimming Club, Burton Sea Cadets, Burton Citizens Advice Bureau and the Caudwell Children's Charity, which provides support for disabled athletes in the Burton area.
Local Business supporting Rotary
Our major fundraising event each year is a 'Sandwich Board March' through the town centre carrying sandwich boards advertising local businesses. To view our 2016 Business Partners and major Sandwich Board sponsors please click on this link.
Shortcuts for members
These are direct links to pages on the members area of the website. If you have not already logged in you will be taken to the log in page:
---
The Rotary Club of Burton upon Trent Trust Fund is a Registered Charity.
Charity No. 512286
Site last updated: 15 June 2017
---
Meeting Information...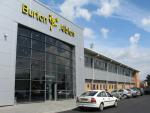 We meet on Mondays at 12.45 (Except Bank Holidays. When there is a 5th Monday in a month we often change to an evening meeting with partners. These meetings are 7 for 7.30pm. All lunch meetings finish prompt at 2pm.) Burton Albion Football Club,
Pirelli Stadium,
Princess Way,
Burton upon Trent,
Staffs DE13 0AR tel: 01283 565938
Meeting Details
Interested in joining Rotary
In the next 30 days...
Social Media...
Tweets by @burtonrotary
Burton Rotary Club
Promote your Page too