Welcome to the Rotary Club of Ironbridge
Featured pages:
Great news for Rotary in Telford

The Telford Tree of Light run by the 4 Rotary clubs in Telford has been awarded the Queens Award for Voluntary Service. This charity has raised over £500,000 in its 21 years, of which £250,000 has been donated to The Severn Hospice
We dont just hold weekly meetings!!!

we have a social life as well

On Thursday 21st July 2016 we visited Shrewsbury Museum, in September we had a guided tour of Lichfield Cathedral and in March this year there was visit to RAF Cosford and on 29th June we plan to go to the Museum of Iron.
Every year we have an international visit, which this year was to Antequera in southern Spain from 12th to 16th May.
In recent years we have visited Porto, Berlin, Budapest, Budva (Montenegro) Verona and Malta.
If this sounds interesting, come and join us (see right hand column)
Young Musician

District 1210 Governor John Sayer, Ironbridge Rotarian Max Clowes and Annabel Rocket at the RIBI Young Musician of the Year final in Cardiff
Annabel was sponsored by the Ironbridge club and it is the first time that Distict 1210 has been represented at the final of this competition.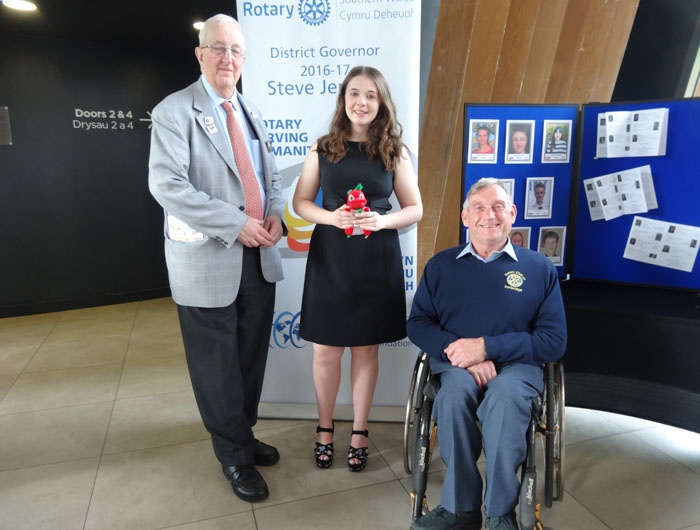 The 2016-17 team


A message from the clubs President
The 2016-17 Team
PRESIDENT 2016-17 - David Jeffries, President Elect-Philip Browning, Past President - Max Clowes, Treasurer- Helen Britton, Secretary - Philip Browning, Foundation - Jane Chaplin, Youth Services - Ruth Evans, Membership Services - Ian Warburton, Community & Vocation - David Silcock PHF, International - Steve Evans, Communications - Trevor Davies, Club Representative - Wendy Waterson Speaker Secretary - David Dixon, Fellowship - Barrie Williams. Sports - John Anderson

Rotary International is a world fellowship of business and professional men and women united in the ideal of service. The principles of service, understanding and goodwill are sustained by the fellowship which a Rotarian enjoys with fellow members in a club, and the mutual understanding and relationship which are shared with fellow Rotarians throughout the world.
Ironbridge Club was formed in 1955 and since its formation we have gained a reputation for service and trustworthiness. This year we have a number of prestigious events including hosting a visit to Shropshire of the RIBI President. In November a number of our members will be working in Gambia on a schools project.
We are recognised throughout the Rotary District for our good humour and our friendship in all our activities, which can be wrapping Christmas parcels in Telford Town Centre or sending a work party out to India or Africa to help build schools or hospitals.
Ironbridge Club welcomes both male and female members of all ages and professions, and we actively encourage the involvement of family at all events, both social and service. Visitors always receive a warm welcome.
We Ironbridge Rotarians:-
� Welcome new members both men and women
� Have a sensible meeting start time
� Have a laid back attitude to dress
� Have one formal meeting a month at which guests both Rotarian and non-Rotarians are encouraged to attend
� Lay on a wide variety of social events including international visits
� Believe that being a good and active member is more important than attendance percentage
David Jeffries President, Rotary Club of Ironbridge, 2016-17
Meeting Details
Interested in joining Rotary
In the next 30 days...

This meeting to be confirmed following decision on June 22nd arrangements.

At Bishops Wood Village Hall
Meeting Information...
We meet on Thursdays at 1800hrs for 1830hrs (The 1st Thursday of the month is a Guest Night 7 pm for 7.30 pm. ) at the Park House Hotel, Shifnal, Shropshire.
TF11 9BA tel: 01952 460128 If you are interested in joining the club, please ring Philip Browning on 01952 876306