Welcome to the Rotary Club of Devizes
News
The Rotary Club of Devizes is a friendly club for men and women looking to contribute to both local and international community projects. To get an idea of the things we do, click on the image below which will take you to our blogsite, or click on the individual links below it to read about a particular news item from the blog.
Forthcoming events
---
Tue 18th Apr: Club Assembly
A club Assembly meeting will be held on 18th April when the incoming President, Alan Martin, will outline his plans for the coming 2017-18 year, and the role of the club officers and members in those plans. The evening will begin at 6pm with a meal at The Crown in New Park Street, and is expected to finish between 7:15 and 7:30 pm. If you would like to attend please contact Jean Allen on knoxallen@googlemail.com.
---
Sat 22nd Apr: World Cuisine Evening
A few people and Friends from the Devizes Club will be going to the World Cuisine Evening (details below). If you'd like to join us for a great evening please contact Geoff Coffins on geoffcollins123@btinternet.com .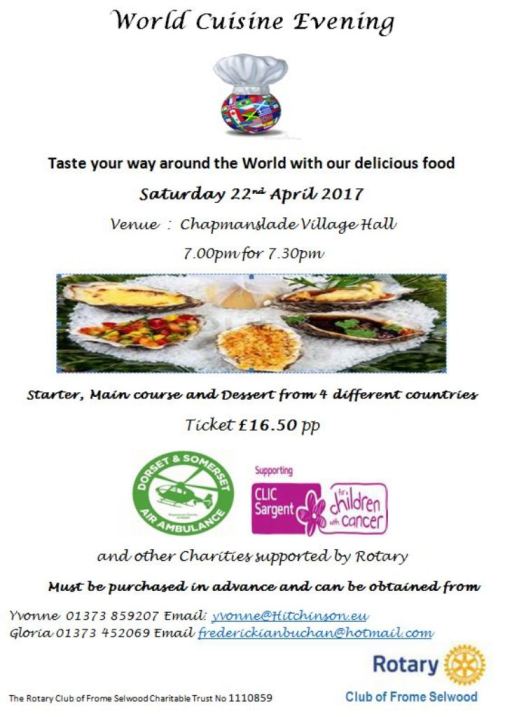 ---
Thu 27th Apr: Calne Rotary Fun Run Cheque Presentation Dinner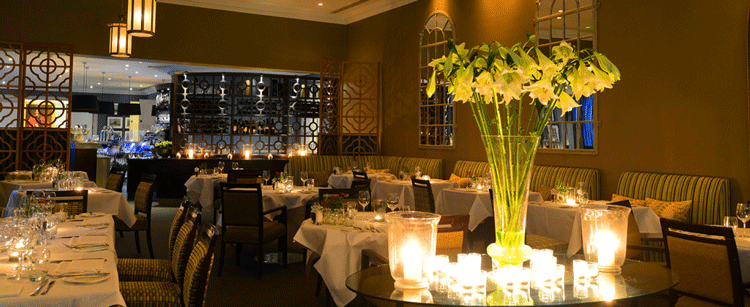 Following the Bowood Fun Run last month, Calne Rotary are hosting a Cheque Presentation Dinner at the Shelburne Restaurant, Bowood Hotel & Spa on Thursday 27th April at 7pm for a 7.30pm start. There will be a two course meal (see menu below) during which cheques will be presented to both the Calne Welfare Charities and the RNLI Chippenham Branch using proceeds from the Fun Run.

The cost is £17 per head with a bar available for drinks.

If you are interested in attending, please contact Cliff on cliffvevans@yahoo.co.uk
Menu Choices
Corn fed supreme of chicken with champ potato and a saffron sauce (gluten free), or
Roasted belly of pork with mustard mash and seasonal vegetables, with cider sauce, or
Semolina gnocchi with baby roasted vegetables and a parsley sauce (gluten free)
Baked fruit of the forest cheesecake, red berry coulis (vegetarian), or
Coconut and vanilla panna cotta with fresh fruit salsa (gluten free)
---
Tue 9th May: The Hill Figures Of England
Our very own Alan Martin will be giving a talk at The Crown on 9th May about The Hill Figures of England which are the chalk figures that can be found in our ancient landscapes. The key questions Why, When & How will be explored and hopefully answered in this fascinating talk. The evening will start as usual with a meal at 6pm and is likely to finish between 7:30 and 7:45pm. If you'd like to attend please contact Jean at knoxallen@googlemail.com.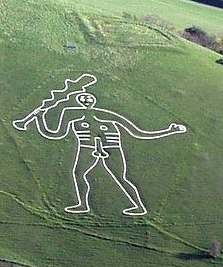 ---
Wed 10th May: Lions/Rotary Golf Day
Details of the annual Lions/Rotary charity golf day are given below. If you would like to enter a team please contact Geoff Collins on geoffcollins123@btinternet.com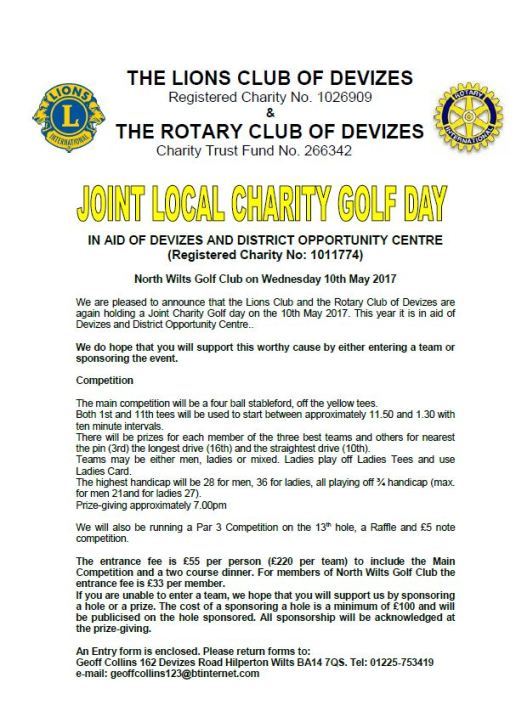 ---
Fri 19th - 22nd May: Twinning
The annual twinning weekend with Geldermalsen and Mayenne clubs will be held from 19th to 22nd may. If you're interested in joining us please contact Cliff on cliffvevans@yahoo.co.uk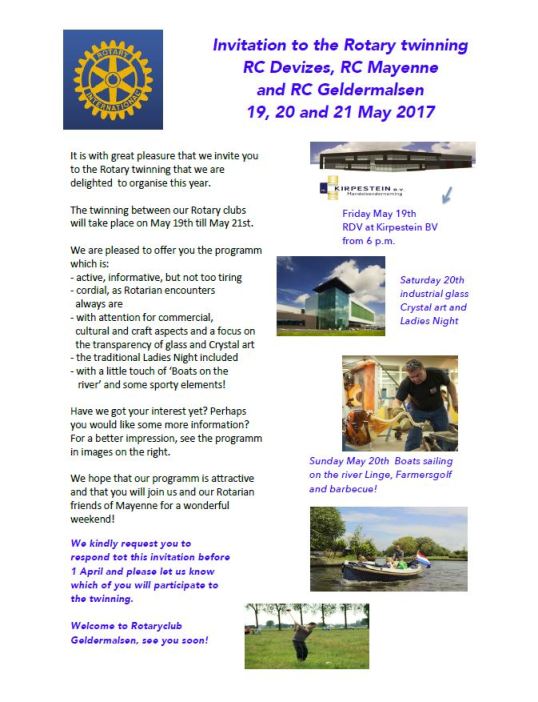 ---
Thu 1st Jun: Know Your Own Blood Pressure
The Stroke Association and the Rotary Club of Devizes are joining forces to help raise awareness of one of the biggest risk factors for stroke: high blood pressure. We are inviting Devizes residents to take a moment to have a free blood pressure test on Thursday 1st June 2017 between 09:30 and 12:30 in The Brittox. Hopefully we'll see you there, but meanwhile if you have any questions please contact Paula Winchcombe on paulawinchcombe@gmail.com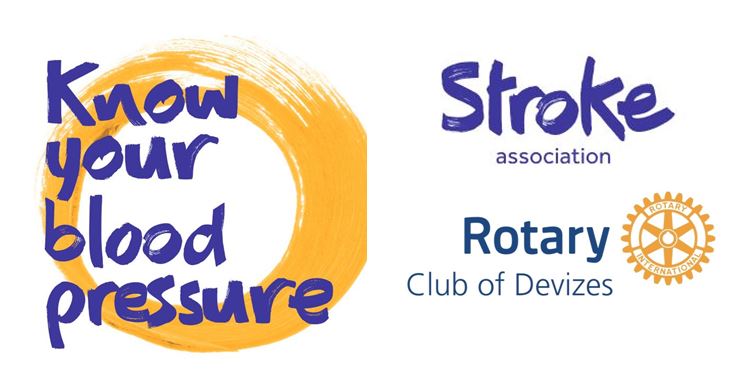 ---
Following a request from District Governor John Butler, Cliff gave a presentation to the District Forum held on 25th March regarding how our club has changed over the past two or three years, and what approach it is now taking to serving the community. A copy of the slides presented can be found
HERE
Cliff will be giving the same presentation at the Speaker Evening to be held on June 6th at the Crown, and Friends of Devizes Rotary and other guests are very welcome to come along to listen and join in any subsequent discussion. Please contact Jean on
knoxallen@googlemail.com
if you'd like to attend.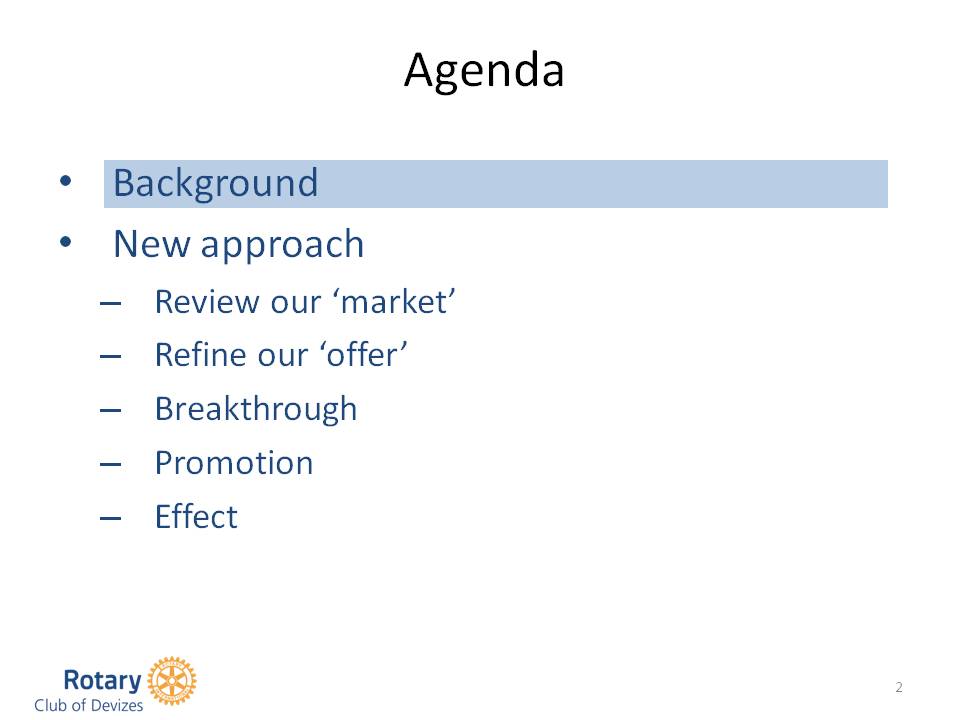 ---
Wed 14th Jun: Kids Out
The Big Day Out, which is organised by the KidsOut organisation and supported by Rotary International, will take place on 14th June. Along with other clubs from District 1200 we will be taking disadvantaged kids from the area to Longleat Safari Park. Please contact Geoff Collins if you'd like to help out on the day on geoffcollins123@btinternet.com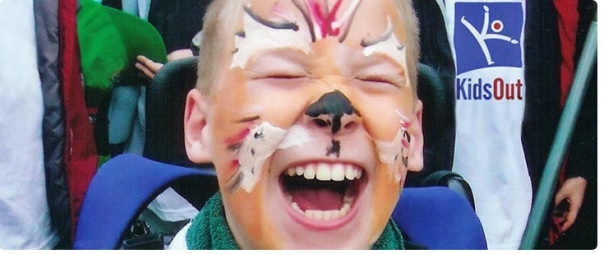 ---
Sat 17th Jun: Rowdeford School Fete
The Devizes Rotary Rotathalon Equipment will be in use at the Rowdeford School Fete on Saturday 17th June. Let's hope for some good weather!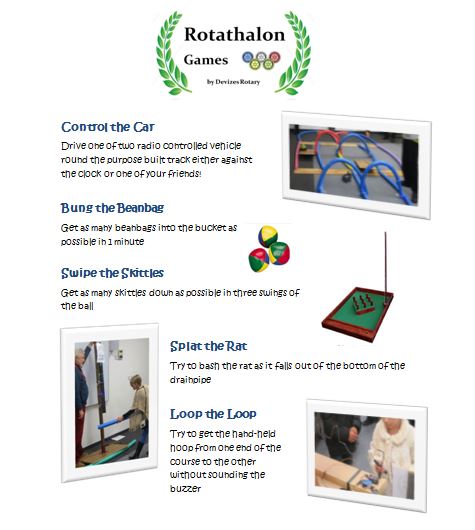 ---
Sun18th Jun: Paella Party
The Rotary Cooking Team will be in action again at a private garden party where they will be cooking paella for 35 people. This was one of the prizes drawn in the Raffle at the Evening at Springfields Academy held earlier in the year. Let's keep our fingers crossed for fine weather!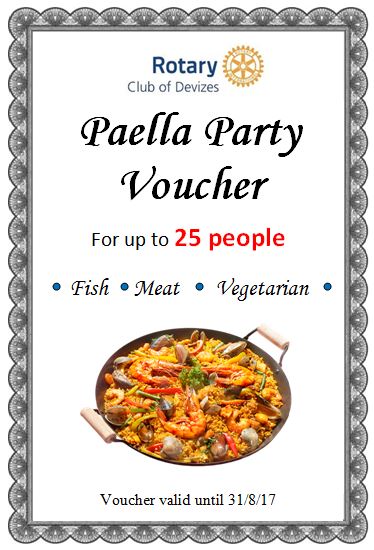 ---
If you're interested in any of the above events or are someone who might like to help local and international good causes, then please contact:
Cliff Evans
07557 980476
cliffvevans@yahoo.co.uk
Alternatively come along to the Crown at 6pm on a Tuesday evening to meet the club members and have a chat.
Meeting Information...
We meet on Tuesdays at 6pm The Crown
19 New Park Street
Devizes

SN10 1EA tel: 01380 722692