Featured pages
WELCOME TO THE ROTARY CLUB OF BATH WEBSITE
---
About us
A warm welcome to the Rotary Club of Bath website. We are a group of active, experienced people from this historic City and its surrounding area who pool our knowledge, time and talents to help make Bath and the wider world a better place
.
If you're interested in joining us, or finding out more about what being in Rotary entails, click on the 'Join Rotary' button on this home page.If you'd like to help us raise charitable funds, or want to contact us about any of our events or activities, click
here
.
---
Apply here for funding (for charities)
The Rotary Club of Bath will consider requests for donations from organisations and projects within Bath and North East Somerset. We particularly welcome applications from smaller charities within our area. Guidance on our priorities, the procedure for seeking support, and what we will need from you ,can be found via the following links:
Community Service Grants
Community Service Grant Application
The Rotary Club of Bath raises funds for the benefit of charities in and around the City of Bath, and for selected projects our Club is directly involved in overseas.
You can donate direct to our community based charitable Trust via the My Donate link below:
KEEP THE DATE: The Annual Rotary Community Carol Service is being held on the evening of Tuesday December 12th in Bath Abbey. Tickets are free and will be available soon.

The two charities being supported by the collection are Jesse May and Focus Counselling. The confirmed readers so far are The Mayor of Bath, Counsellor Ian Gilchrist, John Harney our President, Kevin Grey deputy CEO Bath Building Society, Jan Robertson CEO Focus Counselling and Paul Barber Olympic Hockey Gold Medalist

Our Club brings about 100 residents from about 6 care homes from Bath and surrounding districts. We also provide a special Signer for about 40 hearing-impaired people who attend.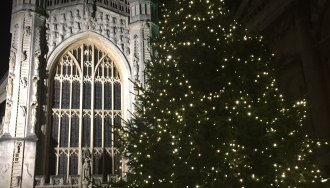 ---
A gentle reminder to all Members: please send all apologies for non-attendance at our weekly lunch to Attendance Officer Alan Keeling, either at a previous lunch meeting or by email:bathrotary1200@gmail.com Please limit telephone apologies to emergencies only. In all cases, apologies must be received by 12.00 noon on the Monday preceding the lunch. If no notification of absence has been received, a lunch will be ordered for you and have to be paid for.

Happening soon...
Meetings and events happening soon
Tuesday 24th October 12.50
A Guest Speaker tbc
---
Lunch - World Polio Day will also be marked by a visit from the Mayor of Bath
Tuesday 31st October 19.00
5th Tuesday
---
Visit to Bath Mineral Hospital Museum, 7.00pm-8.00pm, followed by supper at 8.15.
Saturday 4th November 17.30
Fireworks Display 2017
---
The spectacular annual Fireworks Display held on the Recreation Ground in the centre of the City. Gates open at 5.30pm and the display will start at 7.00pm
details
---
---