Pub walk's amazing turnout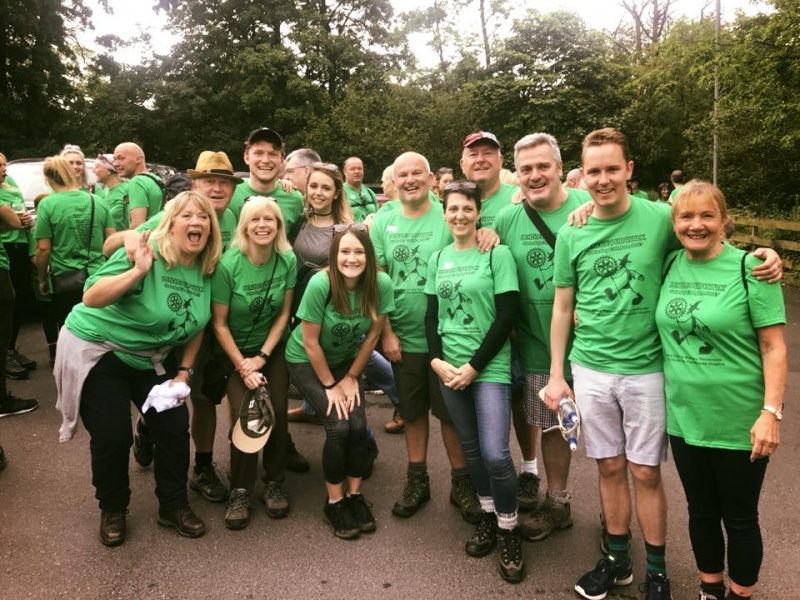 The Pendle Pub Walk on Saturday is set to smash all previous records.
 
With over 1,900 walkers pre-registered and more than 300 signing up on the day, the number taking part eclipsed every other walk in the event's history.
 
And all the indications are that those walkers will breaklast year's fundraising record of just under £55,000 for Pendleside Hospice.
 
Organiser Grahame Trudgill from the Rotary Club of Burnley Pendleside said: "We have had some very, very positive feedback and everyone seemed to enjoy the day.
 
"A lot of the pubs and clubs have supported us for years, but this year we had some new ones and the Roughlee Village Centre and David Street Club in Barrowford had really good days and everyone enjoyed visiting them."



Pub Walk stalwart honoured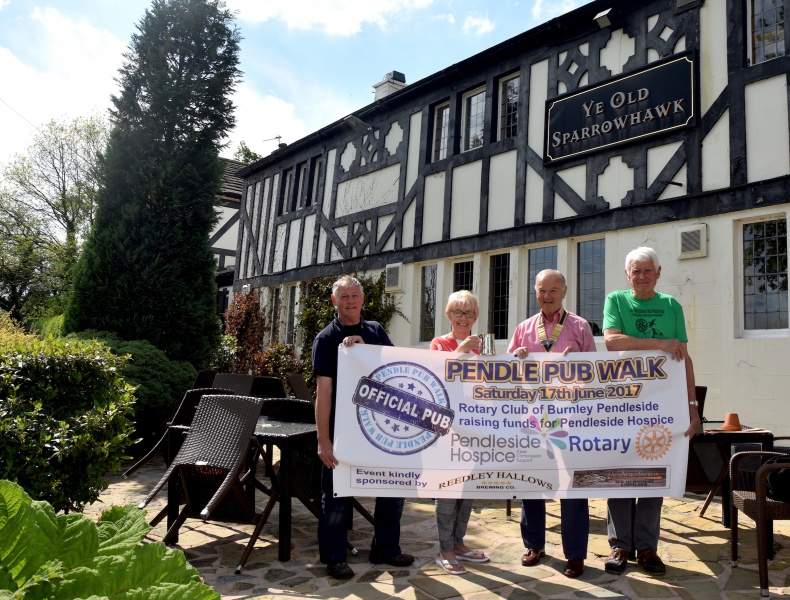 One of the founder members of the popular Pendle Pub Walk is to be remembered by having his name engraved on a special tankard.
Members of the Rotary Club of Burnley Pendleside are dedicating the tankard, which is presented to the person who raises the most money from Pendleside Hospice's Pendle Pub Walk, to long-standing Rotarian Brian Doney.
Brian (81) from Padiham, who was a member of the Rotary Club for more than 30 years passed away in February after a year-long battle with bowel cancer.
During his time with the club he was instrumental in setting up the first organised fundraising walk, which later became the Pendle Pub Walk in aid of Pendleside Hospice and Rotary Club charities.
Brian's wife Kay Doney said: "The Rotary Club was a huge part of Brian's life having been a member for more than 30 years, and I know that he would be honoured to have the tankard engraved in his memory.
"Despite being quite ill for a number of years Brian was always keen to be involved in Rotary activities and last year was named the club's Rotarian of the Year.
"Pendleside Hospice has been extremely supportive before, and since he passed away. The Hospice nurses were very compassionate and supportive throughout.
"I started attending reflexology before he died and have been a few times since which has been absolutely brilliant.
Rotarian Grahame Trudgill who organises the Pendle Pub Walk said: "Brian had the idea for the original sponsored walk. After a few years we needed to freshen things up so we ran dragon boat racing, but then decided to revamp the walk as the 10 miles 10 pubs which then became the Pendle Pub Walk.
"Brian was a dedicated member of the Rotary Club, he was heavily involved in all the Rotary activities including helping each year at the Pendle Pub Walk.
"We feel that the tankard is a fitting tribute to him and all the work he's undertook for us."
This year Rotary member Bob Nolan will be taking part in the walk in memory of Brian.
The annual Pendle Pub Walk this year celebrates its 9th birthday, with around 1,500 people expected to take part in the 10-mile route through Pendleside and Barrowford.
This year walkers can set off from either the Sparrow Hawk in Fence or Barley Village Hall.
The full route from the Sparrow Hawk goes through Fence, Barley, Roughlee, Blacko, Higherford, Barrowford and back to Fence with 14 pubs along the way.
Registration is open to people aged 16 and above online, registrations for those under 16 can be made by telephoning the Hospice.


35th Charter Night 2017


On Friday 5th May we marked our 35th Charter Anniversary at Turf Moor. Our guests enjoyed an evening of food and fellowship topped of with some great entertainment from comedian Lester Crabtree.

President Gordon spoke about the past year and of the local and international causes we have supported this year. District Governor Malcolm Baldwin praised the efforts of our club on this hugely successful year.

Past President and Paul Harris Fellow Grahame Trudgill was named Rotarian of the Year for his dedication
and support.

Pendle Pub Walk 2017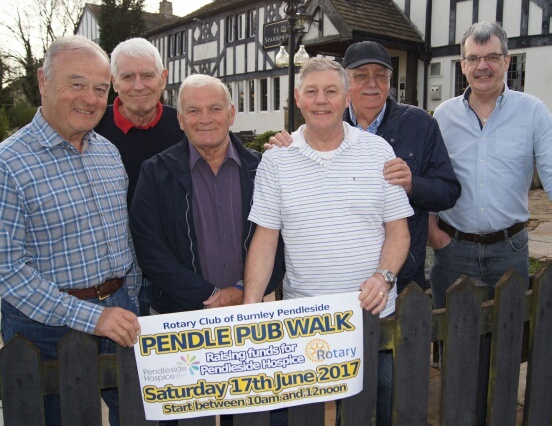 The Rotary Club Of Burnley Pendleside is getting fit for its 9th Pendle Pub Walk on Saturday 17th June 2017. In the last 5 years this event has raised over £200,000 for Pendleside Hospice and 2017 is set to be the biggest yet.

Pendle Pub Walk is a great day out taking in the stunning Pendle countryside, using its finest hostelries as way-points. Every year we think it is going to peak and every year it surprises us just how many people turn up.

Last year's Pub Walk raised in excess of £54,000 for the Hospice and attracted 1,506 walkers. As well as the money raised for the Hospice another £6,735.00 of entry money has gone to Rotary charities which include local causes in the Burnley & Pendle area and also international causes.

It's a record breaker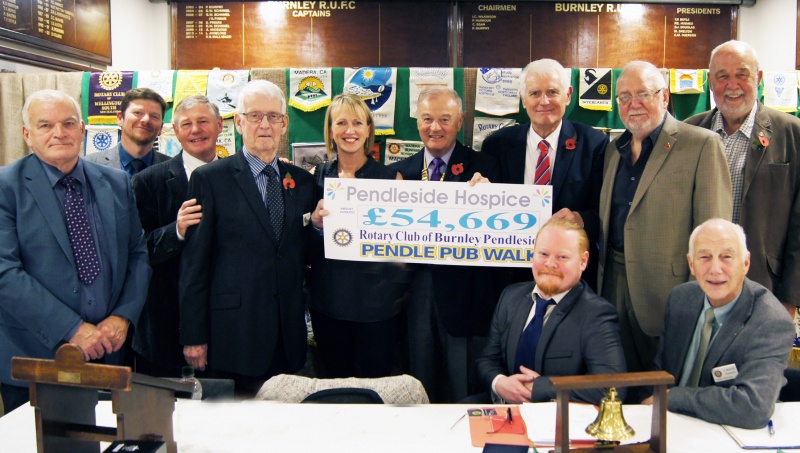 This year's Pendle Pub Walk has again broken all records and is on course to raise well in excess of a record-breaking £54,000 for Pendleside Hospice.
The event, organised by the Rotary Club of Burnley Pendleside, attracted 1,506 walkers back in June.
A special celebration evening was staged at a club meeting, when hospice Fundraising manager Christina Cope revealed that more than £54,000 had already been raised with some sponsorship money still to come in.
Christina was invited to the Rotary meeting to give a talk about the work of the hospice and the services it provides to the people of Burnley and Pendle.
Rotary Club of Burnley Pendleside Grahame Trudgill who organises the Pub Walk said "This is an established event in many people's diaries and I'm very proud of its success"
Paul Trudgill, one of the organisers of the event, said
"People can go to our website - pendlepubwalk.co.uk - to see photos from this year's walk, and registration for Pendle Pub Walk 2017 is open already."
As well as Reedley Hallows Brewing Company's fantastic sponsorship, 13 local Real-Ale pubs, used as way-points on the 14 mile route also boost funds through sponsorship. They are the Pendle Inn and Barley Mow at Barley - the Bay Horse Inn at Roughlee - and Cross Gaits in Blacko - the Old Bridge Inn, George & Dragon, White Bear, Lamb WMC and the Bombay Lounge at Barrowford - the Sparrowhawk, White Swan, Fence Gate at Fence - and the Four Alls Inn at Higham.
As well as the hospice money another £ 6,735.00 of entry money has gone to Rotary charities - which include international causes, as well as local causes in the Burnley & Pendle area.
Christina Cope Fundraising Manager said: "The Pendle Pub Walk was fantastic again this year and we were astounded by the number of people who came along. The date for next year's Walk is Saturday 17thJune – we hope many walkers will come along again. The sponsor money raised is very, very important as it will be used for patient care."


Club supports 'trip of lifetime'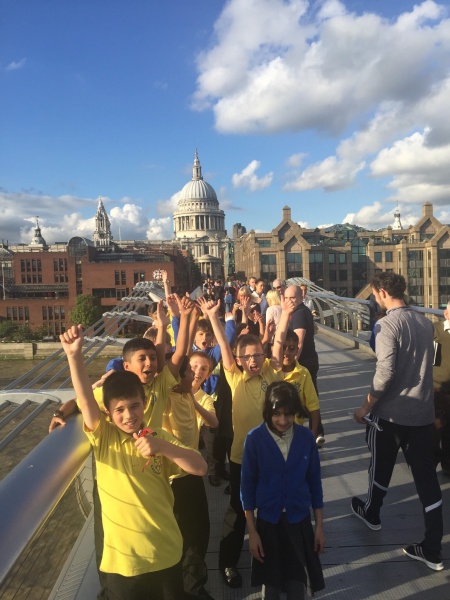 A group of pupils from a Burnley school have enjoyed the trip of a lifetime to London thanks to the Rotary Club of Burnley Pendleside
The visit culminated in the youngsters performing a recital at St Paul's Cathedral.
The party of pupils and teachers from St Peter's CE Primary school also enjoyed an open-top bus tour of the capital during the two-day stay.
The memorable experience came about thanks to the Rotary Club of Burnley Pendleside who donated £2,000 to make the trip and recital possible.
And the Burnley connection was completed by former Wellfield CE Church School pupil Tom Daggett from the Cathedral's music department.
Tom visited Burnley in advance of the recital to rehearse a programme of music with the youngsters.
He said: "It was a privilege to bring a school from my home town to St Paul's. The children were terrific received a standing ovation from the audience of visitors from around the world.
"We hope that performing in St Paul's and exploring the capital will provide the children with treasured memories."
St Peter's headteacher Catherine Greenwood said that the visit had been 'truly amazing' and that the school was hoping to continue its links with St Paul's.
The president of the Rotary Club of Burnley Pendleside Gordon Haycock said: "We are delighted that we were able to help to give these young people the chance of a alifetime by performing at St Paul's.
"They were a real credit to their school and to the town of Burnley."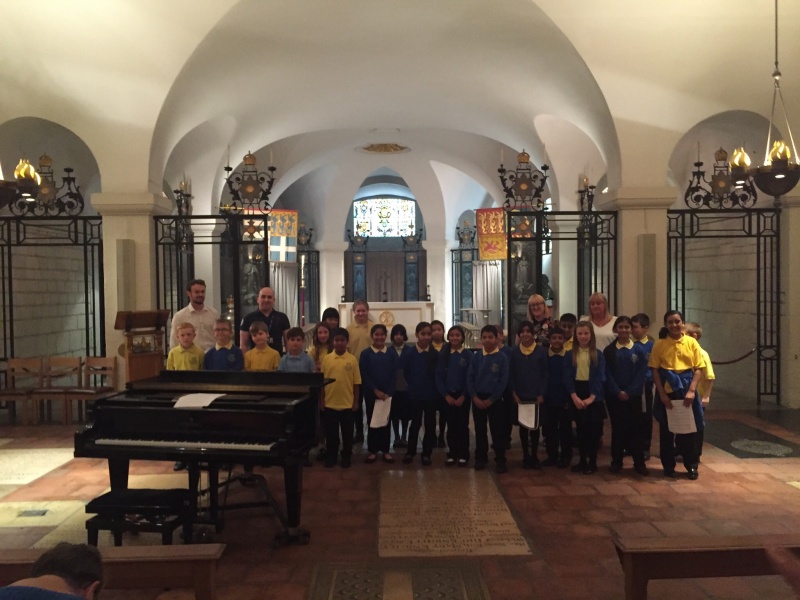 Anyone for croquet?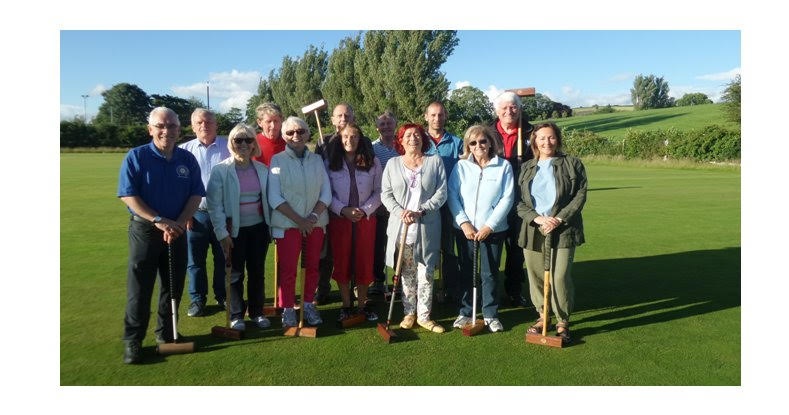 Members of the Rotary Club of Burnley Pendleside, partners and guests enjoyed the annual croquet evening staged at Earby Croquet Club. The eventual winners were past president Grahame Trudgill and Kay Doney. The evening was arranged by Dick Chitty.


Welcome President Gordon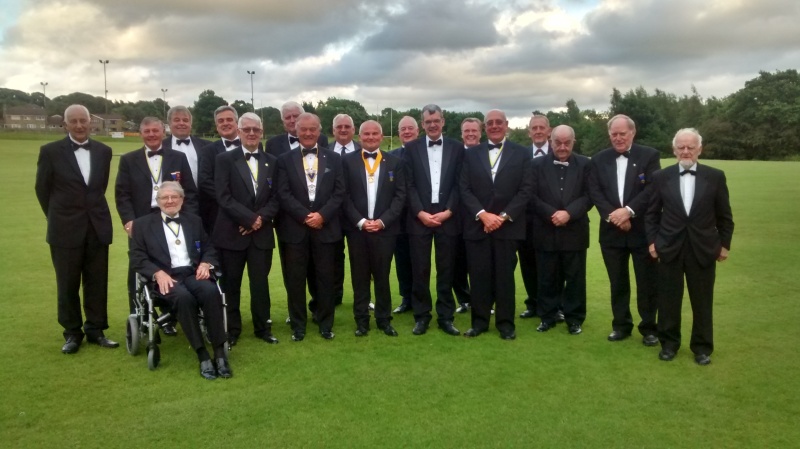 The Rotary Club of Burnley Pendleside has welcomed in new president Gordon Haycock.
President Gordon received the chain of office from outgoing president Kevin Martin at a special club night held at Calder Vale Rugby Club.
Rotarian Ewen Dyda takes over the role of President elect with Rotarian Jim Hepburn becoming junior vice.
2016 Pendle Pub Walk smashes records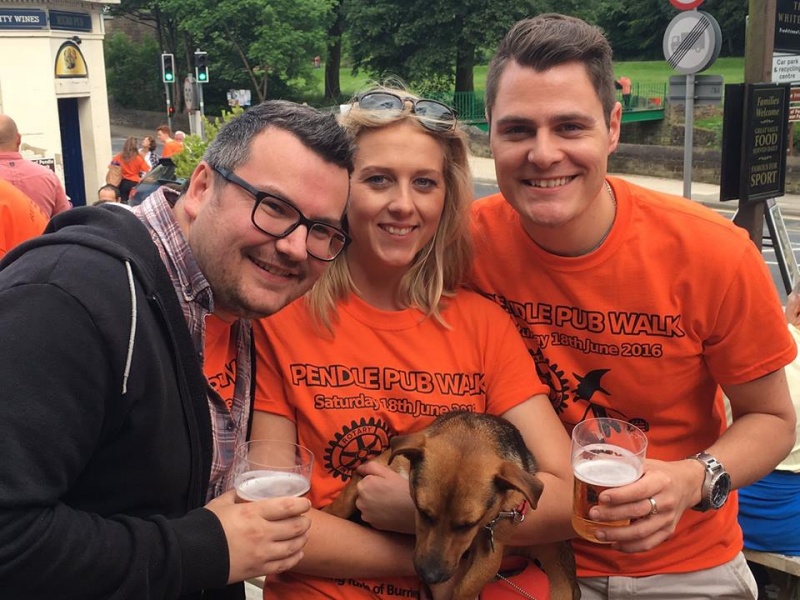 The Pendle Pub Walk created a host of new records on Saturday.
The eighth walk attracted a record number of fund-raisers.
Including well over 150 who registered on the day, over 1,500 people took part in the annual fund-raiser.
And organisers are already sure that the walk will break all previous fund-raising efforts by passing last year's total of over £54,000.
The walk is organised by the Rotary Club of Burnley Pendleside and since its inception has raised countless thousands for the Pendleside Hospice.
Route organsier Grahame Trudgill looked back at another successful event and said: "I am quite amazed by the response we got.
"We had 1,343 signed up before the event, 200 more than last year.
"The weather was kind to us and most of the people who had registered came and then more than 160 signed up on the day.
"Everything seemed to go really, really well and we had more than 900 setting off from the Sparrowhawk and the rest from Barley.
"A lot of the people who took part have told me how much they enjoyed it. Many of them hadn't done it before and they now all want to come back again next year.
"Every year we think it is going to peak and every year it surprises us just how many people turn up."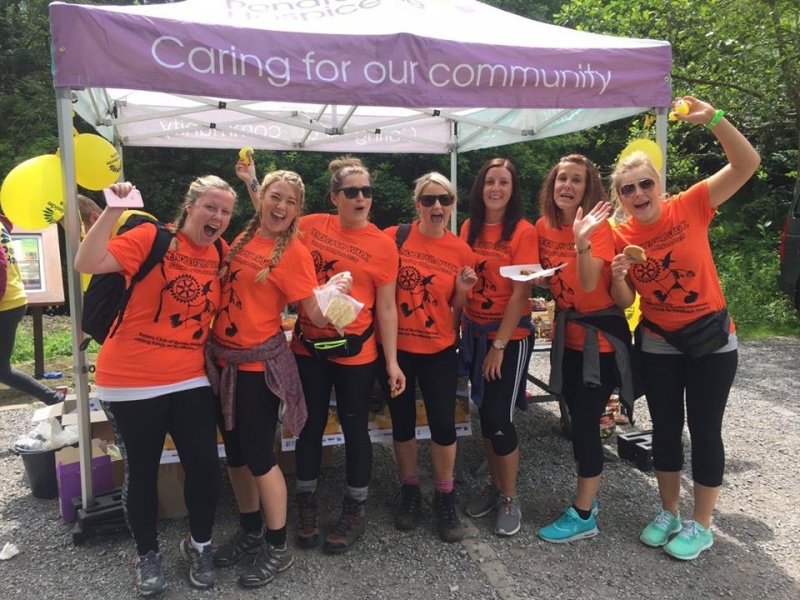 The Rotary Club takes a share of the registration fees and also collects some money on the day.
So on top of the predicted record-breaking sum for the hospice, Rotary charities have been boosted by more than £7,000 by the pub walk.
Many walkers don their hiking boots to raise money in memory of a friend or loved one who has received care at Pendleside.
A number of local companies signed up to the hospice's new Corporate Challenge took part.
And many other people simply join in as it is the fund-raising social event of the year.
Walkers started from either the Pendle Inn, Barley, or the Sparrowhawk, Fence.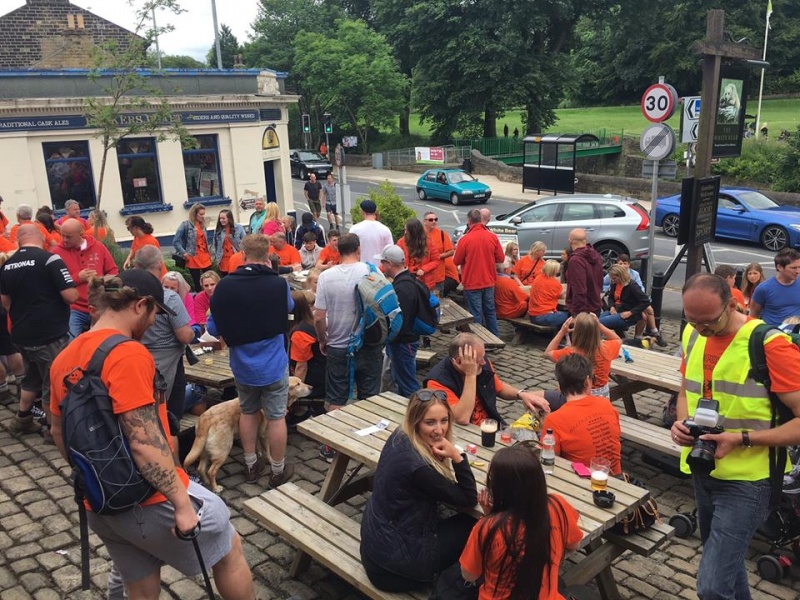 The walk of approximately 13 miles took in the White Swan and Fence Gate in Fence, the Four Alls at Higham, the Pendle Inn and Barley Mow in Barley, the Bay Horse, Roughlee, the Cross Gaits Inn in Blacko and then the Bridge Inn, George and Dragon, White Bear, Lamb Club and Bombay Lounge in Barrowford.
The walk was blessed with good weather with many walkers taking pet dogs with them which also wore hospice colours.
Pendleside Hospice Fund-raising Manager Christina Cope said: "Thank you to all the volunteers who help with registrations at the Sparrowhawk and Barley Village Hall and to the Rotary Club of Burnley Pendleside who organise the route of the walk.
"This is one of the biggest fund-raising events for the hospice and one which people look forward to every year.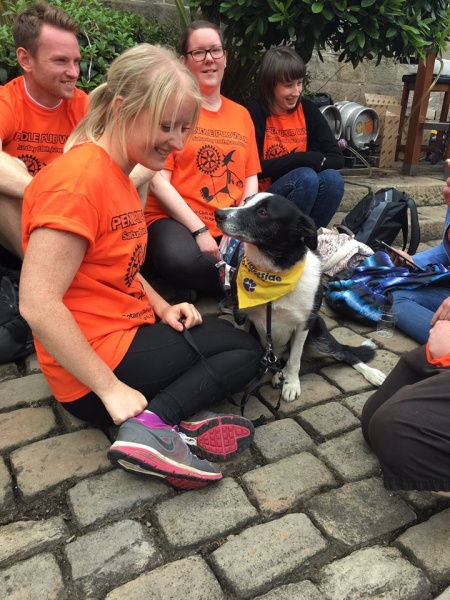 Rotarians from the Burnley Pendleside club man shop to promote the cause.
Rotarians from the Rotary Club of Burnley Pendleside took over a Burnley town centre shop unit for three days to give a first-hand account of the good work done by the Rotary movement.
Led by club president Paul Walsh, a team of Rotarians handed out information leaflets and erected a shelter box tent in the shop. A special Rotary information video was played on loop as members of the public were invited to learn about how Rotary supports a variety of initiates both at home and abroad. The team also used the occasion to publicise this year's Pendle Pub Walk.
Santa's Sleigh proves a big hit with young and old alike
The Rotary Club of Burnley Pendleside certainly entered into the festive spirit by touring the Burnley area over the Christmas period. Accompanying the Rotarians was a special guest - Father Christmas- and a brand new Rotary sleigh. The intrepid band spread some Christmas cheer on five evenings during the build-up to Christmas and as well as collecting more than �1,500, handed out sweets to delighted youngsters.
Club president Paul Walsh said: " It was great to see so many smiling faces. The response from the public was absolutely amazing. We can't wait until next Christmas to accompany our star guest around the areas again.

President Paul is welcomed into office
Rotarian Paul Walsh has taken over the chains of office of President of the Rotary Club of Burnley Pendleside. President Paul was welcomed into office at President's night which was held at Burnley Rugby Club, the Rotary Club's regular meeting place. New president elect is Rotarian James Swindell with Rotarian PP John Cooper as second vice.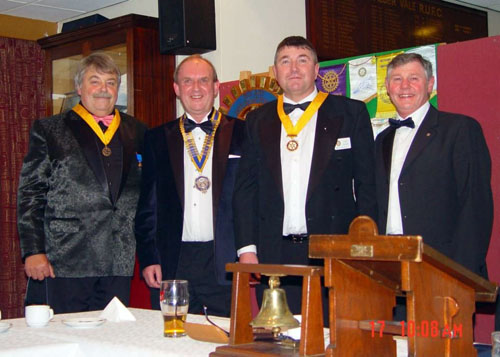 Pendle Pub Walk smashes record despite rain!!!!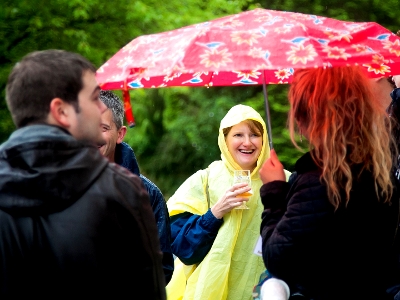 THIS year's Pendle Pub Walk, organised by the Rotary Club of Burnley Pendleside looks set to smash all records.
A staggering 680 walkers took part in the 12-mile route around the base of Pendle Hill, taking in some of the region's most breathtaking scenery.
And it is expected that more than �30,000 will have been raised for Pendleside Hospice and Rotary Charity.
The route took in nine local pubs each of which sold a special Pendle Pub Walk real ale, further swelling the charity coffers.
Past President Grahame Trudgill, who organised the amazing event said: "We were absolutely delighted with the turnout on what was a very wet Saturday. Walkers of all ages and abilities took part and we look to be on course for smashing our Pendle Pub Walk proceeds this year."
Football tournament is a real winner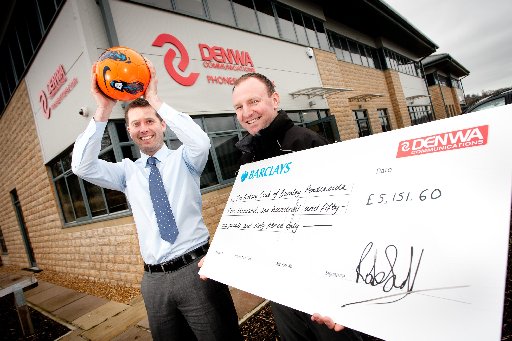 A charity football tournament organised by Rotary Club of Burnley Pendleside member Rob Scott proved a great success - raising around �5,000 for Rotary Charity. The event, held at Crow Wood football centre in Burnley attracted teams of all abilities and ages.
Rotarians from the Rotary Club of Burnley Pendleside took part in their annual croquet evening at Earby Croquet Club. Around 24 members and partners enjoyed some evening sunshine and a splendid buffet. The event was organised by PP Dick Chitty.
Royal date for Past Presdent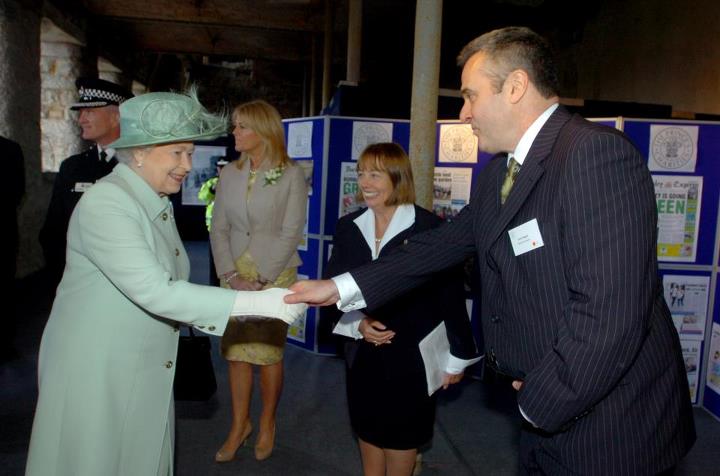 Past President Chris Daggett, of the Rotary Club of Burnley Pendleside, was given the honour of greeting Her Majesty Queen Elizabeth II when she visited Burnley as part of her Diamond Jubilee tour. The Queen visited Burnley on a barge along with the Duke of Edinburgh and The Prince of Wales.
July 2011 - Club welcomes President Grahame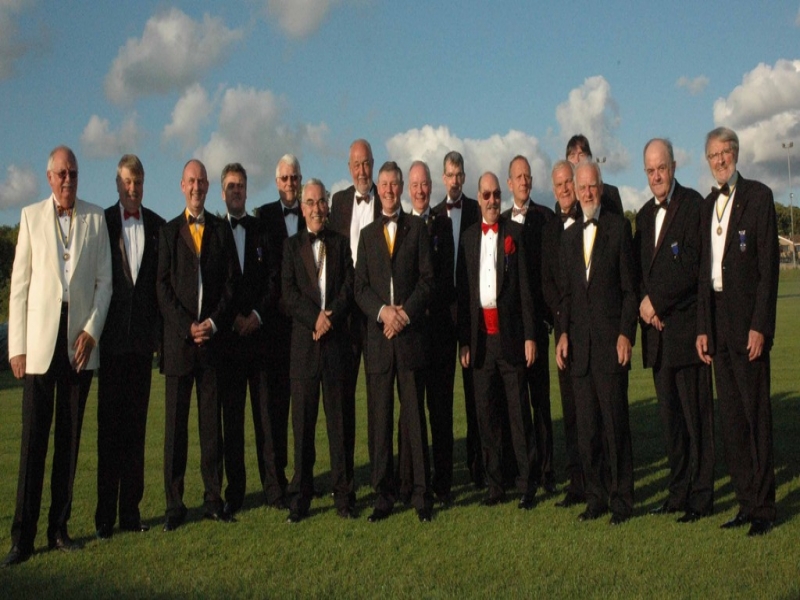 THE Rotary Club of Burnley Pendleside has welcomed in its new president.
Taking over the chain of office is Rotarian Grahame Trudgill from Hapton. He succeeds retiring president Mr Stephen Hughes.
Mr Hughes thanked members for their support during his year in office and highlighted the recent Pendle Pub Walk, organised by the club, which raised �16,000 for Pendleside Hospice.
The club's new president-elect is Burnley physiotherapist Mr Paul Walsh. Mr James Swindells MBE is the new junior vice president. The handover took place at President�s night which was held at Burnley Rugby Club.
---
June 2011 - Pendle Pub Walk smashes all records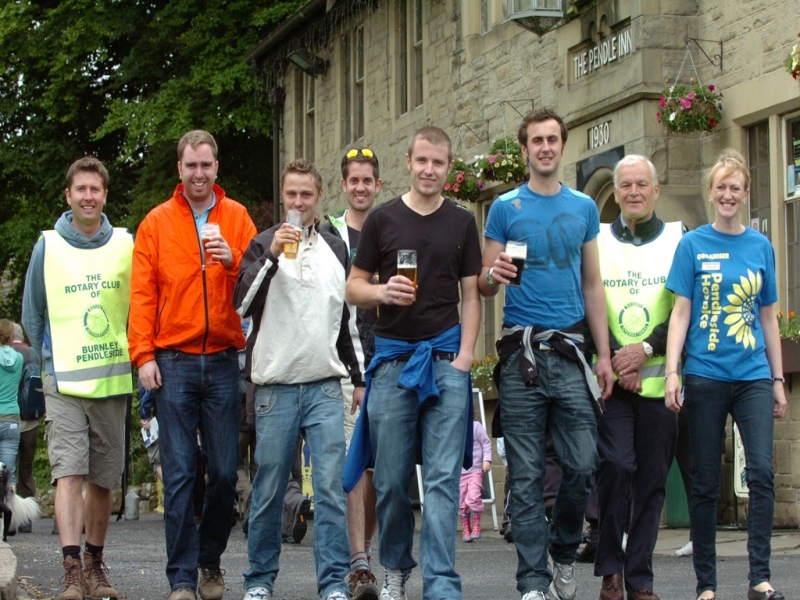 The 2011 Pendle Pub Walk, organised by The Rotary Club of Burnley Pendleside, smashed all records with around �16,000 being raised thanks to sponsorship money and Gift Aid.
Around 500 walkers completed the scenic route around Pendle, taking in glorious countryside and a number of hostelries.
The president of The Rotary Club of Burnley Pendleside Stephen Hughes said the amount raised was amazing. "The public has really taken to this event in a big way. Special thanks must go to the walkers and Rotarian Grahame Trudgill and his organising committee."
One of the event organisers, Simon Tattersall, said: "It was such a special day! So many people coming together to do Pendle Pub Walk was fantastic. From start to finish, everything went wonderfully well. Despite huge volume, our volunteers managed registrations really efficiently, all the pubs on route provided first class hospitality and all the walkers seemed to be having a really great day."
"I'd like to say a huge thank you to everyone involved, primarily all the walkers who covered the 10 miles and raised all the money, but also to all the pubs, our sponsors and those local businesses who advertised in our brochure. The �16,000 we've raised has left me and the rest of the organisers feeling very proud of the super efforts of so many people."
"We had walkers from all walks of life, all portions of the local community, as well as people who came from as far away as Wiltshire, the Potteries and Lincolnshire. Even two local MPs, Andrew Stephenson and Nigel Evans, took time out from their busy schedules to join us."
Christina Cope, Fundraising Manager at Pendleside Hospice, said: "We are delighted that Pendle Pub Walk was such a success. It was an excellent day out for hundreds of people and in what is a tough economic climate it has raised vital funds for the Hospice, people's generosity has been wonderful."
---
May 2011 - Charter Night A Big Success
The president of the Rotary Club of Burnley Pendleside Mr Stephen Hughes hosted a highly-successful and entertaining Charter Evening at Turf Moor, home of Burnley FC.
More than 100 Rotarians and guests attended the function with star attraction being comedian Jimmy Cricket who had the audience in raptures. Diners enjoyed a superb four-course meal. President Steve presented the tantalus for the club Rotarian of the year to Stuart Edge.
Club past president Alan Armstrong was the proud recipient of a Paul Harris Fellowship for his contribution to the Rotary movement.
---
January 2011 - Burns Night A Roaring Success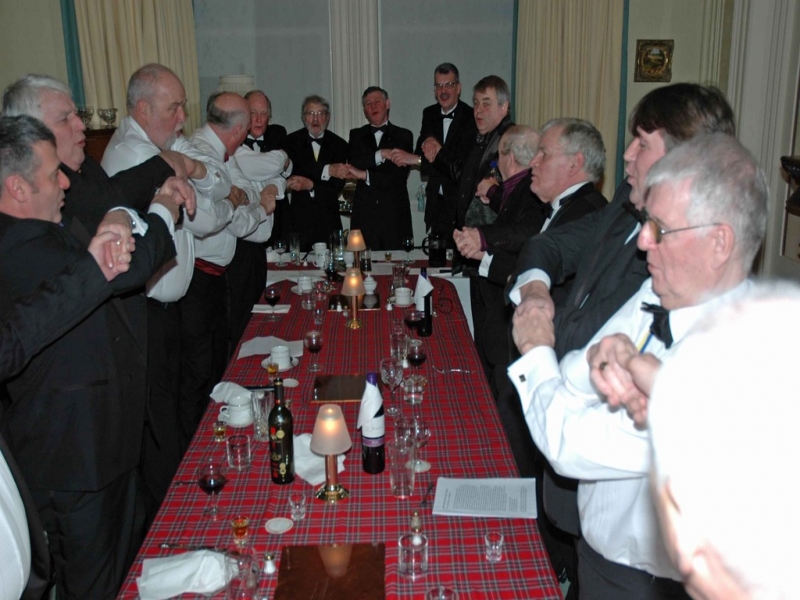 Rotarians from the Rotary Club of Burnley Pendleside enjoyed a splendid and traditional meal to mark Burns Night at Bramley Meade, Whalley, home of past president Barry Merrin.
The evening raised �285 for club funds.
---
November 2010 - Rotary Radio Auction Boost For Hospice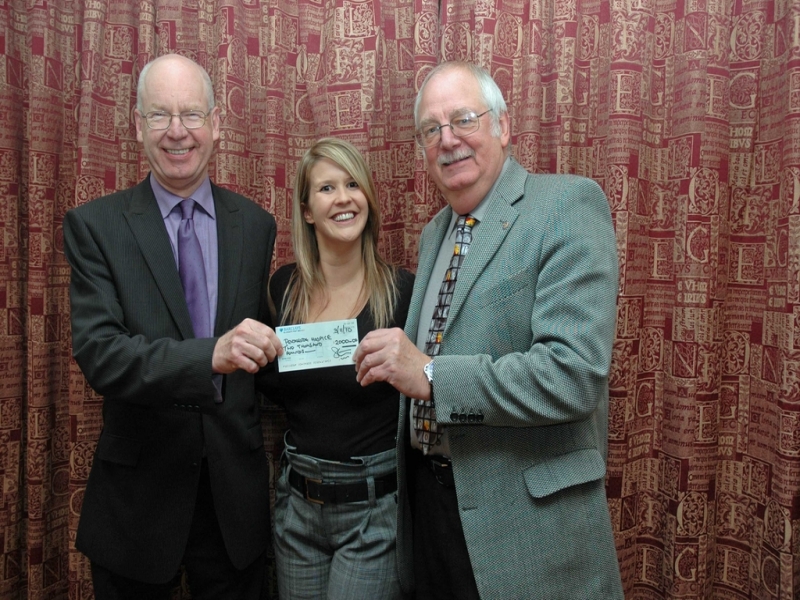 The Rotary Club of Burnley Pendleside has presented a �2,000 cheque to Pendleside Hospice as part of the proceeds from this year's successful radio auction held in conjunction with 2BR.
Hospice representative Mr David Brown visited the club to receive the bumper cheque from Burnley Pendleside past president Mike Henney and 2BR's Gemma Barron.
Mr Brown thanked the club and 2BR for their continued support.
---
September 2010 - Pendle Pub Walk, A Great Success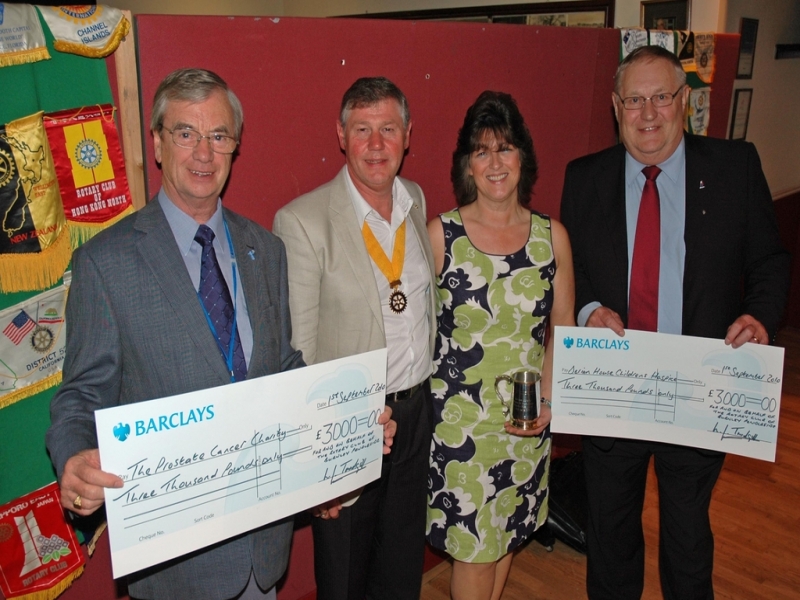 A bumper turn-out of 150 people completed the nine-mile walk around Pendle's stunning scenery with many enjoying a light refreshment or two, courtesy of the pubs that served as way-markers on the walk.
Burnley brewery Moorhouse's, an event sponsor, produced a special ale, "Witch Way Now?", that was served in most of the pubs.
Karen Gardner, from Nelson, was the competition winner, raising more than �400 on her own.
One of the organisers, club president elect Mr Grahame Trudgill, said: "We were delighted by the turn-out and by the amount of money raised."
Club president elect Grahame Trudgill is pictured presenting the cheques to the charities, with Karen, the competition winner.
---
Meeting Information...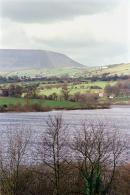 We meet on Wednesdays at 1900 for 1930 Belvedere & Calder Vale Sports Club, Holden Road, Reedley, Burnley BB10 2LE tel: 01282 611228