About us
Clwb Rotari Pwllheli Rotary Club
Gwasanaeth Uwch Hunan- Service Above Self
District 1180 Website of the Year 2009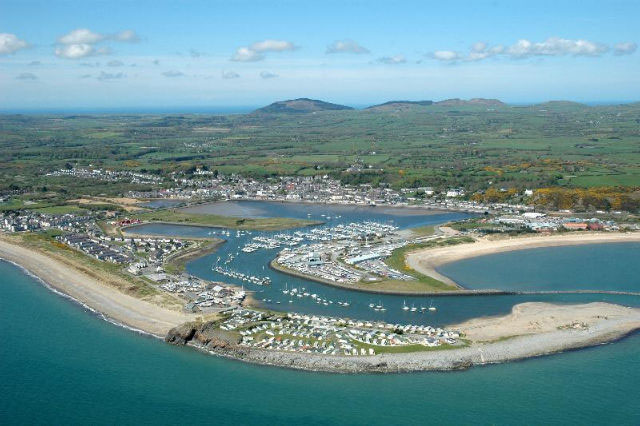 Picture of the month. - Pwllheli from the air. Our meeting venue is in the New Sailing Club, adjacent to the harbour and opened in 2015.
This picture and the ones at the foot of this site show some of the scenery around Pen LlÅ·n, a relatively little known area of outstanding natural beauty in north-west Wales.
We have sandy bays, coves, cliffs and sand dunes. We have hills adjacent and the mountains of Snowdonia nearby. There is sailing and golf to international standards at much lower cost than elsewhere. We have ancient sites and deeply spiritual places where pilgrims visit. We have abundent wildlife, superb seafood and an exceptional wild flora. Wild flowers on roadside verges in May are simply stunning.
And we have Pwllheli Rotary Club - If you are a Rotarian visiting our area, you are welcome to visit our club.
A Message from our President - Philip Horwood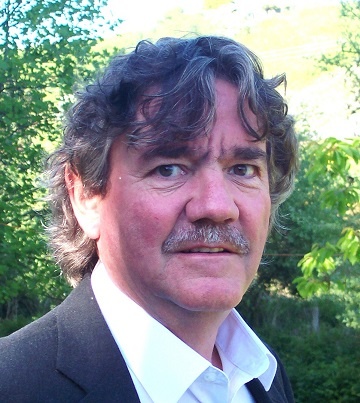 Yn Gyntaf - Gair yn Gymraeg (Firstly, a word in Welsh)
Wrth i ni gychwyn ar flwyddyn Rotari brysur; yn dilyn ein Pen-blwydd 87eg byddwn yn cadw ein haelodau a'r gymuned brysur a ffyniannus gyda rhaglen lawn - rydym, eisoes yn bwrw ymlaen!
Os hoffech wybod mwy am unrhyw un o'n gweithgareddau, cyfarfodydd, sut y gallwch ein helpu ni neu sut gallwn eich helpu chi - mae croeso i chi gysylltu 'n Hysgrifennydd Linda Horwood ar y cyfeiriad e-bost ar ddiwedd y nodyn hwn. Like us ar Facebook ac yn y dyfodol agos rwy'n gobeithio cewch ein dilyn ar Twitter!
"Our experience of Rotary is, for the most part, based in our own communities. We meet every week in our clubs, in the same places, with the same familiar friends. While almost all of us are involved in some way or other in international service, the Rotary we see and share from day to day feels very local. It can be easy to lose sight of the larger picture – of what our service truly means.
Every impact you have as a Rotarian, individually and through your club, is multiplied by the power of our numbers. When you feed one person who is hungry, when you educate one person who is illiterate, when you protect one child from disease, the impact may seem small. It is anything but. For it is only through the power of numbers, through the power of our individual actions and gifts, that we can have the impact we seek: to truly Be a Gift to the World." K.R.Ravindran, President Rotary International 2015-16
Our club is a member of the international community of Rotary International comprising over 1.2 million members in over 35,000 clubs in more than 200 countries of the world. Our objectives are focused on 6 basic themes:
Peace and conflict prevention and resolution,
Disease prevention and treatment,
Water and sanitation,
Maternal and child health,
Basic education and literacy,
Economic and community development.
Pwllheli Rotary Club support local groups and projects fitting within these areas of focus and supporting the Rotary Foundation, our international charity promoting amongst other things the eradication of polio.
To paraphrase Sara Henderson:
Rotarians don't wait for a light to appear at the end of the tunnel; we stride down there and light the bloody thing ourselves.
Philip Horwood
President Pwllheli Rotary Club 2015-16.
Using our main fundraiser 'The Santa Float' again this year, we hope other community groups will come together and help us 'Light Up Our Villages' this Christmas; raising money for local charities and your community groups.
If you'd like to know any more about any of our activities, meeting, how you can help us 'Light Up Rotary' and how we can help you 'Light Up Your Community' please don't hesitate to contact our Secretary Linda Horwood on lindahorwood@aol.com.
Like us on facebook: Clwb Rotari Pwllheli Rotary Club.
And watch this space to follow us on for Twitter!
Club Information Leaflet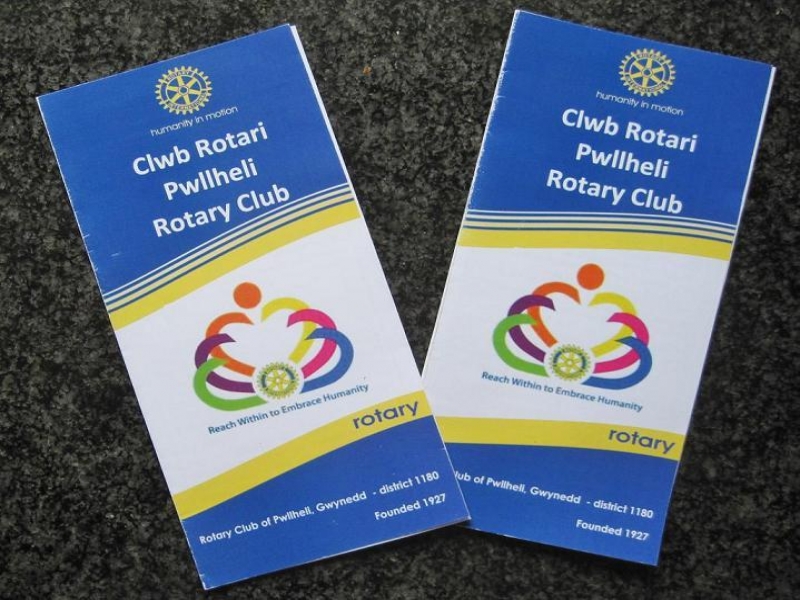 We have produced a new up-to-date leaflet about Pwllheli Rotary Club and about Rotary in general and our Membership Secretary would be pleased to send you one. These can be requested by using the 'Contact Form' facility at the top of this page.
Alternatively the leaflets are available to download as pdf files which you may be able to print off for yourself. The leaflet is available in CYMRAEG HERE or in the ENGLISH LANGUAGE HERE
Croeso Cynnes/A Warm Welcome.
We are a small, friendly club of 14 members (and growing) with a wide range of experiences, interests and age.
We are fortunate to live in one of the most beautiful parts of the United Kingdom and some of the illustrations on this site aim to give you a flavour of the scenic attractions of the area.
Pwllheli is situated on Pen LlÅ·n (Lleyn Peninsula) in North Wales. It has a relatively low population density for the UK and is remote from the industrial centres. It has a wonderful and varied coastline with a coastal path around much of its length. We are 'off the beaten track' and, being on a peninsula, travellers do not 'pass through' but have to make a special journey to visit us. As such, the attractions of our area are relatively little known. Tourism is important to the area but we are not swamped with tourists and we are not even discovered by most of the guidebooks. Off season, in particular, it is a haven of peace and tranquility.
Pen LlÅ·n is close to the mountainous area of Snowdonia with all of that area's well known attractions but enjoys a much sunnier and milder climate, in fact it boasts some of the highest sunshine figures in the UK and regularly tops the charts as the sunniest place in Britain.
North Wales has a very strong cultural heritage and Pen LlÅ·n is a stronghold for the Welsh language which is the first language in most schools.
This part of Wales is steeped in history with one of the finest, though little known, iron age sites in Europe, Tre'r Ceiri. It has strong connections with the Arthurian legends and there is a growing academic opinion that King Arthur's last battle was at Cadlan, near the end of the peninsula, and that Avelon, where he died of his wounds was in fact the Island of Bardsey (Ynys Enlli) situated just off the end of the peninsula.
Bardsey has been a place of religious pilgrimage for centuries ever since Pope Callixtus II (1119-24)granted 'indulgences' for people travelling these routes. It reached its height in Mediaeval times but is enjoying a renaissance with visitors from all over the world coming to walk the ancient routes down the Llyn peninsula to Aberdaron and, if the weather is fair, perhaps on to Bardsey.
New Members and Visitors
We may be a small club but we are very active, as you will see from other parts of this site. We certainly need more members so if you live in our area or are thinking of moving here, please come and join us. But also, if you are a Rotarian planning to visit our area, as a tourist maybe or possibly a pilgrim, you would be most welcome to join us at our regular meetings during the period of your stay. In this way, we can keep in touch with the outside world and we may be able to help you find some of the hidden gems of our undiscovered area.
The Venue of our Meetings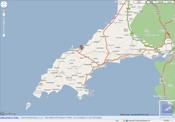 Pwllheli Sailing Club - Clwb Hwylio
http://hafanpwllheli.co.uk/cms/
Our Club meets generally every Thursday at 18.00 at the Pwllheli Sailing Club, Hafan, Pwllheli, Gwynedd, LL53 5YT, North Wales. Tel 01758 614442. This applies for most of the year although details of venues, particularly the August venues, need to be checked and will be found by clicking here on 'Meetings and Events' .
CLICK ON MAP TO ENLARGE THEN BACK BUTTON TO RETURN
Santa Float 2015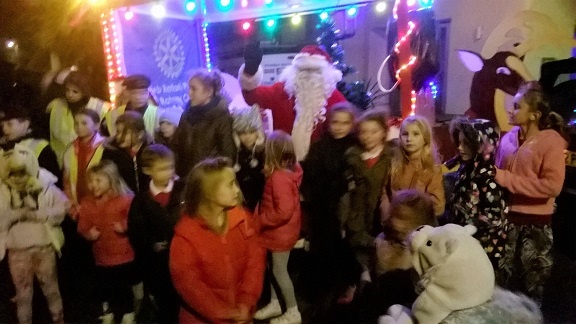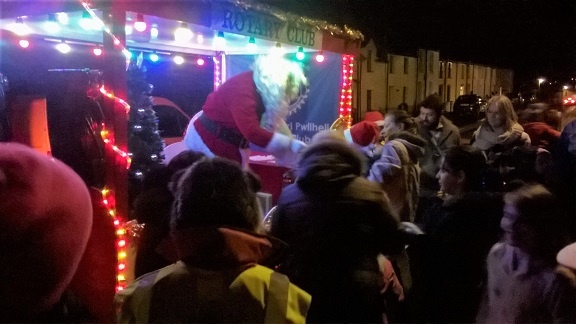 Our Santa Float is one of the main ways that we raise money each year. We visit many of the villages in the area and local groups join us to tour the area and raise funds which go to the helper groups and other local charities.
Young Chef
Rotary International in Great Britain & Ireland believes it is highly important to encourage and develop creativity in young people, and this includes creativity in the kitchen. Cooking amongst young people is a growing interest and a valuable life skill. Schools seem to agree and hence the RIBI Young Chef competition, in association with Filippo Berio, moves forward from strength to strength each year producing some superb quality cooking from our young people aged from 11 to 17. Thousands of youngsters entered in the 2014 and 2015 competition and were shortlisted down to eight after competing in local and regional competitions. The contestants prepared and presented their three course meals for judging by an expert panel including Danilo Trozzi, Fellippo Berio's Head Chef, Lizzie Kamenetzky, Food Editor from Delicious Magazine.The Rotary Young Chef competition is for youngsters who like to cook although first year catering college are also eligible to enter on age qualification. Pwllheli Rotary club have entered this competition for the last six years, in the first two years only one of the two secondary schools in the Pwllheli area entered but in the last four years both secondary schools have allowed their pupils to compete, this has led to record entry this year and a very exciting competition. The two scools have each won the local heat 3 times. The photographs below show the final Pwllheli round with winner Elis Williams and very close runner-up Cerys Williams being watched by Technology teacher Caryl Jones, Glan y Mor Headteacher Menai Jones and judge Chris Chown, a local Michelin star chef.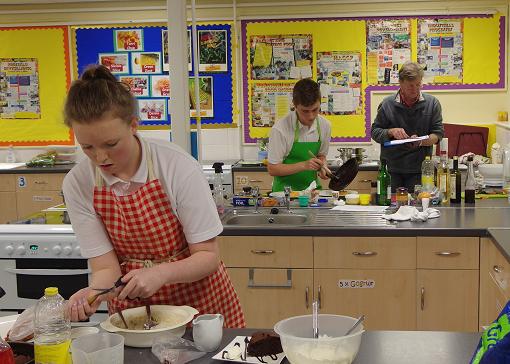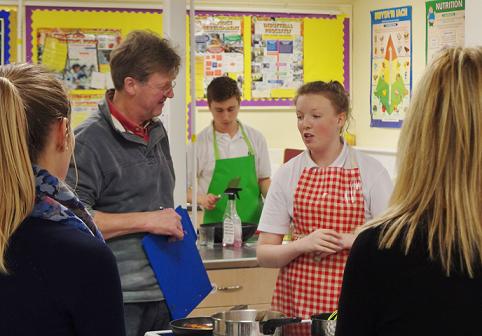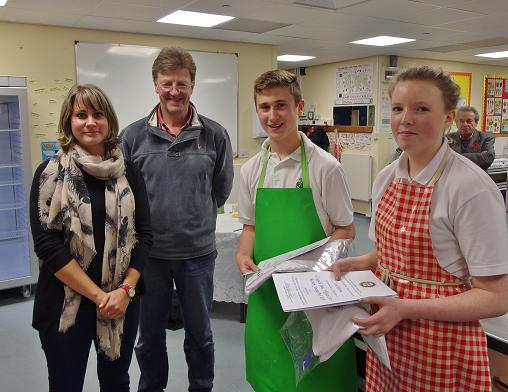 In September we asked the competitors to cook a healthy one course meal, we had competitors from each school and the judges decided that it was only fair to send each one through to the second local round where they cooked two courses. There had to be only one winner this time to represent Pwllheli Rotary Club at the District final at Deeside College . From this next round two contestants are chosen to go forward to an Area final in March. Then in April one winner from this round is chosen to compete at the National Final in April.
Tom Hamblett, last year's winner won a trip to Italy and loads of goodies from the sponsors Filippo Berio and a place on cookery courses. Four years ago the Pwllheli winner won the District final and came second in the Area final to the eventual National winner. Our local competition is judged by local chefs, this year we were so fortunate in having a Michelin star chef, Chris Chown of Plas Bodrgroes, as one of our judges.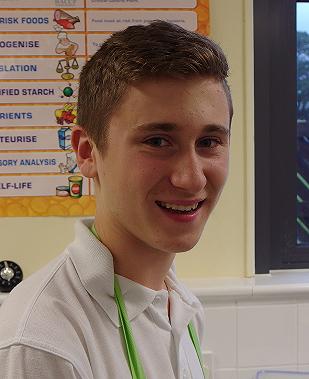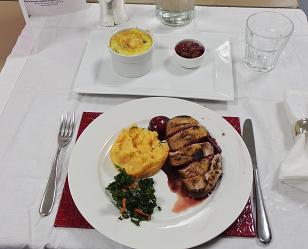 Our winner in 2014, and the one who competed in the next round, is Elis Williams from Ysgol Glan Y Mor, Pwllheli. He cooked pan fried duck breast in a port and plum sauce as a main course and produced a stunning three cheese soufle starter served with apple and red onion chutney. In the next round he had to prepare and cook three courses in two hours and make a table presentation and menu, one portion went to the judges and the other portion was on display. Ellis is 14 years old. Unfortunately, he was not able to progress further on this occasion but, with his young age, he will still be eligible next year.
Rotary Youth Leadership Award (RYLA)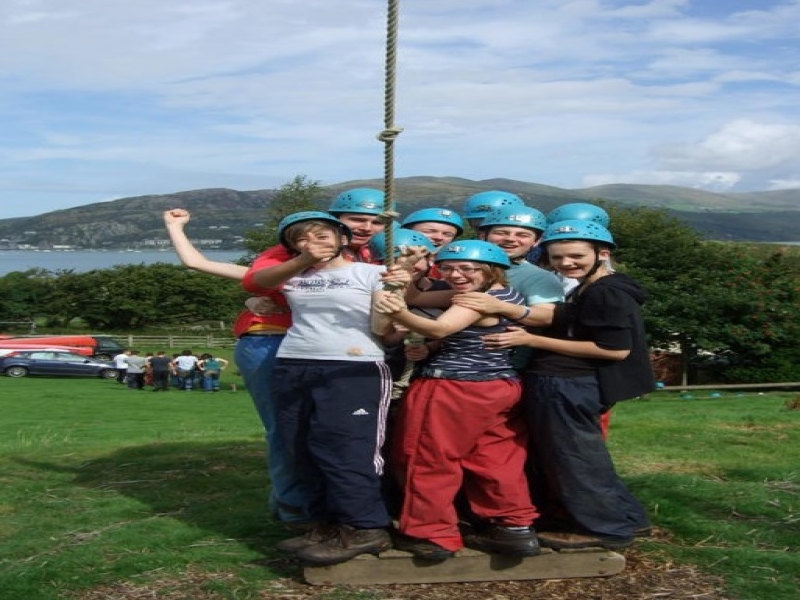 The Rotary Club of Pwllheli is a strong supporter of RYLA and in the last 4 years has sponsored two young people on the course organised by Oswestry Borderland at The Outdoor Education Centre at Arthog on the Mawdach estuary.
The one week course takes place in August each year and 36 young people from District 1180 attend. The course is led by a very experienced leader who gives his services free of charge each year and aims to encourage leadership skills and teamwork through outdoor pursuit activities.
The students we sponsored were selected by the Pwllheli Youth Project CIP which is also strongly supported by Pwllheli Rotary and which is doing some excellent work with Pwllheli's young people. After attending the course the two attendees visit our club to give a presentation about the week and what they had gained from the course.
Without exception, it is abundantly clear from the presentations that they gain some huge benefits from the course. They are always full of enthusiasm and one young man described the week as the best week of his life! It underlined to all rotarians present how worthwhile the RYLA courses are.
Special thanks to Merrick Corfield from Oswestry Borderlands for his work as course director.
If you are interested in participating in next years course, see the RYLA feature accessible from the top left of the home page.
Some of the Scenic Attractions in our area - for more, see the photo galleries.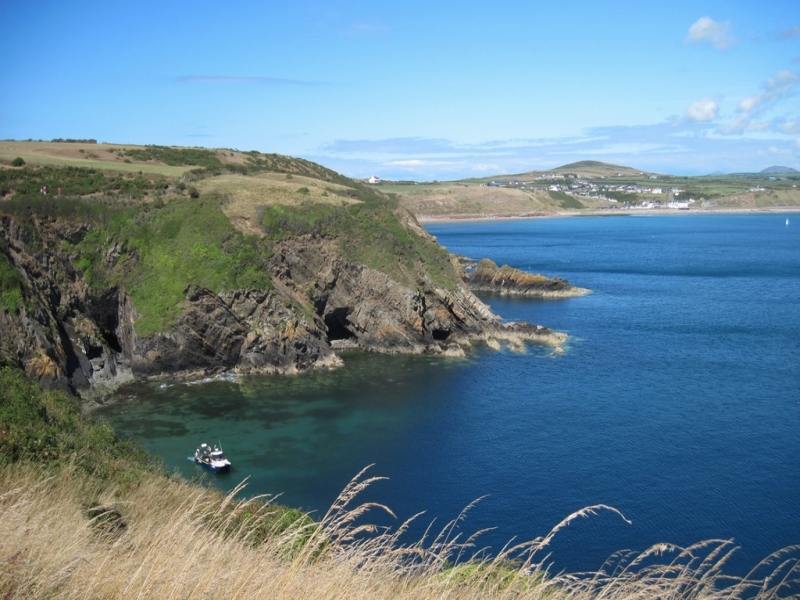 Aberdaron, the most westerly village on the LlÅ·n Peninsula and destination for pilgrims with its ancient church virtually 'on the beach.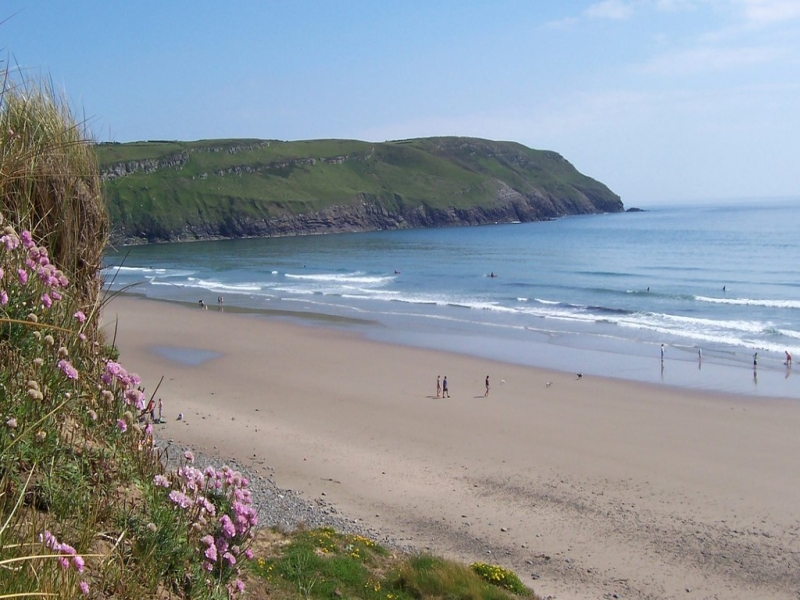 'Porth Neigwl or Hell's Mouth faces south west into the prevailing wind. It could be hell for sailing ships in the past but is now a top surfing location.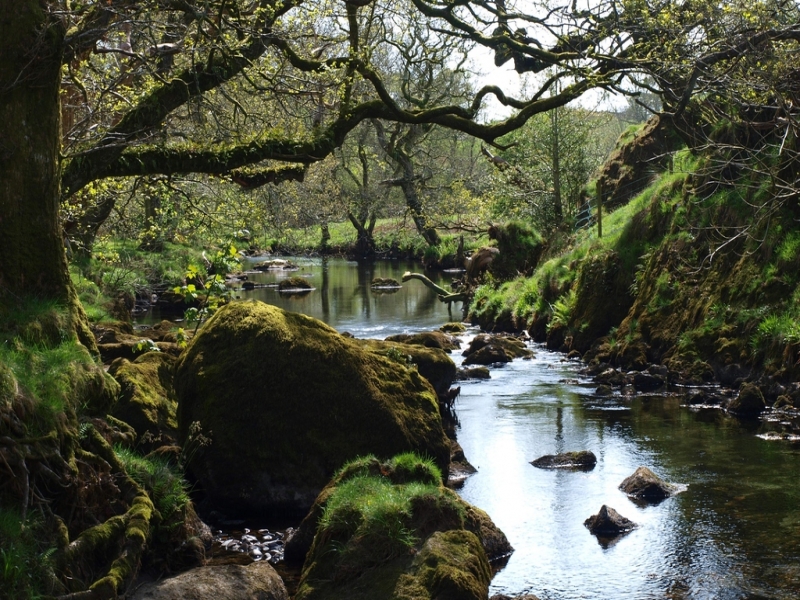 The River Dwyfor flows down a beautiful valley calles Cwm Pennant at the eastern edge of Pen LlÅ·n.


Pwllheli Marina, one of the finest natural harbours in Britain with access at all states of the tide. It is also a top sailing centre with International Regattas and training facilities for the Olympic Games all surrounded on this day by snow capped mountains.
Feedback on this Website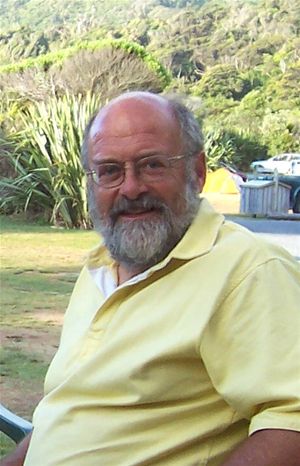 'Content Manager' Ian Wood
This site is under development and we hope the content will change regularly so please keep checking the site. Our 'Content Manager' is Ian Wood who has taken up the challenge of improving our website and would welcome any comments and suggestions.
mailto:it@pwllheli.rotary1180.org
---
Rotary News
Be part of a global network of volunteers, trying to make the world a better place. Please also see the 'links & news' page for information from the local district and live feeds from Rotary International and Rotary International in GB&I.
Family Rotary club use skills to kick-start local charities
---
Rotary members unite to tackle world hunger
---
---
Meetings & Venue
Where and when:
We meet on Thursdays at 18.30
(
but please check this site as we sometimes vary the time and the venue particularly in the months of July, August and September.
)
Pwllheli Sailing Club
Plas Heli Sailing Academy
Pwllheli LL53 5YT
01758 614442