STOP PRESS!

To date the abseil has raised over £160,000 for our charities
---
President Graham's June Message

This is my final President's message, as at the end of June I hand over to Neil McKinley who will be President of the club for the next year. I've really enjoyed my year as president of this brilliant club.

We've had an exciting year with 2 new members joining us; great social events including the barbeque and the Burns Supper; fantastic youth events like the Primary School Quiz, Young Musician and taking part in the Young Technologist competition for the first time. (I won't say anything about our performance in the District Quiz). We had a great trip to the District conference in Harrogate which was particularly successful as Jim and Sandy brought back both the Golf trophies. We awarded two new Paul Harris Fellowships (our club's highest recognition for Rotary and Community achievement) to Liz Mackenzie and Grainger Falconer. Our newest award, the Ron Ainsworth trophy to recognise particular achievements by a young person in the area, was awarded to Beth Mitchell for the work she does working with QCCC supporting elderly people in Queensferry.

And of course our fundraising has been record breaking. The Christmas collections were marvellous; it was great to go round with the sleigh and meet so many of the young (and not so young) children in Queensferry. And it was a privilege to be part of a record breaking abseil this year. Thanks to Network Rail and Balfour Beatty allowing us to access the bridge, 340 people abseiled 165ft from the Forth Bridge down to the beach opposite the Hawes Inn. It was a great day, and, as a change from managing the 'ground activities' on the day, as president I got to present certificates to all the abseilers. It was great to see the (mostly) smiling faces of the people who'd achieved it. And the amount raised by the abseil has been fantastic. The total so far this year (and we're still getting money in) is more than £160,000. That brings our cumulative total over the 8 years to over £600,000 donated to charity. That's a great example of what Rotary can achieve when we put our minds to it!
This summary is only a sample of what the Rotary Club of South Queensferry gets up to. It's been a great year. I know that members of every other Rotary Club will (quite rightly) disagree with this but I like to think that South Queensferry is the best Rotary Club, and it's been an honour to be its President.


Thanks for reading my messages, and good luck to Neil for the year ahead. I'm looking forward to even more variety this year.


Graham Leith, President, Rotary Club of South Queensferry


---
FORTH BRIDGE ROTARY ABSEIL GOES WITH A SWING
Great turn out and good weather boosts funds for many charities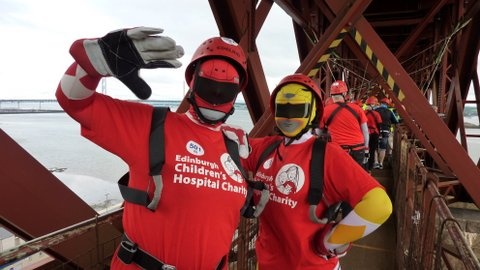 Sunday's Forth Bridge Rotary Abseil, organised by the Rotary Club of South Queensferry, saw 364 intrepid volunteers turn out to drop 165ft from the world-famous landmark in aid of good causes. Now in its eighth year, the event has grown into one of the most significant fundraisers in the district. This year, the principal charities to benefit were The Yard, which provides adventure playgrounds for young people with disabilities, and Age Scotland. Each main charity is adopted for two years and spaces are also made available for supporters to abseil on behalf of many other local and national charities.
Abseilers of all ages in a range of colourful outfits descended from the bridge to the beach watched by friends and supporters. Charlotte Murphy, who had just celebrated her sixteenth birthday, was the youngest entrant.
Not satisfied with the thrill of the General Assembly, two former Moderators of the Church of Scotland and the chief executive of CrossReach, the church's social service organisation, abseiled to raise funds for CrossReach which supports some of the most vulnerable people in Scotland. Russell Barr, John Chalmers and Peter Bailey were congratulated on their descent by current Moderator Derek Browning. Peter Bailey said: 'We saw the event advertised. It was a wonderful opportunity to raise funds and awareness for CrossReach.'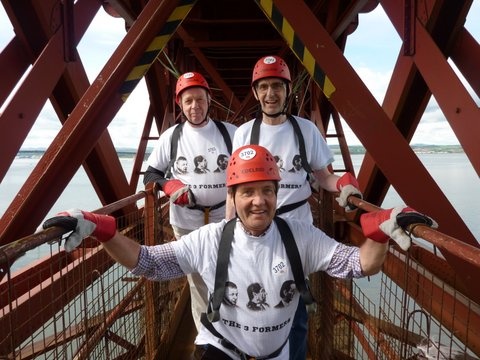 Midwives Hannah Willis and Clare Patterson, from Edinburgh Royal Infirmary, abseiled on behalf of Edinburgh Children's Hospital Charity. Hannah said: 'It was a great experience, though we didn't know quite what to expect.' Clare added: 'We wore face masks so it wasn't too scary looking down.'
Rotary Club President Graham Leith, who presented abseilers with certificates, said: 'It has been fantastic congratulating so many people all keen to take the Forth Bridge Rotary Abseil Challenge on behalf of so many charities. The weather was perfect. It's great that the Queensferry Club can use this amazing bridge, right on our doorstep, to benefit so many good causes. We are grateful to Network Rail for allowing us access to the Forth Bridge, to the hundreds of volunteers who signed up to abseil today and all the people who sponsored them.'
Rotarian Alan McCloskey, event organiser, said: 'I must thank our club members who put so much effort into making the abseil a success Thanks also to the numerous volunteer marshals who helped things run so smoothly. Radio Saltire really kept the day alive with music and commentary.'
Graham Clarkson, chair of the organising committee, said: 'It's wonderful how popular the abseil has become. Last year we passed the half-a-million pounds mark in funds raised since the abseil started in 2010 - a wonderful achievement. We are immensely grateful to Network Rail for making it possible to use the bridge. There was also a charity village in the grounds of the Hawes Inn where participants and spectators could find out more about the charities they were supporting. At the end of the day, the event had raised a magnificent £139,500 and this figure will increase as further sponsorship money comes in. Our partners, The Yard and Age Scotland, worked hard recruiting abseilers and it is gratifying that so many other charities were able to benefit too. The date of next year's Rotary Forth Bridge Abseil will be confirmed as soon as possible.'
Photographs courtesy of Gerald Smith
Our main photo shows Hannah Willis and Clare Patterson who abseiled in support of Edinburgh Children's Hospital Charity.
Inset photo shows John Chalmers, Russell Barr (kneeling), Peter Bailey who abseiled on behalf of CrossReach.
---
---
Rotary Service Awards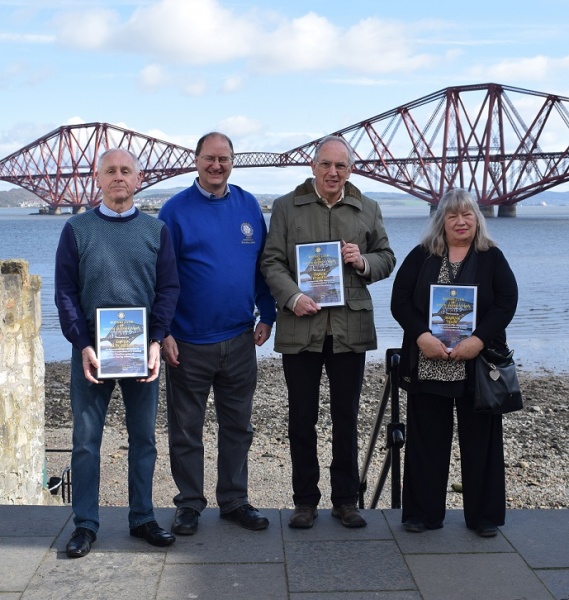 On Saturday morning as part of the first year anniversary celebrations of the CleanFerry group being formed our local Rotary Club President Graham Leith presented 3 Rotary Community Awards to key members of the CleanFerry Team. These were to David Hutcheson for his drive and determination in establishing and leading the group who have collected over 1173 sacks of rubbish across the town in the last 12 months! Also receiving awards were Marina Shaw and Derek Hobson. Marina ( and her mum) and Derek are stalwarts who as well as participating in the regular "litter blitzes" go out each week, often more than once a week, to ensure their "patches" of the Ferry remain litter free . We are indebted to these wonderful volunteers and indeed to all the CleanFerry helpers for keeping our lovely town litter free.
For more photos go to our Rotary Service Awards 2017 page.
Meeting Details
Interested in joining Rotary
In the next 30 days...
Social Media...
Rotary Club of South Queensferry
Promote Your Page Too
Follow @queensferry_s
Meeting Information...
We meet on Thursdays at 1845 (The Club meets at 1845 for 1900 No meetings during Christmas and New Year weeks) The Hawes Inn, Newhalls Road, South Queensferry, EH30 9TA tel: 0131 331 1990