Welcome to the Rotary Club of Plymouth
Welcome to the home page of the Rotary Club of Plymouth. If you are unfamiliar with this widely used club web site design here is some advice on its features.
The centre section provides details about our activities and projects. In particular the top section displays forth coming events or items of interest. Just click on 'Read More' relating to of anything of interest and the full details will be displayed. When appropriate there will be the ability for you to send a message concerning that particular item. Just follow the instructions on the screen.
Across the top of the page there are various links to our activities.
The right hand margin provides details of our forthcoming programme of meetings, events etc. There are also links to other Rotary web sites for example information on membership of Rotary at the foot of the page.
Social Media
There is a direct link to our Facebook page in the right hand column. This is the main source of the latest club activities which we regulaly update. You can also find us on Twitter with the direct link in the right hand column.
Contacting the Club
Please use the 'Contact' at the foot of this page. Ocassionally we do hold events or attivities which are open to non members. These are listed in a sub-menu under "Programme" entitles "Future Diary".


Major Activities
Skills Aid Plymouth
This is a initiative which has been pioneered by the Rotary Club of Plymouth. In the past, we have worked on a year-long basis with a group of up to twenty secondary school students. We have provided them with mentors in a work environment, to help them improve their future career opportunities.
This year, we have opportunity to work with a local media company to run a course for young people aged between 10 and 18 years of age. The course will take place over the Easter holiday period, during April. The aim of the course is that the participants will have a unique opportunity to create a promotional video for the local Special Olympics Plymouth and District (SOPD). This event will provide a creative learning environment for participants to work together on a promotional video to be used widely.
Participants will be provided with the latest video equipment and software to take and edit videos, photos and voice recordings of the athletes, their coaches and the volunteers, who together form SOPD. Mentors will help the participants to develop a variety of skills: video taking, video editing, interviewing, creating a story, team work and self-reflection – all of which can enhance a CV and assist a future career path.
Click on the picture below to watch an example video from the media company Viewhear.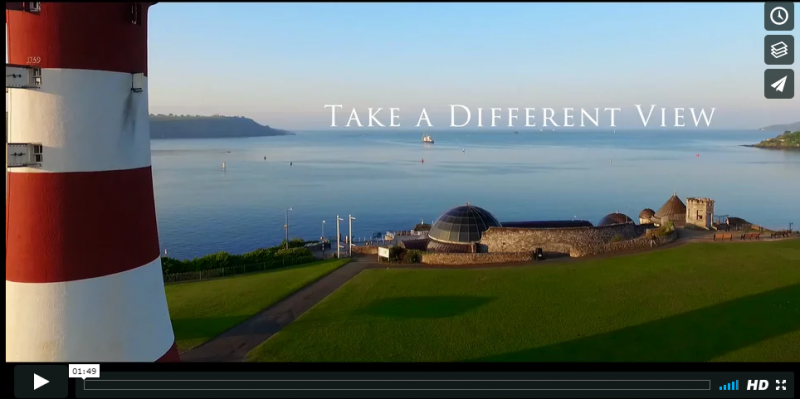 How to Apply
Places are limited and only students who have been accepted may attend. Interested students should send an email to pat.pearce@plymouth.ac.uk as soon as possible.
Put 'SOPD' in the email 'subject' area and give your name, age, gender, school/college and contact telephone number. Your application must include a short paragraph on your reason for wanting to attend this course. All applications will receive a response.
Young Artist of the Year Competition
This is our annual competition which is open to those students in secondary education across the City. There are three categories to enter. Entries are are submitted via the Art Departments at the respective schools/colleges. If you are interested in this competition please use our 'Contact Us' link above and select 'Young Artist Competition'. Judging takes place in November 2017.
Plymouth Food Bank
Club members regularly assist the Plymouth Food Bank in collecting goods at local Tesco stores. We also support events organised by other bodies. These are great fun frequently dressing the part, such as 'Pirates'. These activities have assisted others in raising substantial funds for their specific charities.
Annual Charity Golf Day
Last year this event was held at the Borringon Golf Club, Plympton on 16th September. 13 teams took part with the final results in the balance until the last 3 teams returned to the club house. An all ladies team, Tea's Up' representing Graddon Vending, looked like the team winners but the penultimate team to finnish took took the top prize. This was the all family team representing Shobrook & Co Ltd. For the first time a lady won the individual prize, well done Sarah Shobrook.
A cheque for £2500 was presented to the Plymouth Special Olympics at their annual ball on Saturday 1st October 2016.
Full results can be downloaded by clicking on this: 2016 Golf Day Results
Support for Charities
We also support events organised by other bodies. These are great fun frequently dressing the part, such as 'Pirates'. These activities have assisted others in raising substantial funds for their specific charities.
Our International Committee has had 'Literacy in a Box' as its focus for support. This charity was started by our colleagues at the Rotary Club of Plymouth Roborough. Its purpose is to support schools in rural Zambia with essential educational materials.
In the run up to Christmas we collect in aid of local charities. Each Autumn our club members discuss and select the four or so local charities to support that year. This coming Christmas we will see the re-introduction of the Christmas sleigh. Former members of the Drake Rotary Club, who have now joined us, wish to continue with the use of their sleigh. The sleigh will tour residential areas with collectors being provided by the charities that will benefit from the collection. The sleigh collections will augment those made at three local major super markets.
Meeting Details
Interested in joining Rotary
In the next 30 days...
Social Media...
Rotary Club of Plymouth UK - Devon
Promote your Page too
Tweets by RotaryPymouthUK
Meeting Information...
We meet on Mondays at 1pm (When there is a 5th Monday in a month we vary location & timing of the meeting.) The Royal Western Yacht Club of England,Queen Anne's Battery. PL4 0TW tel: 01752 660077