Newton Abbot Rotary Club (NARC) founded in 1922 still has a thriving membership of over 50 men and women from a wide range of professions, businesses and organisations who all share a common interest in helping others.
Each member enjoys business as well as social networking opportunities, whilst giving something back to those less fortunate, learning new skills and joining in at social evenings with partners. With over 90 years of serving the local community, the club has raised and donated many thousands of pounds, shared skills and knowledge to charities and social organisations.
TIME FOR LIFE PROJECT
Members of the Rotary Club of Newton Abbot one cold Sunday in February supported the Time for Life project organised by Vicki Hutchinson by transporting local people to and from a local Pub & Restaurant.
The Time for Life project is designed to help and support those over 65 and their carers, to reduce isolation, increase confidence and maximise their quality of life.
Rotarians were pleased to have made the event such a success and it was a fine example of Rotary serving the community.
Pictured* RCNA Community Chair Tracey Cunningham who coordinated the transportation with Rotarians and the Time for Life team.
*(Back Row first on right )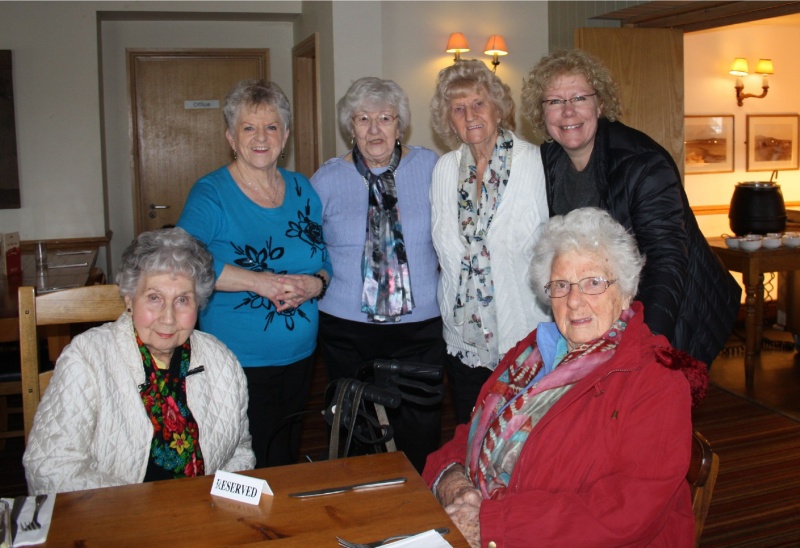 Young Writer Competition 2017



This National Young Writer Competition is a well-established and successful competition promoted by Rotary International in Britain and Ireland (RIBI).
It is a three-stage competition designed to support and encourage development of writing skills.
More info: https://www.rotary-ribi.org/clubs/page.php?PgID=622336&ClubID=1047
Corporate Membership update
RCNA enrol their 7th Corporate member – Charles Royle IFA , taking the club membership over 50, for the first time for 30 years.
Nick Richards and John Mills from Newton Abbot based Charles Royle & Co. join the ranks of Rotary. In other news, Robert Ferry from Santander has taken over as the Primary member for Santander Bank (Newton Abbot).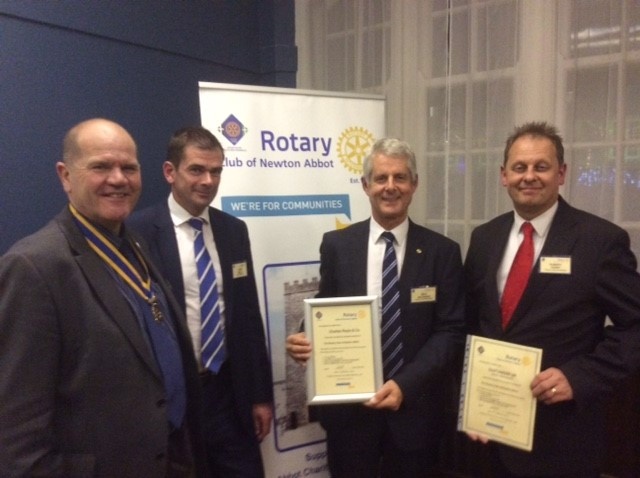 Pictured: President Martin Smith (PHF), John Mills, Nick Richards & Robert Ferry.
'Youth Speaks' 2016-17
Local schools Coombeshead Academy, Newton Abbot College and Stover School entered the Rotary 'Youth Speaks' competition, fielding 8 teams.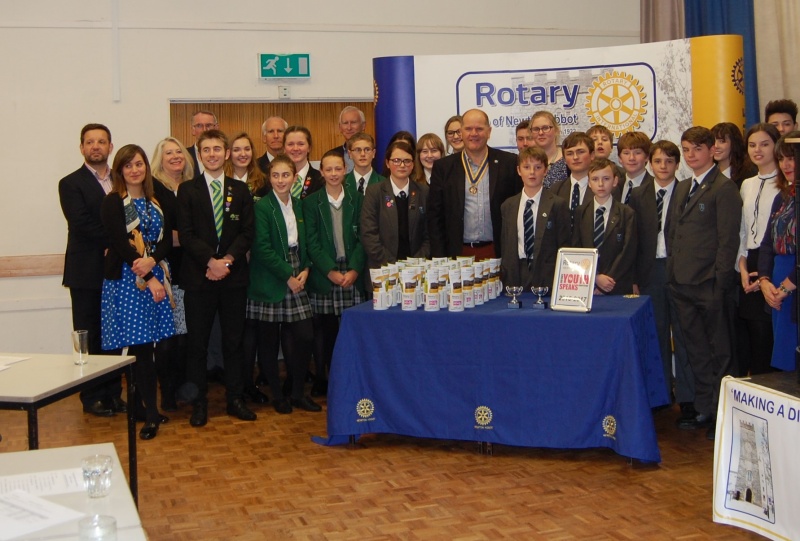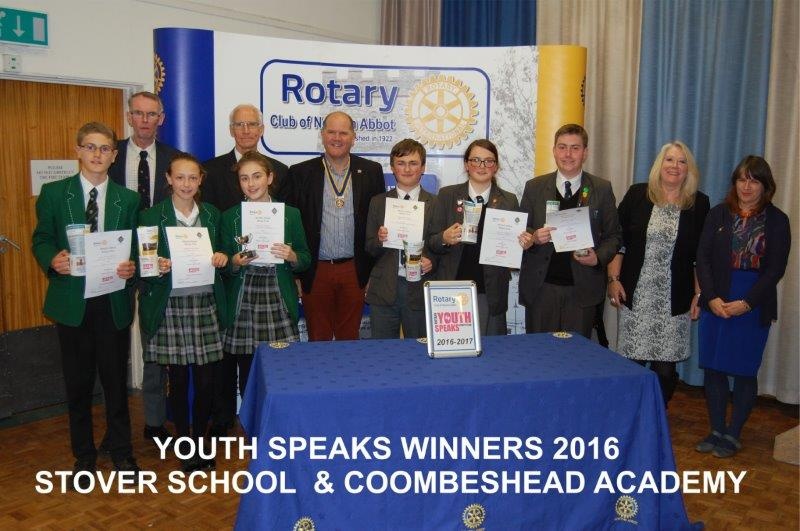 The winners will be going through to the next South West heat in early 2017.
Collection for Haiti
On the 15th October, club members made a collection in Neton Abbot for Shelterbox to help the people of Haiti.
It was raining most of the day limiting the footfall but the people of Newton Aboot were as generous as ever - the club collected £517, which has now been sent on to Shelterbox.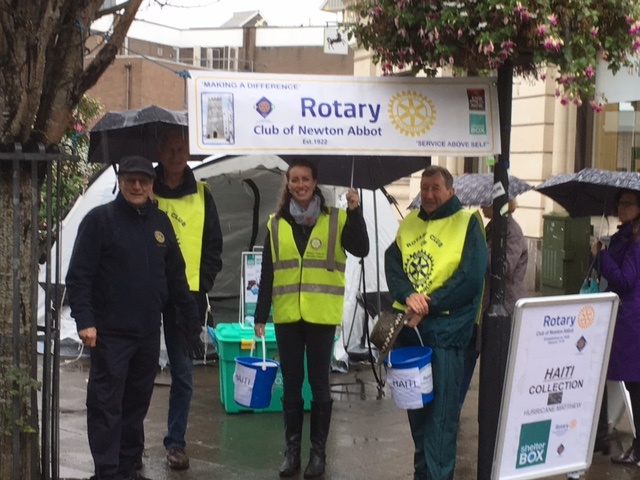 Pictured Rotarians: Keith Smith, Anthony Johnson, Rhoda Honey and Hugh Anderson
RCNA donates to 'One Step At A Time'

The Rotary Club of Newton Abbot recently made a donation to a football team of Ugandan street children who are being looked after by the UK charity One Step at a Time (OSAAT).
The money was originally given to pay for the cost of sending the team to a competition, but was actually spent on providing the children with birth certificates, which they needed to qualify. These are children who were born in the jungle, many being taken at a very young age to fight for rebel groups. Before OSAAT found them they were having to subsist by selling any scraps of metal and plastic that they could scavenge. The OSAAT United football team was established as a way of improving their self-esteem.
Here is their update:
In September, the under-17 OSAAT team qualified for a regional competition. As one of eighteen teams they won 5 of the qualifying games, drew one 0-0, but sadly lost 1-5 in the final.
In October members of the team were selected to play in a Northern Uganda competition, which they won.
Four of the OSAAT players have now been selected to play for Uganda in the under-17 national football team.
The team would like to thank the Club for their support.
Rotary Club of Newton Abbot 9th Annual Business Golf day - 30th Sept 2016
100 golfers making up 25 teams supported the RCNA annual business golf day to raise funds for two local charities: The Buckland Community Centre Association and Rowcroft Hospice.
The day staged at Dainton Park Golf Club, was a great success with over £4,500 raised enabling RCNA President Martin Smith to announce that donations of £1,500 were given to the charities and that the balance would go to the club's trust fund to support the many other local charities.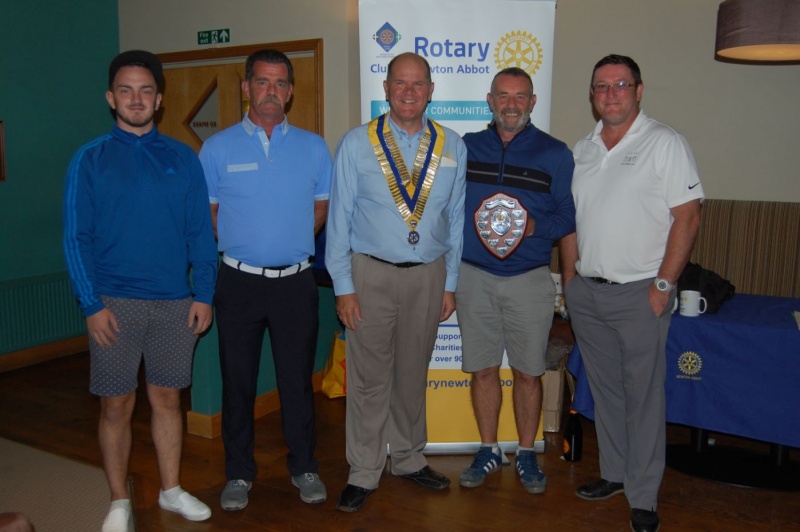 Winners of the day were System6 Kitchens led by Nigel Jones with 124 points, closely followed by the team from Off Zero with 123 points.
Organiser Corporate Rotarian Clive Meredith of local solicitors Wollen Michelmore thanked everybody for attending and their generosity and good humour.
He also acknowledged the help of Rotarians and partners – particularly with the array of home cooked cakes and refreshments on the 8thhole, fun competitions on 10 holes, a Beat The Pro, Putting Competition and a guess where the Presidents drive went!
NEW PRESIDENT
Martin Smith takes over as Club President from Catherine Strigner



---



KNOW YOUR BLOOD PRESSURE IN NEWTON ABBOT
117 Blood Pressure Tests , carried out in conjunction with the Stroke Association, 21 with extremley high blood pressure



SPRING GOLF DAY RAISES £5,000
Local charities Children & Families in Grief , Kingsteignton Youth Centre and the Dartmoor Pony Heritage Trust, were the beneficiaries of the charity golf day.The money raised was matched by corporate members SANTANDER.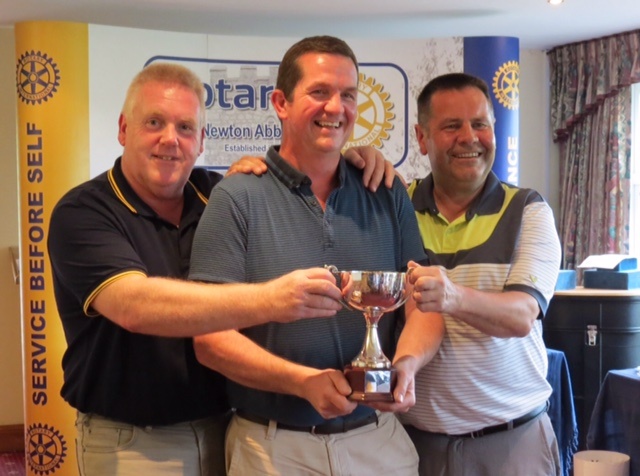 Winning Team Actavis from North Devon.

COLLECTING FOR SHELTERBOX
Rotarians collecting in Newton Abbot in aid of Shelterbox on April 13th, not knowing that just three days later there would be two Earthquakes
Shelterbox are in - in Japan and Ecuador assessing the needs.



FIRE WALK RAISES £14,000 for 24 CHARITIES & GOOD CAUSES


Young Keira Sherwood braves the Hot Coals all in the name of charity.

65 Fire Walkers took part in the event on the 18th March 2016 at
Buckland AFC in Newton Abbot
Meeting Details
Interested in joining Rotary
In the next 30 days...
Social Media...
Follow @RotaryNARC
Rotary Club of Newton Abbot
Promote your Page too
Meeting Information...
We meet on Tuesdays at Meet for 18:00 - Meal 18:30 pm (On the 5th Tuesday in a month we sometimes "scatter" and visit other clubs. [TO CONTACT CLUB - email fredalloyd51@gmail.com / martrcna@outlook.com]) Hannahs at Seale Hayne
Newton Abbot
Devon
TQ12 6NQ tel: 01626 325800