Featured pages
Rotary Club of Newton Abbot - welcome! Please scroll/swipe down through this page to find out more about us, in addition to the pages linked in the menu, top-left.
---
About us
Newton Abbot Rotary Club (NARC) founded in 1922 still has a thriving membership of over 60 men and women from a wide range of professions, businesses and organisations who all share a common interest in helping others.
Each member enjoys business as well as social networking opportunities, whilst giving something back to those less fortunate, learning new skills and joining in at social evenings with partners. With over 90 years of serving the local community, the club has raised and donated many thousands of pounds, shared skills and knowledge to charities and social organisations.
Rotary Help for the Stroke Association
Members of Newton Abbot Rotary Club spent a Wednesday supporting the Stroke Association with their 'Know Your Blood Pressure' Day her in the Town Centre.

The main aim of the Rotary Club was to encourage people to have their blood pressure taken by Stoke Association experts and 50 people did just that. Though this wasn't the main aim of the day, through the generosity of people during the day we were also able to raise just over £70 which was donated to the Stroke Association. They said they were extremely gratified with the help of the Club and the response from the public. Rotary Club President Kerry Larbalestier said that members were keen to help in a whole range of activities to assist in the wider community.
Rotary Mental Health Day
The Club brought together a number of organisations at its regular meeting to look specifically a mental health in our community. Club President Kerry Larbalestier said that the importance of mental health was becoming more and more recognised as a significant an issue as physical health.

To Start this conversation within the Club, representatives of Citizen's Advice Teignbridge, the Royal College of Psychiatrists, Young Devon, The Mental Health Muscle Crew and Torbay, S & W Devon Mental Health Team all gave a short talk setting out how they operate and the help they provide to benefit their client.

Sincerely thanking all the speakers, President Kerry said that severe mental health illness has been on the rise since the early 1990s and society is becoming more and more aware of the need to address this in the wider health debate. As a Club, she added, we now aim to enhance the links established at the meeting in order to develop mental health related initiatives – very much in line with the Rotary ideal of service in the community.
Another successful Rotary Golf Day!

In fine golfing weather, the Rotary Club held another very successful Spring Golf Day at Stover Golf Club. Now in its amazing 23rd year, the Charity Golf Day has developed an enviable reputation and this year 32 teams, totalling 96 golfers entered from across the County. Many thanks to John Born for efficiently running this event for another year. It was great so have so many golfers together to enjoy the day - a well regarded event in the world of charity golf. John was ably assisted by his deputy, Nick James and a team of helpers though his efforts to build this up over the years into a well structured event merits special mention.
The Rotary Golf Day raised a total of just over £3,500 with the support not only of the golfers but of many local businesses and organisations. With this tremendous goodwill behind us, we are able to combine a great day of golf with the opportunity to provide local charities with much needed financial help. Two local charities were identified to benefit from the money raised, Rowcroft Hospice and Citizens Advice Teignbridge. Debbi Sholton from Rowcroft accepted a cheque for £1000 on behalf of the hospice and Andrew Wilson, Chair of Citizens Advice Teignbridge, also accepted £1000.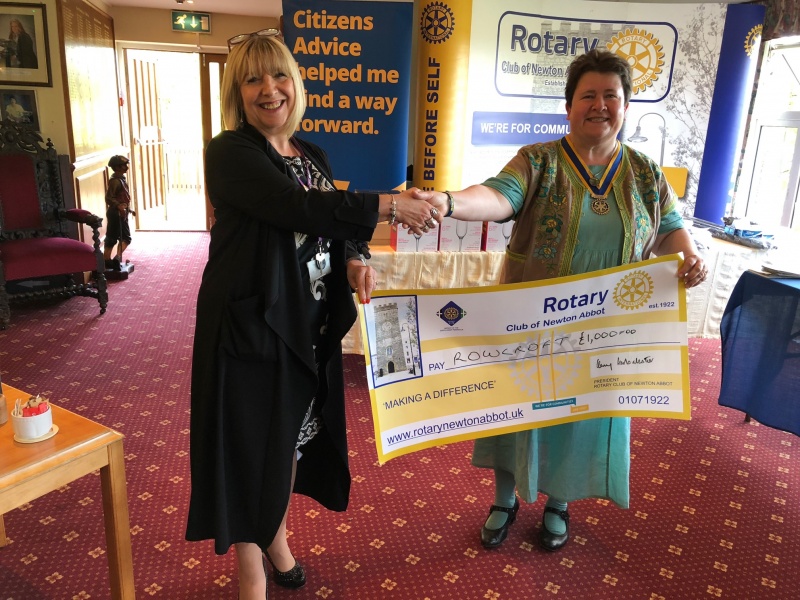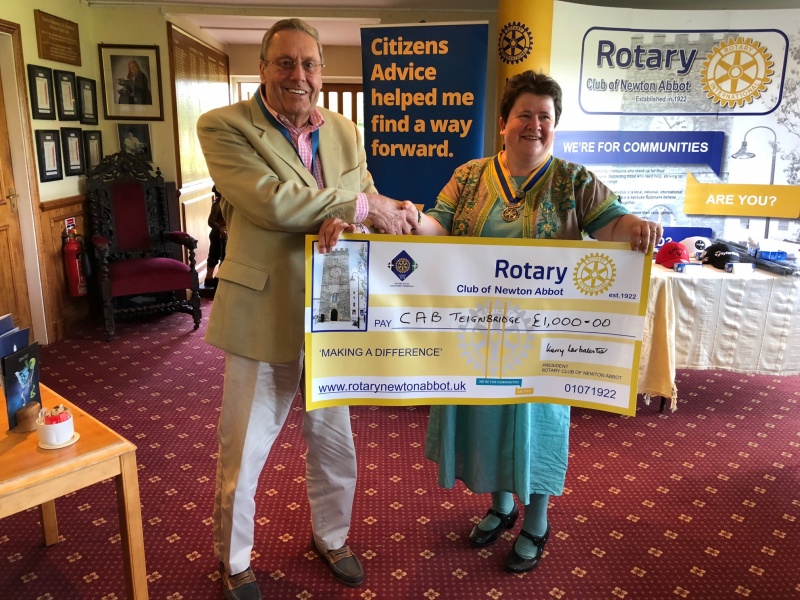 Andrew wrote a very kind follow up to thank the club and other guests and said he was 'delighted to see that, once again, this annual event went so well. My congratulations to John and his team for organising such a prestigious tournament.' Rotary Club Newton Abbot has been an avid supporter of Citizens Advice Teignbridge's home visit service and Andrew also expressed his and his colleague's gratitude for the club's generosity in helping to launch the pilot scheme Pam and Ralph from The Dartmoor Pony Heritage Trust's 'Fresh Tracks' project were also there to accept a cheque for £500.00 from part of the raffle proceeds. Raffle ticket sales broke new records, exceeding £900.00!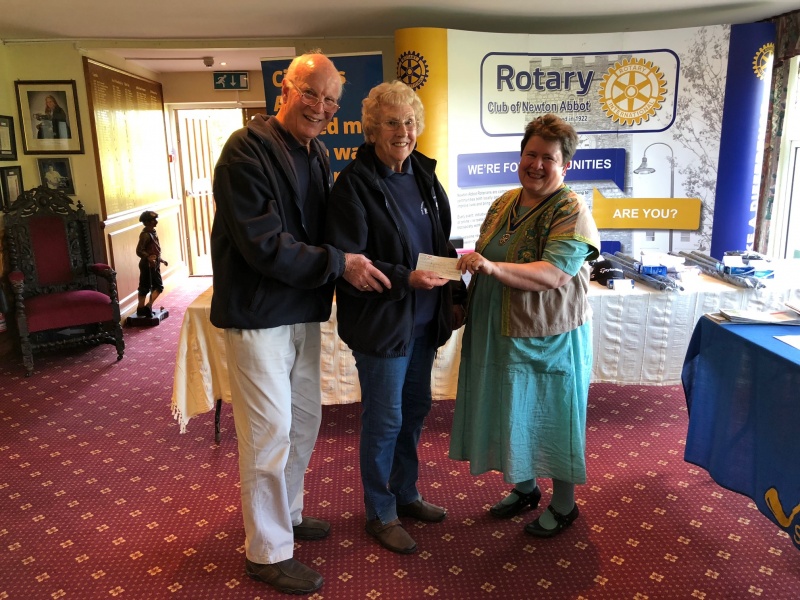 As well as prizes for the overall individual and team winners Club President Kerry handed out prizes to the winners of the various competitions held across the day. The golfers once again commented on a very well organised and friendly day's golf and looked forward to the next one!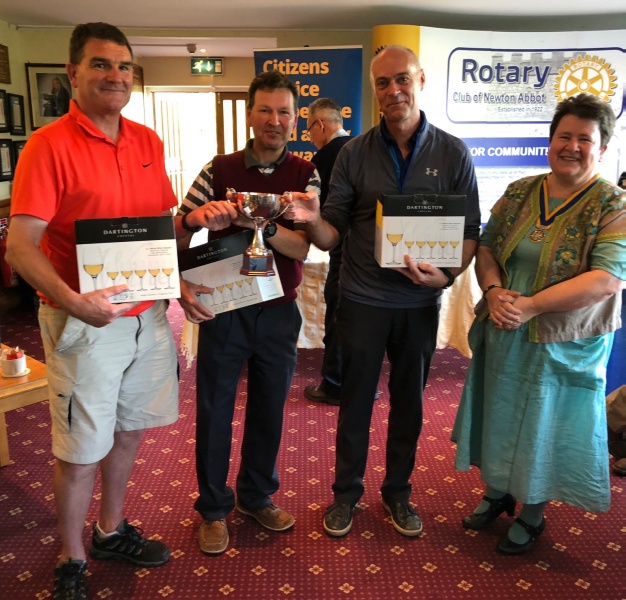 Overall winning Team - the "Saunton Sausages" - comprised of John Deacon, Barry Buller and overall Individual winner Ross Hunter.
Visit to Harcombe House Firefighters Charity

A group of Rotarians recently visited Harcombe House near Chudleigh, the SW base of the Firefighters Charity. An Edwardian villa, it surrounded by acres of gardens and parkland to explore, and has been owned by the Firefighters Charity since 1981 – though few of us in our group knew much about it.




Our visit allowed us to see their full range of facilities and showed what Harcombe House does for Firefighters and their dependents. The dedicated multi-disciplinary team offer rehabilitation to firefighters and their families with physical or psychological needs, whether recovering from injury, illness or trauma.

During the visit and talk, we were treated to refreshments at their little café run by volunteers and open to the wider public from 10.00 a.m. to 4.p.m. Thursday to Sunday.

We donated £100.00 at the end of our visit, but more importantly want to use our voice to let locals know about this wonderful centre supporting a vital emergency service.

The Royal Navy speaks to Rotary

Rotary members at a packed meeting on 27 February enjoyed an interesting and hugely informative talk about today's Royal Navy. This time joined by a number of partners, Rotarians heard Lt Cdr Peter Imrie and his team give a detailed presentation showing in detail how the 5 services that make up the Royal Navy work towards the common goal and demonstrating their significance operating across the world in the 21st century.

They answered a whole range of follow-up questions, Vice President Richard bringing the meeting to an end, thanking them for such an interesting meeting.

Santa's Christmas collection

Santa, his reindeer and Rotarian helpers brought real colour and fun to the Town Centre again this year. There was great delight as he slowly travelled along in his sleigh waving to all the children and shoppers, bringing excitement to the many children who stopped to gaze opened mouthed or were brave enough to talk to Santa.

Community Transport Manager, Kay Yendall and Shopmobility Co-ordinator, Lynn Atkins said that the Rotary Club had generously supported Community Transport over the years and once again they were excited to be able to support Rotary by the loan of a mobility scooter for their Christmas street collection. The Shopmobility scooter transformed into a Santa's sleigh and reindeer was just amazing; a real bit of Christmas joy.

Club President Kerry thanked Newton Abbot Community Transport for the loan of the scooter and said that it was a great way for Rotary and the charity to get together for the local community. She also thanked the people of Newton Abbot, once again, showing the wonderful generosity with their yuletide donations – all to be aimed at the local community.




Newton Abbot Rotarians held their Christmas Collection in support of the local community with Santa leading the way in his reindeer sleigh – Santa's sleigh a brilliantly converted mobility scooter!

Good Citizen Award 2017




Club President, Kerry presented the Rotary Club's Good Citizen Award 2017. This year there presented to two people, a couple Roy and Christine Holmes, the main driving force behind Buckland Athletic Club.

Presenting the award and a cheque for £250, Kerry said that she was sorry that Roy was unable to attend the meeting but said this award recognised the huge contribution they had both made to local sport and the Club's unstinting support of local charities.

Buckland Athletic Football Club was founded in 1977 and has grown and developed so that they have relocated and built their own clubhouse and playing fields at Homers Heath – building and extending their pitches with a committed band of 20-30 volunteers.

Kerry and the Rotary Club Treasurer presented a cheque for £250 which Christine Holmes said was earmarked for Rowcroft Hospice, the charity the club was supporting this year.

Rotary Youth Speaks competition 2017 round up

Newton Abbot Rotary Club held their annual Youth Speaks competition on 20th November at The Courtenay Centre, with teams from Stover School and Teign School taking part. The teams each picked a subject to present to the judges who were made up of Newton Abbot Rotarians, Kerry Larbalestier, Robert Thompson and Anthony Johnson.

The questioner for the fourth year was Roger Kirk – Ex Principal of Dawlish Community College and co -founder of The Helen Foundation. Stover's team posed the question 'Should the laws restricting euthanasia in the UK be changed?' whilst Teign School presented on 'The Negatives of Social Media'.

Stover's winning team comprised Lewis Crump, Ioana Radulescu and Isidora Lazic, whilst Poppy Evans, Anna Langabeer and Lily Seymour represented Teign School. The next stage of the competition - the South West Area heat - will be held in February in Plymouth.

RCNA President Kerry Larbalestier presented certificates and commemorative mugs to all the competitors and a trophy to both teams. She complimented the teams on their very topical choice of subjects and the high standard achieved and thanked the teachers for their dedication to supporting the students. She also noted that - although it can be nerve-wracking! - the competition provides a great opportunity for youngsters to experience public speaking and demonstrate their presentation skills, which will always serve them well in the future. Rotary South West is currently reviewing the competition to make sure it continues to be as relevant and useful to today's students as possible.




The picture shows: in the back row, Roger Kirk and judges Robert Thompson and Anthony Johnson with Club President Kerry Larbalestier in the front row, alongside the teams from Stover and Teign Schools and the event organiser, Jacky Bennett.

CAB Teignbridge & RC Newton Abbot partnership

Rotarians Martin Smith & Tony Dempster recently joined the board of trustees for Citizens Advice Teignbridge.

Tony Dempster will be representing the Rotary club of Newton Abbot who have been granted corporate membership of CAB. Martin Smith will be tasked to seek additional funding and promote the charity.

Welcoming both new trustees, chair Andrew Wilson spoke of the importance of greater partnership involvement to improve the awareness of the charity. "working alongside rotary will provide a new & exciting opportunity to use their skills & experience & raise our public profile. Too many people still regard cab as a government department whereas we are an independent local charity" Vincent Willson, chief officer of citizens advice Teignbridge in welcoming the involvement of rotary, spoke of the increasing complexity of the enquiries received by citizens advice. "we provide advice to about 22 people a day in Teignbridge, about 6,000 people last year with over 14,000 issues. Because of complexity of these issues we are seeing individuals more frequently, particularly in relation to welfare issues. The more support we can receive from local organisations, the better, as we gear up for further expected demands on our services in the coming months, particularly with the roll out of universal credit in Teignbridge in 2018."

Pictured:- Tony Dempster RCNA, Angie Farleigh(Trustee), Martin Smith RCNA, Andrew Willson (Chair Cab) Neil Howell (Trustee), Lynne Baker ( Advice Services Manager),Roger Randall (Trustee & Treasurer) , Linda Randall (Trustee ), Vince Willson (Chief Officer).

Martin Smith added "rotary and citizens advice Teignbridge have similar goals, assisting members of the local community who are needing a little help with their day to day challenges, so many charities are chasing the same pound it just makes sense to share time and talents. Rotarians work with many different charities and social organisations as trustees, or helpers always on a volunteer basis remembering the Rotary ethos of "service above self"."

This further expands the RC of Newton Abbots ambitions to interact with different organisations and businesses. Chair of Teignbridge CAB Andrew Wilson was recently inducted as an honorary member of RCNA, at the same time Hannah's@ Seale Hayne joined as corporate members. The RCNA now have 8 corporate member organisations – local businesses just wanting to make a difference.

Membership now stands at over 60, with likeminded men and women from all walks of life and backgrounds ranging from 30 years to 80+ years of age.

To find out more about citizens advice Teignbridge look at their website: www.citizensadviceteignbridge.co.uk

RCNA are Skittles Champions!

Three Rotary skittles teams travelled to Launceston to take part in the final of the District Skittles Competition, a knock-out match between teams from the Rotary Clubs of Padstow, Holsworthy and Newton Abbot.

Our team of six were the winners of the SW Rotary Skittles Championship! It was a very close right up to the last throw and they were the winners by just one point.

The Great Rotary Wheelbarrow Race - Newton Abbot Carnival 2017

The inaugural Newton Abbot Rotary Club Wheelbarrow race was on Saturday July 2017 at Courtenay Park Newton Abbot.

Over £1,000 raised for local charities including Children Hospice SW, Rowcroft Hospice, Citizens Advice Centre, Hospiscare and Meadowside Residential Home. Local businesses were very supportive in particular Brandon Hire for donating the wheelbarrows with corners and games sponsored by Dainton Park Golf Club, Fermoy's Garden Centre, Newton Abbot Chamber of Commerce and many more - enabling the RCNA to donate £500 to the Carnival charities.

Corporate Rotarians Charles Royle & Sherwoods joined the six teams negotiate the 230mts course over 60 minutes with Sherwoods winning having completed 44 laps.

The Mayor of Newton Abbot Ann Jones presented the prizes after the race.

Organiser Rotarian Martin Smith confirmed that given its success the RCNA will be back next year to do it all again with a few small changes to make it even better and it might also include a Juniors Race.

VIDEO: https://youtu.be/HU04ZPVg03A




Presidential Handover 2017

A message from new RCNA President, Kerry Larbalestier

"Dear All,

First of all I have to repeat my thanks to Martin for all he has done for the Club in his year as President. I am very pleased he will continue to serve on Club Council, not just in his role as Immediate Past President, but also as Chair of the Member Group, so he can continue his amazing work in recruiting members to our Club. The[re] are enormous shoes for me to follow but I will do my best…

I am very proud of the fact that as we head in our 10th Decade as a club towards our 100th Anniversary, our numbers are growing and we are becoming more diverse in our age range and more balanced in the male/female ratio. Our welcome to guests and visitors is apparently noted throughout District and one of my aims is to ensure we retain that quality as a friendly Club. This all led to District Governor Stephen Lay turning to us both at the start of the meal and commenting on what a buzz our Club had.

[We had] an emotional moment when he presented the Honorary Membership to PP and PHF Ken Hicks. The DG was able to salute a long serving and dedicated Rotarian, and made it clear what a privilege it was for him to undertake that task."

- A thoroughly enjoyable and eventful handover day!

Latest Member inductions - Hugh Mills & Gaye (Corp) and Geraldine Gaskell

President Martin Smith is delighted to induct our new corporate members Hugh Mills Gaye - Darren Lapthorn is the Primary member and he will be supported by corporate associates Alan Baker-Bright & Andy Nolan.

It was also a pleasure to induct Geraldine Gaskell, who is keen to be involved in the club.

Young Writer Competition 2017 - UPDATE

NEWTON ABBOT YOUNGSTER WRITING SUCCESS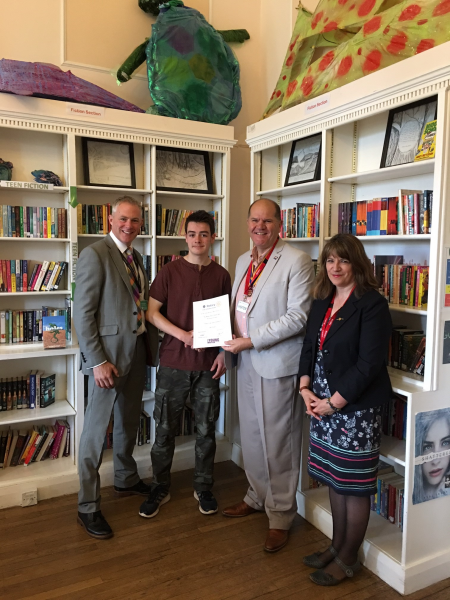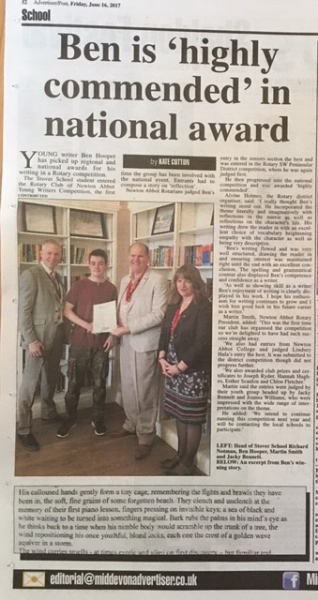 Ben Hooper a student from Stover School entered the Rotary Club of Newton Abbot , Young Writers Competition.
This is a national competition run by Rotary in Great Britain and Northern Ireland offered by the 1,800 clubs, entrants had to compose a story with the subject being 'Reflection' on one side of an A4 sheet. Newton Abbot Rotarians judged Bens entry in the seniors section the best and was entered in the Rotary SW Peninsular District competition and was again judged first. He then progressed into the national competition and was awarded Highly Commended, The Rotary District organiser Alvine Holmes said " I really thought his writing stood out . He incorporated the theme literally and imaginatively with reflections in the mirror as well as reflections on the character's life. His writing drew the reader in with an excellent choice of vocabulary heightening empathy with the character as well as being very descriptive. Ben's writing flowed and was very well structured, drawing the reader in and ensuring interest was maintained right until the end with an excellent conclusion. The spelling and grammatical content also displayed Ben's competence and confidence as a writer. As well as showing skill as a writer Ben's enjoyment of writing is clearly displayed in his work. I hope his enthusiasm for writing continues to grow! I'd be very pleased if you could pass on my congratulations to Ben and wish him good luck in his future career as a writer!"
Newton Abbot President Martin Smith added, "This was the first time our club have organised the competition so are delighted to have had such success straight away. We also had entries from Newton Abbot College and judged Lindsey Hula's entry the best it was submitted to the district competition though did not progress further we also awarded club prizes and certificates to Joseph Ryder, Hannah Hughes, Esther Scanlon and Chloe Fletcher. Our entries were judged by our Youth Group headed up by Jacky Bennett and Joanna Williams, both were impressed with the wide range of interpretations on the theme. We intend to continue running this competition next year and will be contacting the local schools to participate, we also have a very successful Youth Speaks Competition both competitions encourage youngsters to express themselves and build on their life skills"
Pictured (from Left) Head of Stover School Richard Notman, Ben Hooper, Martin Smith, Jacky Bennett.
Golf Day


RCNA AWARD A PAUL HARRIS FELLOWSHIP


Assistant Governor John Page presents the Paul Harris Fellowship to Rotarian Lynn McElheron at Club President Martin Smiths - Presidents Night at Dainton Park GC.

The Paul Harris Award is made to those who in the opinion of Rotarians have made a significant contribution to the community.
TIME FOR LIFE PROJECT
Members of the Rotary Club of Newton Abbot one cold Sunday in February supported the Time for Life project organised by Vicki Hutchinson by transporting local people too and from a local Pub & Restaurant.
The Time for Life project is designed to help and support those over 65 and their carers, to reduce isolation, increase confidence and maximise their quality of life.
Rotarians were pleased to have made the event such a success and it was a fine example of Rotary serving the community.
Pictured* RCNA Community Chair Tracey Cunningham who coordinated the transportation with Rotarians and the Time for Life team.
*(Back Row first on right )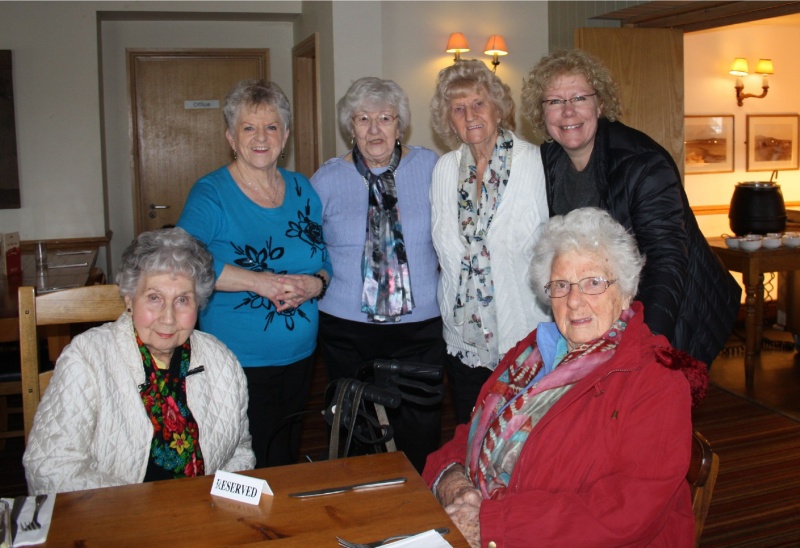 Young Writer Competition 2017



This National Young Writer Competition is a well-established and successful competition promoted by Rotary International in Britain and Ireland (RIBI).
It is a three-stage competition designed to support and encourage development of writing skills.
More info: https://www.rotary-ribi.org/clubs/page.php?PgID=622336&ClubID=1047
Corporate Membership update
RCNA enrol their 7th Corporate member – Charles Royle IFA , taking the club membership over 50, for the first time for 30 years.
Nick Richards and John Mills from Newton Abbot based Charles Royle & Co. join the ranks of Rotary. In other news, Robert Ferry from Santander has taken over as the Primary member for Santander Bank (Newton Abbot).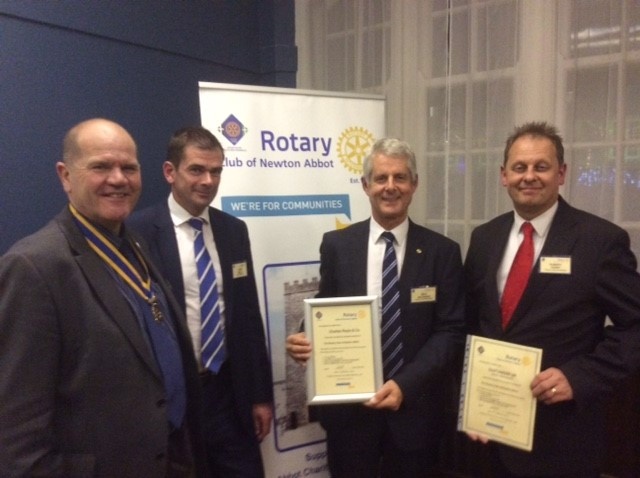 Pictured: President Martin Smith (PHF), John Mills, Nick Richards & Robert Ferry.
'Youth Speaks' 2016-17
Local schools Coombeshead Academy, Newton Abbot College and Stover School entered the Rotary 'Youth Speaks' competition, fielding 8 teams.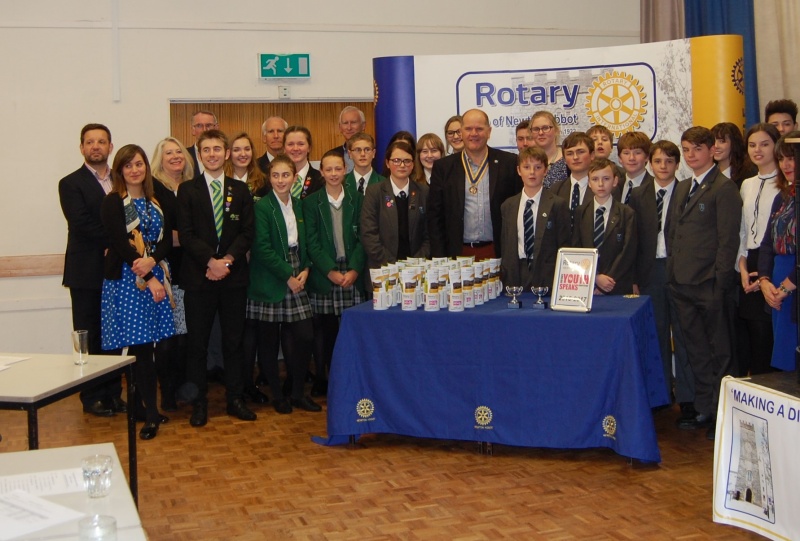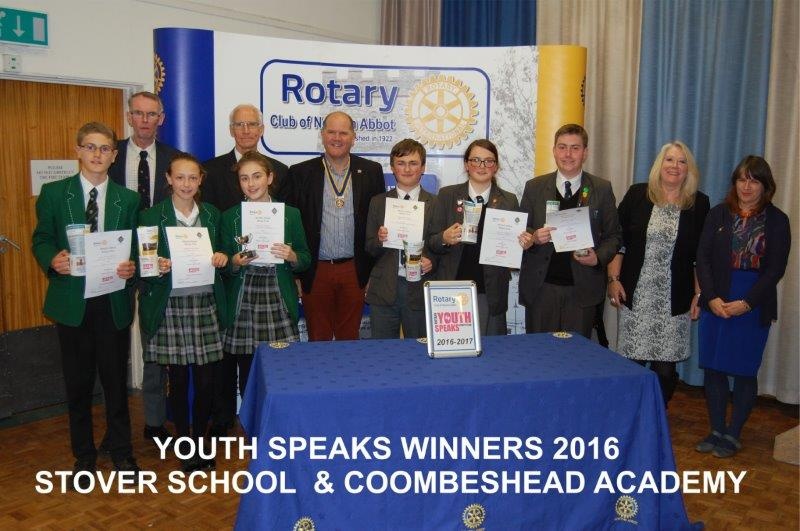 The winners will be going through to the next South West heat in early 2017.
Collection for Haiti
On the 15th October, club members made a collection in Neton Abbot for Shelterbox to help the people of Haiti.
It was raining most of the day limiting the footfall but the people of Newton Aboot were as generous as ever - the club collected £517, which has now been sent on to Shelterbox.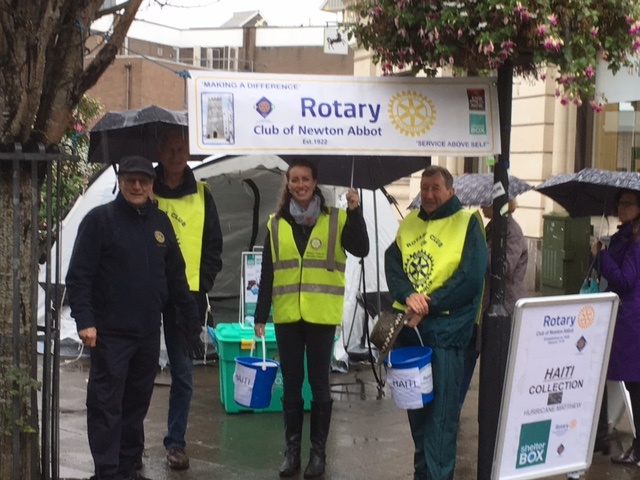 Pictured Rotarians: Keith Smith, Anthony Johnson, Rhoda Honey and Hugh Anderson
RCNA donates to 'One Step At A Time'

The Rotary Club of Newton Abbot recently made a donation to a football team of Ugandan street children who are being looked after by the UK charity One Step at a Time (OSAAT).
The money was originally given to pay for the cost of sending the team to a competition, but was actually spent on providing the children with birth certificates, which they needed to qualify. These are children who were born in the jungle, many being taken at a very young age to fight for rebel groups. Before OSAAT found them they were having to subsist by selling any scraps of metal and plastic that they could scavenge. The OSAAT United football team was established as a way of improving their self-esteem.
Here is their update:
In September, the under-17 OSAAT team qualified for a regional competition. As one of eighteen teams they won 5 of the qualifying games, drew one 0-0, but sadly lost 1-5 in the final.
In October members of the team were selected to play in a Northern Uganda competition, which they won.
Four of the OSAAT players have now been selected to play for Uganda in the under-17 national football team.
The team would like to thank the Club for their support.
Rotary Club of Newton Abbot 9th Annual Business Golf day - 30th Sept 2016
100 golfers making up 25 teams supported the RCNA annual business golf day to raise funds for two local charities: The Buckland Community Centre Association and Rowcroft Hospice.
The day staged at Dainton Park Golf Club, was a great success with over £4,500 raised enabling RCNA President Martin Smith to announce that donations of £1,500 were given to the charities and that the balance would go to the club's trust fund to support the many other local charities.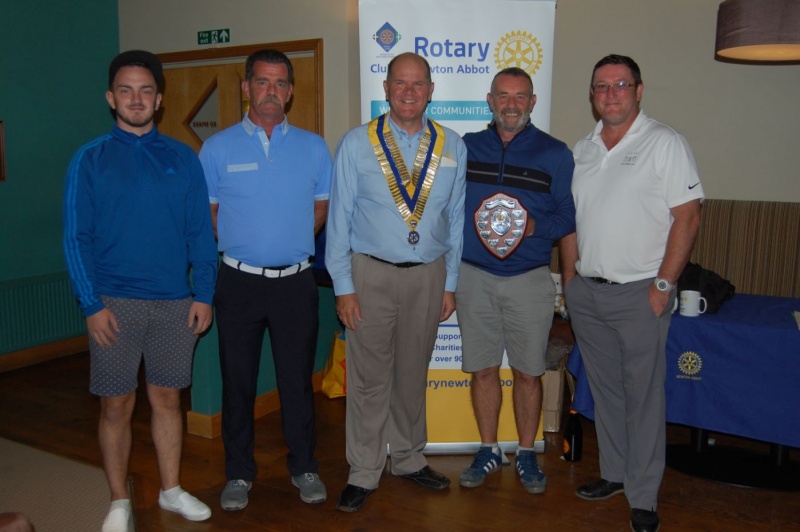 Winners of the day were System6 Kitchens led by Nigel Jones with 124 points, closely followed by the team from Off Zero with 123 points.
Organiser Corporate Rotarian Clive Meredith of local solicitors Wollen Michelmore thanked everybody for attending and their generosity and good humour.
He also acknowledged the help of Rotarians and partners – particularly with the array of home cooked cakes and refreshments on the 8thhole, fun competitions on 10 holes, a Beat The Pro, Putting Competition and a guess where the Presidents drive went!
NEW PRESIDENT
Martin Smith takes over as Club President from Catherine Strigner



---



KNOW YOUR BLOOD PRESSURE IN NEWTON ABBOT
117 Blood Pressure Tests , carried out in conjunction with the Stroke Association, 21 with extremley high blood pressure



SPRING GOLF DAY RAISES £5,000
Local charities Children & Families in Grief , Kingsteignton Youth Centre and the Dartmoor Pony Heritage Trust, were the beneficiaries of the charity golf day.The money raised was matched by corporate members SANTANDER.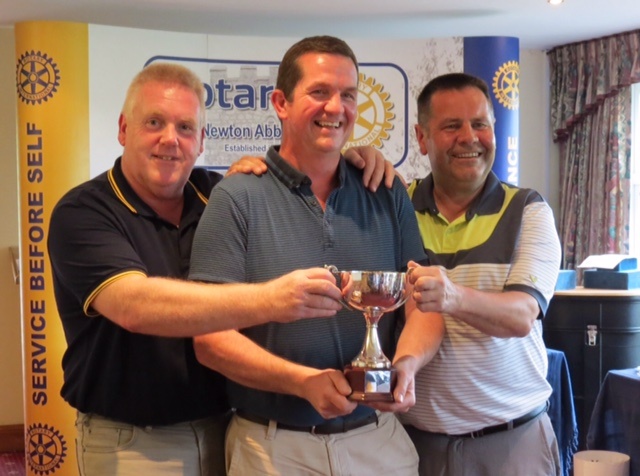 Winning Team Actavis from North Devon.

COLLECTING FOR SHELTERBOX
Rotarians collecting in Newton Abbot in aid of Shelterbox on April 13th, not knowing that just three days later there would be two Earthquakes
Shelterbox are in - in Japan and Ecuador assessing the needs.



FIRE WALK RAISES £14,000 for 24 CHARITIES & GOOD CAUSES


Young Keira Sherwood braves the Hot Coals all in the name of charity.

65 Fire Walkers took part in the event on the 18th March 2016 at
Buckland AFC in Newton Abbot
Happening soon...
Meetings and events happening soon
Tuesday 3rd July 18.30
Fellowship & Club Council
---
Regular meeting followed by club council
Tuesday 10th July 18.30
DG Visit
---
New District Governor Graham Carey , visits the club to present his year of office
details
Saturday 14th July 12.00
GREAT ROTARY WHEELBARROW RACE
---
The second annual wheelbarrow race - part of the Newton Abbot Carnival
details
Tuesday 17th July 18.30
Speaker Meeting - David Cox of HITS
---
David Cox to give an update on Homeless In Teignbridge
Tuesday 24th July 20.00
Club Fellowship Meeting
---
Regular Meeting
future events completed calendar district events local events
---
---
---
Rotary News
Be part of a global network of volunteers, trying to make the world a better place. Please also see the 'links & news' page for information from the local district and live feeds from Rotary International and Rotary International in GB&I.
Family Rotary club use skills to kick-start local charities
---
Rotary members unite to tackle world hunger
---
---
Meetings & Venue
Where and when:
We meet on Tuesdays at Meet for 18:00 - Meal 18:30 pm
(
On the 5th Tuesday in a month we sometimes "scatter" and visit other clubs. [TO CONTACT CLUB - email fredalloyd51@gmail.com / martrcna@outlook.com]
)
Hannahs at Seale Hayne
Newton Abbot
Devon
TQ12 6NQ
01626 325800