We welcome you to the New Camelford Rotary Website, which
we hope you will find both interesting and informative.
Visiting Rotarians to the West Country can be assured of a warm
welcome at our weekly meetings at the Bowood Golf Club

MEETINGS EVERY TUESDAY, EXCEPT December 25th 2013.
Please see What's on the next 30 Days for Meeting Times.
Note: Tuesday evenings on Fifth Tuesday in month
You can book a lunch before 9.45 am on Tuesdays

Phone: Secretary: Ray Jeffs 01840 212497 or 01840 212560
Meeting Information...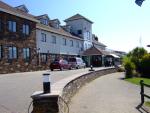 We meet on Tuesdays at Lunch time Meetings at 1.00pm ( CHANGE TO LUNCHTIME MEETINGS ONLY AT 1.00pm Please see Meetings and Events for times. Note: Tuesday evenings on Fifth Tuesday in month. You can book a lunch before 9.45 am on Tuesdays) Bowood Hotel and Golf Club
Lanteglos
Camelford PL32 9RF tel: 01840 213017