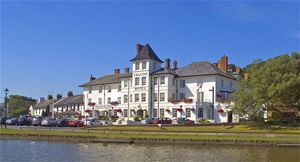 We meet at the Falcon Hotel on 1st, 3rd and 4th Monday lunchtimes at 1pm and evenings on 2nd and 5th Mondays at 7.30pm, except on Bank Holidays.
Please check with the Secretary, Kim Tresidder, on 01288 356060 (daytime), or e-mail kimandannie.tresidder@hotmail.co.uk in the days beforehand or call the Falcon Hotel, 01288 352005, by 11am for luncheons, or 4pm for dinners, on the day of the meeting. Luncheons and Dinners are 2-course at �12 to be paid on arrival inside entrance door. Ladies are welcome at most evening dinner meetings, see details on the website.
Visitors are always very welcome, please book in as above.
Also see the the Bude Town website www.visitbude.info for all visitor information.
Meeting Information...
We meet on Mondays at Lunch 1pm except Bank Hols (Second & Fifth Mondays 7 for 7.30pm Dinner Meeting with ladies and a Speaker. ) The Falcon Hotel
Breakwater Road
Bude EX23 8SD tel: 01288 352005