Completed meetings and events 2013-2014
Thu 26th June 2014 Presidential handover
President Alan hands over to President Graham
Thu 12th June 2014 Club Assembly
Presentation of program for next year (14/15)
Fri 6th June 2014 Dinner with Wine Tasting
Dinner with selected wines presented by Forth Wines expert.
Thu 5th June 2014 No Meeting this Thursday
Because we have our annual wine tasting dinner on Friday 6th there will be no meeting on Thursday 5th
Thu 29th May 2014 School Head Pupils
Reports by Head Puils and prizegiving.
Thu 22nd May 2014 `Pars United - The Journey
Ross McArthur General manager, DAFC
Thu 15th May 2014 Jane Russell, BADMINTONscotland's Tayside and Fife regional development officer.
Jane Russell is our 'Mystery Santa':
Thu 8th May 2014 Visit of Districy Governor
Chance to meet Jom Houston Governor, District 1010
Thu 1st May 2014 Robert Wardell,
Mountain biking internationalist and son of our own Jack
Wed 30th April 2014 Inter Club Visit
Visit to Inverkeithing & Dalgety Bay Club; Queensferry Hotel in North Queensferry.
Thu 24th April 2014 Business and Fellowship
TBA
Thu 17th April 2014 Dr Gordon Johnston
Dr Gordon Johnston, vice-chairman: Dunfermline and District Sports Council and its youth sports development
Thu 10th April 2014 AGM
Presenation of Accounts; Election of Officers
Fri 4th April 2014 David Fraser - Dunfermline Streets from old Postcards
A view of Dunfermline from the a9th and 20th centuries from vintage postcards.
Thu 27th March 2014 Ed Watson
Ed is CEO of Fife Sport & Leisure Trust
Sat 15th March 2014 6 Nations Get together
Watch the game while the ladies have an afternoon in Edinburgh. Get together for buffet supper in the evening.
Contact Tom Sunter
Thu 13th March 2014 Vocational: Sean Doran,
Sean is a senior manager with responsibilities for capacity management of BT's global network outside the UK.
Tue 11th March 2014 Club Visitation to Dunfermline Carnegie
Carnegie Rotary Club breakfast meeting, 7.15 for 7.30 sit down @ Pitreavie Golf Club on Tuesday 11th March... Finishes 8.30 sharp for those that have a job to go to !
Thu 6th March 2014 Joint Meeting with Inner Wheel:
Lord Lieutenant Margaret Dean on a Right Royal Year
Fri 28th February 2014 Club Charter Dinner
Garvock House - dtails tba - contact Andrew watson
Thu 27th February 2014 Round Table Challenge
Annual challenge match v Dunfermline Round Table. Pool and 10 Pin Bowling. At least 8 Rotarians in the team with no upper limit.
Contact Ian Morris
Thu 20th February 2014 Brian Nobile, entertainment historian
John Henry Hare, impresario and Past President of Rotary Club of Dunfermline in our second year 1923/4
Thu 13th February 2014 David Cochrane, Royal Highland Show
David Cochrane is the Administrator of the Royal Highland Show
Thu 6th February 2014 Ian Brown - From Whisky to Carnegie
Ian has written several musicals –
The full length adaptation of WHISKY GALORE – A MUSICAL! ran at Pitlochry Festival Theatre for two sell out seasons in 2009 summer and 2011 Autumn season and has recently been published.
read more...
Thu 30th January 2014 Dunfermline Advocacy
Dunfermline Advocacy matches local people with vulnerable adults in the community to provide invaluable support and friendship, giving each individual a chance to have their voice heard and represented.
Thu 23rd January 2014 Librarian Janice Erskine + Jack Wardell
Burns Supper (Lunch) Dunfermline's Murison Burns Collection ()
Thu 16th January 2014 Business Meeting
Business Meeting - Glenfest Update
Thu 9th January 2014 Thomas Docherty MP - 2014 A personal Preview
Thomas Docherty is MP for Dunfermline West
Thu 19th December 2013 Ian Greenshields
Christmas Message
Mon 16th December 2013 - Sat 21st December 2013 Santa's Sleigh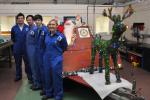 Touring Dunfermline with Santa and his little helpers.
Monday - Friday 6:00-8:30pm
Static display at the Mercat Cross - Saturday 3.30-6:00pm
Thu 12th December 2013 Robin Watson:
Vocational Revisited/ Carnegie Dunfermline Trust
Sun 8th December 2013 Christmas Lunch
Club Christmas Lunch for Members & Partners
- Garvock House Hotel: 2.00pm for 2.30pm
Club contact: Andrew Watson
Thu 28th November 2013 Special general Meeting
Business
Thu 21st November 2013 Restoration of Pittencrieff Park
- Major parks officer Martin Bonnar and urban park ranger Cara Donald
Thu 14th November 2013 Royal Scots Dragoon Guards,
Scotland's only cavalry regiment, about to deploy to RAF Leuchars
Fri 8th November 2013 Charity Gala Dinner
Dinner with entertainment
read more...
Thu 31st October 2013 Business and Fellowship
TBA
Thu 24th October 2013 The Royal Marines Band Service
Andy Gregory, Director of Music for the RM Band Scotland, based in HMS CALEDONIA.
Thu 17th October 2013 Ronnie Pook, Vocational Talk
Ronnie is MD of Scotland Tours Ltd and 1stEvents Ltd
Thu 10th October 2013 Kerry Burns and Jerry Moriarty,
Report back by RYLA Candidates
Thu 3rd October 2013 Keith hewitt
Whiskey Galore!
Thu 26th September 2013 Shahana Khaliq, Research and Activities Assistant,
new Museum & Galleries project
Thu 19th September 2013 Michael Maloco: Dunfermline Delivers Business Improvement Diitrict update
Update
Thu 12th September 2013 George Beattie, ex-police officer, author and heritage guide
Dunfermline in the 1800s.
Thu 5th September 2013 A McGonagall Supper
Supper with a twist, and an introduction to William Topaz McGonagal, Poet and Tragedian, by Charles Nasmyth
Thu 29th August 2013 Jim Metcalfe, Carnegie UK Trust
Dunfermline 'Test Town' -
Thu 22nd August 2013 Heather Stuart, CEO of the new Fife Cultural Trust
Speaker: Heather Stuart, Chief Executive of the new Fife Cultural Trust, which, from October 2012, has managed and operated libraries, arts, museums and archives on behalf of Fife Council; and theatres previously managed by ON at Fife in Dunfermline, Glen
Thu 15th August 2013 Chief Inspector Angela McLaren,
local police commander
Thu 8th August 2013 Craig Tait: Dunfermline Sound
talking newspaper for the blind and sight-impaired
Thu 1st August 2013 Fife Police Medical Officer
Tales from Professor Spilsbury's Casebook
Thu 25th July 2013 Ralph McCran -
Vocational Talk
Thu 18th July 2013 Jamie Livingstone
Fighting poverty at home and abroad.
read more...
Thu 11th July 2013 Bert McEwan, local historian and author: Old Dunfermline, Lost or Hidden
Illustrated talk on vestiges of ancient Dunfermline
future
calendar