Completed meetings and events 2018-2019
Fri 14th December 2018 Christmas Party for Age Concern, Merstham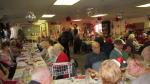 Last year we cooked for guests, volunteers and staff at their Christmas Party so that everyone could have a good time. We enjoyed it so much we asked if we could do it again!
read more...
Wed 29th August 2018 Celebrating 90 years of Rotary in Redhill
At The Reigate Manor Hotel, Reigate, starting at 7.30pm, we are hosting a dinner for present and past local Rotarians to celebrate 90 years of Rotary in Redhill. There will be an after-dinner speaker and we look forward to a convivial evening.
future
calendar
district events
local events