Completed meetings and events 2018-2019
Mon 17th June 2019 Business meeting
Wed 12th June 2019 Kids Out Day : Chesington
Wed 12th June 2019 - Thu 13th June 2019 Kids Out Day

Rotary Clubs in Surrey, Sussex, Kent take disadvantaged children to Chessington World of Adventures for the day. Our Club usually take along around 20 children and their carers; we all have a great day and return exhausted but happy.
Tue 11th June 2019 Venue varies
Mon 10th June 2019 Meeting with speaker
Mon 3rd June 2019 - NO MEETING ; Several members at Hamburg Convention
Sat 1st June 2019 - Wed 5th June 2019 RI Convention : Hamburg
Mon 27th May 2019 NO MEETING : Bank Holiday
Mon 20th May 2019 Club Assembly
Tue 14th May 2019 Venue varies
Mon 13th May 2019 AGM and Business meeting
Fri 10th May 2019 - Sun 12th May 2019 Rotary Showcase : Nottingham
Mon 6th May 2019 Committees meeting
Sat 16th March 2019 GSA Singers Concert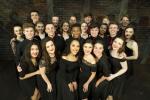 Lively and talented Year 2 students from the Guildford School of Acting present a mixed programme of the Musical Theatre genre.
Mon 24th December 2018 Breakfast with Santa

Great treat for all children (particularly under 10's), their families and Santa's Little Helpers.
read more...
Fri 14th December 2018 Christmas Party for Age Concern, Merstham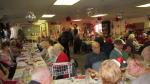 Last year we cooked for guests, volunteers and staff at their Christmas Party so that everyone could have a good time. We enjoyed it so much we asked if we could do it again!
read more...
Wed 29th August 2018 Celebrating 90 years of Rotary in Redhill
At The Reigate Manor Hotel, Reigate, starting at 7.30pm, we are hosting a dinner for present and past local Rotarians to celebrate 90 years of Rotary in Redhill. There will be an after-dinner speaker and we look forward to a convivial evening.
future
calendar
district events
local events