Completed meetings and events 2019-2020
Sat 7th December 2019 - Sun 8th December 2019 CHRISTMAS GROTTO

At Hadleigh Park.
Sat 30th November 2019 HADLEIGH LIGHTS SWITCH-ON
At St. James the Less Church.
Sat 30th November 2019 - Sun 15th December 2019 CHRISTMAS COLLECTIONS 2019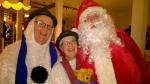 Christmas Supermarket Charity Collections
read more...
Sat 23rd November 2019 QUIZ NIGHT - November
To be confirmed.
Sat 9th November 2019 PREPOSTEROUS STORIES
Another of Roger Stevenson's Preposterous Stories.
At the Balmoral Centre, Westcliff.
Sat 19th October 2019 QUIZ NIGHT - October
At Hadleigh Conservative Club.
In Aid of the Castle Point Mayor's Charity
Thu 3rd October 2019 SENIORS' TEA PARTY at HOFS
To be announced
Sat 28th September 2019 QUIZ NIGHT - September
At Megazone, Rayleigh Weir.
In aid of Megazone.
Fri 27th September 2019 CROCUS PLANTING at Westwood School.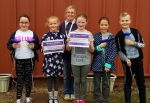 ​A total of 225 Purple Crocus Corms have been successfully planted at Westwood School by five members of the school's gardening club, helped by Hadleigh Rotary members Sharon Box and Perrie Coombs.
Wed 18th September 2019 CURRY & QUIZ NIGHT
At the Maritime Room, Cliffs Pavilion. £8.95 per person.
Contact Kim if you want to go.
Mon 16th September 2019 TENTH ANNIVERSARY
Tenth Anniversary of Hadleigh Rotary's first meeting.
Sun 15th September 2019 HAVENS FUN DAY
In Priory Park
Sun 1st September 2019 HADLEIGH COMMUNITY FAYRE
This is to be confirmed
Wed 28th August 2019 Film: "BREATHE"

At Megazone.
Sat 24th August 2019 QUIZ NIGHT - August
At Hadleigh Conservative Club in aid of MIND.
Sat 17th August 2019 St. Peter's Church Fete
Thu 15th August 2019 Darts Match against Thorpe Bay Rotary
To be held at The Garrison, Shoeburyness. All support will be welcome.
Sun 28th July 2019 SANDRA'S TEA PARTY

£15 per person
Sat 13th July 2019 QUIZ NIGHT
To be confirmed.
Mon 8th July 2019 HUGH MARKHAM
Boules against Chelmsford Phoenix at Hylands Park, Chelmsford
Sat 6th July 2019 HADLEIGH CHURCH FAYRE
At St. James the Less Church, Hadleigh
Wed 3rd July 2019 NHS TEA
In aid of Southend Hospital.
future
calendar