Completed meetings and events 2017-2018
Thu 24th May 2018 Council Meeting/Changeover
Mon 21st May 2018 Speaker - Linda & Gary Schofield
"But you look so well" - intrigued?...then come along!
Mon 14th May 2018 Fellowship Night
Tue 8th May 2018 Galloways - Audio Newspaper Recordings
Mon 7th May 2018 Bank Holiday
Mon 30th April 2018 Business Meeting
Mon 23rd April 2018 Speaker - Neil Logsden
A visit and presentation from Preston Film Makers
Mon 16th April 2018 Fellowship Night
Thu 12th April 2018 Council Meeting
Tue 10th April 2018 Spring Social
Spring Social gathering at the Penwortham Golf Club
Mon 2nd April 2018 Bank Holiday
Tue 27th March 2018 Galloways - Audio Newspaper Recordings
Mon 26th March 2018 The Bee Centre

Mon 19th March 2018 Business Meeting
Sat 17th March 2018 - Sun 18th March 2018 District Conference - Lake District
Mon 12th March 2018 Speaker
Mon 5th March 2018 New members on board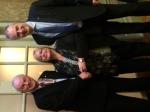 RCPA continues to attract new members. David and Angela have recently joined the club. With Angela on board we now have 4 lady members at RCPA, great news and new perspectives for our club.
Mon 5th March 2018 Speaker
Mon 26th February 2018 Fellowship Night
Mon 19th February 2018 Speaker
Mon 12th February 2018 Business Meeting
Thu 8th February 2018 Council Meeting
Mon 5th February 2018 Speaker
Mon 29th January 2018 Fellowship Night
Mon 22nd January 2018 Speaker
Mon 15th January 2018 Speaker
Mon 8th January 2018 Business Meeting - Santa Collection Results
Mon 1st January 2018 New Years Day - no meeting
Mon 25th December 2017 Christmas Day - no meeting
Mon 18th December 2017 Christmas Meal - Penwortham Golf Club
Mon 11th December 2017 Speaker
Mon 4th December 2017 Speaker
Mon 27th November 2017 Fellowship Night
Mon 20th November 2017 SGM
Mon 13th November 2017 Speaker
Mon 6th November 2017 Fellowship Night
Mon 30th October 2017 District Governor Visit
Thu 26th October 2017 Council Meeting
Mon 23rd October 2017 Speaker
Mon 16th October 2017 Fellowship Night
Mon 9th October 2017 Peace Scholar visit (open invitation to other clubs)
Mon 2nd October 2017 Speaker - Ian butter, RNLI (District Governors Charity)
Mon 25th September 2017 Speaker - Amanda O'Garrow
Mon 18th September 2017 Fellowship Night
Mon 11th September 2017 Business Meeting and AG Joan Burrows in attendance
Mon 4th September 2017 Speaker - Rebecca Argall
Thu 31st August 2017 Council Meeting
Mon 28th August 2017 Bank Holiday
Mon 21st August 2017 Business Meeting
Mon 14th August 2017 Speaker
Mon 7th August 2017 Speaker
Mon 31st July 2017 Speaker
Mon 24th July 2017 Business Meeting
Thu 20th July 2017 - Mon 17th July 2017 Council Meeting
Mon 10th July 2017 Speaker
Mon 3rd July 2017 Fellowship Night
future
calendar
district events
local events