Future meetings and events around the district
Royal Leamington Spa - Sat 17th November 2018 at 17.00 - Sat 5th January 2019 - 17.00 Trees of Light at Whitnash and Royal Leamington Spa
The Royal Leamington Spa Rotary Trees of Light will once again shine in memory of loved ones and causes over the Christmas and New Year 2018/19
Kenilworth - Fri 23rd November 2018 at 13.00 - Sun 25th November 2018 - 15.00 Art at Kenilworth Show (www.artatkenilworth.org.uk)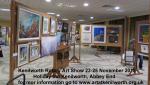 It is a 3-day event that will take place between 23rd and25th November 2018 in the Holiday Inn Kenilworth,
Friday 23rd 1pm – 6pm
Saturday 24th 11am – 5pm
Sunday 25th 10am – 3pm
with free entry for the viewing public
Southam 2000 - Sun 25th November 2018 at 10.00 - 12.00 Run for Rotary

7 October 2018 - 25 November 2018 - 17 February 2019
Stunning views, fresh crisp clean air and the very best of The Warwickshire countryside will be on show as Draycote Water is the venue for the "Run for Rotary" Winter series
Southam 2000 - Fri 25th January 2019 at 19.30 - 23.00 Burns Night
We will have a Piper to play, a Haggis to "cut you up wi' ready slight", and to be addressed in the traditional way. We have an excellent set of Whiskies to taste as well, plus a classic Burns Night Supper.
Royal Leamington Spa - Thu 16th May 2019 at 12.00 - 21.00 27th Royal Leamington Spa Golf Day May 16th 2019
27th Annual Golf Day at Stoneleigh Deer Park
Royal Leamington Spa - Sun 30th June 2019 at 10.00 - 16.00 Cars at the Spa
Classic Car event in the Royal Leamington Spa Pump Room Gardens
Shipston-on-Stour - Sun 7th July 2019 at 09.00 - 15.00 Tour d'Ilmington
Annual Cycle Event for families and more experienced riders.