Future events in this area
Please note, clicking the 'read more' button will take you to that club's site. Press the 'back' button in your browser to return here
Wolverton & Stony Stratford - Fri 2nd June 2017 at 17.30 - 21.00 Are you Crazy Enough?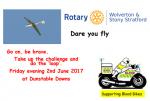 The Loop-the-Loop challenge returns once again this year
read more...
Newport Pagnell - Sun 4th June 2017 at 12.00 - 13.00 40s Style Garden Party
Organised by the Woburn Sands and District Satellite Club of The Rotary Club of Newport Pagnell.
Tickets from Chris 01908 584645 or Tricia 01908 282932.
The Old Rectory, Broughton.
BBQ!
Entertainment by The Diamond School of Performing Arts.