Future meetings and events around the district
Newton Abbot - Tue 30th April 2019 at 18.30 - 21.00 Walking Rugby event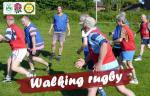 An evening of fun and a demonstration of the benefits of Walking Rugby at Newton Abbot Rugby Club.
Dawlish - Mon 17th June 2019 at 19.00 - 20.00 60th Anniversary!
Tonight, the Rotary Club of Dawlish celebrate their 60th Anniversary and Presidents Night.
Newton Abbot - Sat 29th June 2019 at 19.00 - 23.00 President's night - murder mystery evening
Enjoy a meal and help catch a killer!!
Ashburton/Buckfastleigh - Thu 1st August 2019 at 10.00 - Sat 17th August 2019 - 16.00 ArtEx 2019

A Charity Art Exhibition